Free places to park your campervan in Sydney tips
Imagine you have picked up your campervan from our Sydney branch. You still might want to spend a day or so exploring Sydney before you head off.  Here is a mini-guide to where you can park your campervan for free in Sydney from Travelwheels. Remember you can call us on +61412766616 for more info on camper hire or contact us.
Many of travelwheels campervan sales and hire Sydney customers have emailed us this question. "Where can I park your campervan for free in Sydney?" We decided to write a short blog post about free campervan parking in Sydney.
Travelwheels campervan sales Sydney know it can be challenging to find parking in Sydney! Free or low-cost options to park up your camper are tough here! If you are planning on parking overnight or for the whole day, it gets complicated to find a cheap place to park! Here are a couple of options you might want to investigate?
Park your campervan for free in Sydney in Alexandria
Travelwheels Campervans Sydney recommends parking your Campervan in the inner west suburb of Sydney called Alexandria.
There is a lovely café named "The Grounds Café" which we highly recommended! They use their grown vegies for their menus while you can enjoy sitting in the little cottage garden or under the vine-covered veranda. The cafe has fresh-smelling herbs, vegetables and strawberries.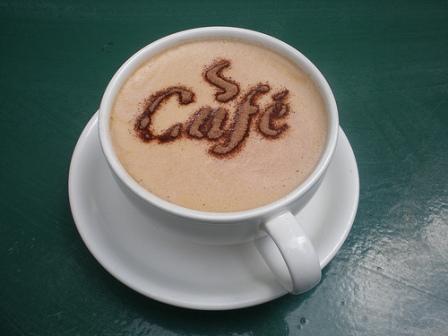 One block up Bourke Rd on the corner of Maddox St is an excellent camping park. It has all the facilities a traveller is looking for in the city. Great spot to park your campervan for free in Sydney! There are free BBQs, 24-hour toilets, and showers. Check out the great indoor and outdoor basketball courts.
Park your campervan for free in Sydney by the beach?
Forget about parking near Bondi or Coogee beaches as it will cost a lot of money to park your campervan. "Officially" you are not allowed to park your camper for free in Sydney by the beaches. If you go to Bondi, you will get a fine. This rule also applies to most of the other beaches as well. However, you might want to explore Maroubra beach?  You could use one of the back streets nearby (say within 500m) to park up your campervan. You can still surf and have fun, but with free parking! Note, there is a direct bus into the city as well.
Park your campervan close to Coogee Beach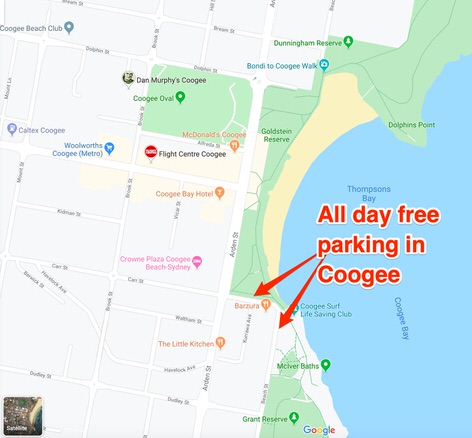 We often see a few people who have hired a campervan in Sydney and parked up close to Coogee beach. At the south of the beach, there is plenty of all-day parking. We have seen many crafty camper parked up there overnight! Note it is illegal to stay overnight right by the beach. You might want to try one of the backroads (500m away) to park your campervan for free in Sydney!
Email Travelwheels here
Contact travelwheels Campervan Hire & Sales Sydney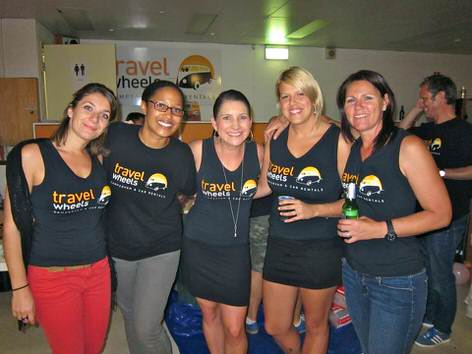 For more information about free places to park your campervan for free in Sydney you can contact travelwheels campervan hire Sydney.  You can email us at [email protected] or call us directly on +61412766616.  If you are searching for the best national parks in Australia, we can help here as well.
Registered used campervan dealer in NSW for over fifteen years!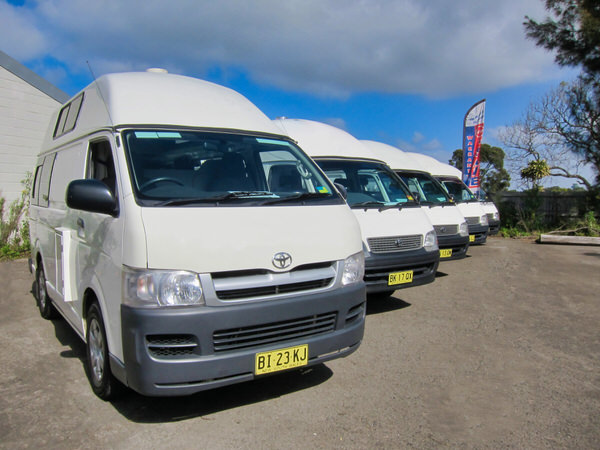 If you are thinking about buying a used Toyota campervan, then Travelwheels is a great place to check out.  We have been a registered motor dealer in Australia since 2002. We have years of experience selling campervans, cars and 4WDs across Australia.  Secondly, we have many happy customers and our focus is on making you a customer for life.
Travelwheels does not spend loads of money advertising online, there we pass the saving direct to you.  About eight years ago we decided to cut our advertising budget and focus on providing the best quality product to customers.   Doing this has meant we have to be on the ball and take care of our old and new customers.  When you buy an ex-rental Toyota Hiace Campervan from us, you get the following benefits:
Roadworthy Certificate (Pink Slip)
All Toyota campervans for sale has gone through a full sales pre and post-sales process and will be in top condition.
12 Months Warranty on Toyota campervans
We offer a 12-month warranty on our ex-rental Toyota campervans
24/7 Australia-Wide Roadside Assistance
Roadside assistance already included in the price
Guaranteed buyback up to 50% when you buy a campervan from us
After you're finished travelling we can repurchase the vehicle. Remember, you can always sell the campervan yourself and get more money back, the choice is yours.
Sell a wide range of used campervans for sale in Sydney
We also sell a manual transmission version of this Toyota Campervan which is suitable for up to three adults.  If for example, you are after a two-person small Toyota campervan, we sell those as well!
Contact us to buy a camper!
Why not give us a call on 0421101021 to arrange a chat or in order to go for a test drive?  You are welcome to email questions to [email protected] about this Toyota automatic campervan for sale.  Our staff will be more than willing to answer any questions you might have.  By the way, you can visit our depot in Botany to view and test drive any of our automatic campervans for sale.  We are located at 11-15 Clevedon Street, Botany, Sydney, New South Wales, 2019.
Campervan Hire Sydney – Price checker:
For our best deals on campervan hire in Sydney and across Australia, just enter your dates below!  We guarantee our lowest prices online!  We will price match all competitor quotes for Sydney to Sydney Campervan Hire!