Ex – Rental Toyota Hiace campervan for sale Sydney
Ex – Rental Toyota Hiace campervan
Here at Travelwheels campervans we have this fantastic Ex – Rental Toyota Hiace campervan for sale. For example this range of campervans has especially taken Australia by storm!  Strong, practical and preferred choice in the 2nd hand market in Australia! Call Shaun on 0421 101 021 to arrange a test drive!
Night time configuration
This Toyota Hiace campervan is an especially practical design.  Take for example the comfy lounge which easily converts into a large double bed.  There is an additional single bed in the roof space.  This is particularly useful when you start to argue!  Another positive point for instance to mention is the storage space.  Therefore under the bed is lots of useful storage space.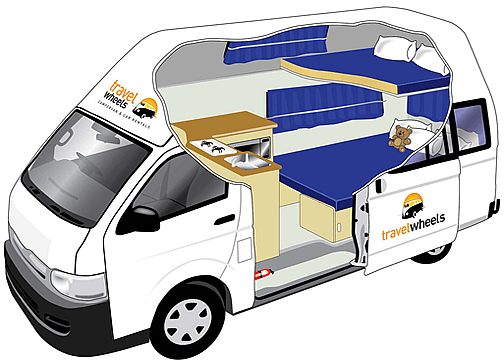 Toyota Hiace campervan main features include:
This Toyota Ex – Rental Toyota Hiace campervan is currently for sale here at our Sydney depot.  This is a great example of a well built and in this case well serviced ex-rental campervan.  Call Shaun on 0421101021 for more details.  Here are some of the main features:
Built 2007
55 litre  fridge (dual battery operated)
Gas hob stove (2 x hobs) + microwave
Double bed sleeping area, plus 1 x single bed
Mosquito nets/air conditioned
Great kitchen area for dining and relaxing.
Available in Automatic or manual transmission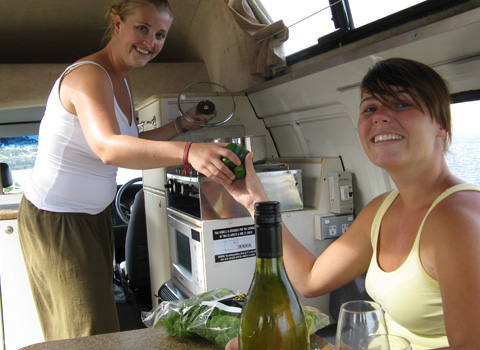 Ex – Rental Toyota Hiace campervan for sale include 12 months warranty:
When you buy an Ex – Rental Toyota Hiace campervan from Travelwheels,  the following guarantees are included all  in the price:
12 Month Warranty / No Km limit
12 Month Road Assistance Service through the NRMA
50% Buyback Guarantee (up to 12 months)
All our campervans are deep-cleaned, fully serviced
Comes with Pink-slip
All Toyota campervan come fully serviced
This Travelwheels Toyota Hiace Campervan for sale comes fully serviced.  For example, Travelwheels ensure they are both deep cleaned and we remove all the stickers for you.  The paintwork is especially de-buff prior to sale. This Toyota Hiace campervan is fantastic value for money. You can not argue with the success Toyota have especially enjoyed in the campervan market. Therefore we can in this case safety say, this is Australia's most popular 3 person campervan in the marketplace!
Toyota Hiace campervans offer best balance between price Vs quality!
The Toyota Hiace for sale, for example, offers a great balance between price, reliability and comfort!  Another strong point to consider is the resale value.  This ex-rental Toyota Hiace campervan for sale are wildly popular in the 2nd market.  Therefore it makes them especially easy to re-sell in the future.  The Toyota brand is highly respected here in Australia because of it's reliability, durability and performance.
Contact Travelwheels
If you are here in Sydney for example, why not pop by and pay us a visit?  We are conveniently located near Sydney domestic airport, in Botany.  Here is our address, 11-15 Clevedon Street, Botany, 2019, Sydney.
In the meantime, you can call us on 0421 101 021. Email us at [email protected]. Skype us at: Travelwheels