Used Campervan – Toyota Hiace Professionally Built Camper for Sale – REF: Maxi-NOV-3
Used Campervan for Sale – Toyota Hiace Professionally Made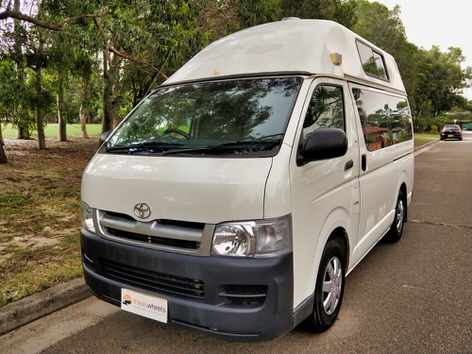 Looking to buy a used campervan for sale in Sydney?  Then you have come to the right place as Travelwheels campervan sales have just got some more Toyota Hiace campervans in stock.  These fantastic campervans are in high demand and hard to find in good condition.  You will be buying directly from a campervan hire company here in Sydney, so no middleman, and you buy direct.
Test drives are more than welcomed and encouraged.  we sell a range of used Toyota Hiace campervans in both automatic and manual.  Call Shaun on 0421101021 to find out more info and to jump in one of our used Toyota Hiace campervans for sale today!
Toyota Hiace campervans in fantastic condition!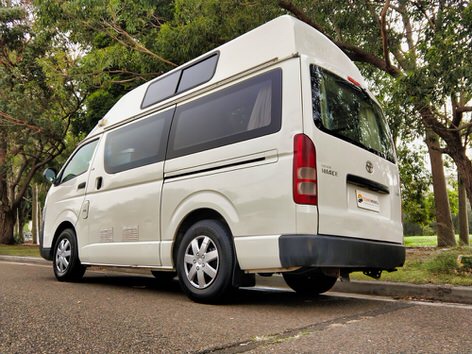 Travelwheels campervans have this great ex-hire 3 Person Toyota Hiace campervan for sale.  You might ask if these campervans are so good, why are you trying to sell them off?  This is a great question to ask and there is a simple answer.   We hire campervans in the following major cities such as Sydney, Brisbane, Cairns and Melbourne.  We keep them in tip-top condition, but we always like to refresh the fleet every season.
Therefore, every year travelwheels campervans likes to improve our campervan hire fleet by buying newer vehicles.   Then we remove all the stickers and give them a deep industrial clean and make sure they run sweet.  They go for a one hundred point safety check and undergo a full service to get them ready.  We drive them for a week to put some kms on them and for us to be confident they are in fantastic condition.
Test drives are more than welcomed (and encouraged!)
At this point, we will advertise the vehicle online and mark it ready for sale. This process allows you the opportunity to buy a quality used Toyota Hiace campervan that has been well maintained.  The best thing to do right now is to call Shaun on 0421101021.  He will answer any of your questions and can arrange a no hassles and no pressure test drive.  Pop down to our depot and try out as many campervans as you like.  The team here at Travelwheels campervans are positive we can find you something just right for your next campervan adventure down under1
Professionally build and made in Australia Campervans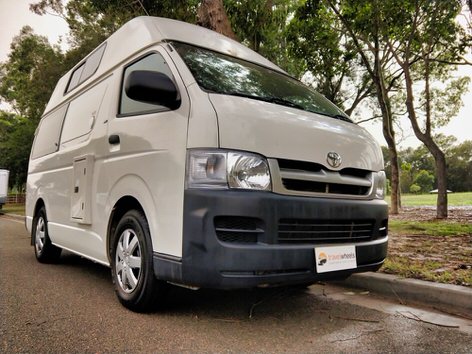 These Toyota Hiace campervans are not some vanlife Australia knockabout.  All our used ex-hire Toyota campervans have been professionally made and built here in Australia.  Plus when you back this up with the reliability of the Toyota Hiace chassis, engine and reputation in Australia you are on to a winner!
The professionally made hightop roof on this Toyota campervan allows for a relaxed and comfortable lounge area.  There are two benches and a table which convert to a big and comfy double bed at night and there is even an additional single roof bed to build up as well.
Most popular campervan we sell in Sydney
These Toyota Hiace campervans are the most popular and in-demand campervans we sell.  You are welcome to test drive any of these campervans at our depot.  However, for now, let's take a look inside our Toyota 3 person campervan, and you will see just how good it is!  It has everything you need in a compact size which is easy to drive and park.  The double bed is great and has a super practical kitchen as well.  You will enjoy the comfy lounge with panoramic views! Take a look inside to see why this is the best campervan for you and your family.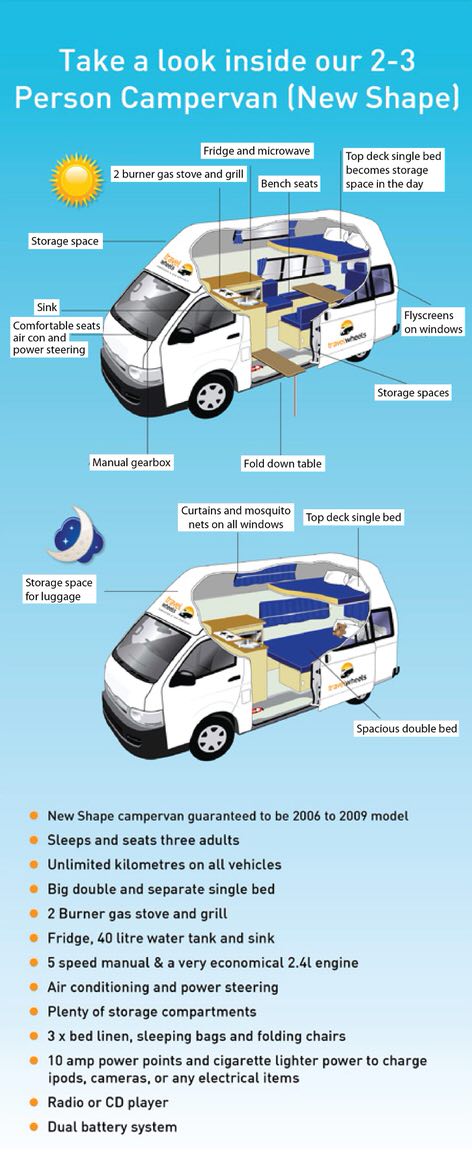 Practical and easy to use kitchen
These used Toyota Hiace campervans have clean lines and a well-designed open plan kitchen and lounge. There is plenty of room inside this camper for you to enjoy exploring Australia.  The customer reviews for this model all mention how practical the open plan kitchen and lounge area.  This well-designed space allows you to cook, chat and relax with friends all at the same time.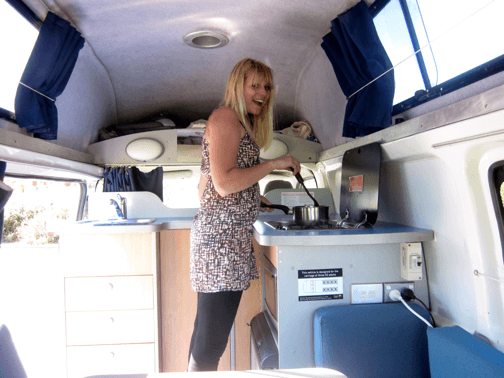 Let's talk some more about how the practical design of the kitchen inside this Toyota HiTop Campervan works. Firstly with its "L shaped worktops" you have plenty of space to prepare and cook lovely meals.  The cooker is easy to clean and comes with a two-burner gas stove and a safety glass lid as well. The standard 4kg gas bottle is housed outside the van for added security and safety.
Superb comfy lounge with big windows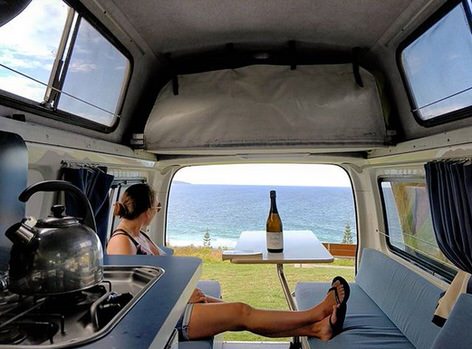 Now let's look at the comfortable lounge.  These Toyota Campervans for sale have a really well designed open-plan lounge area.  You are surrounded by windows, so it feels light, airy and open. Those two big comfy benches with soft cushions seats and backrests are a joy to use.  You can just imagine yourself stopping overnight by the beach watching the waves whilst enjoying a nice bottle of wine.
All windows in the rear have curtains for privacy
This campervan is not a panelvan with a mattress in the back.  It has been professionally designed.  As soon as you sit in the back you can see how light and airy it is.  When it gets hot you can open the roof windows on each side of the van to help cross ventilation.
It does not feel like a panel van all dark and dingy.  It is light and has plenty of space inside.  All the windows in the rear of the campervan have proper sunlight blocking curtains to keep you cool in the daytime and private at night time.   When you open the large door it creates a wonderful place to watch the world float by.
Night time and lovely sized double bed!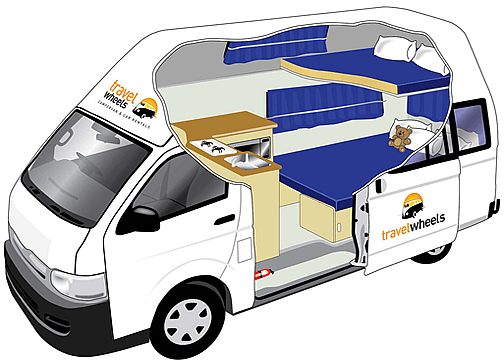 Now is the time to look at the sleeping configuration.  Immediately you can see this is such a practice and well-made campervan.  This Toyota Hiace Campervan for Sale has been designed to make the bed as easy as possible. Another positive point is the fantastic practical single bed in the roof which is a lot of fun to climb into!
Three in a bed is no problem in this camper!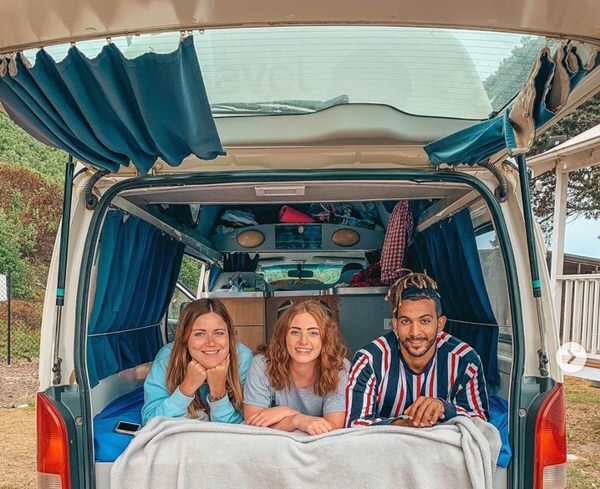 Let's talk about one of the best features of this campervan. It is a super practical van and three adults can sleep comfortably.  To begin with, the table and two benches in the lounge convert to a big double bed (1.85m x 1.55m) for the nighttime.
Single bed in the roof space
The useful single bed is located up in the HiTop roof 1.60m x 1.4m (max weight for roof bed is 200kg). Small kids love sleeping up here as it is a real adventure for them!  All beds have removable covers and you can wash and air out the mattresses easily.  All the covers for the beds will fit in a standard washing machine.
Comfy beds and curtains on all windows for privacy
All our Toyota campervans have comfy beds and have sunblock curtains on all the windows for privacy at nighttime. To keep you cool at night time the sliding windows have flyscreens to let in air (and keep the flies out!).  In the roof space, you have two windows with flynets on them.  You can open both of these and make a create cross ventilation to keep you cool at night.

Toyota Hiace Main Features: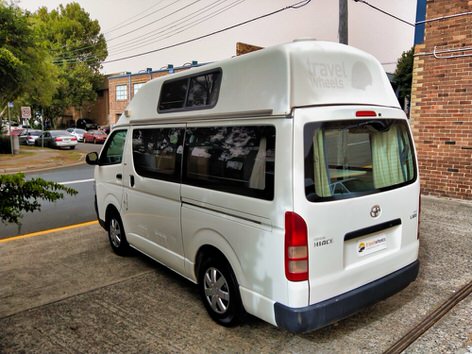 These campervans are our best sellers and it is easy to see why!  Super popular and very hard to find in good condition on the second-hand campervan market.  Here are the main features of this model and test drives are more than welcome.  Call Shaun on 0421101021 and we can talk you through our current range of used campers for sale here in Sydney.
Make: Toyota Hiace
Model: Toyota Hiace campervan
Year: 2006 model
Warranty: 12 Month Warranty on all used Toyota hiace campervans for sale
Assistance: one-year road assistance included
Buyback: We can buy your used camper and advertise it on our website for free
Fully Serviced, road-tested and especially ready to go!
With Pink slip
Comes with six-month Registration
A/C, Central Looking
Kitchen with fridge, stove and Microwave, Sink & water tank
Double Battery System for the fridge, interior lights and water pump
Automatic Toyota Campervans also available for sale
We understand that choosing the right campervan is a very important and expensive purchase. Travelwheels campervans will take all the stress out of buying a second hand Toyota campervan. The team will help you with the legal paperwork and register the vehicle in your name.  We will make it as easy as possible for you to drive away with a great value ex-rental campervan.
Why buy a used Toyota Campervan from Travelwheels?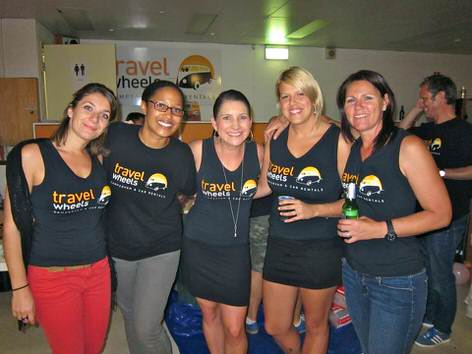 There are plenty of good reasons to buy a used Toyota Hiace campervan from Travelwheels.  We have over fifteen years of experience in hiring Toyota campervans in this amazing country. We know what works, what does not and how to keep these campervans in great condition.  Our range of Toyota ex-rental campervans are brilliant value for money, and so practical.
Our ethos is to spend money on quality product and not waste it on advertising.  We do not spend loads of money on paid google adverts to try and sell off campervans.   The team offers good quality well maintained used Toyota campervans with no pressure to buy. We back this up with friendly knowledgeable staff who are more than happy to help you.  We offer a try before you buy scheme and tests drives are always welcomed here. To summarise you get the following benefits with every campervan sold at Travelwheels:
All used Toyota Hiace Campervans for sale have 12 months warranty included
It will be professionally deep cleaned and all stickers removed
Guaranteed buy back up to 50% valid for one year
24-hour roadside assistance included
Try before you buy options available
Test drive as many campervans as you like for free
Will register the vehicle in your name
Can help with campervan insurance
Want to resell your van in a couple of years, can advertise it for free on our site
Another good reason to buy from us is our range of campers for sale!
Toyota automatic + manual campervans for sale
Travelwheels campervans have a good range of used campers for sale today!  We sell both manual and automatic Toyota campervans at our depot in Sydney.   All our ex-hire Toyota campervans are available to test drive for free of charge.  Check out the links below and then call Shaun on 0421101021 to arrange a test drive today
Contact Travelwheels Campervan Sales
For more information about this fantastic ex-rental Toyota campervan available for sale, then email us at [email protected].  You can call our friendly team on 0421 10 10 21 and we are happy to answer any questions you have.
Test drives are more than welcomed and visit our friendly team in our campervans for sale showroom in Sydney at 11-15 Clevedon Street, Botany, 2019, Sydney. Remember we can also deliver our campervans to your home in Sydney or can organise interstate delivery at cost price to Brisbane, Cairns, Darwin, Perth, Adelaide and Melbourne!  We have Australia covered for used ex-rental campervan sales!
Ask us a question about buying a campervan in Sydney
Are you thinking about buying an ex-rental Toyota campervan and have a question?  Send us a message or contact us below to ask our friendly team a question about our used campers for sale.  We are here to help and always welcome questions: