Used Toyota Landcruiser for sale Sydney – Travelwheels used 4x4s
Used Toyota Landcruiser for sale in Sydney + 12m Warranty
If you are looking for used Toyota landcruiser here in Sydney, then we especially recommend contacting Travelwheels used 4×4 sales Sydney.  Call Shaun on 0421101021 to see why everyone is talking about our bushcamper conversions for example.  We therefore can offer good quality used and ex-hire Toyota landcuisers for sale at great prices!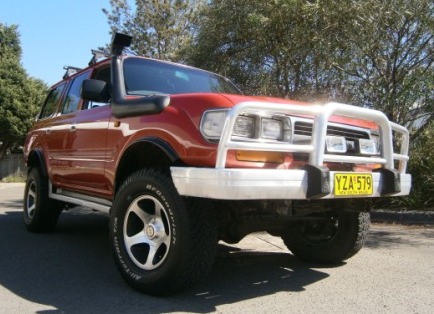 Used Toyota Landcruiser for sale – Number one choice in OZ
Here in Australia the King of the Road is definitely a Toyota Landcruiser!   Take for example the second hand used campervan market which is especially competitive.  When you are here in Sydney it can be tough to find a good used Toyota Landcruiser!  The reason why is because they are number one brand everyone is after!  Therefore why do people buy Toyota Landcruisers?  For the most part, the reasons are very simply!  There are solidly built, and come with very positive customer reviews due to their reliability! In addition to this, parts are easy to replace and together with the fact they are easy to resell as well!
Explore Real Australia with used Toyota Landcruiser!
Exploring Australia with a used Toyota Landcruiser for sale is the perfect choice for those wanting to especially get out there! In this case you can visit the real Australia and get away from the rest of the crowds!  Here are just some more great reasons to buy a used Toyota 4×4 from Travelwheels!  First of all for example we can build you a budget bushcamper conversion like this one below!

SAVE big $$$$$ for accommodation!  WE CAN FOR EXAMPLE MAKE BIG COMFY BED IN BACK OF 4X4!  THIS THEREFORE MEANS YOU SAVE FORTUNE ON ACCOMMODATION!
SAVE $$$$$$$ tour operator fees for exploring Fraser Island etc!  Remember here you are driving your own 4X4 motel on wheels!
DO NOT stick to the same old boring sealed roads like many other tourists do!  In this case with this Land cruiser you can get off the beaten track and explore the real Australia!
Why sleep in cities or hostels?  Why not see the stars at night and in particular wake up to the best sunrises you have ever seen!
You might even stand out on facebook! with your adventurous spirit!
Used Toyota Landcruiser for sale Sydney main features
– Model: Toyota Land Cruiser
– Make: Toyota
– Built: 1991
– Air Conditioning: Yes
-Power steering : Yes
– Transmission: automatic
-Electric windows : Yes 4
– Dual Fuel: Petrol & LPG
-Bull Bar : Yes
-Side steps : Yes
-Chrome wheels : Yes
Why buy used Toyota Landcruiser for sale from Travelwheels?
* Full mechanically serviced with Roadworthy Certificate (Pinkslip)
* Try before you buy any of our used Toyota landcruisers for sale here in Sydney!
* With 6 Months Registration (REGO) & Insurance (Green Slip) included in the price
* 12 Months Warranty On Engine and Transmission/Gearbox
* 24 hour, 7 days a week Australia wide Roadside Assistance
* Guaranteed buy back up to 50%
Contact Travelwheels for more info on this used Toyota landcruiser
For more information about this used Toyota landcruiser 4×4 for sale in Sydney call or email us here!  Email us at [email protected].  You can call us here in Sydney on 0421 10 10 21.  Why not visit Travelwheels used 4×4 sales in Sydney, and here is our address at 11-15 Clevedon Street, Botany, 2019, Sydney.