Cheap campervan hire Melbourne back to Sydney?
Cheap Campervan Hire Melbourne to Sydney deals from Travelwheels campervan hire.   If you are looking for especially low prices for Melbourne to Sydney campers then call Travelwheels team on 0412766616!  We guaranteed to beat all competitor prices back to Sydney!  Read our price match guarantee, and we want your business 🙂
In this case, you are in luck for cheap deals out of Melbourne!  Therefore you can hire a travelwheels campervan and drive along the coast to Sydney by campervan from as little as $25 per day!  To qualify for these especially cheap deals, just give us a call on 0412766616!
Cheap Campervan Hire Melbourne to Sydney Specials
Therefore these quick Cheap Campervan Hire Melbourne to Sydney deals are perfect if you don't have much time! As a result of these 3-5 day specials you still have a bit of time to see a couple of sights on the road from Melbourne to Sydney.  For example, why not extend your campervan hire deal and spend a few extra days driving along the beautiful coast line?  Here are some links to great places to visit from Melbourne to Sydney.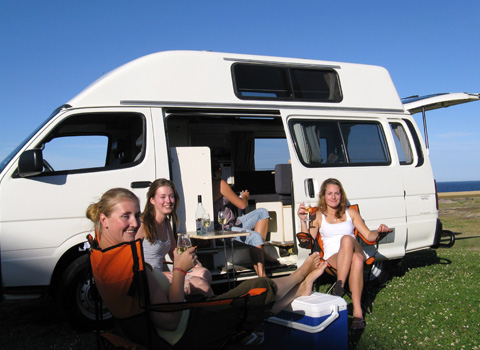 Therefore even on such a short trip there will be enough time to visit the Penguin Parade. We especially love the Koala Conservation Centre on Philip Island as well.  Together with the fact that these trips are just 90 minute drive away from Melbourne makes them great mini adventures!
Another great place to stop on the drive from Melbourne to Sydney when you only have a few days is Jervis Bay. After driving up north for a couple of hours it's time to take a rest with your hired campervan at Jervis Bay National Park and relax on the famous powder-white sand beaches or enjoy go swimming with Australian locals, the dolphins.  Here is our guide to our customer's Melbourne to Sydney road trip blog.
Cheap Campervan Hire Melbourne to Sydney – Depot location
Travelwheels Campervan Hire Melbourne branch is located at 5A Halsey Road, Airport West, Victoria, 3042. Therefore as a result of being so close to the airport, transport cost are way cheaper for you!  Some of our competitors are located in St Kilda.  Therefore by using travelwheels you will save over $100 on a taxi fare to the city centre!  Melbourne airport is miles away from the centre of Melbourne!  Remember we also do other cheap deals as well!  Check out our cheap campervan hire cairns to sydney specials as well! We offer guaranteed low prices on all routes back to Sydney all year round!
Cheap Campervan Hire Melbourne to Sydney – Contact us
For more information about travelwheels' campervans Melbourne, please give us a call on 0412766616 or send us an email to [email protected]
Your Team from travelwheels cheap campervan hire Melbourne 🙂