Christmas Campervan Hire Sydney Travelwheels
Christmas Campervan hire Sydney with travelwheels campervans! If you are looking for Xmas camper hire from Sydney, then there are a few things we would recommend.  First of all give us a call on 0412766616 as campervans book out quickly for Christmas.  Wir sprechen deutsch and nous parlons Français.
Book early for Christmas Campervan Rental Deals!
First of all we especially recommend booking early!  Every year Travelwheels Campervans and all our competitors will sell out for Christmas campervan hire bookings!  It's particularly disheartening for us to tell people the sad news we are full sold out for christmas campervan hire in sydney!  Remember all our competitors will also sell out as well for xmas campervan hire!  For the most part even if you book up to 8-10 months in advance it will be hard to get a discounted deal on campervan hire.   As a rule, the longer you leave it the more expensive it gets!  Remember our team can speak deutsch and Français.  Here is a link to our deutsch website and our French website.
Christmas Australia celebrated in summer months!
One funny thing you might not know is that Christmas in Australia is celebrated during our summer months!  Therefore in Australia we have sunshine and no snow for Xmas!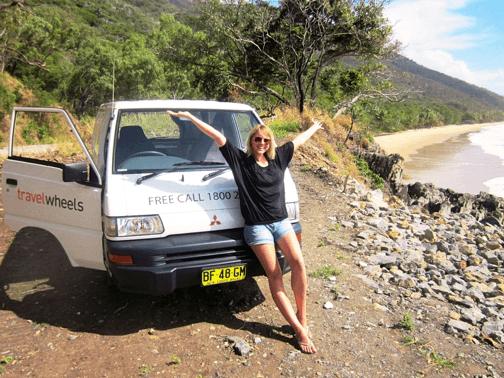 Therefore at travelwheels during Christmas we don't have snow or a log fire, but we do have a barbecue!  Instead you'll find us chilling with santa on the beach!  Australia is a multicultural country and the traditions at xmas are often mingled and derived from a mixture of other cultures. Yes we have Christmas trees, Father Christmas, Christmas Carols and gifts which are a familiar Christmas scenario. As an example of an ozzie tradition that is popular is the Christmas Dinner BBQ in the backyard or a picnic on a beach wearing a santa hat!  Here is a link to a news article about Christmas in Australia to give you an idea of what to expect!  In the meantime here is one more article from Quora which is great resource for information about Australia.  This article for example is about what is it like to celebrate Christmas in Australia.
Xmas Campervan Rentals with Travelwheels
Travelwheels Campervan Hire tries to keep a few last minute availability for Christmas campervan hire.  However it must be noted that these all start and finish in Sydney only.  The reason why is that we are always fully booked out in first two weeks in January, so need all the campervans in Sydney.  Consequently we really do recommend booking early for Christmas camper hire.  Regardless of which company your choose, we hope you have a fantastic Christmas Campervan Hire Holiday here in Australia.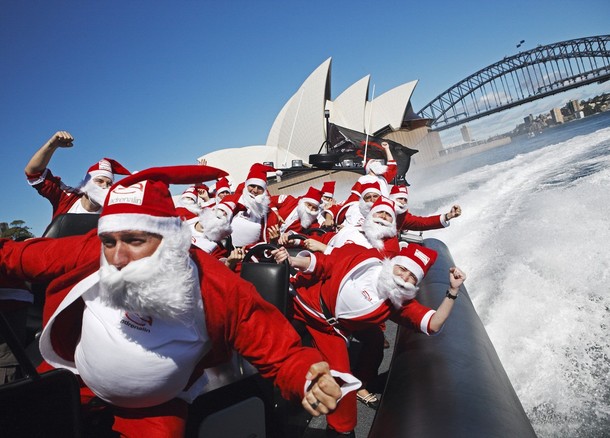 Christmas Campervan Rentals Sydney:
Santa has a lot to do this year, as he is busy getting all the travelwheels Christmas camper van hire vehicles ready for our customers!  Remember Xmas is the busiest time of the year, so if you are flexible with your dates that will help.  If you are especially after automatic campervan hire at Christmas then this often gets booked up over a year in advance!
Contact Travelwheels for Xmas Campervan Hire
Contact Travelwheels today on 0412 766 616 to ask about campervan hire availability over the busy xmas period.  Alternately you can send us an email at [email protected] and we are more than happy to help.
Christmas camper van Hire Special – click below
If you are still looking for Christmas Campervan Rental in Sydney, then click on our Campervan Price Checker below.  Just enter your dates and we will do our best to get you a deal in time for Xmas.