Travelwheels Campervan Hire Fly Drive Specials
Travelwheels campervan hire have some great special offers on Fly drive campervan hire!  You can get one free flight to Cairns if you go for Cairns Campervan Hire Fly Drive Deal  and return it to Sydney in the August!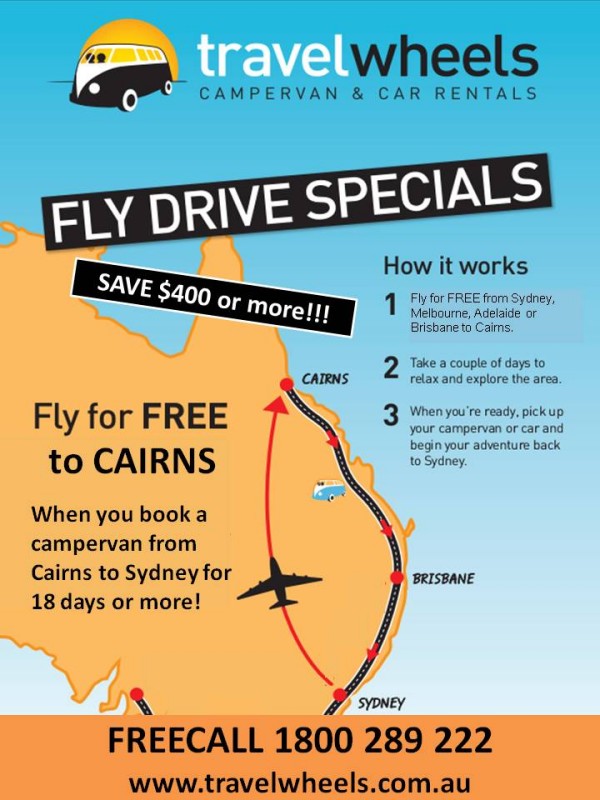 ONE FREE FLIGHT TO CAIRNS – FLY DRIVE SPECIAL!
That is right with Travelwheels camper hire Sydney you can get this special offer of ONE FREE FLIGHT!  All you have to do is fly up to Cairns and then pick up your campervan and travelwheels will throw in one free flight for you!
Right how does it actually work then?  First of all it for offers in the month of August and September 2014.   All you have to do to qualify is book a travelwheels campervan starting from Cairns for 21 days or more.
Travelwheels campervan hire will help you sort out all the flight details as we can get some you cheap flights to Cairns.  Remember this special offer is valid for all bookings with a minimum of 121 days campervan hire and with campervan pick ups in Cairns from August & September 2014 only 🙂
Fly Drive Campervan Hire Holidays in Australia
The great thing about a fly drive travelwheels campervan hire holiday is not only do you save money, but loads of time as well!
This way you can chill and fly into Cairns.  Go for a dive on the reef as not a good idea to take your travelwheels campervan in the sea diving on the Great Barrier Reef!
A fly drive campervan holiday really put you in the driving seat and you can relax and enjoy more of the trip without driving for hours and hours everyday!
Contact travelwheels campervans for fly drive specials
If you are interested in this travelwheels campervans fly drive holiday package and that FREE flight, then send us an email at info@travelwheels.com.au
You can call travelwheels on 1800 289 222 in Australia.
Travelwheels Campervan hire is looking forward to hearing from you soon
[iphorm id="1″ name="email-us"]
Check out Travelwheels Campervan Hire Australia Specials Here