Customer Travel Stories Ankes – Sydney to Adelaide
Well-behaved I was staying on my seat until the A380 made a pretty shaking landing. Anyway, also the crowd at the passport check could not stop my anticipation for Australia 🙂
After landed I found Marina from Travel Wheels Campervan Rentals Australia in the crowds in the arrivals hall and honestly – it didn´t take a minute until I could see her – which seemed like a wonder! Marina (German staff from Travel Wheels) and Heike (Austrian staff from Travel Wheels) picked us up at the airport and surprised us with a lovely sign and t-shirts from Travel Wheels as a welcome gift!
Shortly after, we were sitting in the car and 5 minutes later we already arrived at the Travel Wheels depot in Botany.
We were cordially received from all the employees and the boss himself was not missing either.  A well-prepared campervan (perfectly!) was already waiting for us and seemed like calling out to us "Let´s go – a trip into the dreamtime – what are you waiting for?"
Full of euphoria and after extensive conversations and lots of fun we had to say goodbye to the brilliant team from Travel Wheels.
Around 10 minutes later we were already in the Eastgardens Shopping Center where we bought ahead all the important things we need!  Then we were bound southward as our first target should be Jervis Bay!
Through endless grasslands and eucalyptus forests, passing sensational lookouts such as the Southgate Information Centre close to Wollongong we arrived at Jervis Bay after approx. 2.5 hours!
As we were pretty tired at this stage, we were heading for the first best tourist park – the Huskissons White Sands Beach Tourist Park.  A 4star campground directly situated at the sea – in which we were jumping straight away!  Unfortunately, there is no internet access in the park and the price for a powered site with 50 dollar per night seems a little bit expensive.  But the huge playground is a real paradise for kids and because of the beach you can also do it without the missing pool.  The location is perfect: shops and restaurants in the main street are easily accessible via a footpath along the sea – or even on the beach – within 8 minutes.  Beside Italian, Thai and Fish & Chips restaurants there is a delicious stone grill restaurant with a big and comfy terrace and sea view.  Please book in advance! In the town itself there are offered dolphin & whale watching tours as well as diving and snorkeling trips.
At 8pm our first evening was already over and I was falling into my bed very, very tired.
In the next morning at 5.30am I was waking up because of the sounding laugh from the kookaburras and for the moment life couldn´t have been more perfect!
As I was looking forward the new day soooo excitedly I was getting up, had a shower to get rid of the jetlag and went straight away to the beach where I could experience a magical sunrise together with around 500 lorikeets!
(Sunrise in Jervis Bay)
Right after we set off as only the early bird catches the worm 😉
10 kilometers later we arrived at the well-known Hyams Beach, whose sand is so much whiter and the water is so much clearer then I would have never managed to dream.  In an instant we slipped into our swim wear as we couldn´t miss this out!  After splashing extensively we continued our trip towards Batemans Bay and with every kilometer which we came closer to our favourite campsite, we were turning happier!
(Hyams Beach – Jervis Bay)
The exit to this place was only shown on small blue sign approx. 6kms before Batemans Bay on the Highway 1 on the left hand-side (when you are coming from Sydney).
Then it takes you around 10kms through the bush until you finally arrive at the area with kangaroo guarantee – the Durras North Holiday Park!
… but this is another story… 😉
Lost in the Bush…
As announced in the last report, we left Jervis Bay to head to our favourite place in Australia:  the Holiday Park in North Durras really reflects the spirit of Australia!
Surrounded by the dense rain forest and endless white beaches, the situation couldn't be better!
Depot Beach
Many people come to Australia and say: "I haven't seen any kangaroo!".  On the Durras North campsite, you can be sure to see kangaroos!  We could consider they are long-time campers as they actually live on the campsite with the human beings!
The best time of the day is the morning:  as soon as the sun rises, the whole rain forest comes to life!  You are woken up smoothly by the kookaburras and then loads of colourful parrots fly out of the bush and ask for their breakfast!  Cockatoos, lorikeets,… they are all there!  Most of them are very trusting and don't hesitate to use your shoulder as a landing place!
In the general store at the entrance of the campsite, you can buy some birdseed at a reasonable price!  And in the small but very nice shop called "Kangaroo Cafe", you can find everything you want!  You can also find there beautiful and sometimes also curious souvenirs!  You can get a fresh cappuccino or a coffee for breakfast and enjoy it with an awesome view on the beach. You can also have Internet access via WIFI for a few dollars.
Kangaroo Cafe 😉
Besides the electrical grills, every camping place also has its own bush-barbecues!  There is nothing better than sitting next to the campfire in the evening and listen to the noises coming from the rain forest (you can also find firewood and lighters in the cafe).  The possums find it comfortable as well and you will be quickly surrounded by the little clowns of the marsupials!  Clumsy, cheeky and charming, this little marsupial is always good for a surprise.  He examines everything which lies around.  Well, I hope my bikini pants suit you 😉
At noon, when the sun is at its highest point, the monitor lizards often come out from the bush and roam around the campsite.  With their size that can reach up to 1.80 meters, they look really imposing!
You could easily spend 4 weeks in Durras or even your whole life as you never get bored of it!
The Murramarang National Park offers many various things!  You can go fishing or rent a kayak.  There are also a lot of walking paths that invite you to explore the area!  There is a path directly from the campsite which leads to the bush and you can access two different tracks.  First of all there is the Discovery Trail – a loop road which is wonderful and very adventurous.  Plan at least 2.5 hours to do this loop in a relaxing time as it is the only way to enjoy nature and maybe, if you are lucky, to see a bird of paradise or a goldfish.  This Loop Walk includes a few steps and you sometimes have to climb on big and thick tree trunks.
The second option is at least as beautiful as the above one!  It is the Durras Lake Walking Trail. A narrow path along the sea offers fantastic views over the protected area for birds.  The numerous egrets, sea eagles and beautiful other types of birds make you literally to forget time!  But you come back to reality quite quickly when a swamp wallaby comes from the brush in huge jumps and almost knocks you over.  You can find the guides or brochures for all walks at the Kangaroo Cafe.
Unfortunately we had forgotten our guide in the camper.  Of course, we realised it, but only after about 2 hours of walk.  I was saying that this was not a loop walk and that we should turn back, but my husband was convinced that he was a skilled paratrooper and that it would be one of the easiest exercises for him to find his way through the forest.  He was assuring that it was a loop walk given that we had always turned right and that we would be back at the camper no later than in one hour! … bla bla bla…
Well, I trusted him of course and after about 3 hours we found ourselves on a street.  Thanks god that a car passed relatively soon which I stopped and asked to show us the way.  The Australian guy started laughing out loud. He gave us the direction and asked us if we had enough water for the night!?  Eh?  How should I get this?  So we started walking in the right direction and after a few minutes we were already sitting on the crash barrier.  The road was now snaking and in front of us was a hill so steep and high… I just don't wanna think about it anymore.
But the worst thing was that there was one hill after the other. Up the hill – down the hill – up the hill – down the hill!  I had blows forming on my feet and I then decided, after 2 hours, to stop the next car passing by.  My prayer was answered and 5 minutes later, a little car came with a young couple inside.  They picked us up and brought us to our campsite.  We would have had to walk almost 10 km more.
Thanks god, Australian people are so helpful!  We came back to the Holiday Park in Durras North completely exhausted and sweaty.  The owners were already wondering where we had disappeared and they found it hilarious given that we already reversed with the kayak the year before.
So you see, there are many things that link us to Durras!
Travel Wheels – feel the Spirit Down Under 😉 Let's see if there is also something for me here inside 😉
So, now we have to relax first before we are heading south again! And fortunately, we can get the recovery here at Holiday Park in Durras North!  It's always worth a visit:
Durras Lake North Holiday Park
We always come back – always … See you later!
Chaosteam – on the Road again…
Unfortunately, we had to leave Durras North Holiday Park to head further South.
Suddenly, after about an hour of driving, I heard Lu yelling :  "Sh….!!!".  I was totally scared and pulled immediately over to the left-hand side!  No guys… I am not disturbed… here in Australia you drive on the LEFT-HAND SIDE 😉
Given that the reception for the mobile was very bad in Durras, he had put the mobile on the windscreen wiper and had forgotten to take it back before we left.
So we made a U-turn and came back!  Seems like Durras never let us go!
He run back to our camping place and hard to believe…  but luckily he could find the mobile immediately, lying intact on the ground.  Our friends and the owner from the campsite were laughing out loud once again.
Anke and Lu – the Chaosteam… lol 😉
Finally, we hit the road again to Narooma by passing Batemans Bay.
We have already a tip for you that a woman staying at the campsite shared with us: before you arrive in this village, there is a big bridge and before this bridge there is a small street that goes to the left.  But as you can't turn left when you come from the North, you have to turn right just before the bridge, turn over, drive back and then turn right. It seems more complicated than it is… you will see what I mean once you are on-site.  After about 300 meters you'll see on the right-hand side a parking place and a wooden boardwalk along the water.
This is the Mill Bay Boardwalk, an approx. 500 meters long footbridge that snakes over the water.  It is a protected area for stingrays.  This is a fantastic experience when you walk on the boardwalk and the stingrays float in the water under you like a being from another epoch.   We were very lucky to see a giant one that was over 2 meters long.
Stingray in Narooma
I recommend taking about one hour to profit from this spectacle.
We left Narooma on the Highway 1 and headed south and followed the road through endless rain and eucalyptus forests.
A few kilometres after Pambula you'll find on the right-hand side the Oaklands Barn and Garden Center.  Here you can do a camel tour as well as just enjoy a coffee or a fresh meat pie.  There are a lot of artistic and sometimes also very funny pictures.  The historic carriages and cars also transport bridal couples when they ask it.
For lunch we stopped in Eden, the best place ever to eat fish & chips!  This little restaurant is located directly on the harbour so you'll have a great view on the sea in front of you.  The museum of orcas is also worth a visit.  But Eden is also a must for all whale watching fans.  Unfortunately, we couldn't do this as we were not there at the right season.
After about 520km, we reached our destination of the day, Lakes Entrance.  We checked in at Waters Edge Holiday Park that belongs to the BIG 4 chain and went immediately for a jump in the swimming pool for some refreshment.  The camping places are in the shade and you can observe hundreds of colourful parrots in the trees.  The equipment and the washing rooms are very well maintained.  The price of 34 AUD is justified and seems very cheap to us compared to the campsite in Jervis Bay.
But you can only access the Internet if you are registered as an user in Net4 and the prices are pretty expensive as well.  That's why we decided to have breakfast at McDonalds the next day and to use the internet there.  This is free and a service in almost every McDonalds in Australia as a matter of course.
Restaurant – Pinocchio Lakes Entrance – yummy 😉
In the evening of our arrival we made a very long walk along the sea and through the village.  We had dinner in an Italian restaurant called Pinocchio.  The prices there are reasonable and the food is a real delight.  It is worth going even just for the interior design.  Everything is made out of wood and decorated with a lot of pictures and marionettes of Pinocchio, of all sizes.  The restaurant offers a full service as it has a licence to sell alcohol.
If you want to bring your own beer or your own bottle of wine with you, you can do that.  There is only a small fee to pay for the opening of the bottles and for the glasses.  This service is very common in Australia.  A lot of restaurants offer this service, often the ones which don't have a licence to sell alcoholic drinks.  They are easy to recognise as they have a sign "BYO" which means theoretically "Bring your own" so in fact "Bring your own stuff"!
Be careful, the portions are as big as Pinocchio's nose!!!
We headed back to the campsite more than satisfied and with full tummies, enjoying the sunset at the sea together with a lot of curious and cheeky seabirds.  I am always particularly fascinated of the so graceful black swans – there are more than enough in Lakes Entrance.  There are no white swans in Australia!
Black swan in Lakes Entrance
There is also a great minigolf place here in Lakes Entrance! This is so much fun!
Minigolf in Lakes Entrance
As you can see, the day was pretty relaxed and quite "normal" for our definition!
At this stage, I would like to mention that we are more than stoked of the Travel Wheels Campervan. It is very spacious and offers all the comfort you need.
The invasion of the campsite….
We left Lakes Entrance early in the morning towards Melbourne.
It is very important to pay the toll roads for the Citylink.  This  costs approx. 10 euros for a day pass and you can pay either online with your credit card or by telephone.  There are also a lot of service stations where you can pay in cash and we recommend  this to all of you who don't speak English very well as it can be useful to get some advice from the staff of the petrol station.
Given that I am already writing about this topic, here is another tip:  most of the times petrol is much cheaper close to cities than on the countryside.  And you can even save more money when you buy your groceries at Coles or Woolworths as you will get a discount voucher in the bottom of the receipt.  The partner petrol stations of each supermarket chain are indicated.  For example, it is Shell for Coles.  That way you can save another 4 cents/Liter!  If you drive a lot of kilometers then you will notice the difference quite quickly.
Actually, we wanted to go to the Wilson Promontory National Park which is located at the southeast end of Victoria.  But most of the areas were closed since the beginning of the year because of heavy rainfalls and so the only option was to reschedule spontaneously.
Phillip Island, south of Melbourne, is another highlight of Victoria that is advertised in almost every travel guide.  This little island is famous for thousands of little penguins that come out from the sea every evening and run on the beach to get back to their nesting sites.
Given that we had already been there in 2010 and that we were pretty disappointed, we decided not to go back there this year.
Of course these small and cute penguins are worth it in any case, but in my opinion this touristic attraction is degenerating and is more of a rip-off.  These little animals looked very stressed and frightened on their way back to their breeding areas given that they were overrun by hundreds of very loud Chinese tourists with flashing cameras. Thankfully there is a fence to prevent the worst. It is in fact strictly forbidden to take pictures and to stand up, and people should stay very quiet but who cares…  The rangers who where opposing were pushed without mercy.
If you still want to go, don't forget to take some warm clothes and maybe also a blanket.  The wind that comes from the sea at night is very cold and you have to wait  sometimes up to 2 hours before the first penguins appear.
I highly recommend the Koala Conservation Center on Phillip Island.  You can observe koalas in their natural habitat and the atmosphere is really relaxed.
The biggest colony of sea lions also lives in Phillip Island and you can observe them very well from Nobbies Center or from a boat if you do a tour from Cowes Pier.
We left Melbourne and drove further in direction of the Great Ocean Road.  There are a lot of fantastic places on the way.
It is wise buy some groceries in one of the big supermarkets in Geelong.  After Geelong, directly located at the highway, you can find a big BP petrol station and an information center.  The people there are really helpful and of course, as always in Australia, you can find a lot of documents like maps and campsite guides for free!  Just next door to the information center you can find a fruit shop where you can buy very cheap fruits and vegetables – a kilo of bananas costs 1 AUD here –  in comparison you would pay about 3 AUD in supermarkets!
Right after Geelong you are already on the breathtaking Great Ocean Road.  A huge sign out of wood over the street and a monument on the road side remind you the story of the Great Ocean Road.
In my opinion the most beautiful street on earth!
The particularity of the Great Ocean Road is its great diversity.  On the one side steep coasts or white-as-snow kilometer-long beaches, and on the other side the lush rain forest of the Great Otway Nationalpark.
Our campsite for today is located right at the entrance of a little and very nice place called Lorne.  It is a really nice place along the Erskins River and in a few minutes of walk you can reach the center of the town where you'll find a lot of little bars and restaurants.  The numerous waterfalls are the highlight of this area.
No sooner had we parked on the camping place than the first attack happened.  About 50 cockatoos, together with seagulls and ducks, literally invaded our place.  They didn't leave us in peace until we gave them something to eat and finally after we did they flew away.  I had the impression that it was the price to pay to be accepted on their territory.  If they were not looking at us in such a funny and innocent way with their big black eyes then we would take the small wounds amiss which there sharp beaks cause.
You can find numerous different types of egrets and kookaburras in the trees along the river.  You can go on a very nice walk along the river during the evening, walk over a luffing old wooden bridge that leads to the beach, where you can enjoy the sunset.
Great Ocean Road adventures to be followed tomorrow…!
Your Aussiefreak – Anke
As usually our day started very early in the morning.  We left Lorne at 7.30 am and drove to Erskins Falls, which is located just 10 kilometers out of town.
When driving early in the morning then please drive slowly and carefully as many wallabies are sitting on the right and left hand-side of the road enjoying the first sun rays at breakfast time.  But it's a great way to start your day!
You should plan at least one hour to enjoy the rainforest and it's wonderful waterfalls. The descent and ascent is well worth!  The falls pour over a with moss and ferns covered wall from 30 meters to the bottom in to the dense rainforest!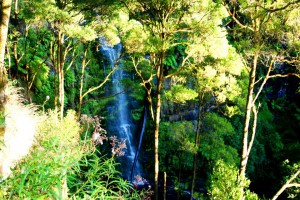 Erskins Falls Otway N.P.
Wet with sweat but in a good mood as always, we continued our trip.  For breakfast we stopped at the Koala Cove Cafe at Kennett River!  The highlight of this place were not only the fantastic desserts (and of course Lu couldn't resist once again) but also a small dirty road leading upslope towards Black River Road!  This is the hot spot for koalas at all!  On the very first tree was sitting a gray fuzzy monster and basked in the morning sun!  It is a completely different experience to spot those beautiful animals in the wildness.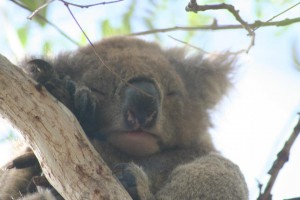 Koala at Kennett River
We continued driving along the Great Ocean Road, which runs a long way through the interior of the country.  Green lush meadows with cattle – and sheep, horses and alpacas adorn the side of the road.
After the small town Johanna there is a beautiful Walk in Melba Gully.  This walk is particularly famous for its beauty at night – thousands of fireflies will lighten the rainforest.  During the day – usually after rain – you may see the Otway-Snail which only lives there.  It's a black snail that looks around for prey on the forest floor.  Unfortunately, we weren't lucky and we couldn't see it.
Melba Gully is a loop trail which leads through a dense with giant fern-covered forest – it feels like being in Jurassic Park!  It's also a great opportunity to go for a walk.  It only takes you between 45 and 60 minutes to get back to the carpark.  There is also a nice picnic-area with barbecues and seatings.
Along the Great Ocean Road there are a lot of lay-bys where you can stop and take pictures, or where you can just enjoy the unique scenery. We drove up to Princetown and to stay at a campground where we have already been in 2010.
It is a very nice campground located near the river.  Princetown itself has an old post office, which is also a supermarket and an excellent pub where the steaks are huge!  It is the closest tourist and camping park to the 12 Apostles and the prices start from $25 per night!
We followed the magical reputation of the 12 Apostles and only eight kilometers later we arrived at the visitor center. There are toilets, a kiosk and an information center. In addition, Helicopter Scenic Flights are starting from here. Unfortunately, there were so many people that day that we weren't able to book a helicopter. The prices start at $95 per person for an eight-to ten-minute flight over the Apostles.  Another supplier is located near the 12 Apostles on the right hand-side and offers cheaper sightseeing flights. When you are  interested then you should probably book a day in advance at the tourist information point in Lorne.
The Apostles gleamed in splendor in the same way as we had this in mind and it seemed like time stands still!  You can hardly get rid of the tear gracefully towering cliffs and you understand immediately why they are called the 12 Apostles.  It is only by the hand of God that such an impressive backdrop can be created.  If you have more time you can even do the Beach Walk, and you'll realize how small you feel next to these mighty rock formations.
12 Apostels & Great Ocean Road
The next Tourist Park was located in Port Campbell.  A cute little harbour town with a nice campground.  The sites are mostly shady and some directly overlooking the river which was quite dry this season.  The kitchen and BBQ area is well fitted!  There's a huge TV-Room and a Gambling Room. It's very clean and new!  In the $33 you pay there are 3 hours for free internet included the data rate is limited, but for checking your emails it's enough.  The beach and Main Street are not far away – just a few minutes to walk.  There is super tasty dinner at the Beach Cafe and restaurant with sea views!
The Great Ocean Road has much more to offer than just the 12 Apostles!  The Bay of Martyrs is fascinating and offers a gorgeous sight!  The submerged caves such as London Arch, the Grotto, the Razorback, Apollo Bay and the lighthouse at Cape Otway, of course, are also worth seeing!  Even though the Great Ocean Road extends only about 250 km from Geelong to Warrnambool, you should quietly take two to three days to enjoy all the beauty to the full extent!  Who's passing Warrnambool during the Australian Winter may not miss watching the wales in the bay!!!
We said goodbye to the Great Ocean Road and drove to Portland paassing Port Fairy.  There we checked in into a beautiful campground which is in the bush only 1.6 km from downtown: Holiday Village Portland Tourist Park in Garden Street.
The special features of the park are the koalas living on the giant eucalyptus trees!  It's simply magical when you hear their strange noises in the night time.  There are also lots of cockatoos and other colorful species of birds throughout the park.
Approximately 15 km away from Portland is Cape Bridgewater with the Seal Caves – the largest sea lion colony of Australia, with about 850 animals living there.  Boat tours to the colony are offered but you have to book in advance! There are also two different walks, one on "the highest coastal cliff of Victoria," which is the one we have chosen.
It is a very exhausting walk with many stairs and very steep hills.  I admit I've thought about stopping and going back a few times.  But there is such a spectacular view of the beautiful coastline when you are on the top so that every effort is worth it!  You feel soooo close to heaven!
I couldn't believe my luck, but right next to me in the grass was a echidna looking for food!  He was very curious and I could even touch him!  We spent about half an hour watching and supporting this sweet little guy before he left into the undergrowth!  Woooohoooo!!!!  Crikey!!!
After two hours we finally arrived at the Lookout for the Seals.  This is about 70 meters in height on the rocks where the sea lions cavort.  You should definitely have a pair of binoculars and a good telephoto lens while watching them.  Otherwise it may be difficult to take good pictures!
And it is even more difficult to take pictures if you're like me and need new space on the memory card and forget to copy the pictures on to your laptop before deleting them on the camera …. Yes yes … Anke totally organized, as always!  At least, I took some pictures of the sweet echidna with my little digital camera!
The walk between Cape Bridgewater to Portland was really tough, the distance was approx. 10 kilometers.  After that we were starving!  But luckily there is the best Fish & Chips in town just next to the post office!  Only be aware that they already close at 6pm! So hurry up, because for two oversized portions, we only paid $13.50 and for Australia this is really cheap!  Well, we enjoyed a delicious dinner and a spectacular sunset with many parrots at the BBQ area on the campsite… we fell into bed and dreamed of the great experiences from today …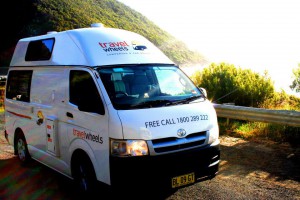 Travelwheels at the Great Ocean Road
Cya mates…
Your Aussiefreak – Anke