Sydney to Cairns Campervan Hire Road Trip Planner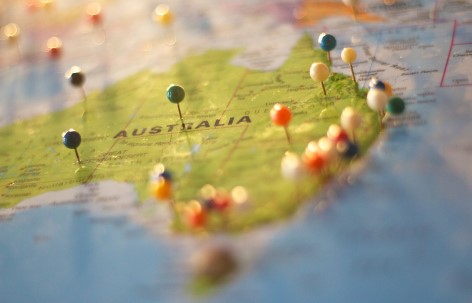 Free Sydney to Cairns
PDF download – email us
Sydney to Cairns is the most popular campervan hire holiday in Australia! Here is our free campervan hire Cairns to Sydney Route Planner.The guide highlights fantastic places to visit and cool things to do! It gives you all the information you need to plan and book a Sydney to Cairns road trip!. Need help or advice about planning a camper holiday? Call our friendly team on +61412766616 or email for our free PDF guides.
We speak English and Deutsch in the office. Here are the links to the Français and Deutsch versions of our free Cairns to Sydney Route Planner.
Travel Hack – Cairns to Sydney Camper Hire is Cheaper!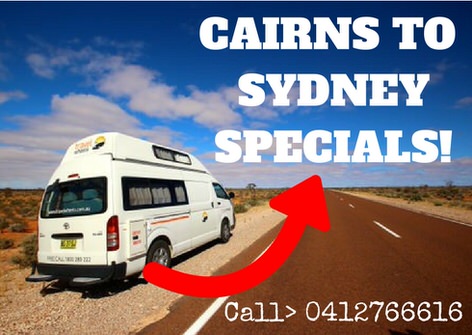 Free Cairns to Sydney
PDF download – email us
Here is a fantastic "Travel Hack" for you guys. Are you on a tight budget? Are you looking for the cheapest way to see the east coast of Australia? Do you have flexible travel plans? If you reverse your trip and use this simple travel hack, you can save a fortune! By starting in Cairns and travelling to Sydney, you can save loads of money!
Big discounts apply as companies need to move vehicles back to Sydney! They offer massive discounted deals! You can get savings as much as 50% off the Sydney to Cairns price! Plus they often remove the "one way fee" as well!  Call or text our team on +61412766616 to get these cheap deals!
Read our free Cairns to Sydney Route Planner in English. Here is a link to the Deutsch, and Français versions.
Three Most Popular Campervans We Hire in Australia
Below is a quick overview of the three most popular vans we hire to customers from all over the world! Check out the descriptions below and any questions email or call/text us on +61412766616. We speak Deutsch and English!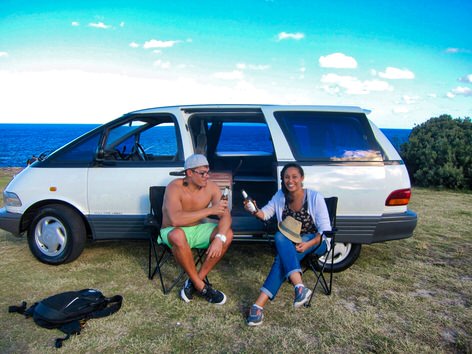 This camper drives like a car and sleeps like a campervan! Great value for money and it's a perfect choice for anybody looking to explore Australia on a budget.
This two person campervan has a mini kitchen, 35L fridge, and double bed. All the cooking and sleeping gear included in the price.
Check Price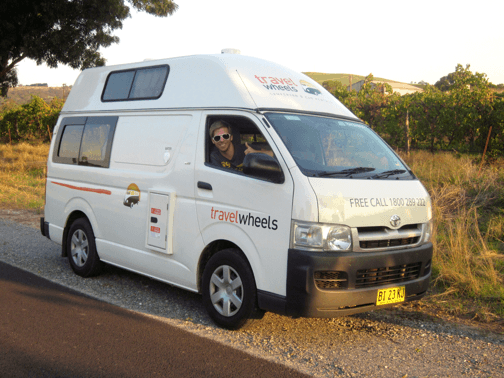 Australia's most popular campervan for hire! Unbeatable value for money when you consider the space, comfort and low prices!
This camper has a high roof, 1 x double and 1 x single beds. It's easy to drive, comfortable and has a redesigned spacious kitchen in the back of the van. All the cooking and sleeping gear included in the price.
Check Price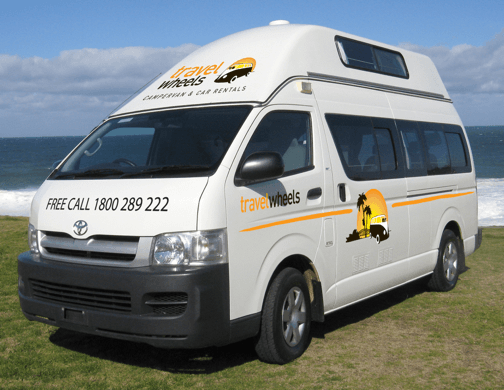 Looking for automatic campervan hire in Australia for up to five people?
With comfort in mind, we have designed this campervan with more head and legroom. With a larger fridge, more space in the lounge and bigger beds, this is a fantastic campervan!
Easy to drive and plenty of positive customer reviews makes this campervan a fun holiday!
Check Price
Travelwheels used campervans for sale Sydney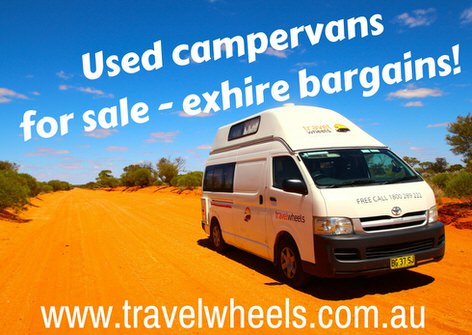 We sell a range of used campervans for sale with 12 months warranty included. Our range of ex-hire used campervans for sale are great value for money. Fully serviced, deep cleaned and ready to travel Australia.
Are you looking for a campervan for up to twelve months to travel around Australia? Then our 50% buyback guarantee option is excellent for overseas customers. Works out cheaper than long term campervan hire!
Call or text Shaun on +61421101021 for more info, and test drives are more than welcome.
Campervans For Sale
Campervan Hire Australia - book direct for cheap deals!