Toyota Hiace Campervans for sale in Sydney
Toyota Hiace Campervan for sale in sydney – ex-rental direct sales
Travelwheels used campervan sales have a range of  fantastic Toyota Hiace Campervan for sale in Sydney.  Therefore if you are looking for a strong, reliable, comfortable used campervan with warranty, call 0421101021.  We sell our ex-rental campervans direct to the public, so no wholesaler adding mark up!  As a result you buy direct, save big money and especially get the used campervan you always wanted!
Our Toyota Hiace campervans for sale in Sydney are great!  Perfect for anybody wanting a quality used campervan at a fair price!  For example, all our ex-hire Toyota Hiace Campervans for sale are direct from our company.  Therefore we know the service history of every vehicle.  As a result of this, we can offer genuine ex-hire campervans with warranty.
Toyota Hiace Campervan features
All our Toyota Hiace campervan for sale in Sydney come fully equipped.  Therefore at no extra cost we will provide all your bedding, pillows, and sleeping bags. These ex-rental campervans come with all kitchen utensil to get you cooking like Jamie Oliver!  We will also provide camping chairs so you can dine alfresco!  All the above items are included in the vehicle price.  Therefore this is another good reason to buy from Travelwheels campervan sales Sydney.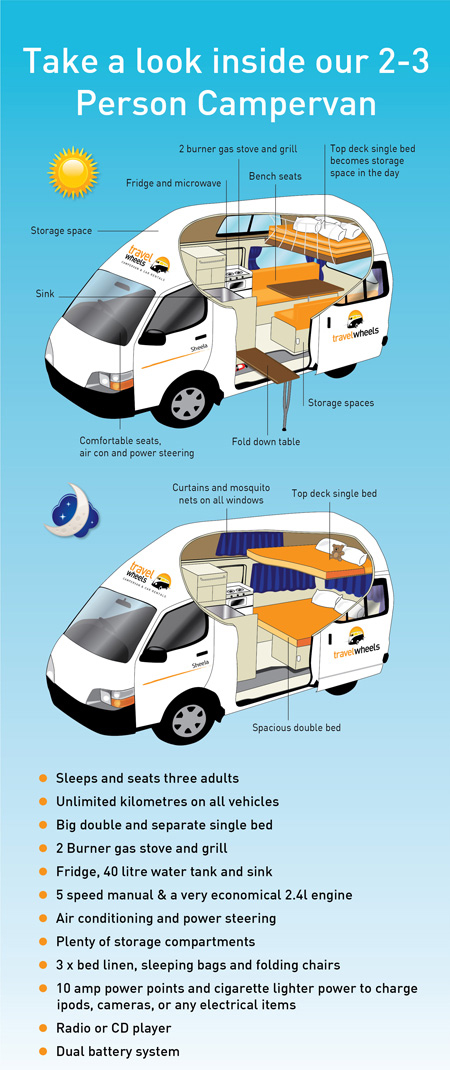 Main features
3 people can sit in the front cab and sleep in the back!
Headroom: you can actually stand up inside the campervan to cook and relax!
Large double bed (with heaps of storage underneath) plus single roof bed.
Kitchen includes fridge, gas burner stove, sink, plus practical worktop.  For example this model has a microwave as well.
Ex-hire campervan from Travelwheels.  Therefore fully serviced, and stickers removed.
100 point after sales check and serviced, and ready to be sold!
Why pay for hotels buy a Toyota Hiace campervan instead!
As a result of a very practical design, you will enjoy owning this campervan.  For example it has a large comfy bed inside.  It's easy to convert into lounge with table and two comfy benches.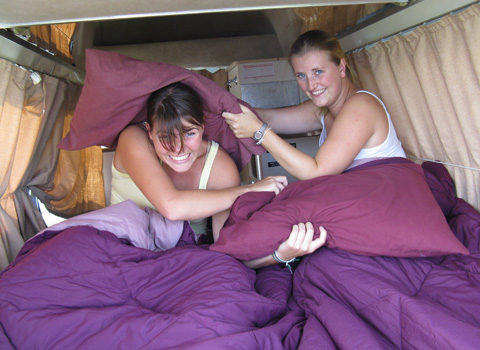 Staying in hostels in peak times in Australia can prove to be quite expensive!  Therefore if you are planning a big campervan trip around Australia, it will add up!  Therefore this is a great option to save money.  It will especially give you the freedom & flexibility explore Australia without breaking the bank!
Why buy Toyota Hiace Campervan from Travelwheels?
Listed below are good reasons to buy a Toyota Hiace Campervans for sale in Sydney from Travelwheels.  For example we offer great customer support.  We also offer extended warranty on all Toyota Hiace Campervans for sale.
Roadworthy Certificate (Pink Slip)
12 Months Warranty on Engine & Gearbox.
Third Party Insurance
Guaranteed buyback up to 50%
Contact Travelwheels
For more information about buying used Toyota Hiace Campervan for sale in Sydney, contact us!  You can visit our used campervan sales Sydney depot at 11-15 Clevedon Street, Botany, 2019, Sydney.  Alternately you can call us on on 0421 101 021 to ask us a question.  Why not send us an email for more info at [email protected]
Toyota Hiace Campervan  – ask us a question?
Thinking of buying a used Toyota Hiace campervan and looking for some more information? Ask us your questions below, and remember you are welcome to test drive any of our used campers for sale!