Toyota Hiace Campervan for sale in Sydney – Test drives welcome – REF: CZ31XF
Toyota Hiace Campervan for sale in Sydney – ex-rental direct sales
Travelwheels used campervan sales have this fantastic Toyota Hiace Campervan for sale in Sydney.  Therefore if you are looking for a strong, reliable, comfortable used Toyota campervan then call Shaun on 0421101021.  Test drives are always welcomed and happy to answer any questions you might have.
We sell campers direct to the public saving you money!
We sell our ex-rental campervans direct to the public, so no wholesaler mark up!  You deal with us directly and as a result, you get a quality campervan that you can test and inspect properly before handing over your money.  We are not just a website selling campervans online only!  We have been selling and renting campervans for years in Sydney!  Come on down to our Sydney office @ 11-15 Clevedon Street, Botany, 2019, Sydney and test drive a few of our fantastic campervans!
Super clean Toyota ex-rentals are now Available!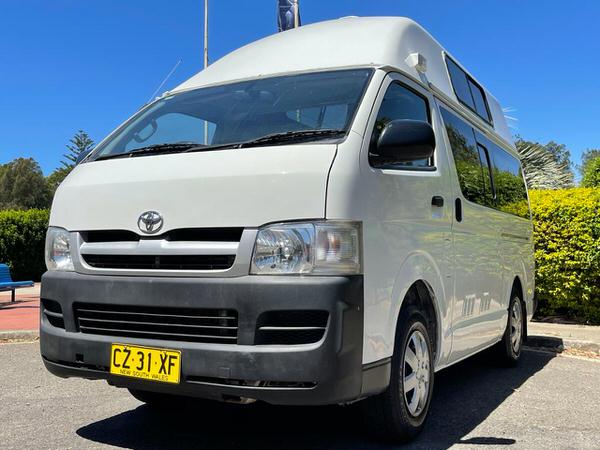 We want you as a lifetime customer, so we have made sure this Toyota Hiace campervan for sale in Sydney is in great condition!  It's perfect for anybody wanting a quality used Toyota campervan at a fair price!  For example, all our ex-hire Toyota Hiace Campervans for sale are directly from our company.  Therefore we know the service history of every vehicle.  As a result of this, we can offer genuine ex-hire campervans in good condition.
All stickers removed from campervans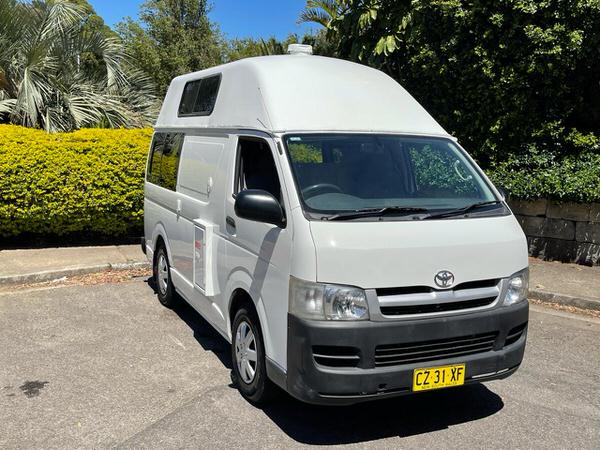 This used Toyota Hiace Campervan for sale in Sydney has been serviced and ready to go on an adventure!  As can be seen, this particular Toyota campervan now looks very different from when it was on our rental fleet.  All the graphics have been removed and now it looks fantastic!
To begin with, once we de-fleet the camper, then the real work starts on getting it ready for you.  Another key point is that the team will road test the vehicle for a week.  We do this before we even start to clean and prepare the campervan for sale.
Our service manager will drive the camper to and from work to test the vehicle out for a week to give us a good baseline.  Then the real work can begin on making this Toyota Hiace campervan ready for your test drive.  Remember you can call Shaun on 0421101021 to ask any questions or to book in that free one-hour test drive.
All stickers removed – view from the back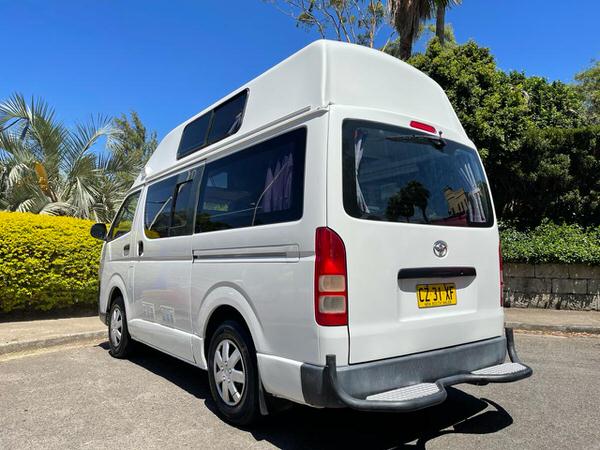 Once our service manager is happy the way the campervan is performing, it will then going into our workshop.  At this point, the camper will get a full service and we make sure everything is correct before handing it over to our detailing department.  The team, for instance, will remove all the stickers and give it a deep industrial clean.  We will buff up the paintwork to make it look fresh, so when you pop around it will be ready for you!
Best value and best performing used campervan!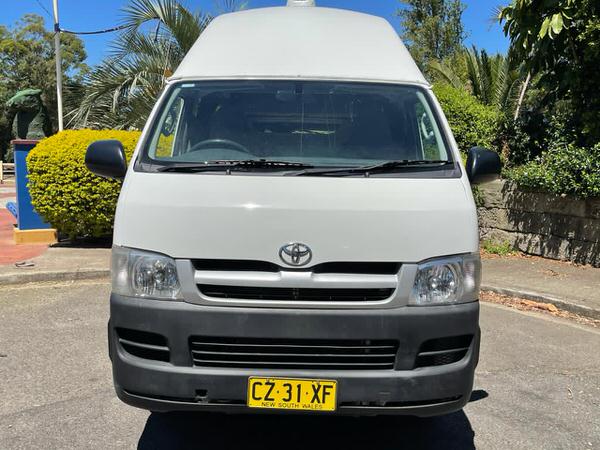 This Toyota Hiace campervan for sale in Sydney is simply the perfect vehicle for anybody searching for a good quality used Toyota campervan.  Now is the time to come down to our depot and see for yourself what everyone is talking about!   You are welcome to come down more than one and test drive the same or a different vehicle as many times as you like.
Given that we are so confident the campervan is top quality, we tell everyone to take their time and visit our depot a few times.  It's super important to us to make sure you are happy.  We do not spend big on online marketing.  The best form of marketing in our opinion is getting it right the first time and then making sure you are happy with your purchase.
Once you are happy, you will tell your friends and word of mouth is an important part of the way we do business here at Travelwheels used Toyota campervans.
Toyota Hiace Campervan features
All our Toyota Hiace campervan for sale in Sydney come fully cleaned and ready to go for a solid long test drive!   You can book an hour or a longer two-hour test drive by calling Shaun on 0421101021.  This way you can really test out all the features and give the campervan a decent test drive.  Therefore this is another good reason to buy from Travelwheels campervan sales in Sydney.  Now let's have a look inside out 2-3 Person Toyota Hiace campervan and see why everybody loves these ex-rental Toyota campervans!
Main features
Here is a quick snapshot of just some of the features of this Toyota-Hiace campervan.  You are more than welcome to call Shaun on 0421101021 or email [email protected].au to ask as many questions as you like. Our friendly team are here to help you find the best used Toyota campervan for your budget.
Make: Toyota
Model: Toyota-Hiace Campervan
3 people can sit in the front cab and sleep in the back!
Headroom: you can actually stand up inside the campervan to cook and relax!
Large double bed (with heaps of storage underneath) plus single roof bed.
Kitchen includes fridge, Microwave, gas two-burner stove, sink, plus practical large worktop space.
Ex-hire Toyota campervan from Travelwheels.  Therefore fully serviced, and stickers removed.
100 point after sales check and serviced, and ready to be sold!
Looking for an automatic Toyota campervan for sale, we have those in stock as well!
Open plan kitchen – easy to use and keep clean!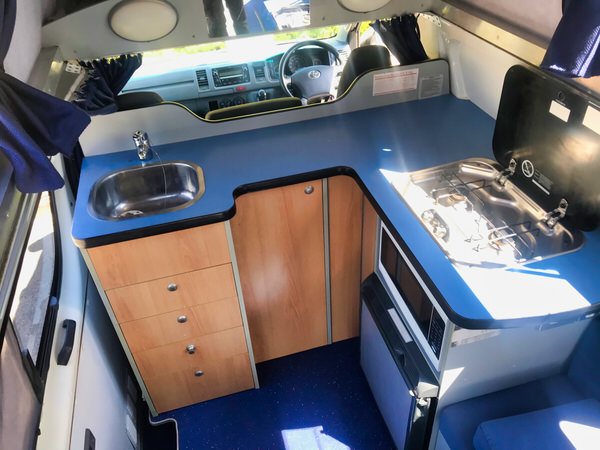 All our ex-rental Toyota campervans for sale have a great open plan lounge and kitchen area which is a joy to use.  Given the fact that the kitchen has been completely redesigned in this model, you can see why it is so popular with our customers.  As can be seen in the photos it is a practical design which makes preparing great meals in this kitchen easy.
The functional practical layout gives you the ability to cook, chat and relax with friends all in the same communal space.  Some campervans have the kitchen at the back of the vehicle whilst everyone else is in the van drinking beer chilling!  With the combined kitchen and lounge it is such as comfortable communal space to cook, dine and entertain with friends on your campervan holiday adventures.  Anybody wanting to explore Australia in comfort will love this quality campervan.
Cooking is fun and easy in this camper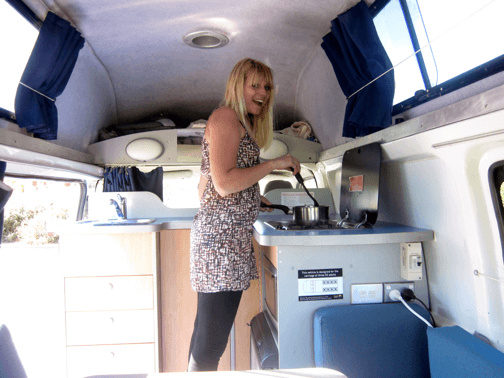 Cooking is a real joy and so practical in this Toyota campervan for sale.   Firstly, there is a decent-sized worktop space to help in the preparation of great meals in this campervan. A point often overlooked when searching for a used campervan is how practical is the kitchen layout?
The design of the kitchen in this Toyota-Hiace-campervan is perfect for cooking, and still being able to chat and be with friends. Firstly the sink is on the left-hand side as soon as you enter the campervan.  This makes which makes washing your food easy.  Secondly, there is good worktop space directly next to the sink to chop and prepare your ingredients.
Thirdly, once you have finished your food prep, the practical two-burner stove is right next to the workspace which makes cooking nice meals easy.  To summarize the benefits, here are the main features of the kitchen area:
Updated practical kitchen
Easy to use, and easy to clean!
Large 55-litre fridge (12V/240V)
2 burner gas cooker
Microwave (works via mains electric)
4kg gas bottle – cheap to refill anywhere
Internal water tank for washing/cooking
Large kitchen countertop to prepare food
Plenty of hidden storage spaces
Great open plan living in this Toyota Hiace Campervan
The combined comfortable lounge and kitchen area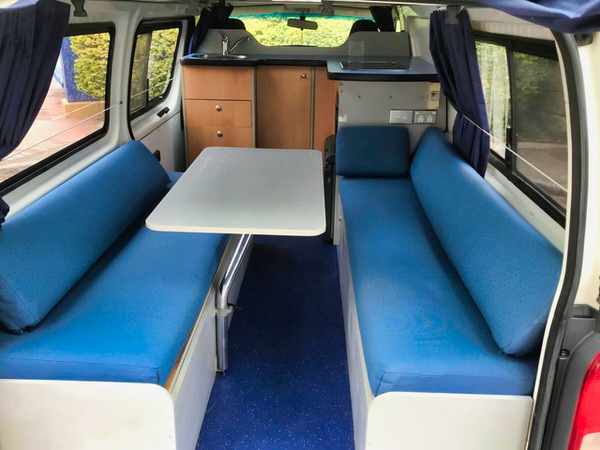 These Toyota Hiace Campervans are known for their practical design, clean lines, comfort and for their reliability.  With this in mind, let's check out the comfortable lounge area which has plenty of space to entertain friends in this camper.  A point often overlooked is the strong hardwearing materials used in the construction of the open plan kitchen and lounge area.
Firstly, let's look at the tough durable floor covering and laminated surfaces which make cleaning the campervan quick and easy. Secondly, under the comfy benches is some handy storage space to keep all your stuff hidden from view.  If you are searching for a quality used campervan with Toyota reliability then you will need this camper!
Plenty of room for two or even three in a bed!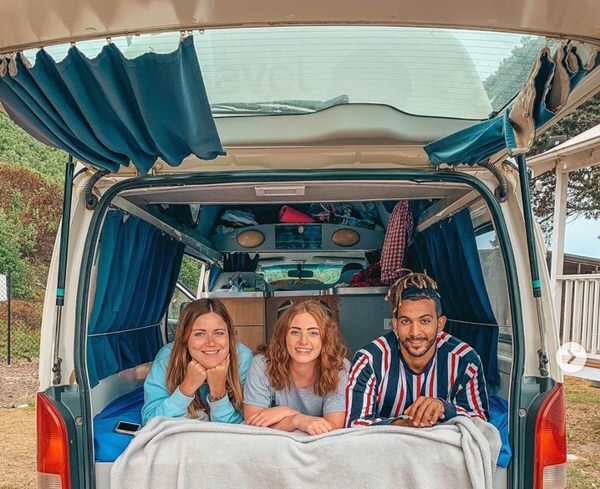 As can be seen from the photo above, there is plenty of room for two or possibly three in this double bed!  The flexibility to sleep up to three adults in comfort inside this Toyota Hiace campervan for sale in Sydney is a big bonus here! Another key point to note is the double bed is very easy to convert at night time.  Firstly, all you have to do is remove the table and slot it between the two benches, and then move the cushions to form the bed.  Then you can relax in this comfy double bed which measures 1.85m x 1.55m).
Single bed in the root top space
This campervan includes a single bed in the Toyota Hiace HiTop roof.  The dimensions of the bed are 1.60m x 1.4m (max weight for roof bed is 200kg).  What's more, all the beds in this campervan have windows on either side of the van to give you that all-important cross ventilation.   Another key point for security and privacy all windows and doors have curtains in the rear of the campervan.
Toyota automatic + manual campervans for sale
Here at Travelwheels campervans Sydney we sell a range of both manual and automatic Toyota campervans.   All our ex-hire Toyota campervans are available to test drive for free of charge.  You can even hire it for a week and then if you like it, we knock off the hire charge from the sale.  You can contact us to arrange a long test drive and test out the beds!  If you bring your own bacon, eggs and some avocados you can make some breakfast in the kitchen! Give Shaun a call on 0421101021to ask any questions you have about buying an ex-rental Toyota campervan.  Check out the links below to see if you would like to test drive any of these great used Toyota campervans:
Why buy a used campervan from Travelwheels?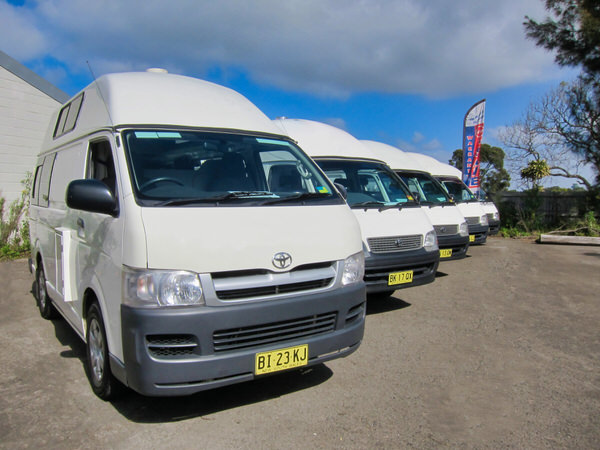 Why should you think about buying a used Toyota campervan from Travelwheels? We have been renting campervans across Australia for the last fifteen years. For one thing, our range of ex-rental Toyota Hiace campervans come fully serviced, deep cleaned and ready for your test drive.  To begin with, we know that this is a serious purchase and you will need to do your research to feel comfortable buying one of our campervans.
The team at Travelwheels know what works, and what to look out for and how to maintain these campervans in optimal health.  Therefore we can pass on this knowledge to you and make you feel comfortable purchasing one of our used Toyota Hiace 3 Person campervans.  You are for instance more than welcome to pop down to our yard and test drive as many of our campers as you want.  This way you can get a real feel as to what campervan suits you the best.  Come on down, jump in the back and make the beds or use the cooker!  We want you to be happy and to summarise you will also get the following benefits included in the price when you buy from us:
One year Australia warranty on engine and transmission.
12 months worth of roadside assistance included
Guaranteed buy back up to 50%
Twenty years of experience in buying and renting Toyota Campervans in Sydney
Try before you buy!  Rent the camper for a week and then buy to make sure you are happy
Roadworthy Certificate (Pink Slip)
12 Months Warranty on Engine & Gearbox,
24 /7 Roadside Assistance
Help with purchasing Third Party Insurance
We speak Deutsch!
Contact Travelwheels
For more information about buying used Toyota Hiace Campervan for sale in Sydney, contact us!  You can visit our used campervan sales Sydney depot at 11-15 Clevedon Street, Botany, 2019, Sydney.  Alternately you can call us on on 0421 101 021 to ask us a question.  Why not send us an email for more info at [email protected]
Toyota Hiace Campervan  – ask us a question?
Thinking of buying a used Toyota Hiace campervan and looking for some more information? Ask us your questions below, and remember you are welcome to test drive any of our used campers for sale!