Melbourne Campervan Hire Deals from Travelwheels
Travelwheels has great Melbourne Campervan Hire deals! We specialise in good value for money Melbourne Campervan Hire. Remember we will not be beaten on Melbourne to Sydney campervan hire!  Give us a call on 0412766616 for our latest deals!  We beat all competitor quotes back to Sydney guaranteed!  Wir spechen deutsch and nous parlons Français ici.
Travelwheels Melbourne Campervan Hire Office – 5A Halsey Road
Travelwheels Melbourne Campervan Hire office is located close to Melbourne Airport.  From here our office is only a ten minute taxi ride away.  This will save you a big taxi fare as it costs about $120 to get a taxi into city centre from the airport (ouch!).  Most of our competitors are located miles/kms away from the airport, so automatically you save with travelwheels melbourne campervan hire!
Travelwheels Melbourne Campervan Hire
5A Halsey Road, Airport West, Victoria, 3042.
Travelwheels Melbourne Campervan hire – 4 models to choose
Travelwheels Melbourne Camper hire has a wide range of rental campervans for you. We rent small 2 person campervans with a full size fridge and not just an icebox!  We also hire Automatic campervans in Melbourne with proper child seat belt points.  These can also carry up to five people, so a super cheap way to get good value for money Melbourne campervan hire!
Melbourne to Sydney Campervan Hire Price Match with Travelwheels!
Travelwheels Melbourne Campervan Hire will price match any Melbourne to Sydney Campervan Hire quotes with any of our competitors!  Travelwheels are specialist in Melbourne to Sydney Campervan Hire.  We will price match all deals with our competitors for Melbourne to Sydney Campervan Hire! All you have to do is send travelwheels Melbourne Camper Hire an email [email protected].  We will do our best to match our competitors deal for you! Remember we only price match on similar vehicles, ages, quality and if we have availability.  You can check out our facebook reviews from customers about our low prices and quality deals!
We will not be beaten on Melbourne Campervan Hire to Sydney deals!

Travelwheels Melbourne Campervan Hire depot close to Melbourne Airport
Travelwheels Melbourne Campervan Hire office is conveniently located close to Melbourne Airport.  Some of our competitors for Melbourne Campervan Hire have their depots in the city in places like St. Kilda!  It cost about $120 dollars to grab a taxi from the airport to St Kilda to pick up a campervan from Jucy!  With Travelwheels Melbourne Branch we are close to the airport!  This way you don't waste any time when you pick up your campervan in Melbourne with Travelwheels.
Travelwheels Campervan Hire Melbourne
Eclipse Automotive – Acting Agency
Cameron Horder
5A Halsey Rd,
Airport West
VIC 3042
Call Travelwheels = 0412766616
Email Travelwheels = [email protected]
Local facilities near Branch
Nearest Supermarket and cash machine – Westfield Shopping Centre, 29/35 Louis St, Airport West (1.0km)
Petrol Station – Shell, 10-12 Louis Street (next to Officeworks), Airport West (0.9km)
Train Station – Essendon Station, Entrances at Buckley St and Rose St, Essendon (5.4km)
Tram stop –  Tram Line 59, Marshall Road Stop 58 on Matthews Ave (200m)
Bus Stop – Bus 952 to/from the city centre – Dromana Ave Stop on Matthews Ave, Airport West (700m)
Closest Airport to travelwheels Melbourne Depot
Melbourne Airport, Departure Dr, VIC 3042 (9.3 km from/to travelwheels depot)
Travelwheels Melbourne Campervan Hire Opening hours:
Monday to Friday = 8am to 5pm
Saturdays and Sundays = CLOSED
Toll Roads in Melbourne – guide for campervan hire customers
Australia has a really bad toll road system that catches out tourists all the time!  Here is a link to some background information on toll roads in Australia from our blog.  It has plenty of useful tips to understand why it is so confusing!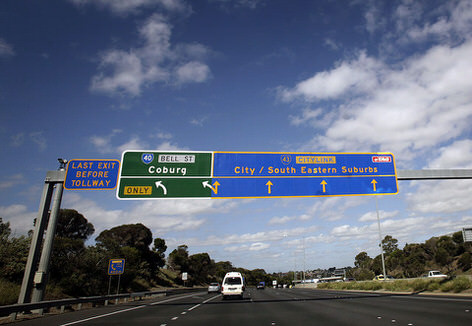 Here is some background information on toll roads in Victoria that is worth reading.  To make things even more confusing, there are two separate companies handling the toll roads in Victoria!  These are the links to both of them for you to read up on, www.eastlink.com.au and www.citylink.com.au.
Need help planning your Melbourne campervan hire road trip?
Travelwheels Melbourne campervan hire staff love planning camper holidays for our customers. For example if you need help about how to plan your Melbourne holiday, we can help! For instance when is the best time of year to tour Melbourne/Victoria?  When is the best time to visit with a campervan? How about where can I camp for free between Melbourne to Sydney?  In this case we have listed some great resources below for you to read.
Useful links for Melbourne Campervan Hire holidays to read up
Travelwheels Campervans Free things to do in Melbourne
There are a number of free things to do in the city. Here is list of some of the free stuff to explore with your travelwheels Melbourne campervan hire van:
City Circle Tram
The City Circle Tram provides a "hop on, hop off" service.  You can visit places such as Federation Square, Old Treasury Building, Parliament House and Princess Theatre.  Here is a link to the free City Circle Tram.
Flinders St Station
Flinders St Station is a major landmark in the city and is also a popular place to meet. It is said to the busiest suburban railway station in the southern hemisphere.
Federation Square
Right along the route of the free City Circle Tram lies Federation Square.  Both Flinders St Station and Federation Square have distinctive, if contrasting, architectural styles. After exploring these places, then it is well worth browsing  through the shops and galleries close by.
Royal Botanic Gardens
Melbourne Royal Botanic Gardens contain extensively landscaped gardens covering 35 hectares (86 acres).  It feature thousands of plants from across Australia and around the world. Enjoy a leisurely stroll through a variegated landscape of plants, shrubs and trees. Free guided walks or self-guided audio walks are available.
Queen Victoria Market
The southern hemisphere's largest open-air market, the Queen Victoria Market.  It offers fresh farm produce and a variety of merchandise which turns it into a modern Arabian Nights bazaar. An historic city landmark and an institution dating back more than 120 years.
Melbourne Beaches
South of the city centre lie a number of the city's beaches along the arc of Phillip Bay.  Visit St Kilda Beach and Brighton Beach which are easily accessible by tram from the heart of the city.
Contact Travelwheels Melbourne Campervan Hire Office
You can call Travelwheels Melbourne Campervan Hire on 0412766616
The easiest way to contact travelwheels Melbourne Campervan Hire is to click on the contact us email button below.
Our friendly staff who can speak deutsch and Français.  Travelwheels will be more than happy to answer any of your questions about Melbourne Campervan rental deals.
Cheap Melbourne Campervan Hire Quotes
For our best deals for campervan hire from Melbourne to Sydney enter your dates below.  It will give you out cheapest prices for Melbourne Camper Hire.  Remember we will beat all competitor quotes outside of peak season guaranteed if we have stock on camper hire back to Sydney!