Campervan Hire Insurance Excess Options | Travelwheels Campervans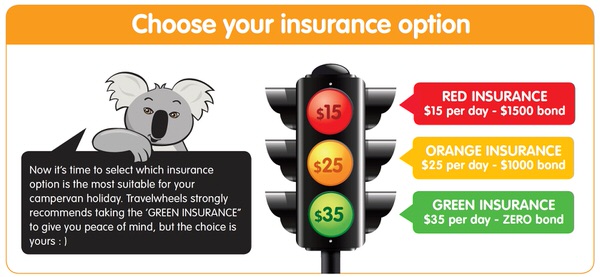 Are you confused about campervan hire insurance options? Are you considering renting a vehicle in Australia?
Most people worry about vehicle excess damage cover. There are complicated rules and regulations! No-one wants to make a wrong decision! To help you understand all the options we have written this guide.
Travelwheels campervan hire staff explain all these confusing details every day to customers. Our guide gives you all the best options in plain English. It will help you decide on which insurance damage reduction policy is best for your adventure.
English is not your first language?
We have this guide in different languages!  Most of our campervan hire customers are from Europe.
Contact team for campervan insurance excess info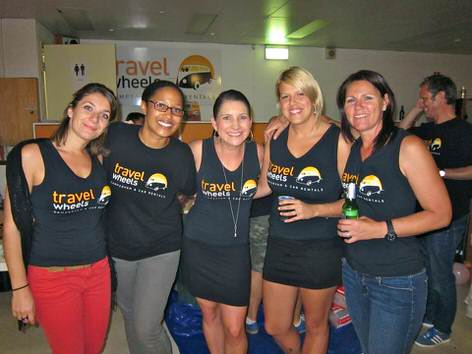 If you are worried or confused about the vehicle insurance options, then contact us!  You can call or text our campervan hire team on +61412766616. Note we also wir sprechen Deutsch and our website is in Français!  Click the email us button below to ask us a question:
Five reasons why you should buy travel insurance
As mad as it sounds, we get many people asking us this question!  Everyone needs personal holiday insurance, and here are the five main reasons why!
Medical Emergencies
Lost or stolen luggage
Cancelled flight protection
Protection against Personal Liability
Peace of mind for mum and dad back home!
If you need to buy holiday insurance, then we recommend checking out Money Saving Experts website for Cheap Travel Insurance.  Now let's get on to the main subject, campervan rental vehicle excess cover! We get so many questions about this! We will do our best to explain the reason why you need to buy campervan excess insurance.
Do you really need Campervan Hire Insurance in Australia?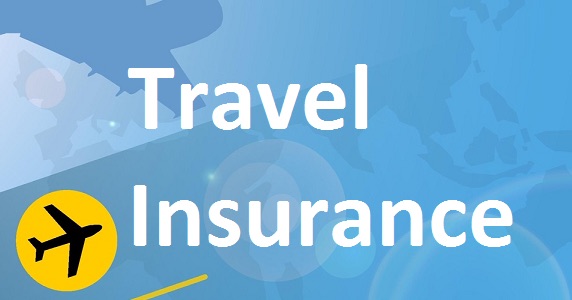 The thing about campervan hire insurance is this; you don't need it until you need it!  Many people believe their travel-insurance policy will cover them.
Travel Insurance Policies do not cover hiring vehicles
In the event of an accident, your personal policy will not cover you for damages involving campervan hire! Please study the small print of your holiday insurance policy. They often explicitly mention no cover for vehicle hire. Unfortunately, we have many sad examples to back this up! We had customers in the past who decided not to bother with campervan insurance and then had an accident! They have been liable for thousands of dollars of damages!
What do travel insurance policies cover?
Most insurance policies cover illness, accidents or the cancellation of your trip. Some will cover delays and damage to possessions. They will replace lost travel documents and offer personal-liability support.  They do not cover damage to motor vehicles or campervan hire rentals. You run the risk of exposing yourself to a massive bill if you have an accident!
Why buy insurance excess policy?
Many companies recommend buying a campervan insurance excess policy. They do this to protect your exposure to risk! They want you to have a great road-trip, but accidents do happen! The last thing they want is you paying a massive bill if you hit an expensive vehicle! This also applies to all our competitor's vehicles such as Jucy, Spaceships, Travellers Autobarn and Camperman Australia.  They all say the same thing, protect yourself!
You don't buy campervan insurance, you risk it!
If you decide to risk it, what can happen? Let's say you decline the offer of campervan hire insurance.  You just book your campervan with no extra insurance.
If you get unlucky and have an accident with your vehicle, what are your liabilities? It depends on the company and their terms and conditions!  Let's hope you read them before you started your vacation! There's no better way to ruin the holiday of a lifetime than this! Imagine having to pay a huge bill due to an accident! It might not even be your fault in the first place!
It could lead to you flying home early with a significant debt! Regardless of which company you choose, we always recommend taking out vehicle insurance excess coverage.
Credit card insurance?
We get many questions about this topic. Credit card companies are now offering more protection which is good. One thing to note is credit card insurance is 'generic' by nature.
Their holiday-cover is for short term holidays usually. The quality of their protection is not as comprehensive as vehicle insurance. Keep this in mind when comparing them to vehicle hire insurance policies.
From our experience of incidents in the past, we do not recommend you rely on your credit cards! We recommend taking out a campervan insurance reduction policy. If you do decide to rely on your credit card for vehicle insurance, there are some disadvantages. The company will ask for a significant deposit upfront. Some competitors deposit can be as much as $7500! If you have an accident, the rental company will charge your credit card immediately. Then you will have to get on the phone/email back home and deal with call centres trying to sort it out!   Then add on different time zones, opening hours and mobile phone charges on top!
Things to consider about campervan rental insurance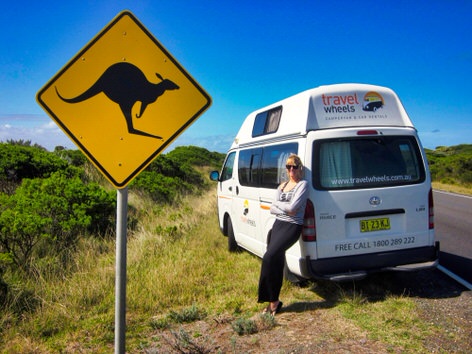 Finding the right balance of risk verse the cost of vehicle insurance reduction can be tricky. Many people feel more secure, selecting comprehensive full cover insurance. The only downside is the extra cost per day. Could you risk it and not bother altogether with no vehicle insurance? You will save money but will leave yourself open to risk. Could you afford to lose a lot of money if involved in an accident!To summarise, here are some points to consider before making your final decision.
The roads in Australia are not the same as in Europe. Many Australian highways are long, steep or have other hazards.  The likelihood of an accident or damage to the vehicle may be higher than if you were at home driving.
In Australia, vehicles drive on the left-hand side of the road. Most of the world drive on the right-hand side!  You're more likely to have an accident in a campervan than a car due to it's larger dimensions! Australia has so many wild animals roaming the countryside at night! Please don't drive at night as there is a big chance of an accident hitting an animal!
What does excess mean?
We get many questions from customers asking about the meaning of "insurance excess".  It is the amount of money you will have to pay in the event of an accident.
You will have to pay this amount of money to cover the cost of any damage. Let's say your liability is $1000. You have an accident and cause $10,000 worth of damage to the campervan. You pay $1000 as were liable for this amount of money*. Here is the definition for "excess" in some popular European languages.
Here is an important point to note. The amount of vehicle insurance excess depends on which option you choose. The more you pay for the insurance per day, the less your risk. Like all things in life, you need to read the company's terms and conditions. Now we know the risks, what options do I have if I want to book a campervan holiday in Australia?
3 types of campervan insurance excess options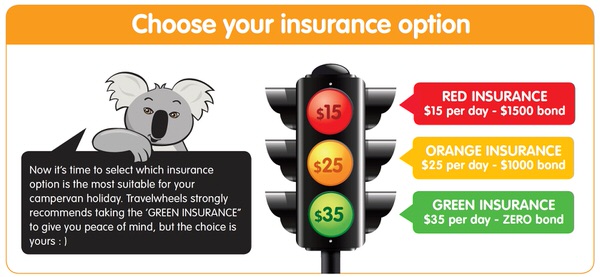 Travelwheels staff know that trying to understand campervan hire insurance can be challenging! It can be very intimidating! Especially if your first language is not English!
There is a lot of small print to look at, and it can be confusing! We have tried to make it as easy as possible for you guys!  We introduced a traffic light system to show the costs vs the liability. Many customers commented that this helps them to make a decision about vehicle insurance.
Here is travelwheels campervan hire guide to our vehicle insurance excess options. Have a look, and if you have any more questions, we are always here to help.
Red Insurance = $15 day – $1500 excess
RED Insurance excess cover will reduce your damage liability-risk to $1000. If you, unfortunately, have a road traffic accident with another vehicle, you will pay an excess of $1000*.
*There are several exclusions to point out. These range from damage to tyres, glass, overhead/underbody or rollover damage. For the full details, please view our diagram below and then refer to the terms and conditions.
Orange Insurance = $25 day – $1000 excess
ORANGE Insurance excess cover will reduce your damage liability to $500. In the event of a road traffic accident with another vehicle, you will pay an excess of $500*.
It is like the RED insurance, but with reduced liability excess. *There are several exclusions to point out. These range from damage to tyres, glass, overhead/underbody or rollover damage. For the full explanation, please view our diagram below and then refer to the terms and conditions.
Green Insurance = $35 day – $ zero excess
GREEN Insurance excess cover will reduce your damage liability to $ zero. In the event of a road traffic accident with another vehicle, your excess will be $ zero*.
The green insurance policy covers most things. It is subject to fair use policy, and please drive with care and attention. *There are several exclusions to point out with Green insurance. For the full breakdown, please view our diagram below and then refer to the terms and conditions.
*This applies to all campervan hire insurance policies. Overhead/underbody or rollover damage excluded (not covered) by the insurance policy.
IMPORTANT NOTE: You must drive in accordance to the vehicle Terms & Conditions. Here are a couple of examples of what you should not do! "Drinking and driving", "driving dangerously", and "bank robbery getaway vehicle!". Your chosen insurance reduction option will be void if you break the terms of the contract.  You will have to pay for any damage you have caused.  A list of exclusions is in our campervan rental terms and conditions.
Insurance options chart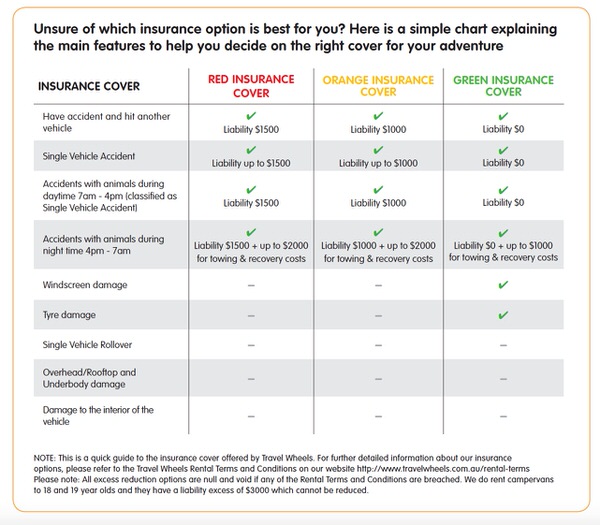 Here is the "quick guide" to our vehicle insurance excess options.  It explains the main features of each insurance category. Then you can make the right decision for your trip.
Notes! Campervan Hire Insurance options can change at any time! Please refer to the terms and conditions for further details.  Click the email us button below to ask us a question:
How to save money on campervan hire in Australia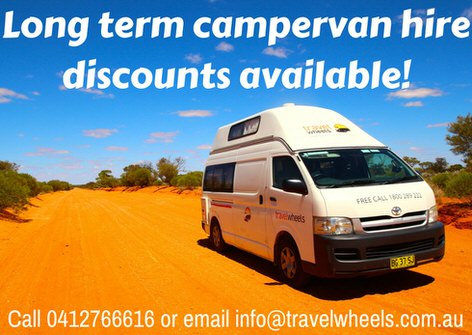 Now you understand campervan insurance damage excess, it's time to book your campervan! We have written a couple of blog posts you might find useful.
Here is our guide to when is the cheapest time to hire a campervan in Australia? Another helpful guide is our long term campervan hire discount page. Plenty of hints and tips to save money for anybody looking to book long term camper hire in Australia.
Useful links for campervan hire tips
Here are some useful links to check out before travelling to Australia.
Do you need more advice about campervan hire or rental insurance excess information? Send us your questions via our
contact us
page.  You can call Travelwheels Team on +61412766616 in Australia.
Why not visit our depot in Sydney? You can find us at
11-15 Clevedon Street, Botany, 2019, Sydney.
  Pop by our Sydney branch and we can sit down and have a good chat. We will be able to explain all the campervan insurance options in English and Deutsch!  While at our depot you can look around our campervans. Jump inside the vehicle and test the beds!