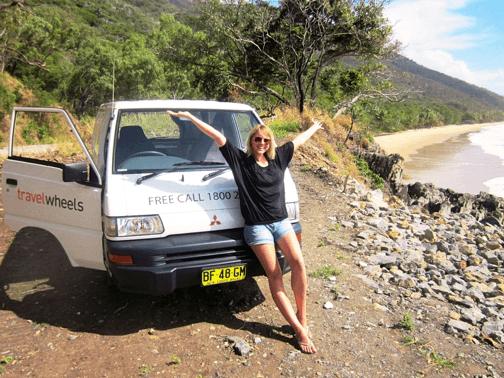 Brisbane is a great place to book campervan hire holiday! You can go south to Sydney or north to Cairns along the east coast of Australia. Heading north, you will love the going to tropical Northern Queensland! There are so many places to visit before you hit Cairns! How about, Fraser Island, Surfers Paradise, Whitsundays, Airlie, and finally Cairns.
Heading south from Brisbane to Sydney is a fantastic road trip! Less kms driving to each attraction every day. There are so many great things to do on the east coast back to Sydney! Check out Byron Bay, Nimbin, Mount Warning, Coffs Harbour, and Port Macquarie. Don't forget Port Stephens and the Blue Mountains! Click "Check availability" and enter your dates to see our low prices!
Brisbane to Cairns campervan hire specials!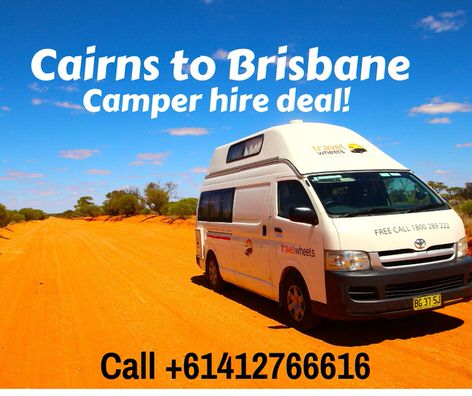 Do you fancy saving money on campervan hire? Here is a tip for you, don't start in Sydney! Get yourself up to Brisbane as the prices are lower! Most campervan companies need to move vehicles out of Brisbane as it is a bottleneck!
They offer massive discounts to get vans moving! They will remove one-way fees, have unlimited kilometres and no extra driver charges! Great way to save money on a campervan holiday! Sometimes you can save as much as 30% off the Sydney to Cairns price in low season! Phone or text our team on +61412766616 to get these cheap deals!
Read our free Brisbane heading north Route Planner in English. Here is a link to the Deutsch, and Français versions.
Brisbane to Cairns Route Planner
Brisbane is approximately 1063 miles or 1711 km from Cairns. Many people make a big mistake rushing their Brisbane campervan hire trip to Cairns! There are so many great places to visit along the East Coast of Australia, so why rush! It's easy to end up doing a 'driving holiday' instead of a proper relaxing touring holiday. Here are some of the suggestions we recommend to checking out on your Brisbane to Cairns holiday.
SURFER'S PARADISE (3-5-days) is like the "Costa del Sol" in Spain for Australians. It is the place they go to have fun, drink, and party!  International travellers flock here for surfing, and the fun activities!  It's also home to Australia's best theme parks!
NOOSA (1-3-days). Next on our list is one of Travelwheels staff's favourite places to visit on the East Coast.  We love the three day canoe trips into the tropical national parks in this region.
Noosa has lovely beaches and a great place to chill for a few days
Visit the Everglades National Park
3-day Canoe Trips into the National Parks
Great Surfing Spot
FRASER ISLAND (3-days) – delve into the World's largest sand island, but watch out for the dingos!

HERVEY-BAY (1-2-days). Why stop at Hervey Bay? Most people bypass it and head straight for Fraser Island! If you are lucky to be on holiday at the right time of year, you can see whales! Some of the best whale breeding grounds in Australia is in Hervey Bay! It is a brilliant place to go on whale and dolphin boat tours! Another fantastic reason to stop here on your holiday is baby turtles! 
Mon Repo is a world-famous location to see baby turtles! Imagine watching baby turtles being born on the sands! Look on in amazement as the baby turtles head for the sea. It's a magical experience! Here is a link to more information about the turtle season and when to visit. Best time to go is from November to March.
Catch the Ferry to Fraser Island

World-famous

Bundaberg Rum Factory

 with free samples!

See Baby Turtles being born at Mon Repo! (November to March)

Hervey Bay is famous for Whale watching! It is a brilliant place to go on a whale and dolphin boat tour!
AIRLIE / WHITSUNDAY ISLANDS (3-5-days). One of the highlights of your holiday will be experiencing the Whitsundays! Many people make the mistake of trying to do it as a day trip! You need way more time!  To fully experience this magical place you will need three to five days. You will love sailing around the Whitsundays, which is such a fantastic experience!
Scuba Diving in the Whitsunday's is fantastic!

The two night Whitsunday Sailing holiday packages with Island hopping is a lot of fun!

Great nightlife! The weekend parties are massive here!

View the reef from Airlie! You can go on a superb Great Barrier Reef tour from here. Our customers recommend

Fantasea

 who have a brilliant day trip to the Great Barrier Reef.
MISSION BEACH (1-2-days) – is famous for skydiving and other Adrenalin sports! It's a top holiday spot, and park up your camper and experience all it has to offer! Here is a list of some of the popular activities our customers do in the area.
Mission Beach!
White water Rafting
Great place to relax and top up that tan on the great beaches
Fantastic nightlife especially on the weekend!
There are some great campsites close to the beachfront

Dunk Island

for great camping and walking tracks to enjoy
Cairns (5-7-days) is the tropical gateway to experience the Great Barrier Reef and loads of great day trips! Below are some of the cool places to stop that we recommend for your road trip:
Brisbane to Sydney camperhire is cheaper!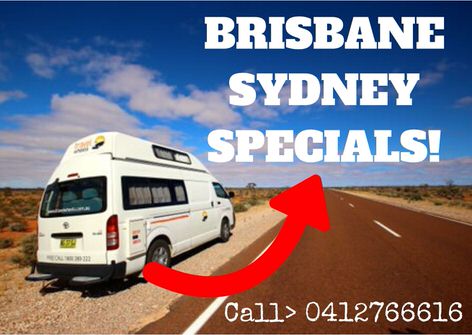 Do you want cheap campervan hire deals? If the answer is yes, then start in Brisbane! Most people start in the south and head up north to Queensland. Start your trip in Brisbane and campervan companies will be offering you discounts!  If you are not sure if a long camperhire trip is for you, do this!  Grab one of our five day Brisbane to Sydney specials!  This way you can see if a campervan is right for you.
Significant savings will apply when you do this route! Companies need to move campervans back down south asap! Sometimes you can save as much as 50% off the Sydney to Cairns price in low season! They will offer unlimited kilometres, short hires and no one-way fees! If you are looking for cheap campervan hire, then start in Brisbane! Phone or text our team on 1412766616 to get these cheap deals!
Read our free Cairns-heading south Route Planner in English. Here is a link to the Deutsch, and Français versions.
Free-Cairns-Sydney-PDF-Guide Email us
Brisbane to Sydney roadtrip guide
Now you have decided to start in Brisbane heading to Sydney, what cool stuff should I do? There are so many places to visit on this amazing coastline. Here are a few suggestions for you to check out:
BYRON BAY (5-7-days) is approximately 772 kilometres (480 miles) north of Sydney. It's 165 kilometres (103 miles) south of Brisbane. How about those famous surf breaks and surf schools? It is also known as the most easterly point of mainland Australia! Here is a quick list of the things our staff especially love to do when visiting Byron Bay. A beautiful place to stop when you book campervan hire holiday.
Byron Bay – one of the best surfing spot on the Coast!
Loads of surfing schools to learn how to surf!
Great Sky diving location.
Visit Ninbin (The hippy town of Australia).
Fantastic World Heritage Forest to delve into with great walks!
Dolphin Kayaking
Great Nightlife, and especially a brilliant place to chill out!
FREE Night hike to Mt Warning! We recommend the climb to the top!  Once you get there, you achieve two things!  You reach the top of the mountain!  The second big thing is Mt Warning is known as the first place on the Australian mainland to see the sunrise!
Coffs Harbour (1-2-days) used to the centre of the banana industry here in Australia. However, now it is home to the "BIG BANANA!"
Port Macquarie (1-2-days) is famous for it's amazing Koala Hospital! This is the first and oldest Koala hospital in Australia and a must do activity!
Port Stephens (1-2-days) is known as one of the Dolphin Capitals of Australia! Definitely check out the adventure sports and the dolphin watching tours!
The Blue Mountains (2-3-days) is roughly the size of Belgium! It is a UNESCO World Heritage Site and a fantastic place to visit! Here are some of our customer and staff suggestions for things to do in the Blue Mountains. A useful tip for you and remember to visit the main tourist's sites early in the morning or later on in the afternoon when all the tourist's coaches head back to Sydney!
NOTE: We are alwasys updating this page with more info about popular holiday trips.  Come back and review this page for more road trip info!
Three types of campervans we hire
Travelwheels has three styles of campervans for hire at our Brisbane branch. We have a budget campervan for those looking to save cash. Good value for money three person campervan with 1 x double and a single bed. Our popular five-person automatic campervans are great for families. These 5 berth campers are popular with our Australian and American customers.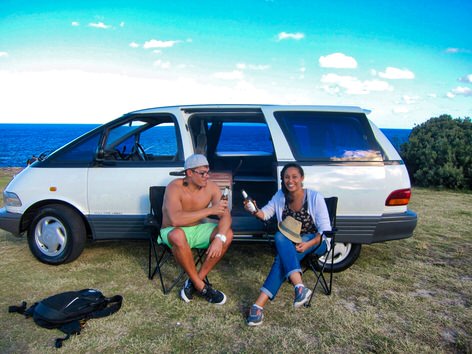 This camper drives like a car and sleeps like a campervan! Great value for money and it's an excellent choice for anybody looking to book campervan on a budget. 
This two person campervan has a mini kitchen, 35L fridge, and double bed. All the cooking and sleeping gear included in the price.
Best value for money campervan! No crazy advertising slogans or bright silly coloured campers! Vans are plain white and great for shorter trips starting in and finishing in Brisbane location. Anybody looking to book camperhire holiday less than ten days, then we would recommend this model. The reason as it drives more like a car, and thus you can cover more distance per day.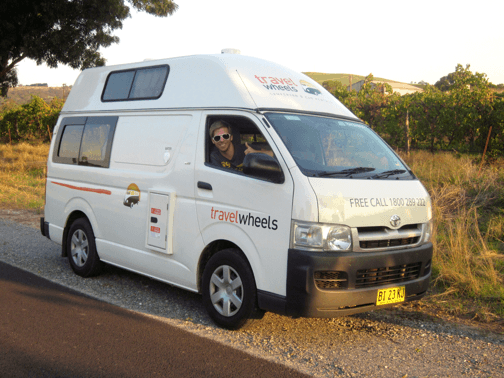 Australia's most popular campervan for hire! Unbeatable value for money when you consider the space, comfort and low prices! This camper has a high roof, 1 x double and 1 x single bed. It's easy to drive, comfortable and has a redesigned spacious kitchen in the back of the van. It's perfect for couples who want more space and comfort. 
These campers are also brilliant for three people! It gives you the flexibility to sleep three adults in comfort at a low price! Making it a good value option for those looking to save money renting a three person campervan from Brisbane.  It comes with a 55L fridge fitted as standard. It has plenty of space for your food, some beers and a bottle of wine. All the cooking and sleeping gear included in the price.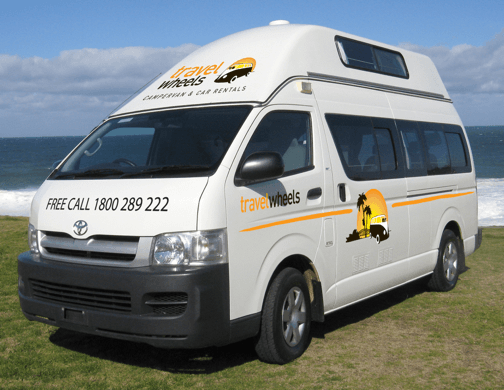 Are you looking for a comfortable automatic campervan rental in Brisbane? We have designed this campervan with more head and legroom. It has excellent customer reviews and sought-after with groups and families. They always book this camper! The automatic transmission makes long road-trips along the east coast of Australia fun!
 Customers love the flexible sleeping configuration (2 x double beds). The kitchen/lounge area is an excellent space for entertaining friends! It comes with a big 80 litre fridge, and spacious kitchen area.  You can cook and at the same time socialise with your friends which is great news. This vehicle is the perfect choice if you are looking for spacious campervan at an affordable price.
Long Term Campervan Hire Discount!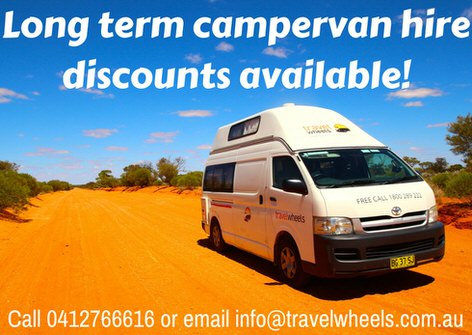 Are you looking for long term campervan hire discounts? Travelwheels are specialists for people who want to book Brisbane campervan holiday over 22+ days.

Book 22+ days = $5 off per day! 

Book 36+ days = $10 off per day!  

Book 50+ days = significant discounts apply!

Contact

us immediately for a lower quote!  We normally cap the insurance after 40 days, so another way to save even more money!

We own our campervan rental fleet in Brisbane. We are not an online reseller with no campervans! You deal with us directly and no middlemen involved! You get significant savings on longer rentals. Call our team in Brisbane on +61412766616 or email [email protected] for more details.
Book direct – cheaper camperhire!
Enter your dates to see our low prices on camper hire from Brisbane! The money you save on camper-hire you can spend doing fun stuff!
Are international driving licenses valid?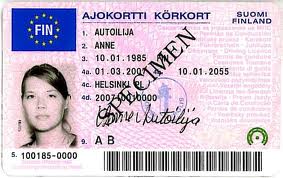 Can I drive in Brisbane with an International or European driving license? Yes, you can hire a camper with your European or International driving licence. Note – we only accept full driving licenses (not provisional or 'p' plate licence holders sorry). When driving in Australia, you must carry your original permit at all times. If in a foreign language, then you will also need the following documents.
Campervan Hire Price Match!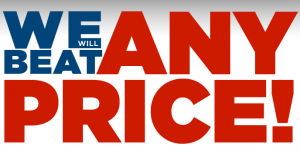 We will beat all Brisbane to Sydney Campervan rental quotes! No minimum hire! We are specialists for Brisbane to Cairns campervan hire as well! Book more than fourteen days, and we will get you a great deal!  
Remember we only price match on similar vehicle types. They must be approximately the same ages, quality, and have a vehicle in stock. If we have a spare camper at our depot and it's not peak season, then we will beat it! Phone our team on +61412766616 or send us a text.
Travelwheels Brisbane Campervan Hire office 20 Noble Avenue, Northgate
Travelwheels Brisbane Campervan Hire Branch
Awesome Campers – Acting Agency
Leon and Lauren 20 Noble Avenue Northgate,
Brisbane QLD 4013
Phone = 0412766616 in Australia
Email = [email protected]
Travelwheels Opening-hours:
Monday to Friday = 8.30am to 4pm
Saturday = 8.30am to 12 noon
Sunday = CLOSED
Local facilities near our depot in Brisbane
Nearest Supermarket – Night Owl Convenience Store, 1/15 Toombul Road, Virginia (1.9km)
Petrol Station – BP, 215 Toombul Road, Northgate (900m)
Cash Machine – ANZ ATM Virginia Woolworths Petrol, 17/25 Toombul Road, Virginia (1.8km)
Train Station – Banyo Train Station, Earnshaw Rd and Tufnell Rd (1.6km)
Bus Stop – Toombul Rd (600m)
Nearest Car Wash: Gateway Express Car Wash, 1097 Nudgee Rd, Banyo (3.5km)
Travelwheels Brisbane Branch distance to the airport
From Brisbane Airport it is 8.2km from/to our branch.
Closest campsites to Brisbane city centre?
When visiting the city, we recommend parking your campervan at one of the local campsites. It's better to take the bus or train to the city centre than trying to find campervan parking. There are a couple of campsites close to the city which are suitable for you. The first one is Newmarket Gardens Caravan Park which is close to the centre. If you are north of Brisbane, then check out Bells Caravan Park. A big bonus is the location, and it is right on the beach! This way you can go for swim first thing and then explore Brisbane later on!
Need help planning your Brisbane campervan hire road trip?
Our staff are here to help you, so you are welcome to contact us in Deutsch or English. If you have any questions, we would love to hear from you. Here are some useful pages/links to help you plan your campervan hire holiday. 
Free things to do in Brisbane
Below is a list of free things to do in Brisbane area. Here is an excellent customer tip! They recommend staying in one of the mega hostels outside of town. Some of them have free camper parking places, and swimming pools if you book a room with them. Then you can take the bus to Brisbane as it is easier to use public transport to view the sights.
1. FREE CITY BUS SERVICE – go on the loop! There is a free bus service that circles Central Business District. It stops at Central Station, Queen Street Mall, and City Botanic Gardens. Then it continues to the Riverside Centre, QUT and King George Square. A great way you can get an overview of the city for free! 
2. SOUTHBANK BEACH – we recommends visiting Australia's only artificial inland city beach! It has over 4000 cubic metres of sand for you to play in! An excellent space for families and a safe environment for kids to play in.
3. GUIDED WALKS IN ROMA STREET PARKLANDS. Take a free guided walk through this lovely area and discover history, plants and public art. From here the tours take about an hour and start from 10 am and 2 pm daily. To book call (07) 3006 4545 during business hours.
4. QUEENSLAND POLICE MUSEUM – Learn how the police solve crimes in Queensland. It is Open Monday to Friday, 9 am – 4 pm. Phone: 07 3364 6464.
Brisbane Art galleries, Museums and state parliament
5. QUEENSLAND ART GALLERY AND MUSEUM OF MODERN ART. It has one of the worlds most extensive collections of Asian and Aboriginal art! The address is Stanley Place, South Brisbane. Open daily from 10 am. www.qag.qld.gov.au
6. THE MUSEUM OF BRISBANE – Located on the ground floor of iconic City Hall in King George Square. Free tours on Tuesdays, Thursdays and Saturdays at 11 am. www.museumofbrisbane.com.au
7. QUEENSLAND STATE PARLIAMENT – Check out the visitor's gallery and daily tours. The tours run throughout the year except for public holidays. On sitting days tours only run at 10.30 am and 2.30 pm. For Parliament, sitting times call (07) 3406 7111. www.parliament.qld.gov.au
8. St JOHN CATHEDRAL – visit the only Gothic cathedral in the world still under construction! They are using traditional medieval building techniques and well worth visiting. Open from 9.30am-4.30pm. Free tours Monday-Saturday at 10 am and 2 pm, and most Sundays at 2 pm. Tel: (07) 3835 2231. www.stjohnscathedral.com.au
More free things to do in Brisbane – parks and Koalas!
9. EXPLORE CITY FREE PARKS. The city has 1,500 parks and public gardens in Brisbane. The City Botanic Gardens at Riverside is worth investigating. How about wandering along one of the best urban walks in Australia? The Energex Arbour is a one-kilometre walk around South Bank Parklands.
10. DAISY HILL KOALA CENTRE – 25km south-east of the city centre. Here at the Daisy Hill Koala Centre has lovely open eucalyptus forest to explore. It is a bushland retreat for koalas and other native animals. It is open every day from 10 am until 4 pm.
Things to do in Brisbane more information + useful links
We must admit Brisbane is not our favourite city in Australia. Yet, if you have an open mind, you will find plenty of free stuff to explore! Here are some of our links below for things to do in Brisbane.
If you need any more help, our staff at our branch can speak English and Deutsch. Give us a call on +61412766616 for more info. You can email us at [email protected]  for our latest offers or more hints and tips.
Contact Travelwheels and check out prices!
Our Brisbane branch always has different special offers all year round! Please enter your dates below to view our low prices! Our friendly staff are always here to help. You can call our team on 0412766616 to ask questions or check out for last-minute deals.