Budget Campervan Hire Australia Specials with Travelwheels
Travelwheels Campervan Hire Australia presents our best value for money budget campervan hire in OZ!  These budget campervans – check out our low rates here  are fantastic value for money!  They have everything you need for a brilliant budget campervan hire Australia holiday!
Easy to drive, high roof, comfy and spacious kitchen/living room area!  This is the perfect budget campervan hire vehicle for your trip down under.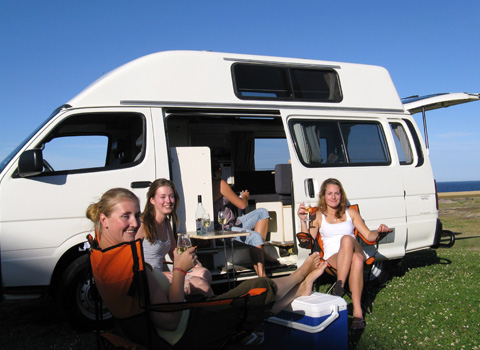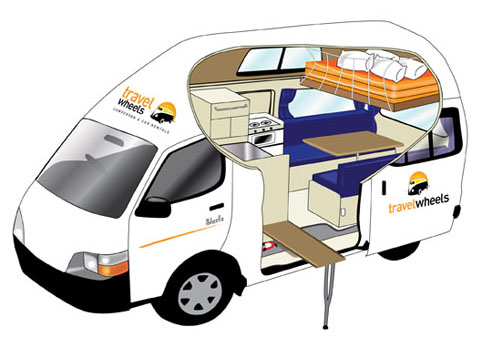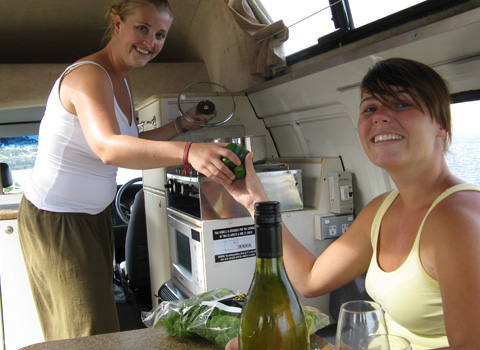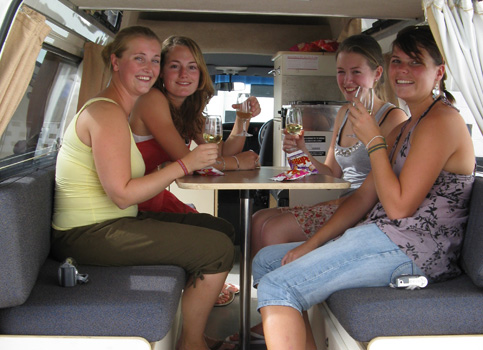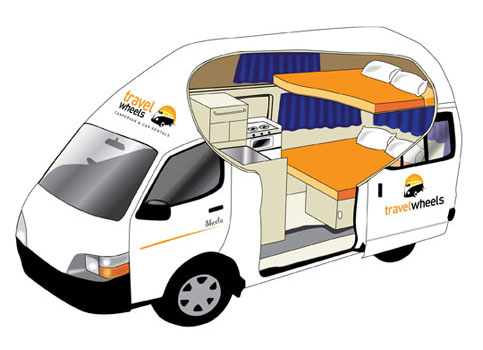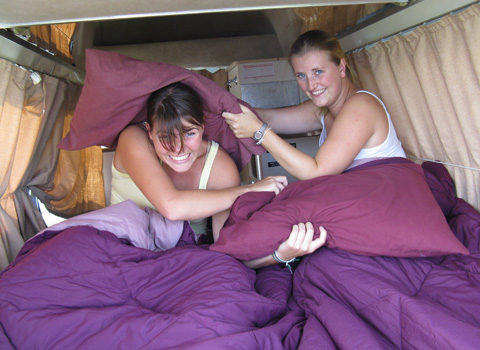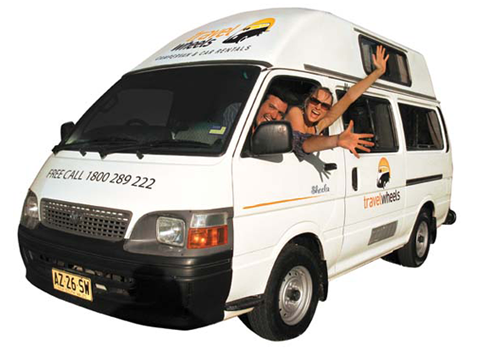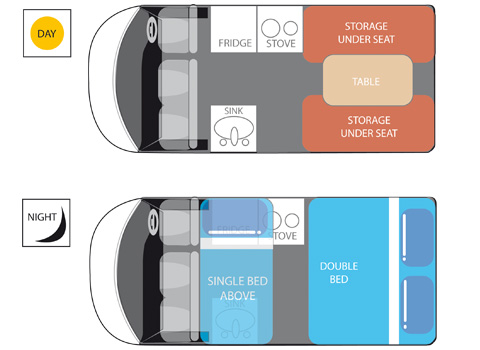 Budget Campervan Hire 2-3 Person video
Travelwheels Campervan Hire have some great deals on budget campervan hire across Australia!  Here is a video of the most popular budget campervan we hire in Australia.  We have range of cheap campervan hire specials for you.  Call our budget campervan hire team on 0412766616 or email us at [email protected] for low prices!
[youtubevideo id="YJkAk9BlcI0″ width="472px" height="394px"]
Budget Campervan Hire Australia – 2-3 Person Main features
The great thing about going for travelwheels budget campervan hire Australia deal is that everything you need for your trip is already included in the price! This is the most popular budget camper in Australia ! Remember with travelwheels campervans you don't pay extra for chairs, tables and the living and cooking equipment!  Call our budget campervan hire team on 0412766616 for more details.  You can directly message us via our website by clicking on our contact us page.
If you are thinking about Sydney to Sydney Budget Camper Hire then check out our prices for cheap campervan hire here! Travelwheels will not be beaten on price for Sydney to Sydney campervan hire! Call our team on 0412766616 with your competitor quote.  Alternatively you can send us an email by clicking the link below and we will do our best to beat their price for budget camper hire in Sydney!
Budget Campervan Hire Australia with Spacious kitchen layout
These budget campervan hire campers have a great kitchen and chilling out area! These budget campervans are not only fun to drive, but great to cook and entertain in as well!  Here is a link about how to survive living in a campervan in Australia to give you some background information.
These Budget Campervan Hire vans have clean lines and well designed kitchen space.  They have a 2 burner gas stove which is easy to use and clean! Connects to a gas bottle so it cheap to refill instead of using those expensive small gas cartridges!
Budget Camper Hire vans all have 55L fridge
Yes it is a budget campervan, but with Travelwheels campervans all our budget campervans come with a 55L fridge included in the kitchen!
Quick quote for all vehicles click here
This Budget Campervan Hire fridge is easy to use.  It has a 2 way battery system in our budget campervan hire van that allows the fridge to recharge whilst you are driving. If you stop at a campsite in the evening, then simply plug in the power lead and the fridge, microwave and power sockets will work.
All Travelwheels Budget Camper Hire Vehicles have a Microwave
All travelwheels budget campervan hire Australia Hitop campers have microwaves fitted as standard.  Here is a link to a bbc article about cooking with a microwave you might find useful.
Please note that microwaves only works when the Campervan is connected to 240V mains power at a campsite. It will not charge off the second auxiliary battery.
Travelwheels Budget campervan hire vans includes all equipment
Yes it is a budget campervan hire camper, but with travelwheels campervan hire all our campervans come fully equipped.  It includes Knives, Forks, Spoons, Dinner, Side & Cereal plates/bowls, Can Opener, Ladle, Cups, Glasses, Saucepans, Frying Pan, and Kettle included. You do not have to pay extra for any of this equipment when you hire one of our Budget Campervans from Travelwheels campervan hire Australia.
Plenty of room to chill out in the daytime
The great thing about this travelwheels budget campervan hire vans is that is has a nice comfy benches during the daytime, so it easy to chill in a travelwheels campervan!
They have two nice comfy benches and a fold away table.  You can even turn the table sideways and split the van in two if you start to argue on your trip!!!!
Budget Campervan Hire – Sleeping area
It's very easy to make the bed at night with our travelwheels budget campervan hire vans. All it takes is about a minute to make the bed, it's that easy!  Very simple to turn in back to the day time configuration of two benches and a table. Below are the main features this camper has to offer to make you have a good night's sleep:
Two beds inside camper (one double and one single bed)
In the back of the budget campervan you have a rear dinette that converts in to a big double bed (1.85m x 1.55m).  In the roof space there is a single bed in HiTop roof 1.60m x 1.4m.  Please not the max weight for roof bed is 90kg.
It's very easy to convert from the daytime with the table and two benches to a comfy double bed. All our budget vans have curtains on all the windows for privacy in the rear of the vehicle. The sliding windows on our vans have flyscreens to let in air (and keep the flies out!) as Australia is a very hot country.  Interested in the weather in Australia, then read this guide to Australian weather from the Lonely Planet website.
Budget campervan hire vans + 2 battery system for fridge/lighting
Yes is this our most basic budget campervan hire van we offer in Australia.  However when you book with travelwheels you still get everything you need, but with a cheaper price! All campers come with a 12v/240v lighting and two 240v power sockets. You can now charge iPhones, iPads, laptops, and cameras when you connect the external power cord to a power supply at a campsite.
To use the 240v power sockets in this Budget Campervan Hire simply plug in the external power cable.  This way you will have power to charge up all those essential items we all bring on holidays nowadays!  Here is a useful guide from the Lonely Planet about what to bring for 1 year australia trip
Email Budget Campervan Hire in Deutsch or Français
The great thing about Travelwheels Budget Campervan Hire team is that we are all travellers! Our friendly staff can speak a range of languages to help you.  Wir sprechen Deutsch, and nous parlons Français.  You can call us on 0412766616 for our best deals on Budget Camper Hire via the phone in either English, Français or Deutsch!
Travelwheels budget campervan hire Australia friendly staff will answer any questions you may have about campervan hire in Australia in English, Deutsch or Français. Why not try and email us in French or German below:
Travelwheels Budget Campervan Hire Australia Price Promise
Travelwheels budget campervan hire Australia price promise guarantee! The price you see is the price you pay! No hidden charges or extras to pay when you go for Australia Budget Campervan Hire deal from Travelwheels.  Give us a call on 0412766616 for more details.
If you have found a cheaper price for budget campervan hire in Australia then we will do our best to price match all our competitor quotes for Sydney to Sydney Campervan Hire. We will also do our best for the rest of the country as well, but our most competitive deals are always back to Sydney!  Give us a call on 0412766616 and we will try and beat their price!
Remember our budget campervan hire Australia quotes includes 3 camping chairs (most of our competitors charge you for these!), sleeping bags, pillows, cups, bowls and cutlery and everything you need for a great Campervan Hire holiday in Australia.
If you do find a cheaper Australian campervan hire quote for a similar Budget Campervan Hire van and insurance options then all you have to do is email us the competitors quote.
Once you have emailed travelwheels Budget Campervan Hire our competitors quote we will search online do our best to beat that quote for you (if we can!) We will also recommend some of our competitors as well if we don't have a camper in stock for you!
Budget Campervan Hire Child booster seat information
The travelwheels budget campervan hire vans can accommodate one child over the age of four years. If a booster seat is required, then ONE BOOSTER SEAT (minimum four years of age) can be strapped in the front passenger seat with the diagonal lap-sash seatbelt.  Please note that for safety reasons a child seat cannot be fitted in this campervan. Australian law states that Children under four years must not travel in this vehicle.
Therefore if you have small children under four years old, then we recommend you clicking here to view our 5 Person Automatic Campervan which has been designed to safely carry two small children. This family campervan has been fitted with dedicated child seat belt anchor points which meet the new Australian standard for carrying small children in campervan in Australia.
NONE OF OUR CAMPERS CAN FIT A BABY CAPSULE Due to new laws passed in Australia, none of the travelwheels vehicles can legally support a baby capsule. If you do have a very young baby you might struggle to find any campervan supplier in Australia that can carry a 0-6 month old baby.
Family campervan hire email travelwheels Australia
For more detailed information about child seat configuration and the best camper for families with small children, just send travelwheels campervan hire Australia an email and we will answer all your questions regarding hiring a safe vehicle for carrying small children in Australia.  You can call our friendly staff on 0412766616 for more details.
Check out our Cheap Campervan Hire Australia Deals Below
Enter your dates below for our best deals on Campervan Hire Australia Specials.  You can always call our team on 0412766616 for more details on our offers available.  Our online price checker will give you our lowest rates on camper hire in Australia.