Contact Travelwheels Campervan Hire & Sales in Sydney
Contact Travelwheels Campervan Hire & Sales in Sydney for friendly advice in English and Deutsch.  You can call us on +61412766616 and our extremely knowledgeable staff will answer any questions you may have.  We are specialists in campervan hire and used Toyota Hiace campervan sales.  With this in mind, send us your questions below by filling in the contact us form:
We look forward to hearing from you soon. If you prefer for example to contact Travelwheels by email, here is our email address = [email protected].
Campervan Hire & Sales office in Sydney

Travelwheels campervan hire and sales Sydney office are located close to the domestic airport. We are at 11-15 Clevedon Street, Botany, Sydney, New South Wales, 2019. You are welcome to contact us and pop down to test drive a few campervans at your leisure.
Travelwheels Opening-hours:
Monday to Friday = 9am to 5pm
Saturday = 9am to 2pm
Sunday = CLOSED
Telephone = +61412766616.
Email = [email protected]
Local facilities near Branch
Nearest Supermarket – IGA Supermarket, 1128 Botany-Rd (850m).
Petrol Service-station – 1579 Botany-Rd (650m).
Cash Machine – CBA ATM, 1377 Botany-Rd (900m).
Train Station – Domestic Airport Station (3.3km) from Travelwheels depot.
Closest Bus Stop –  "Hastings Street Stop".  Take the 310, 309 or M20 bus from Central.
Distance from Airport to depot
4.3km from/to travelwheels depot.  Approximately ten minutes to drive to airport if no traffic.
Travelwheels depot driving directions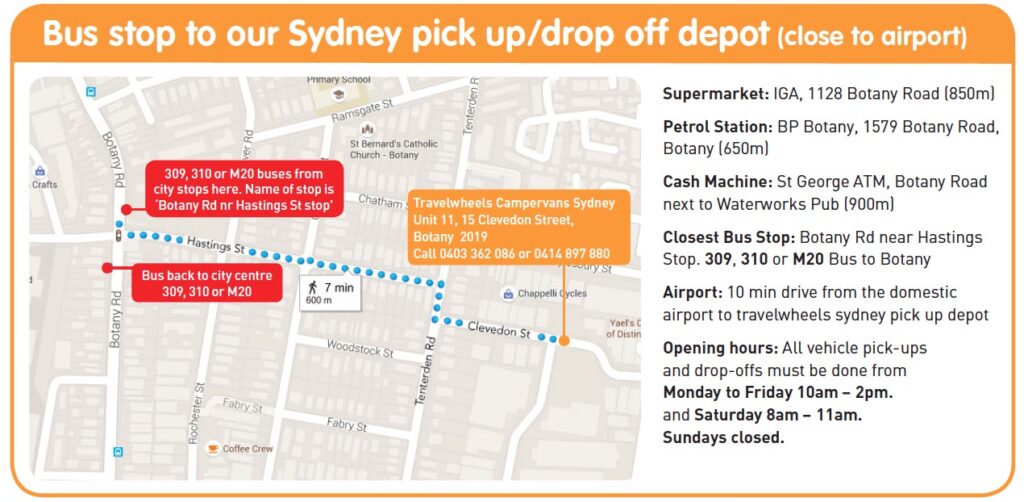 Bus directions from depot to Sydney CBD
The easiest thing to do is to copy our address into google maps! 11-15 Clevedon St, Botany, Sydney, New South Wales, 2019. 
The closest Bus Stop for our depot is, "Hastings St Stop".  Take the 310, 309 or M20 bus from Central.  Then follow the map above to get to our base. 
You can catch a direct bus back to the centre for $4. If you get lost, you can contact us by calling travelwheels on +61412766616.
Talk to Travelwheels Hire & Sales in English or Deutsch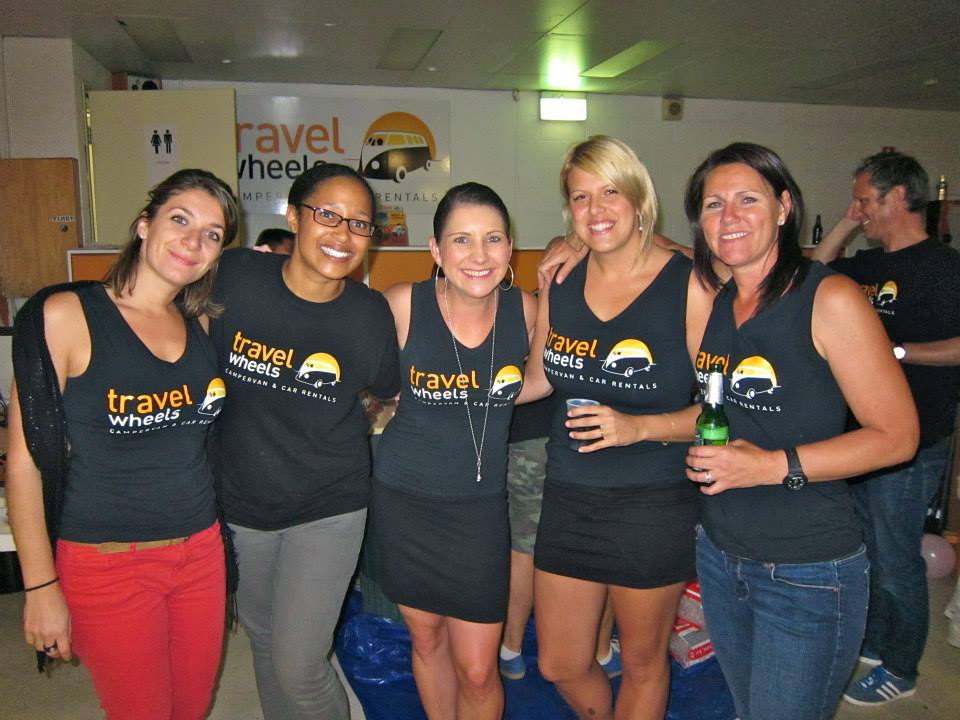 One of the good things about us is that you can contact Travelwheels Campervan Hire & Sales in English or Deutsch.  Wir sprechen Deutsch in the office, phone or email.  We can answer any question about campervan hire or sales in Australia in these languages. Our website is also in Deutsch and Français to help you book your campervan hire or sales holiday. Another option is to call the team on +61412766616, and we are happy to help.
Knowledgeable friends campervan hire and sales staff
Our staff have travelled extensively across Australia.  In the first place, everyone loves to go away and explore this amazing country.  Therefore why not contact us and ask for some recommends for cheap campsites, walks or swimming with dolphins for example.  We love chatting about just about anything to do with visiting Australia in a Toyota campervan.  We are always after new recommendations as well, so if you know somewhere special, then why not share it on Travelwheels Campervan Hire Facebook page.
Social Media Pages for Travelwheels Campervan Hire and Sales
Here is a shortlist of our social media pages.  You are more than welcome to contact us via any of these pages:
Travelwheels for campervan sales & hire deals
If you are looking for good value for money campervan hire, you do not need to contact us.  For one thing, you can simply get a quick quote by entering your travel dates below.  At this point, our online price checker will automatically give you our best price for our campervan deals in Australia.