Automatic campervans for sale in Sydney – Toyota Hiace in fantastic condition – REF: CZ87RY
Used Automatic Campervans for Sale in Sydney – ex-rental stock
Travelwheels have released some ex-hire campervans direct to the public! Firstly, these Automatic campervans for sale in Sydney are in great condition!  Secondly, they have more space inside and super comfortable.  These are the most popular camper we sell to families with small children!  Therefore give call Shaun on 0421101021 to ask us a question or to arrange a test drive.  You will love taking one of these Toyota Hiace out for a test drive as they run so smooth!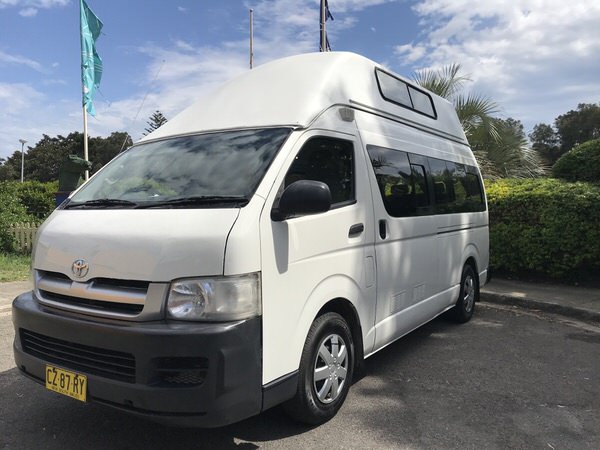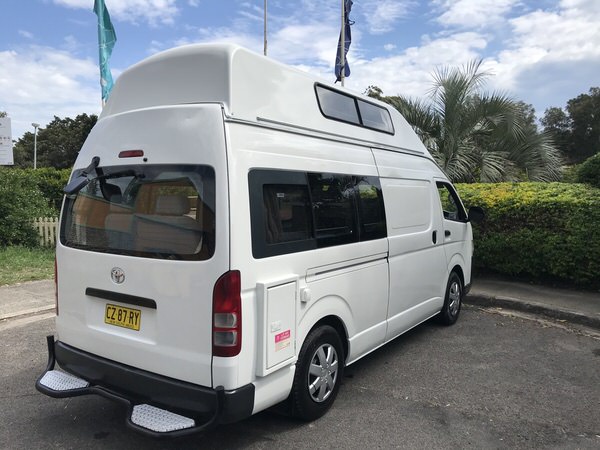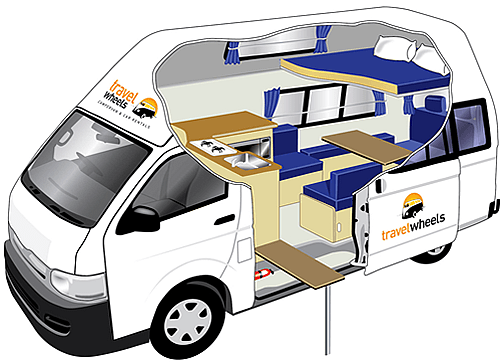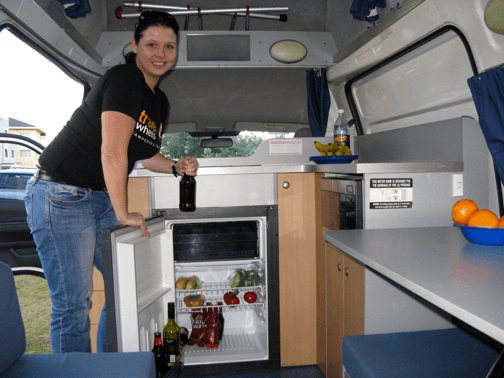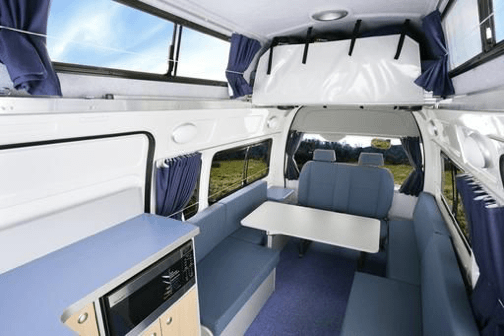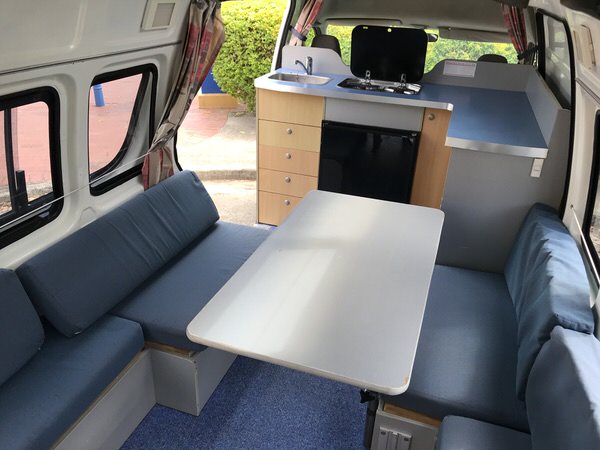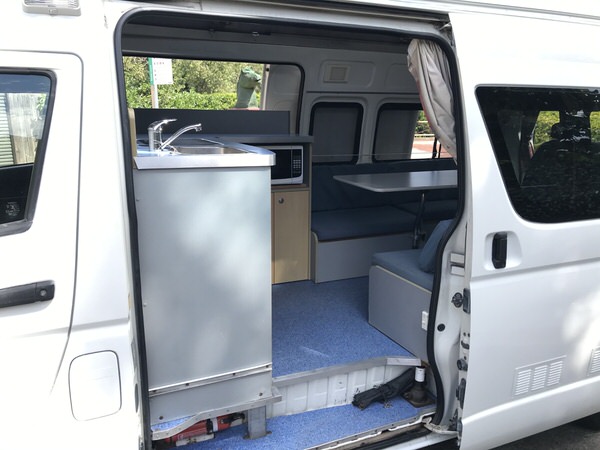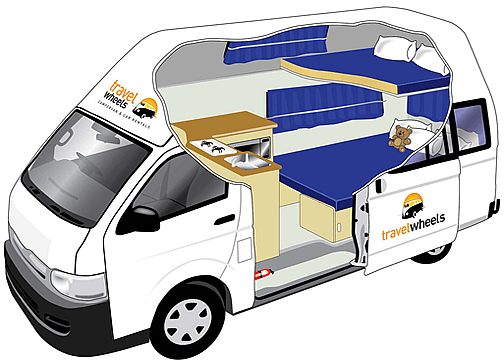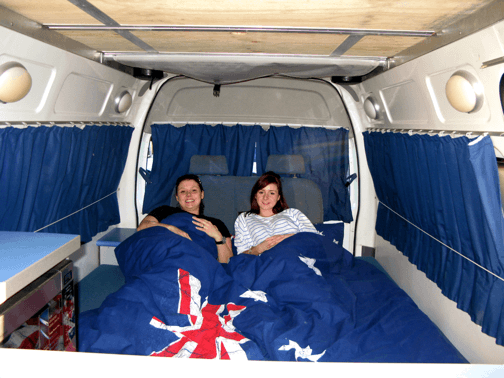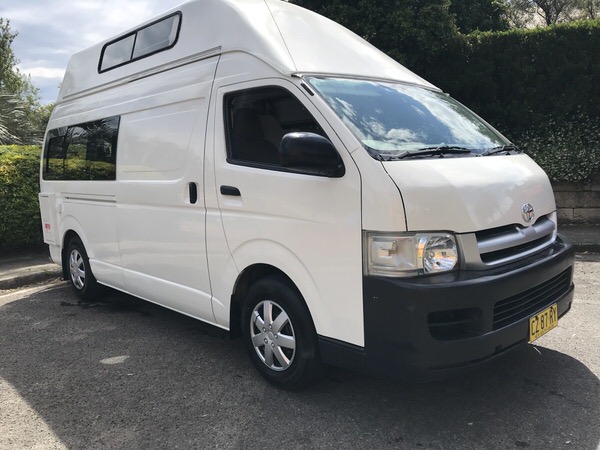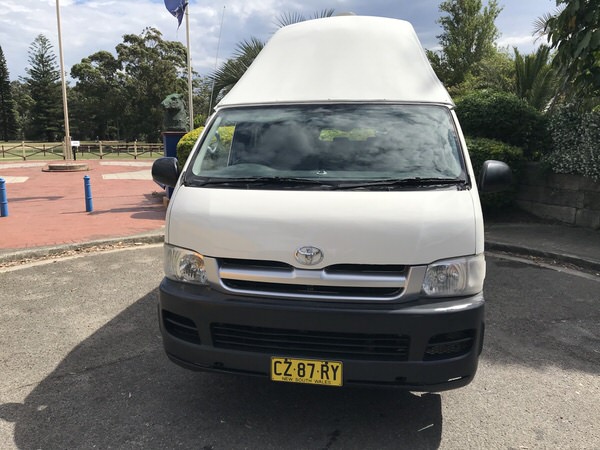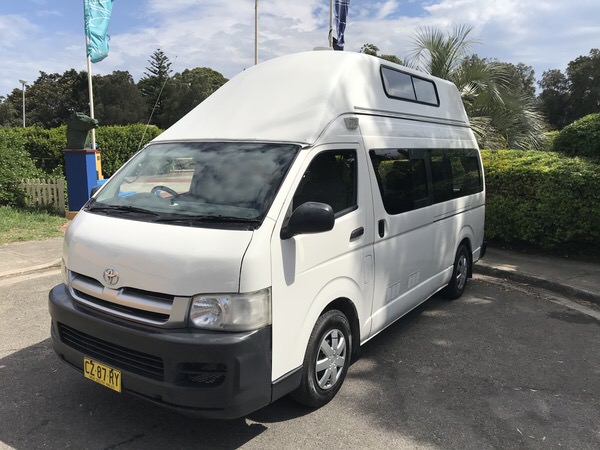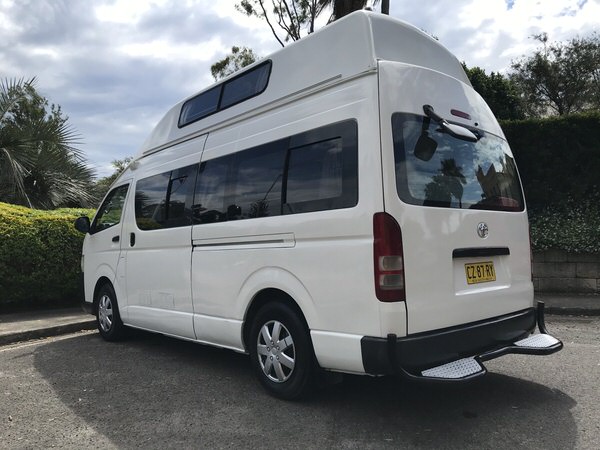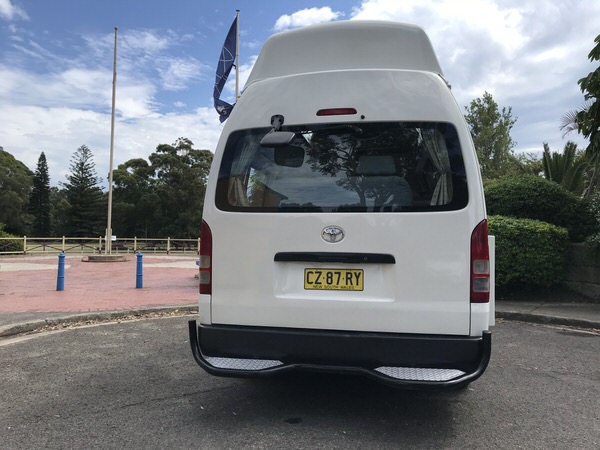 Why buy an Automatic campervan with us?
For one thing, Toyota Hiace Automatic Campervans are the number one choice in Australia!  Without a doubt, they are the undisputed leader in the 2nd hand market. These ex-rental automatic campervans are fantastic! Without reservation, they offer the perfect balance between comfort, price, and reliability!  In addition, these Toyota automatic campervans really hold their resell value!  Therefore, buying a used Toyota Hiace is an excellent investment! Toyota is known as the gold standard for used campervans!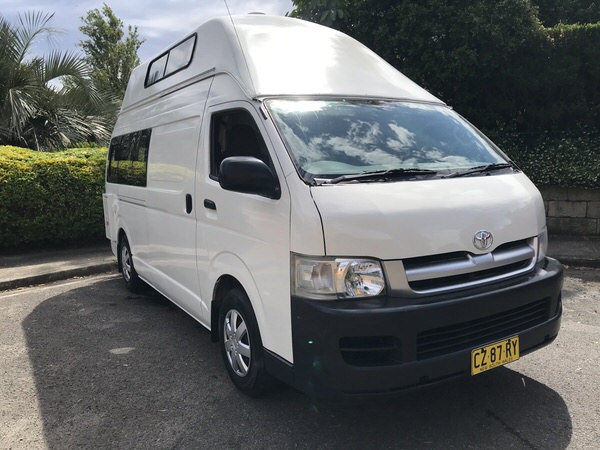 Used Automatic campervans for sale in Sydney details:
When looking to buy an automatic campervan, Toyota sets the standard.  As can be seen, nobody comes close to Toyota reliability.  In comparison to the competition, there is no substitute for Toyota Hiace quality!  The reliability and comfort are unparalleled in the Australian market!  Here are the details of this automatic campervan:
Make Toyota
Model Toyota Hiace Super Long Wheelsbase Campervan
Model 2007
Rego and reference number: CZ87RY
AUTOMATIC GEARBOX/TRANSMISSION
12 Month Warranty on engine and transmission
12 Month Road Assistance Service
Buyback Guarantee up to 50%
Fully Serviced and Checked
Comes with a pink slip
six-month Registration
A/C, Central Looking
We also sell 3 person Toyota Hiace campervans
If you have any more questions about this camper, just ask!  These are Australia's number one used automatic campervan! Without reservation, they are definitely the dominant market leader!  Therefore, give Shaun a call on 0421101021.  We will be happy to arrange a test drive in Sydney.
Toyota Hiace Automatic Campervan – perfect for families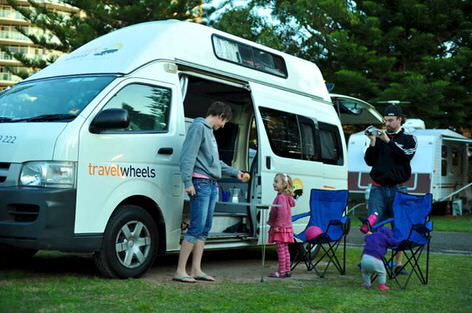 These used Automatic campervans for sale in Sydney are fantastic for families.  The Australian Government has introduced new child seat belt laws. Therefore these Toyota Campervans meet these standards.  Therefore you can relax and have peace of mind.  To begin with, these campers have lots of space inside to keep the kids entertained!  If you are looking to buy a campervan instead of going overseas this year, then this is a perfect option for you.  Another key point to note is that customer's children love going on holidays in these automatic campervans!  These campervans offer a family the chance to get away and enjoy Australia in a great camper.
All stickers removed and deep cleaned!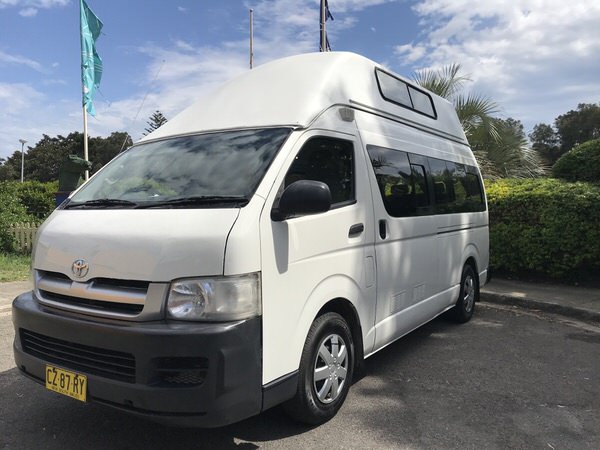 As can be seen, these family automatic campervans for sale come fully cleaned and all stickers removed.  Firstly we remove all the stickers, touch up the paintwork and give them a deep industrial clean.  Therefore it is ready for sale for your family.  You will need this campervan and it's our most popular campervan we sell to families.  Always in demand and with Toyota, it's a brand you can trust!
One more thing, if you are after a small Toyota automatic campervan for sale, we sell these as well! Give Shaun a call on 0421101021 to have a chat and arrange a test drive anytime.  Remember we are open on the weekends by appointment, so come on down and drive this campervan.  The first to try it will buy it for their family.  Another popular choice is our range of smaller hitop Toyota Hiace campervans for two to five people. These vehicles are also at the base, so you are welcome to test drive them as well.
Used Automatic campervans for sale in Sydney in good condition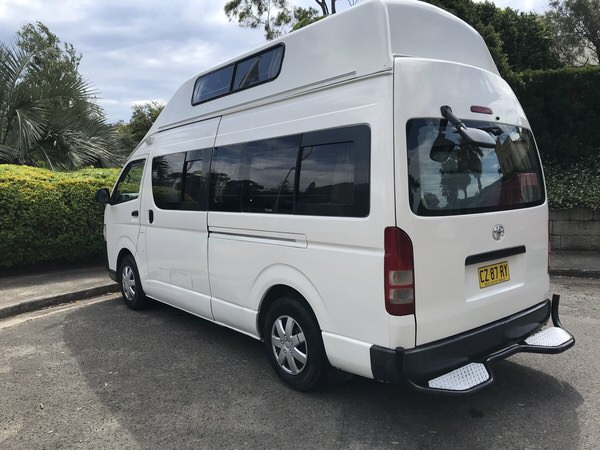 Our used automatic campervans for sale in Sydney are in great condition. Firstly, we remove all the stickers and then touch up the paintwork on these Toyota campers.  Then we give them a full test drive and a 100 point service.  Furthermore, we have service history records on file to give you peace of mind.
Automatic Campervans for sale with fully fitted kitchen: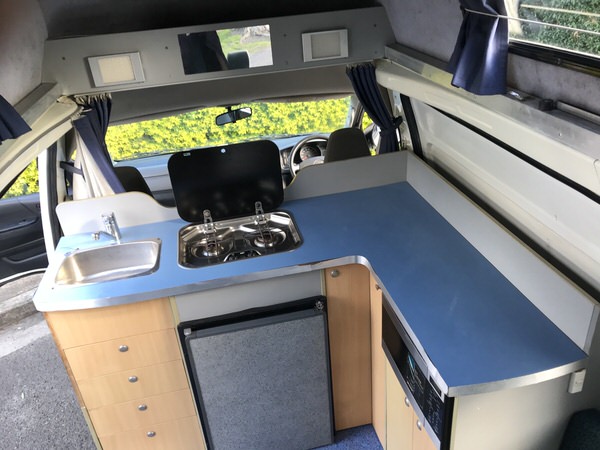 When you buy our Automatic campervans for sale in Sydney they come fully loaded!  They are as good as it gets for used campervans for sale in Sydney.  They have everything you need for an amazing adventure exploring Australia.
Fantastic kitchen and lounge area
Let's have a look at the kitchen in this Toyota campervan!  Firstly it comes with an 80-litre fridge!  Secondly, the two-burner stove and worktops have clean lines.  There is plenty of space to prepare food. The kitchen has a microwave, sink & built-in water tank inside the camper.  A point often overlooked is the kitchen and lounge areas are open plan.  Therefore you can cook and still be a part of the conversation!  It has a dual battery system for the fridge and interior lights.  As can be seen in the photos, it comes with all the living, and camping equipment you need.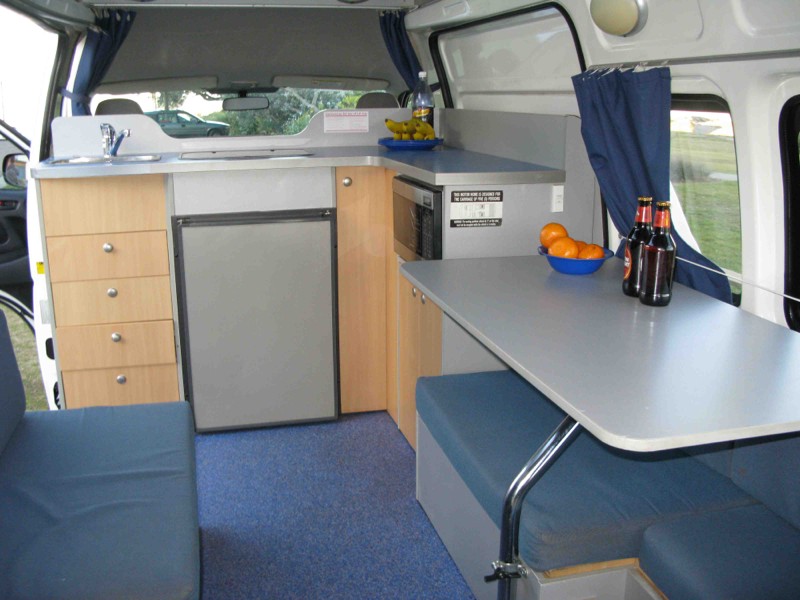 A hotel on wheels with 2 double beds!
This comfortable hotel on wheels has two double beds!  After an enjoyable day out with friends, sooner or later you will be heading off to sleep.  Some campervans have a difficult or awkward fold-out bed system which is incredibly frustrating to make every evening!  This can really spoil your enjoyment of a campervan!  This is why you see many campervans parked on people's driveways not being used all year round!
You will definitely not be parking up this van and not using it!  This well-designed ex-hire used campervan for sale! has been made to be used on a regular basis.   For one thing, you will quickly realise just how easy it is to make the beds in this campervan!  Take the bottom bed for example which is enormous! It literally takes less than ninety seconds to make the large double bed.   A lot of campervans have small or cramped beds, but not this Toyota!
2 x double beds and flexible sleeping arrangements
To begin with, the size of the bottom bed in this camper is 2.1m long x 1.7m wide. Without reservation, there is plenty of space to relax and enjoy a good night's sleep!  In addition, the top bed is big enough for two adults in the penthouse suite and the size of the bed is 2m long x 1.37m wide. Kids, for example, love climbing the ladder and sleeping upstairs in the penthouse! These campervans are so popular with families here in Australia! It's our number one bestseller!  Give Shaun a call on 0421101021 to try out the beds and bring along the kids as they will love this campervan!
Sleeping area configuration video
Here is another video demonstrating the large sleeping spaces inside this camper.  We have many positive customer reviews, and they all love this camper!  They always mention about the extra space inside, practical kitchen/lounge and the comfy beds.  Have a look at the video to see how big the beds are! The top bed is fantastic for kids, a real adventure! 
[youtubevideo id="W5d8McdaD5o" height="450px" width="800px"]
Similar used campervans to consider
If any of these remaining Toyota Hiace automatic campervans for sale are sold out, then do not worry!  As a result of the buying in new stock, we will have more shorty to sell.  Here is a short list of some more campervans we have in stock ready for sale today:
Contact Travelwheels used automatic campervans
Contact us for Automatic campervans for sale in Sydney!  You are welcome to view any of these campervans at our depot.  We can also arrange weekend appointments if this is more convenient.   In the meanwhile why not call Shaun on 0421101021.  You can email the team at [email protected].
Travelwheels automatic campervans sales are based here in Sydney. The address of our depot is 11-15 Clevedon Street, Botany, 2019, Sydney.  However, we can deliver any of our used campervans for sale in the following cities, Brisbane, Cairns, and Melbourne. Send us a message below.  We would love to help you find the perfect campervan.