Travelwheels used campervan sales Sydney office
Travelwheels used campervan sales Sydney office is located close to Sydney domestic airport in Botany.  Our most popular used campervan we sell to the public are our ex-rental Toyota Hiace Campervans which are our number one seller!  We give them a full deep industrial clean, de-sticker them and together with a full service they are ready to be sold.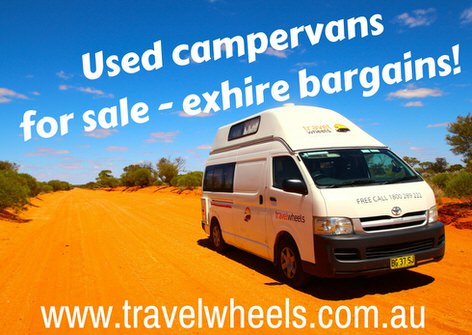 Used campervans for sale- Click here -
Everybody wants to see our range of used rvs and campervans available to the public at 11–15 Clevedon Street, Botany, 2019, Sydney.  Why not call our team on 0421101021 to see what everyone is talking about and view our ex-hire used campervans for sale at our depot.
Travelwheels Campervans Registered NSW Car/Campervan Dealer
Travelwheels is an Australian owned and operated company and we are proud to serve our local Australian customers.  For example, we are a registered NSW (New South Wales) car and campervan authorized official reseller. Subsequently Travelwheels has been selling used Toyota Hiace Campervans for over ten years in Sydney and interstate across Australia.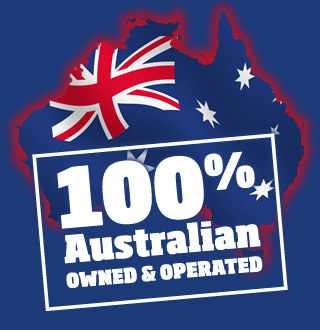 For example, we recommend you don't fall for those super cheap deals, or be deceived by special offers on old beat up campervans!  For instance it is very easy to waste your hard earned money on buying a worn out old used hitop campervan!  Unfortunately there are many campervan hire companies that in particular try to sell off the oldest most beat up stock to the Australian public!   Travelwheels used campervan sales don't cut corners and together with our 12 months warranty it will give you peace of mind.  We have the quality you've come to expect when dealing with an Australian owned and managed company.  To summarize there is no comparison with our super clean, well maintained Toyota Hitops for sale in Sydney and across Australia.
Sydney Airport used campervan sales Sydney office
Travelwheels used campervan sales sydney office is located close to the domestic airport in Sydney.  We are at 11-15 Clevedon Street, Botany, Sydney, New South Wales, 2019.  In the meantime if you need more information about our campervans for sale in Sydney, call our team on 0421101021. Subsequently you can also email us at [email protected]
Toyota Hiace Campervans – Australia's most popular used camper
Travelwheels used campervans sales Sydney regularly sells off our used ex-hire Toyota hiace campervans.  In the meanwhile it's worth checking out this page about campervans for hire in Sydney.  In particular this page will give you some more background information on just how good these used campervans are!  For example in Australia used Toyota Hiaces are the number one used or second hand campervan for sale.   As a result we are so confident you will like our used Toyota campervans that we recommend visiting our depot in Sydney to arrange a test drive.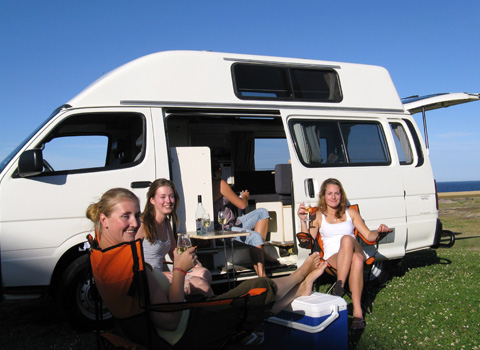 View used cars for sale here
Quick guide to buying an ex-rental campervan from Travelwheels
In the meanwhile, here is a quick review to the five most popular types of used vehicles we sell at Travelwheels Used Campervan Sales in Sydney.  This guide will give you a good idea about the used campervans we sell.  For example we have different types of used campervans to suit all budgets, and price points.  In the meanwhile if you have any questions, feel free to call us on 0421101021.
Toyota Hiace Campervan – most popular used campervan sales vehicle
In addition to being the most popular budget campervan for hire in Australia, Toyota Hitops are the kings of used campervans! For example, Toyota Hiace campervans are highly regarded and therefore enjoy a huge following in Australia.  Likewise everyone wants to own a used Toyota campervan due to the reliability!  As a result of a fantastic compact design, these Toyota Hiace campervans have everything you need for a fantastic adventure around Australia!  You'll love the way it drives and these campers have everything you've always wanted in a used campervan.  In the meantime have a look at this video from our Travelwheels YouTube Channel.   The video above all shows why a used Toyota Hiace is the people's choice when buying used campervan in Australia.

Automatic used ex-hire campervans for sale
Travelwheels used campervan sales offers two different types of used automatic campervans for sale at our Sydney depot.  For example our small used automatic campervans are great for couples or two friends.  However if you are after a bigger and more comfortable automatic campervan for sale, then we have different model.  For example our ex-rental 5 Person automatic campervans are wildly popular with our Australian customers.  They are held in high regard, and are the preferred choice for anybody looking for a comfortable used automatic campervan.
Small automatic used campervans for sale
These small used campervans are easy to drive, and have everything you need for a fantastic campervan holiday in Australia. Here is a link to our 2 person automatic campervan for hire across Australia.  For example we subsequently sell off a small number of these campers about four times a year.  To view our range of exhire used small campervans for sale either call 0421101021 or visit us at our branch in Sydney.  In addition you can always email us a question about used campervan sales to [email protected]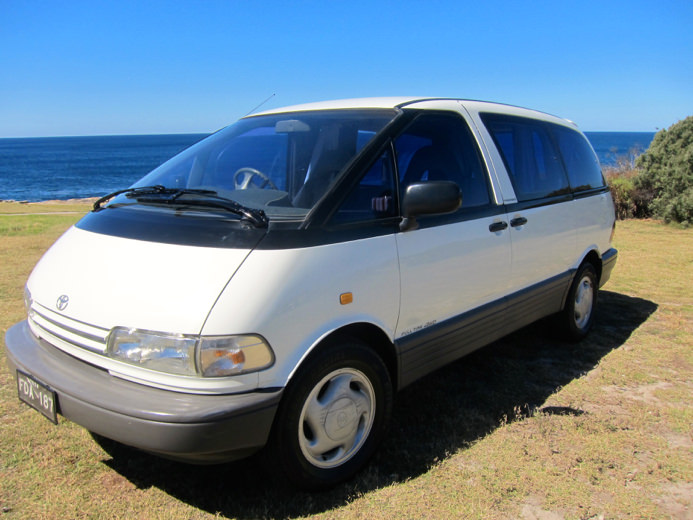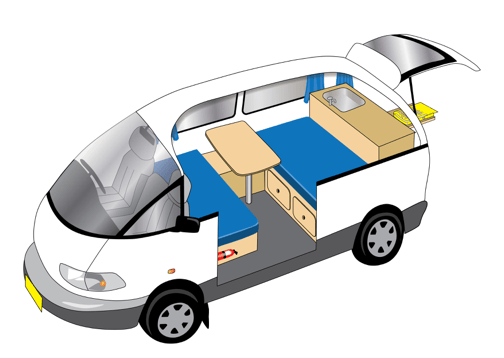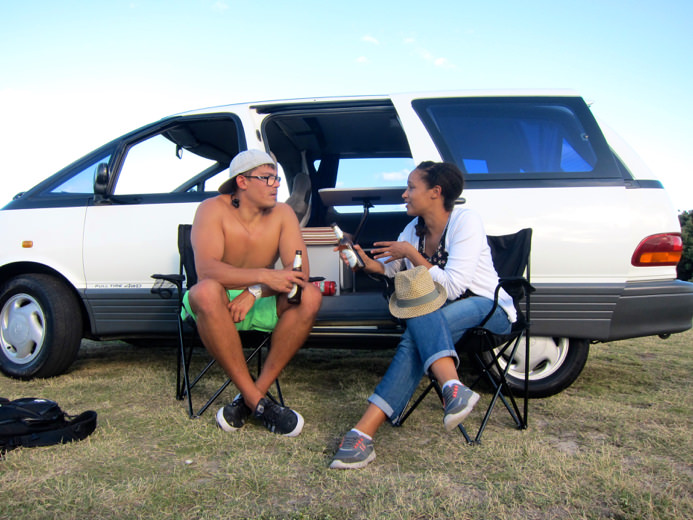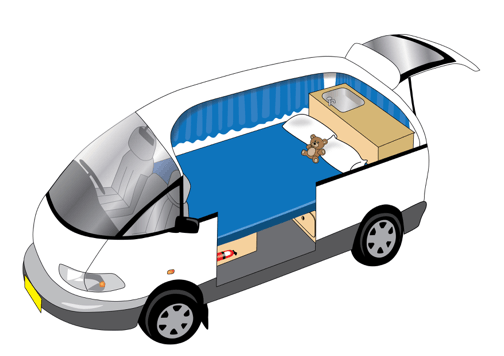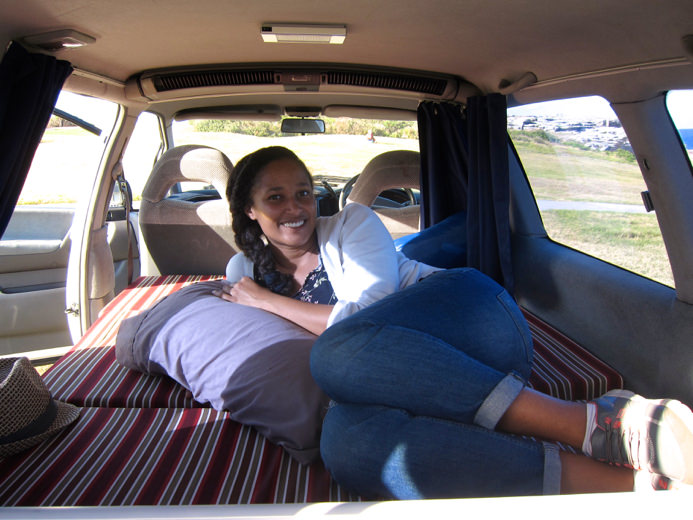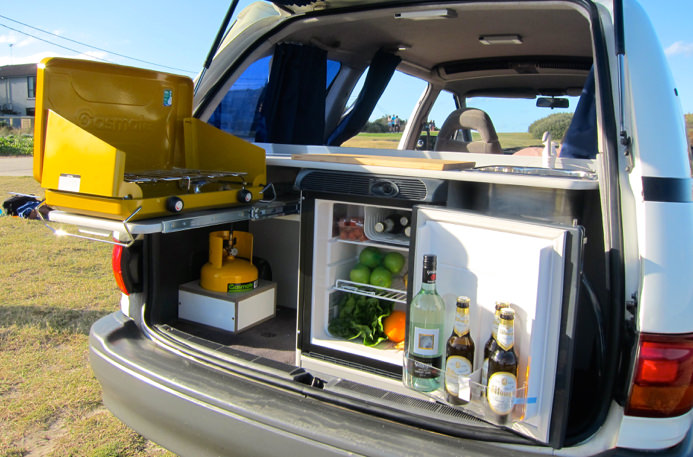 Ex-hire used automatic campervans for sale
These ex-hire used automatic campervans have been always in demand particularly in the automatic campervan hire market in Australia.  Furthermore about twice a year we release some of our used automatic campervans stock and make them available to sell to the public.  Above all we get so many emails and telephone calls from potential customers asking us when are we going to sell off some more of these ex-rental campervans?  These Toyota automatic campervans for sale are recommended by more of our customers than any other model!   In this case, we can safely say this is Australia's most requested and best loved used automatic campervan for sale in the marketplace in Australia.  In the meanwhile, take a look below and in particular you will see why they are number one best seller for anybody looking to buy an ex-rental automatic campervan.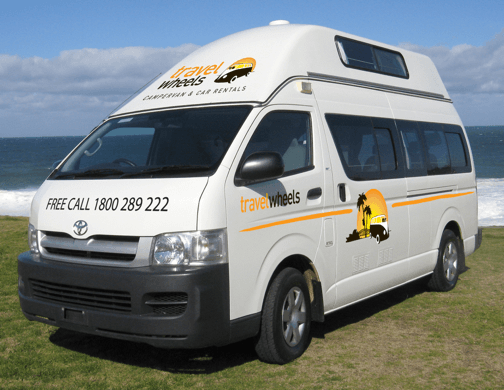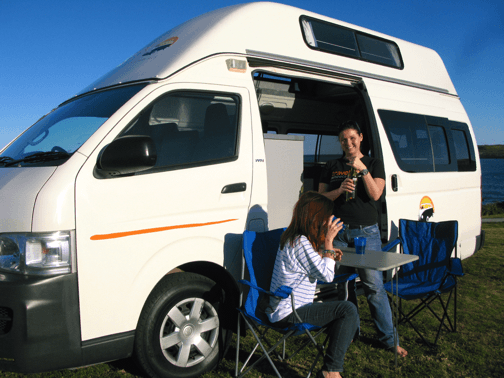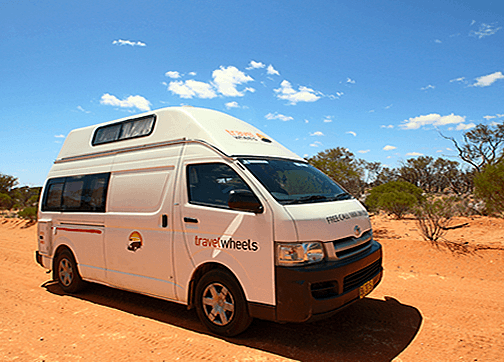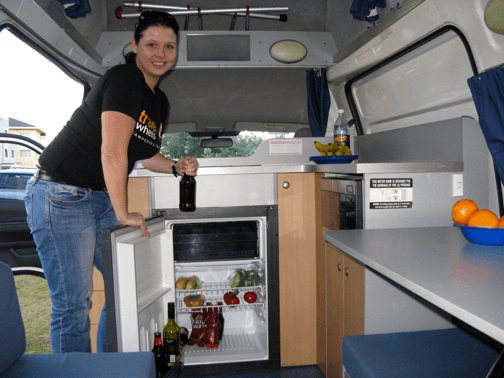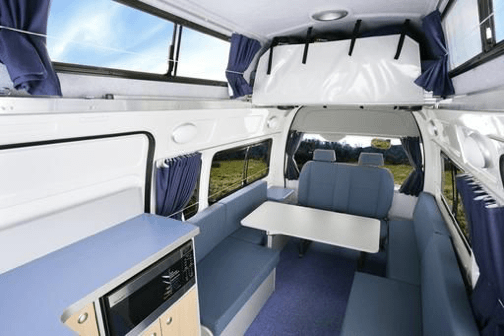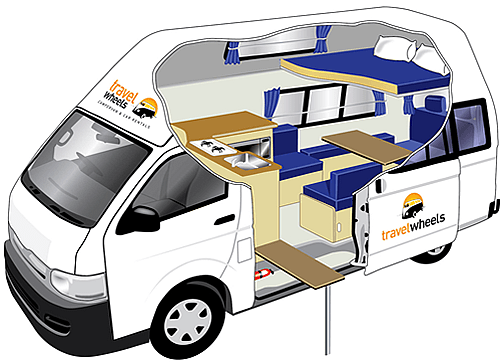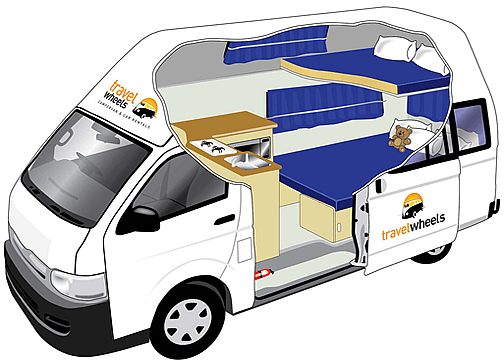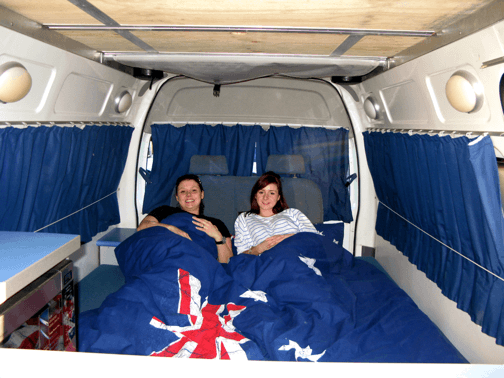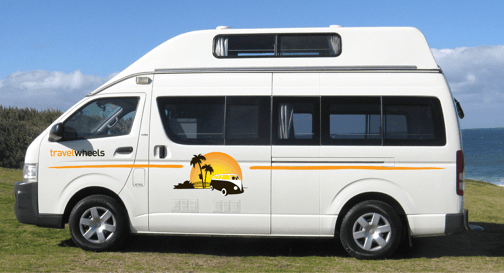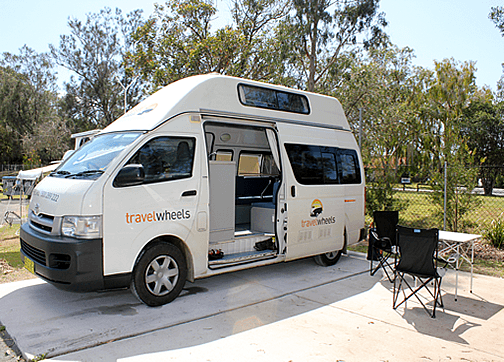 Travelwheels sells used campervan conversions in Sydney
Travelwheels used campervan sales Sydney branch love building campervans!  Maybe you are after a small rv or maybe looking for something smaller than an ex-hire Toyota hiace campervan for instance?  We especially love building small used campervans for sale for travellers visiting Australia on a tight budget!  Here is a video of one of the small campervans we have manufactured for one of our customers.  They were delighted to receive this great mini camper and had everything they needed for their tour of Australia.  You can call us on 0421101021 in English, wir sprechen deutsch or nous parlons Français ici.
Travelwheels Campervans sells used 4x4s for sale Sydney
Travelwheels used campervan sales has a range of used 4x4s for sale at our Sydney branch.  Together with your input we can also build you a used 4×4 bushcamper or campervan with a fold out double bed.  As an example we often sit down with both overseas and local customers and ask them what they actually want in a used camper.  In addition to our range of existing designs for used 4×4 bushcampers, we can add extra features to fit your budget.  In particular some customers want a mini fold out kitchen in the back or extra storage under the bed.  For instance we have received a number of requests from travel bloggers to add extra features.  For example, a secret safe for laptops or expensive cameras to be bolted to the floor.  As a result they can hide their equipment whilst at the beach chilling!
Have a look at this YouTube video of one of our used 4×4 bushcamper conversions.  To summarize, this customer wanted a simple fold out bed with storage underneath, but still needed to use the backseats if they had to.   Here is a video which features "Wayne" our used 4×4 used campervan sales manager in Sydney, and lastly boy can Wayne talk!  In this video he gives you some tips and advice on buying a used 4×4 camper in Australia.
Why buy from Travelwheels used campervan sales Sydney?
In summary, why should you consider buying a used campervan from Travelwheels used campervan sales?  Here are a list of just some of the benefits when you buy used camper from Travelwheels. If you have any further questions then you can send us an email at [email protected].  Our friendly staff will be more than willing to answer your questions about buying a campervan in Australia.
Extra benefits of buying used campervan from Travelwheels
Travelwheels Campervans Registered Australian Car Dealer for over 9 years
One year unlimited kilometers Australia wide warranty + roadside assistance included

"Try before you buy" – not sure if buying or renting is the best option for you?  If this is the case, then why not use our try before you buy service from used campervan sales Sydney.

Guaranteed buy back contract with a fixed price resale.  This way you know how much money you will get back at the end of your trip
Give you plenty of advice on travel routes, and places to go on the cheap!  We have guides such as free camping sites on East Coast of Australia or Sydney to Cairns travel planners.  To summarise our staff can save you loads of money on free camping and great places to visit when exploring Australia.
Friendly staff who can speak Deutsch and Français. Why not contact us in deutsch or Français via email

[email protected]

or phone us on 0421101021.
Travelwheels Used Campervan Sales Sydney should you buy or hire?
Not sure if you should buy used Toyota Hiace or maybe one of our small used campervans?  In addition to used campervans, Travelwheels used campervan sales also has used 4x4s and by the way we also do bushcamper 4×4 campervans as well!  Call Shaun on 0421101021 for more details or email [email protected] for our latest new arrivals!  Why not pop by 11-15 Clevedon Street in Botany and chat to our friendly team and for example we can help you find a great used ex-hire campervan.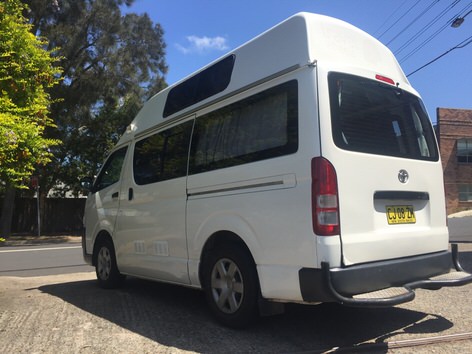 Tips on buying used campervans for sale in Australia.
Here are a couple of articles that the staff at used campervan sales recommend reading when considering buying a campervan.  The first one is about guide to buying a campervan in Australia from the Lonely Planet website.   Here is the next link and it's all about living in a campervan and has some useful tips and personal stories about campervan living! In the meantime it is worth checking out this guide to planning campervan trip in Australia from travellers who have finished their adventures down under.  Finally together with the other links we would recommend, top ten tips for living in a campervan.
Used campervan sales Sydney Australia contact us
Finally to summarize this page, we hope you found this mini guide to used campervan sales in Sydney useful. In the meanwhile if you for instance have any questions about buying a used campervan, then you can email here = [email protected].  You can send us a message via our contact us form.  If as a result you have more questions or want to visit Travelwheels used campervan sales Sydney, then pop by our depot.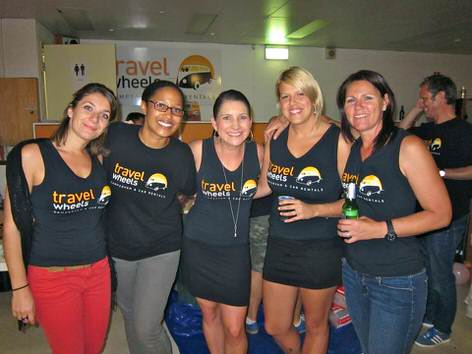 It would be great to see you at our depot and you will find it especially useful to view and test drive our used campervans.  For example, maybe you are not sure if you should buy a campervan?  As a result, it may be better to go for Sydney Campervan Hire deal instead? If this is the case, then simply click on the button below and our friendly staff will answer any questions you might have:
Email Travelwheels here