Cheap campervans for sale + 12 month warranty included
Cheap campervans for sale in Sydney | Automatic mini campers!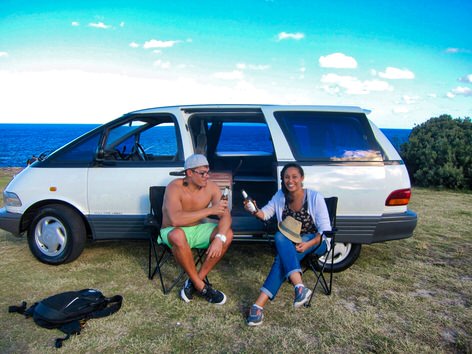 If you are looking for cheap campervans for sale in Sydney with 12 months warranty, then check out Travelwheels!  Here at our used campervans depot in Sydney, we sell automatic and manual Toyota campervans all under one roof.  At our base, you can jump in and make the beds and try out the cookers!  You are welcome to go for a long test drive as we are confident we sell great value for money campers for those people looking a nice campervan on a budget.  Therefore call Shaun on 0421101021 to arrange a test drive or to ask us a question.
Campervans for sale + double bed + kitchen + fridge!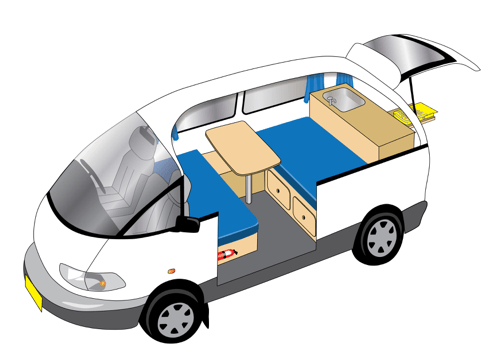 When you buy a used campervan for sale from Travelwheels it comes fully furnished. Therefore we supply the kitchen equipment for cooking and preparing food.  It comes with sleeping bags, pillows and sheets included in the price.  As a result, these ex-rental small campervans for hire are perfect for a couple or 2 friends who looking to purchase a campervan to explore Australia.
Why are well selling off our campervan hire vehicles?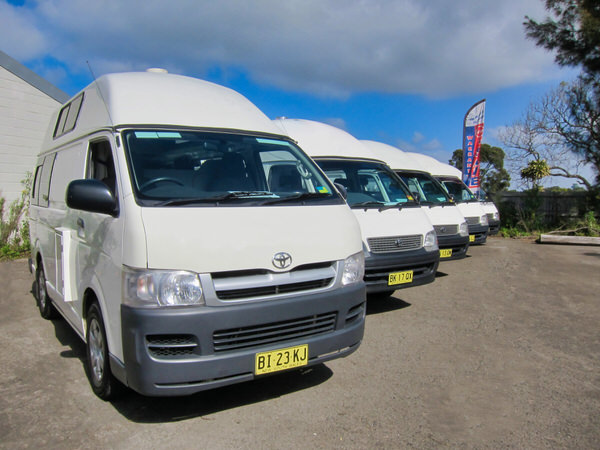 You might ask if these vehicles are so good, why are you selling them?  As a result of buying newer vehicles to upgrade our rental fleet, we have some specially marked for sale.  Therefore this means you getting a well looked after second-hand Toyota campervan that has been regularly serviced.
At the end of each rental season, we sell off a number of our ex-rental campers. Therefore we can now officially offer these vehicles directly to the public. Here is a link to more background information about these 2 person automatic campervan for hire.  This Toyota campervan is reliable, well looked after and now ready to go!  For one thing, there are no awful stickers or graffiti on theses great used Toyota campervans.  Everything looks nice and is ready for you to have an adventure!
Practical and easy to drive!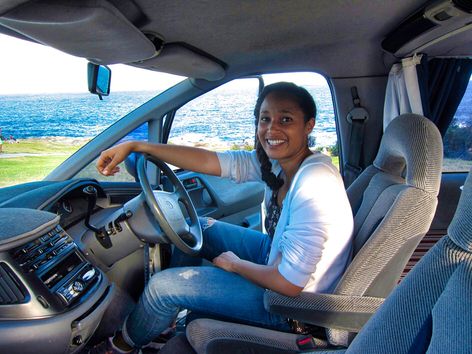 These practical and easy to drive ex-hire cheap campervans for sale can seat and sleep two people in style.  Another key point is that they drive like a normal people carrier car.  As can been seen from the photos this is not a big bulky campervan that takes up loads of room!  The fuel economy on these small automatic campervans for sale is great.  Drives like a car, but sleeps like a campervan!  This makes the vehicle very practical and can also be used as a daily runaround vehicle.
You often see so many big bulky campervans parked on peoples drives and only used a few times a year.  The great thing about these small Toyota campervans is they are happy on the road.  You can use it as a daily drive and not feel awkward driving it.  Easy to park with all those windows, and remember it has a nice double bed in the back of the campervan.  To conclude, these campervans are affordably priced, loads of practical, well maintained and hold their value.
Day time view for this Toyota Campervan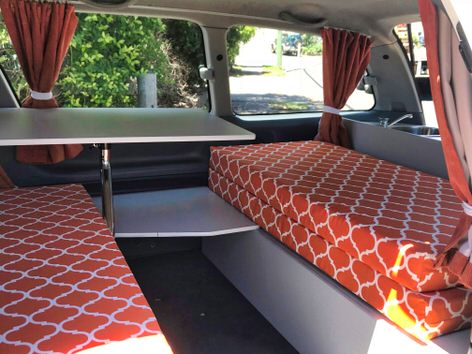 As a result of a great design, this campervan is not only practical but a really comfy van for weekend adventures! The comfy mini lounge with two benches and a table quickly converts to a double bed.  You are more than welcome to pop down to our depot and try out the beds!  It literally takes approximately 60 seconds to turn the comfortable lounge into a bed.
These Toyota Tarago's are the perfect cheap campervans for sale.  This lounge area is perfect for relaxing, eating or chilling out after a day by the beach. Another point often overlooked is the fantastic windows in this campervan.  For instance, who wants to stay in a dark van, and dingy van?  Part of our great design was to make sure there are plenty of windows (with curtains) to enjoy the views.   Another key point to consider is the storage options.  Right here under the two benches are spaces to store bags, and handy to hide valuables when going to the beach.
Toyota campervan night time view
Let's talk about the night time configuration for this Toyota camper.  We love these cheap campervans for sale as the bed and the layout is super practical!  Firstly, they are super easy to convert to a nice sized double bed!  It has curtains all around the bed to make it nice and private at night!  The sliding windows on our campers have flyscreens to let in air and keep the flies out! Here is another very important point to consider, how easy it is to make the bed at night time?
When you are thinking of buying or looking at cheap campervans for sale, make sure you check how easy it is to make the bed!   If it is difficult to make up or break down back to two benches, then it will not be a good practical camper to use all the time.   Often you will see people inside their campervans the bed down all the time!  Our team spent a lot of time working on the bed frame design.  Firstly, we wanted to be sure that, it would be quick and easy to make the bed!  Therefore our team designed the bed to be as easy as possible to use/make.
What is the size of the bed in 2 person campervan?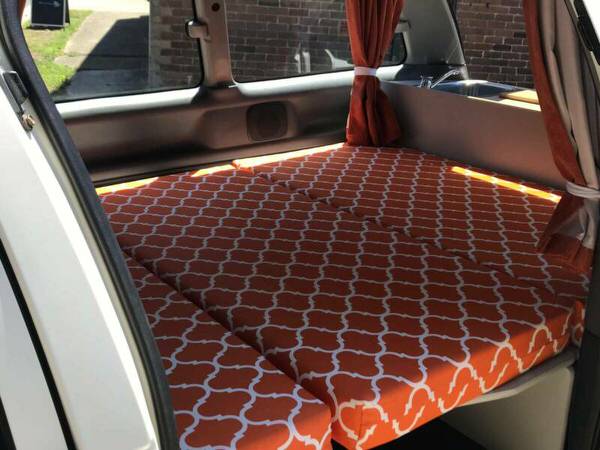 Here are the dimensions of the double bed in our 2 person campervan 1.70m x 1.35cm.  Many people have commented on how comfortable the bed is inside this campervan.  However, if you are taller than 1.75m, then we have other options for you.  Our Toyota Hitop Campervan will be the best fit for you. The size of the double bed (1.85m x 1.55m) in this vehicle.   We also do have a larger (and longer) bed in our five person automatic campervan.  The bottom double bed in that vehicle is 2.1m long x 1.7m wide!
Mini kitchen area in the back of this campervan for sale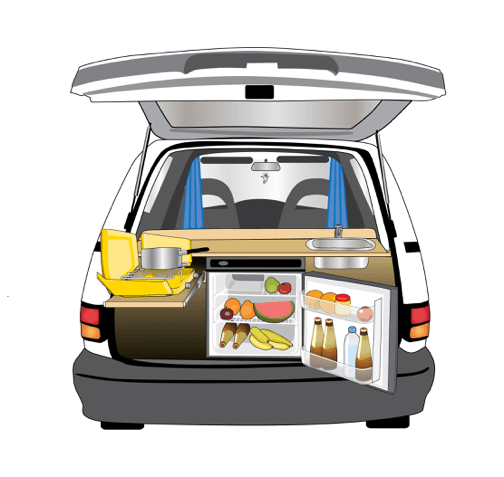 This used cheap campervan for sale comes with 35 litre fridge in the kitchen.  We get a lot of positive customer reviews about this design.  Many people say they find the fridge such a useful and essential part of the campervan.  Here is a drawing of the inside the mini kitchen.  As a result of this clever design, we managed to fit in a sink, fridge and 2 burner gas stove to cook great cheap meals!
The view of the actual kitchen
Features of our cheap campervans for sale in Sydney
Below are the main features of our used ex-hire campervans.  Therefore if you need more info, please call Shaun on 0421101021 or email [email protected]. To demonstrate why we believe they are such good value for money, check out the essential items included in this Toyota campervan.
Drives like a car, but sleeps like a campervan!
Proper 35L fridge and not a tiny fridge or icebox!
Sleeps and seats two adult
Comfortable double bed (1.70m x 1.35m)
Automatic transmission
Air conditioning and power steering (easy to drive)
2 x burner gas stove & 2 kg gas bottle
2 x bed linen, sleeping bags and folding chairs included
All cooking equipment included in price
Ten-litre water tank and a sink for washing/cooking
Dual battery system for the fridge and internal lights
Larger Toyota campervan for sale – we sell a range of campervans
Note we also hire these two person campervans as well
Check out our most popular Hitop Toyota Hiace campervan we sell
Why buy from Travelwheels – lots of positive feedback
We have many positive reviews especially for our campervan hire fleet and our staff.  You can read our facebook reviews here.    Many travellers to Australia on a budget love buying these used campervans.  The reason why is because you have a hotel on wheels and can save a fortune on accommodation.  Back this up with great customer reviews and service you are in safe hands.
Similar used campervans to consider
These used ex-hire Toyota cheap campervans for sale are a very popular choice with our customers.  They are very sought after vehicle for those people looking for good value for money campervan.  If this one has sold out, then don't worry as we get new stock in every week.  Here are a couple of more options to consider:
Contact travelwheels for used cheap campervans for sale in Sydney
For more information about our range of used cheap campervans for sale, call or email us.  You can email our team at [email protected] or call us on 0421101021.  We have a depot close to Sydney's domestic airport.  You are welcome to visit and test drive any of our cheap campervans for sale.  Our address is  11-15 Clevedon Street, Botany, 2019, Sydney.