Cheap campervans for sale + 12 month warranty included
Cheap campervans for sale in Sydney | Travelwheels
If you are looking for cheap campervans for sale in Sydney especially with 12 months warranty, then check out Travelwheels!  Here in Sydney we sell campers with 12 months warranty and ready to go!  Therefore call Shaun on 0421101021 or email [email protected] to arrange a test drive asap before we sell out!
Campervans for sale + double bed + kitchen + fridge!
When you buy used campervan for sale from Travelwheels it comes fully furnished. Therefore we supply the kitchen equipment for cooking and preparing food.  It comes with sleeping bags, pillows and sheets included in the price.  As a result these ex-rental small campervans for hire are perfect for a couple or 2 friends who looking to purchase a campervan here in Australia.
Why are well selling off our campervan hire vehicles?
You might ask if these vehicles are so good, why are you selling them?  As a result of buying newer vehicles or upgrading the rental campervans, we have some especially marked for sale.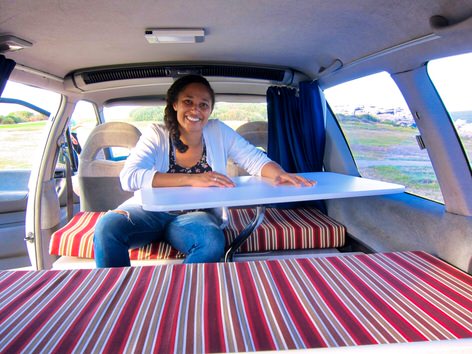 Here at our Sydney depot at the end of each season, we sell off a number of our ex-rental campers. Therefore we can now officially offer these vehicles directly to the public. Here is a link to more background information about these 2 person automatic campervan for hire.
Practical and easy to drive!
These practical and easy to drive ex-hire cheap campervans for sale can seat and sleep two people in style.  Furthermore it has a nice double bed in the back of the campervan.  Affordably priced, and you get more features for your money.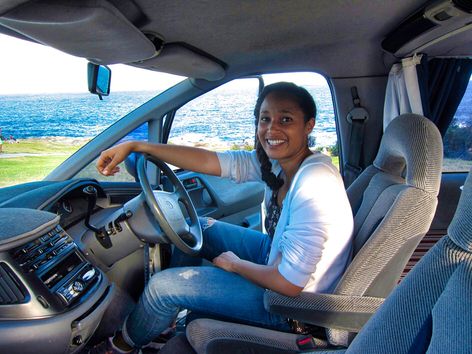 Day time view
As a result of a practical design, it conveniently coverts to a comfy mini lounge with two benches and a table.  It takes about 60 seconds to turn the bed into these especially comfortable lounge area.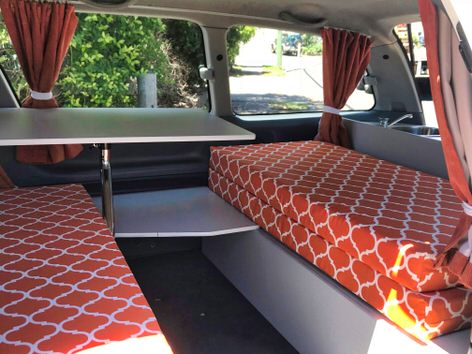 Night time view
Therefore when it comes to the night time, these cheap campervans for sale are fantastic!  Super easy to convert to a nice sized double bed!  It has curtains all around the bed to make it nice and private at night!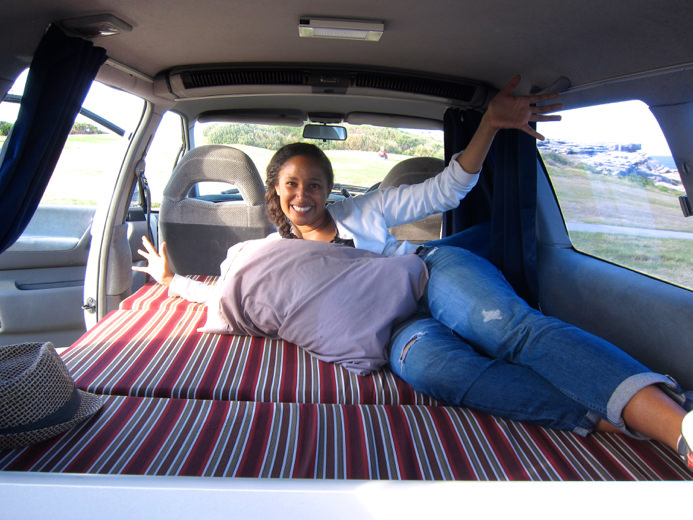 Mini kitchen area in the back of this campervan for sale
This used cheap campervan for sale comes with 35 litre fridge in the kitchen.  Therefore we get a lot of positive customer reviews about this design.  Many people say they especially find the fridge such a useful and essential part of the campervan.  Here is a drawing of the inside the mini kitchen.  As a result of this clever design it has a sink, fridge and 2 burner gas stove to cook great cheap meals!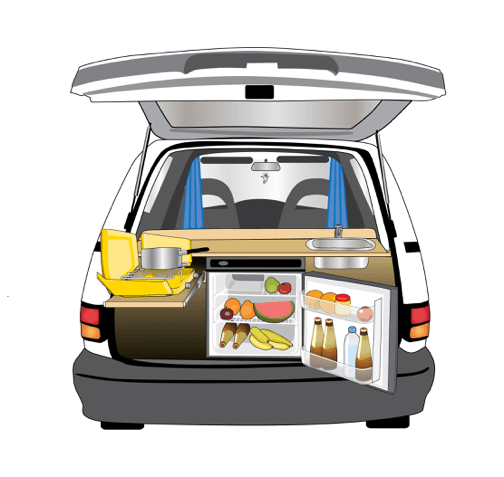 Features of our cheap campervans for sale in Sydney
Below are the main features of our used ex-hire campervans.  Therefore if you need more info, please call Shaun on 0421101021 or email [email protected].
Toyota Tarago Campervan
Built: 2000 (2018 new interior re-fit)
Automatic transmission
Price: $11,200*
*Price includes 6 months REGO, 12 months roadside protection, full camping kit worth $300 + 50% Buyback option (up to one year)
Remember if we have run out of similar small campervans for sale, then check out our other vehicles.  Here is a link to our buyingcampervansydney site and we have other campers for sale.
Why buy from Travelwheels – lots of positive feedback
We have many positive reviews especially for our campervan hire fleet and our staff.  You can read our facebook reviews here.    Many travellers to Australia on a budget love buying these used campervans.  The reason why is because you have a hotel on wheels and can save a fortune on accommodation.  Back this up with great customer reviews and service you are in safe hands.
Contact travelwheels for used cheap campervans for sale in Sydney
For more information about our range of used cheap campervans for sale, call or email us.  You can email our team at [email protected] or call us on 0421101021.  We have a depot close to Sydney's domestic airport.  You are welcome to visit and test drive any of our cheap campervans for sale.  Our address is  11-15 Clevedon Street, Botany, 2019, Sydney.