Used Toyota Tarago Campervan for sale – Automatic Transmission
Used Toyota Tarago Campervan for sale Sydney – travelwheels
This used Toyota Tarago campervan for sale in Sydney is a great example of what travelwheels campervans can especially build for you.  Therefore call Shaun on 0421101021 and see what we can make for your Australian Adventure!
Used Toyota Tarago Campervan for sale – fun to drive!
As a result of a clever design, we therefore have the best of both worlds!  It drives like a car, but sleeps like a campervan!  It has for example a nice comfy double bed in the back, and especially easy to park and drive in the city!  Here are the main features of this used Toyota Campervan for sale.
Model:Toyota
Make: Tarago GLi TCR10R
Air Conditioning: Yes
Power Steering: Yes
Transmission: Automatic
Fuel Consumption: approx 12 Litres Per 100km. This may vary subject to the use of air-conditioning, and terrain.
Engine: 4 cylinder petrol engine (2.4L) runs on unleaded petrol
Main features Toyota Tarago used campervan for sale
Below is a list of the main features of this used Toyota Tarago Campervan for sale.  It comes by the way with a great mini kitchen area in the back of the van.  It has a fridge, second battery, 2 burner cooker and a nice double bed as well!
Here is the list of all the features we have especially incorporated in the back for you.
Large refrigerator 55L (12V/240V)
Dual Battery System: 2 batteries.  In this case, one for the fridge & internal lights.   Second battery for the engine/electrics.
2 burner gas cooker and grill
2kg gas bottle included
Water tank: 15 litre water tank for washing/cooking
Sink: Stainless steel sink – cold water only
AM/FM radio & cassette player with iPod connection
Cigarette lighter suitable for recharging iPod/Mp3 players
Seating configuration: Seats 2 adults in the front cabin
Sleeping Configuration: Rear dinette converts to a big double bed
Storage: Has storage areas under seat benches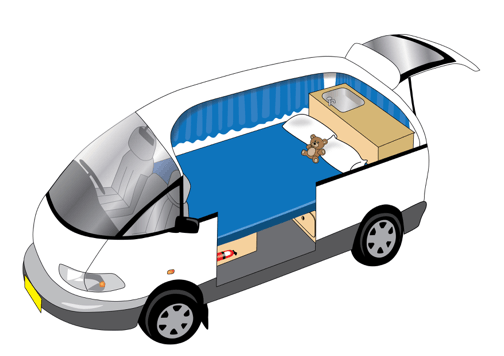 Why buy from Travelwheels campervans in Sydney?
Travelwheels Campervans has sold campervans in Sydney for over ten years!  Therefore will help you take the stress out of buying a used Toyota Campervan here in Sydney. As a result of our in house sales team, we will help with all the legal paperwork.
Let us organise third party insurance and registration for you
Travelwheels can for example organise third party insurance and registration for travellers/non-australians.   Therefore we will make sure the vehicle is in your name.  It will be legally registered here in Australia.  To summarize you will be the legal owner and fully insured before you start your trip! Remember we not only sell campervans, but we actually build these Toyota Campervans for sale right here in Sydney!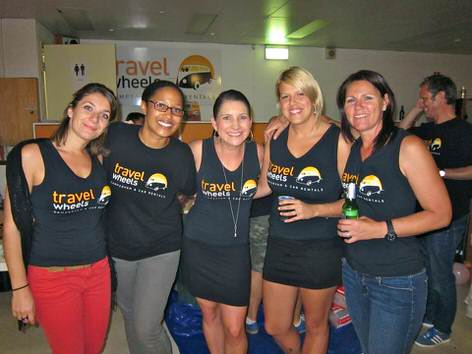 All used campervans for sale come fully loaded!
Full mechanically serviced with Roadworthy Certificate (Pinkslip).
With six-month Registration (REGO) & Insurance (Green Slip)
12 Months Warranty On Engine & Gearbox – NO KILOMETER LIMIT
1 Year Breakdown Warranty Australia wide
24 hour, 7 days a week Australia wide Roadside Assistance
Guaranteed buy back up to 50%
Free and helpful advice for all the paperwork 🙂
Visit our used campervans for sale depot in Sydney
Travelwheels used campervan sales in Sydney is not just another online business!  Therefore you can visit our depot in Sydney to test drive before you buy! Here is our address at 11-15 Clevedon Street, Botany, 2019, Sydney.
Du hast weitere Fragen zu diesem Toyota Tarago Van zum Verkauf?
Für weitere Informationen kannst du Travelwheels gerne auch auf Deutsch kontaktieren! Sende Travelwheels eine E-Mail auf Deutsch an  [email protected] oder rufe uns kostenlos an unter 0421 101 021
Ask us a question about buying used campervan in Sydney?
Do you have any questions you especially want us to answer?  We are here to help you get the best campervan for your budget.  Therefore ask as many questions and our team will answer them all!  Alternately you can also call us 0n 0421 10 10 21 and we will be more than happy to help 🙂