Toyota campervan for sale in Sydney + Automatic + Double Bed + Full Kitchen REF: CV28BN
Toyota campervan for sale – Automatic + double bed
This automatic Toyota campervan for sale is great value for money.  It has everything you need in a small compact sized camper.  Another key point here is that it drives like a car, but sleeps like a campervan!  Secondly, it has a double bed which converts into two comfortable benches and a table.  Thirdly, at the back of the campervan, it has an easy to cook and clean kitchen.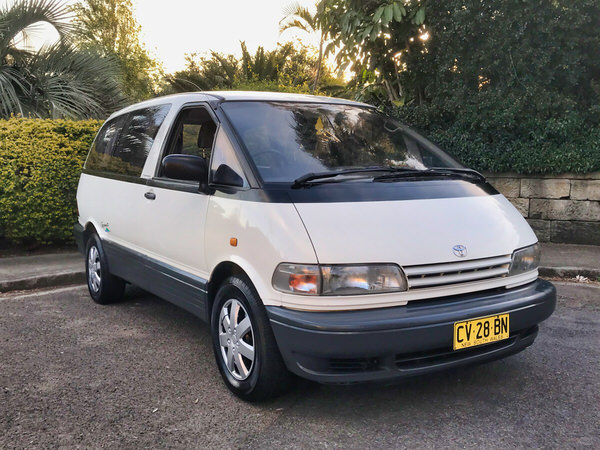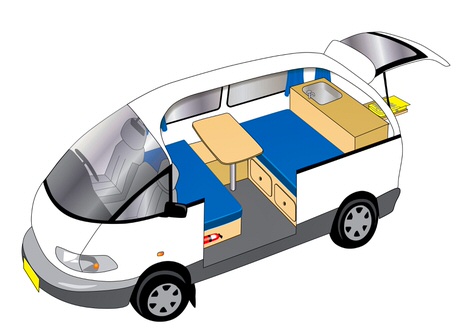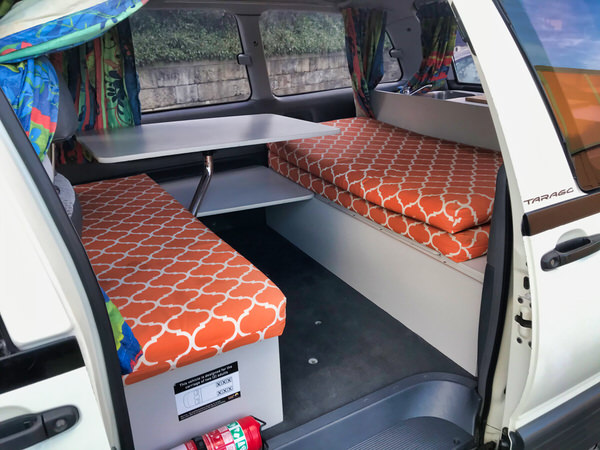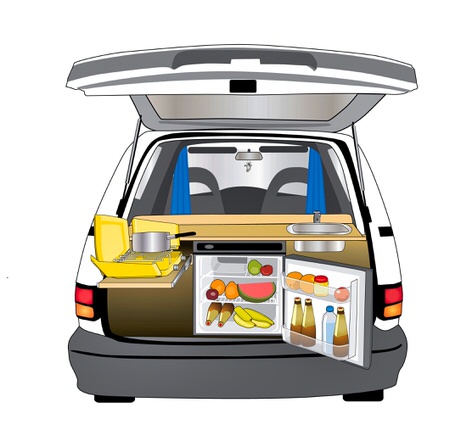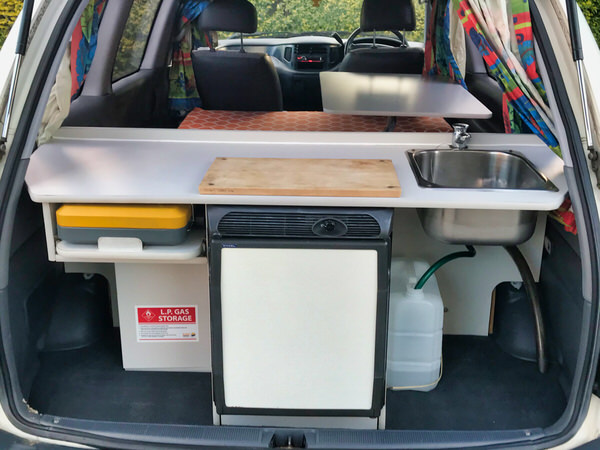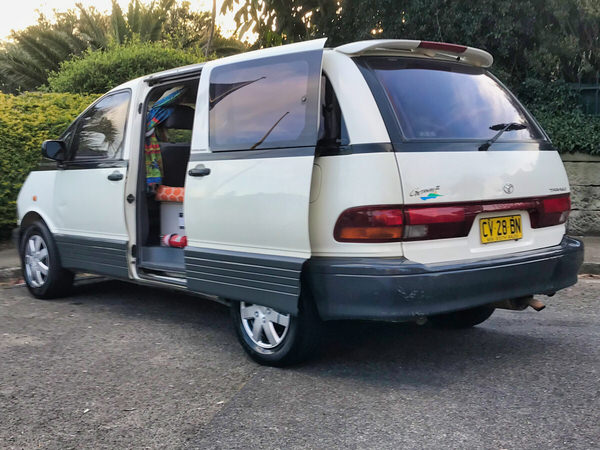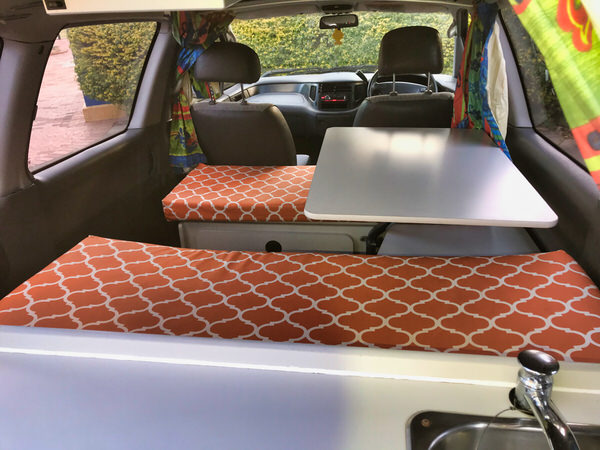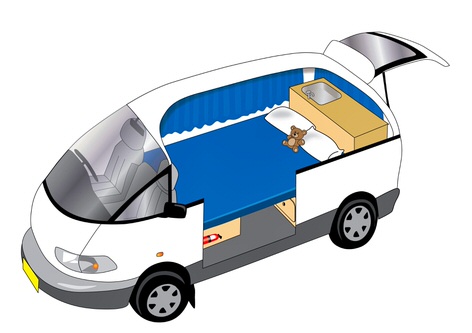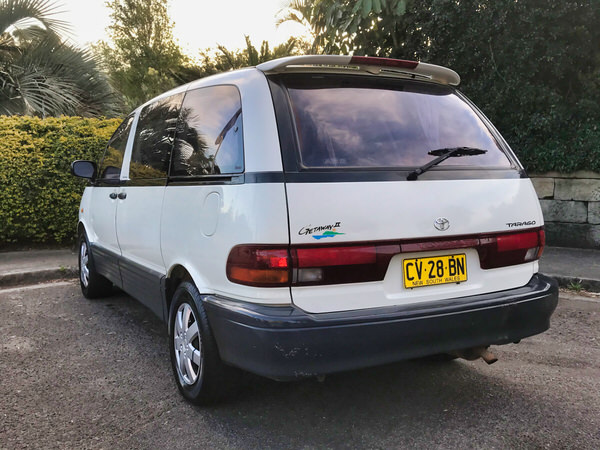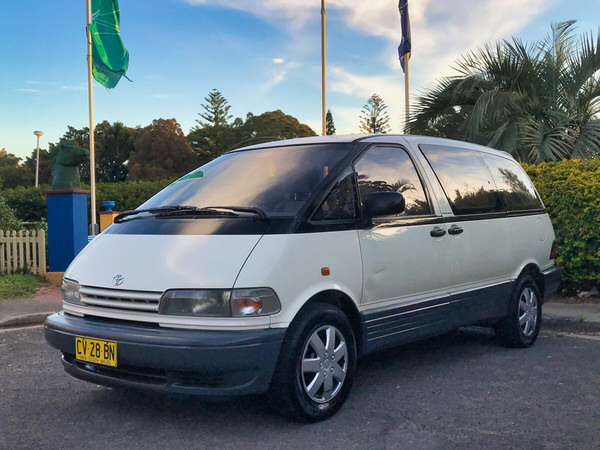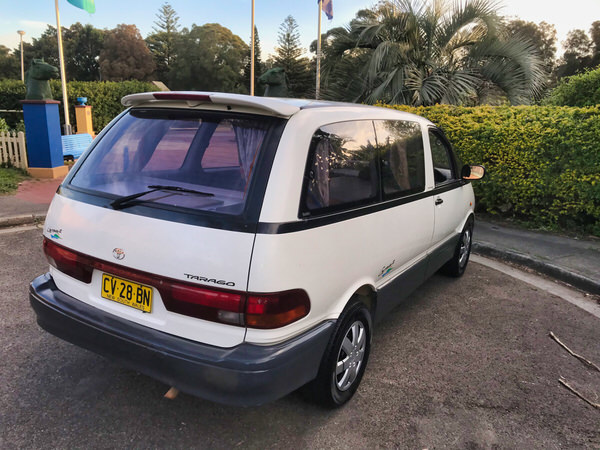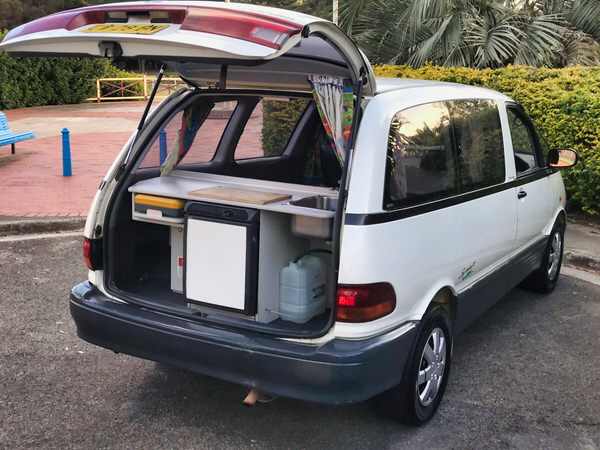 The great thing about this automatic Toyota campervan for sale is it's a practical campervan and car combined.  You can still use it as your "daily driver car" and still go away at weekends.  It does not, therefore, drive like a big boxy campervan!  It's a fun vehicle and for one thing, a fantastic way to get out there and enjoy Australia.  To arrange a test drive of one of our Toyota campervans, give Shaun a call on 0421101021.
Toyota campervan main features:
To begin with, let's take a look inside this Toyota campervan for sale.  Firstly, this is one of the most popular small Toyota campervans we sell!  Our customers love the way the double bed converts to a table and benches so easily! Another key point here is the newly redesigned mini kitchen in this Toyota campervan.  It allows you to cook out in the open and still feel cool!  Imagine trying to cook for example inside a campervan in the hot summer months!  Therefore, this is the perfect 2 person used Toyota campervan for you. Call Shaun on 0421101021 for more info and to arrange a test drive.
Daytime configuration
When you buy a Toyota campervan for sale from us it comes fully furnished and ready to go!  As can be seen, they do not have crazy paint jobs or wild colours.  This Toyota campervan, for example, is in white, so makes free or wild camping easier as you do not stand out! Another key point to discuss just how comfortable and practical the lounge space is!  Firstly, it comes with two comfortable benches with nice and thick foam padding.  Secondly, the moveable table makes relaxing or enjoying a cosy meal together with great inside the camper easy.  Now you have seen the drawing, let's see what it really looks like in this Toyota mini campervan!
Comfortable lounge in this campervan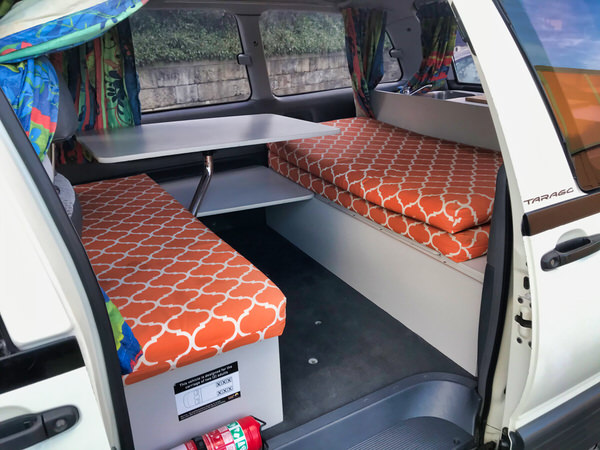 The fantastic kitchen in this camper
One of the great things about this Toyota campervan for sale is the practical kitchen area. Firstly, do not be misled by the compact size!  Secondly, we have designed it for instance to have everything you need to cook right at hand.  To begin with, the two-burner pull out cooker, sink and plenty of worktop space make cooking not only easy but at the same time simple to keep clean!
Practical kitchen to cook in the hot weather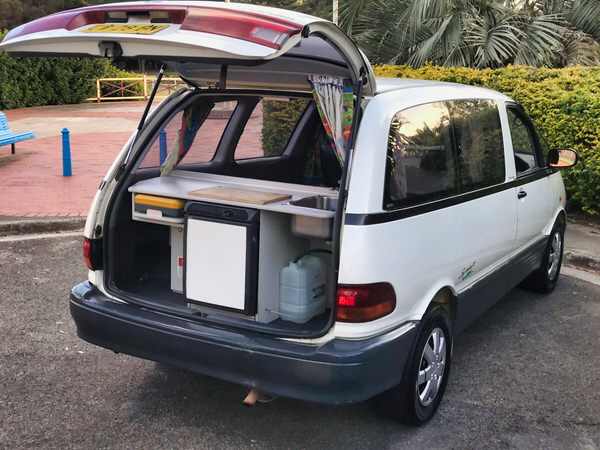 A point often overlooked is the hot weather and cooking in a campervan.  As we have significantly improved the kitchen design, and for example, the back door swings open and acts as a sunshade.  Therefore protecting you from the hot sun whilst making delicious meals at the same time.  It is, for example, a really nice space to get two camp chairs outside and relax whilst cooking at the back of the camper.
Two-way fridge, Proper LP Gas storage in the kitchen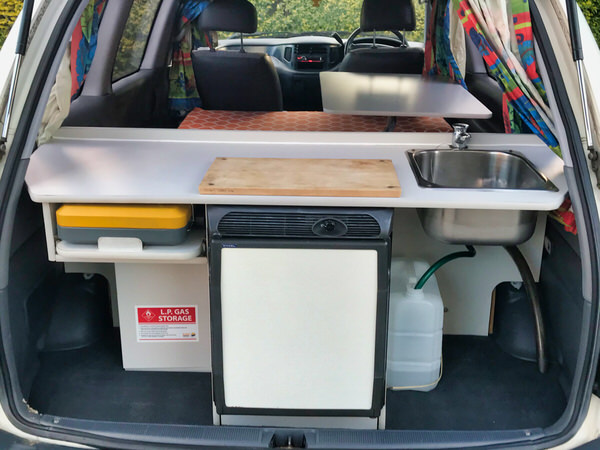 Now it's time to talk about the fridge in this Toyota campervan for sale!  This camper comes with a very useful 35L fridge powered by a second battery.  The fridge, for example, has plenty of space for your food and some beers or even a bottle of wine!  As can be seen, it has enough room for a couple of days of food.  It's a great way to save money whilst out on the road exploring Australia.
How does the fridge work or charge?
Here is how the fridge works in this Toyota campervan for sale.  When you are driving for example during the day time, both batteries inside the campervan charge up.  Therefore this means the fridge battery is steadily recharging the second battery powering the fridge.  This allows you to park up at night time and know for instance that the fridge will keep cool all night long.
LPG Gas Storage box
Inside the kitchen, in this Toyota campervan, we have installed a proper LPG Gas Storage box.  There are strict laws in Australia about how you store your gas cylinder inside your campervan.  You can read up more about this by googling the "Australian Gas Standard (AS/NZS 5601.2:2013)".  As can been seen the photo about we have installed a proper singe gas storage box for your safety.  The single gas box will have enough space to hold a standard 1 x 2kg gas bottle.
What size is the bed and how comfortable is it?
We already know this Toyota campervan for sale feels like you are driving a car, but how comfortable is the bed?  Questions like, "how easy is it to make the bed" are without a doubt very important to ask when looking to buy a campervan.  To begin with, our team have created a mini-hotel on wheels! The practical design allows the two benches and table to quickly make a double bed in the rear of the vehicle.  For one thing, it was super important for our team to make sure the bed only takes a minute to make!  Come on down to our depot and go for a test drive.  Get your phone out and time yourself how long it takes to make the bed!  It's super easy in this campervan!
The size of the double bed in this campervan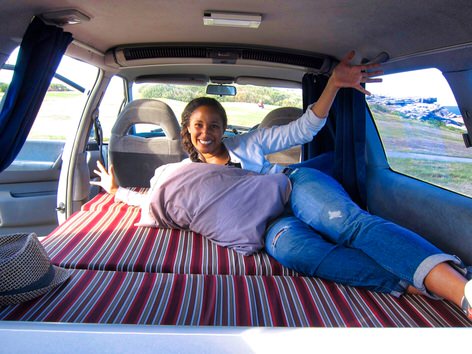 Here are the dimensions of the double bed in this Toyota campervan for sale = 1.70m x 1.35cm.  The bed is great as it's easy to make and super comfortable.  If you are a lot taller than 1.7m, then we recommend our Toyota 3 person campervan.  This has more headroom and a larger bed! The size of the double bed (1.85m x 1.55m) in this vehicle.
Vehicle specifications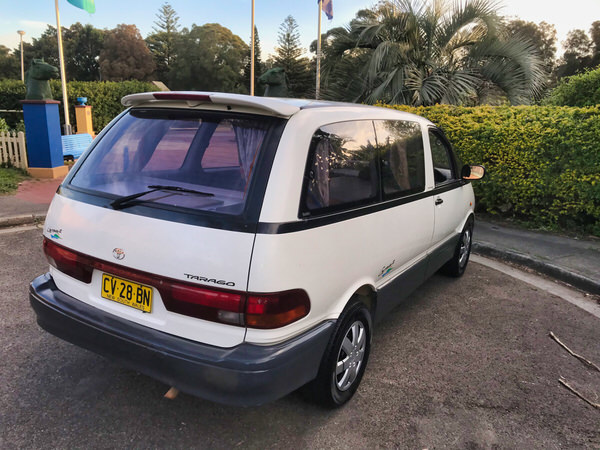 Here are the details of this fantastic automatic Toyota campervan we have at our Sydney depot.  Remember, before it goes on sale, it has full service and we do a 1oo point safety check.  It gets used for test drives for a week to make sure it runs smooth and is just right for you.
Model: Toyota
Make: Tarago Campervan
Built:1999
Air Conditioning: Yes
Power Steering: Yes
Transmission: Automatic
Drives like a car sleep like a camper!
Second Battery System
Kitchen with fridge, cooker and water tank with sink
Fold-out double bed and storage underneath
After a bigger campervan?  We sell a range of Toyota campervans
Larger 5 person Toyota automatic campervans.
Similar used campervans to consider
Travelwheels used campervans in Sydney specialise in building our own campervans! Therefore, if this Toyota automatic campervan has already been sold, then do not worry!  As a result of building and for instance constantly updating our hire fleet, we will have more shorty to sell.  Here is a short list of some more campervans we have in stock ready for sale today:
Why buy campervan from travelwheels?
There are lots of good reasons to buy this Toyota campervan for sale.  As already mentioned it drives like a car but sleeps like a campervan.  It's a Toyota, so reliability, comfort and a high resell price is a good start!  We have been selling Toyota small campervans for over fifteen years, so the team know what works.  We look forwards to welcoming you to the depot to test drive these great small campervans.  To conclude why you should buy from us, check out our benefits below:
Full mechanically serviced with Roadworthy Certificate (Pinkslip)
With six-month Registration (REGO) & Insurance (Green Slip)
12 Months Warranty On Engine and Gearbox
24/7 days a week Australia wide Roadside Assistance
Guaranteed buy back up to 50%
Optional "try before you buy" scheme
If this camper is sold, then check out this small Toyota camper for sale as a good option
We sell a range of Toyota campervans and welcome to test drive a few when you visit
Test drive our used campers in Sydney!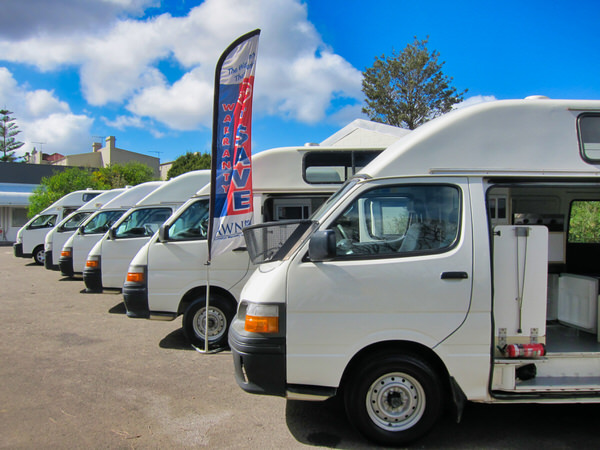 You are welcome to visit our used campervans branch here in Sydney at 11-15 Clevedon Street, Botany, 2019, Sydney.   Just come on down and jump into one of these Toyota campervans for sale.   Head out for a test drive, and ask as many questions as possible.  We know once you go for a drive in this camper,  you will need this campervan for your next adventure!
Contact travelwheels campervans
There are plenty of ways to contact our friendly team.  We are here to help answer any questions about this small Toyota campervan for sale. Feel free to email us at [email protected].  Why not call our friendly sales team (we speak Deutsch and English) on 0421101021.   Alternatively, send us your questions below and our team will answer your questions 🙂