Toyota Hiace Ex-rental Campervans for Sale in Sydney with warranty
Toyota Hiace Ex-rental Campervans for Sale + 12m warranty
Travelwheels have these great Toyota Hiace ex-rental campervans for sale at our Sydney office.  These Toyota campers have been specially sourced from an Australian owned and operated company based in Sydney.  As can be seen, they are great looking campervans! Once in a while, we make them available for sale direct to the public!  For one thing, buying directly from the supplier saves you money!  Not only are you buying a quality camper, but with our 12 monthly warranty included in the price, you get peace of mind too.  Give Shaun a call on 0421101021 to ask about these great campervans.
Welcome to test drive any Toyota Campervans for sale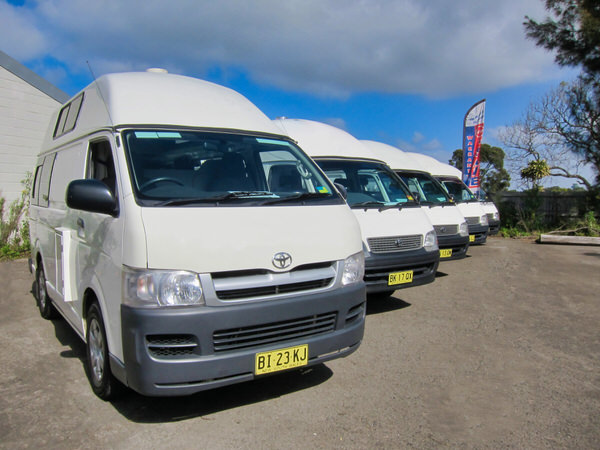 We love it when people pop by our Sydney campervan sales yard to test and view our range of Toyota Hiace ex-rental campervans for sale.  To begin with, the first thing we suggest you do is to jump in the back and see how easy it is to make the beds!  For one thing, it's super important to make sure you buy a quality practical campervan that ticks all the boxes.  There is no point in buying something and not properly testing it beforehand.
Buying a used campervan is a good investment
One thing we have noticed from our positive customer's reviews is they all comment on buying a quality used Toyota campervan is a great investment. Many people have mentioned they have used the campervan for a couple of years and are still able to get the lion share of the money invested back easily.  Come on down to our Toyota Hiace ex-rental campervans for sale depot and test drive some of our great used Toyota campervans. Now is the time to give Shaun a call on 0421101021 and arrange a time to pop down and play in a campervan before you choose to buy one.
The view from the rear – clean lines, and ready to go!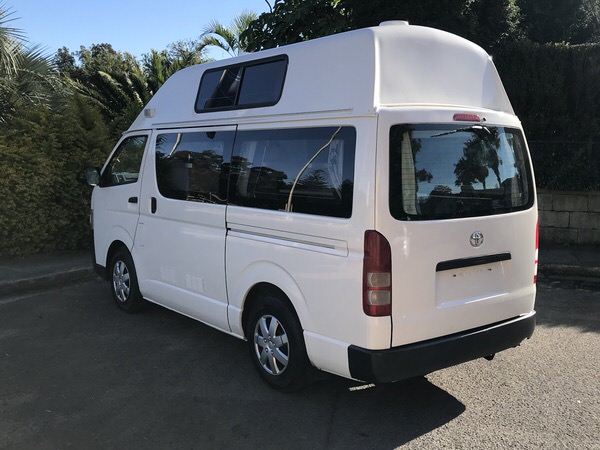 These Toyota Hiace Ex rental campervans for sale are the best value used Toyota campervans in Sydney!  As can be seen from the photos, they are in great condition.  To begin with, we give them a proper road test and service before we do anything.  Secondly, they go through a deep cleaning process and are fully tested before being ready to be sold directly to the public.  When you buy a used Toyota campervan from us, they are ready to go on an adventure!  Here are the specifications of this Toyota Hiace campervan below.  For more info, you can always email Travelwheels with your questions = [email protected] or call the team on 0421101021.
Taka look inside our Toyota Hiace Campervans with High Roof
To begin with, let's take a look inside our well designed practical three-person used Toyota campervan. Firstly, it's fun to drive, and secondly great to sleep in.  Without reservation, it offers great value for money, and easy to see why it's Australia most popular hitop campervan for sale. Another key point to focus on is the redesigned kitchen and comfortable living space in the lounge.  To demonstrate how practical the design is, it means you cook inside the van and still be chat with friends in the lounge area.  The kitchen lounge space is open plan, so you don't feel like you are missing out on a few beers in the lounge with friends.
Toyota Hiace campervans with a comfortable lounge area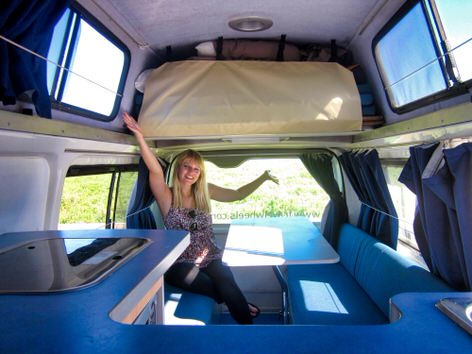 Let's get back to this great campervan we have for sale!  When looking to buy any campervan how comfortable and practical is the lounge space?  You will be spending a lot of time here, so with this in mind, we highly recommend these ex-rental Toyota campervans. The design is super practical and at the same time comfortable.  These campervans have plenty of windows to let in light.  They give you an amazing room with a view when you park up.  Take for example the rear tailgate which opens up the lounge to the outdoors. This large rear tailgate door also acts as a shade as well.  Great to put some chairs at the back with a beer in hand relax and enjoy the views.
Redesigned practical kitchen – great to cook in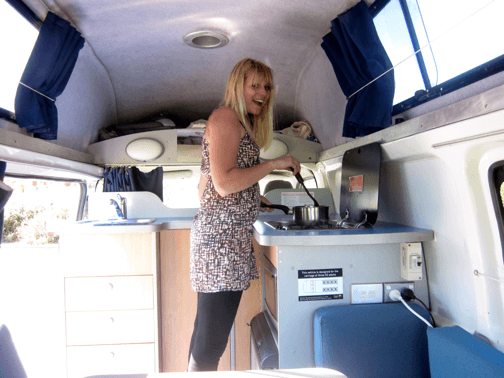 These Toyota Hiace ex-rental campervans for sale have clean lines and well-designed kitchen space. To begin with, they have plenty of room to prepare food with all those countertops.  Making cooking tasty food easy and enjoyable.   A point often overlooked is how practical is the space to cook and entertain at the same time.  Often in many campervans, the kitchen is at the back of the campervan which puts up a barrier between the chef and the rest of the party.   This is not the case in these Toyota campervans.   These have been designed to have an open plan layout.  This means you can cook, chat and relax with friends all at the same time.
Toyota Campervans come with a 55L fridge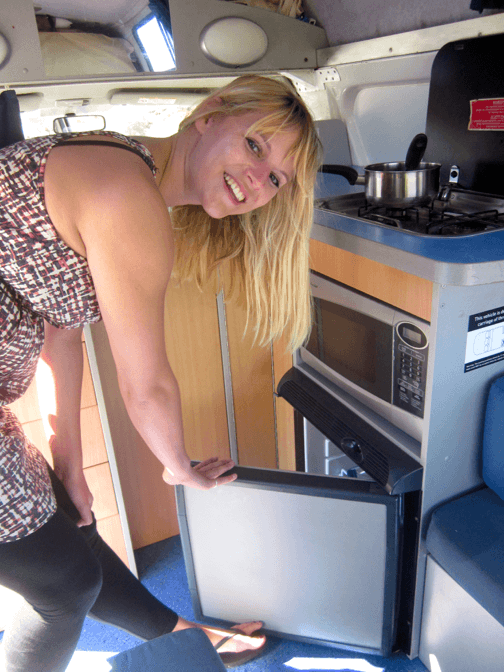 Parking up at a campsite for a few days?
Here is another popular question people contact us about.  What happens if you are staying at a campsite for a few days, how do you recharge the fridge?  There is a simple answer to this question.  You can connect the campervan to the electricity supply at the campsite. There is an electrical lead inside the camper and you just plug it into the main supply at the campsite.  Once you do this, the microwave and power sockets will work. You will also be able to charge your laptops, iPads, and phones as well.
Why buy Toyota Hiace Campervan from us?
These Toyota campervans are the most popular used campervan for sale in Australia.  Firstly, we are an Australian owned and operated company.  We have been selling Toyota campervans for the last twenty years.  Every year we have hundreds of happy rental and sales customers.  On top of all this, all our Toyota campervans also come with the following benefits included in the price.
Travelwheels Campervans Registered Australian Campervan Dealer
Australia owned and operated company
All campervans come with 12 months warranty and roadside assistance included

"Try before you buy" – not sure if buying or renting is the best option for you, then use our "try before you buy" scheme.

Guaranteed buy-back contract with a fixed price resale.  This way you know how much money you will get back at the end of your trip
Twenty years experience in buying and selling Toyota Hiace Campervans
Friendly helpful staff to answer your questions.
Staff who can speak Deutsch and why not contact us in Deutsch via email

[email protected]

Travel experts on exploring Australia
We sell a range of campers from small 2 Person Toyota campervans to larger Toyota family campervans with child seatbelt points.
Not only are we experts at campervans sales, but we also love exploring this amazing country we call home.  Our team are always out exploring OZ in the offseason.  We have written free guides such as free camping sites on East Coast of Australia or Sydney to Cairns travel planners., and many more! With our knowledge of Australia and one of our used Toyota campervans, you will be exploring Australia in style!
Visit our used campervans depot in Sydney
Remember you can try before you buy with us!  You are welcome to test drive some used campervans at our depot. Here is our address 11-15 Clevedon Street, Botany, 2019, Sydney.  Why not call our team on 0421101021 to see what everyone is talking about.   Alternatively, you can email us at [email protected], to ask any question you might have about buying a used campervan in Sydney.
Looking for an Automatic Toyota Campervan?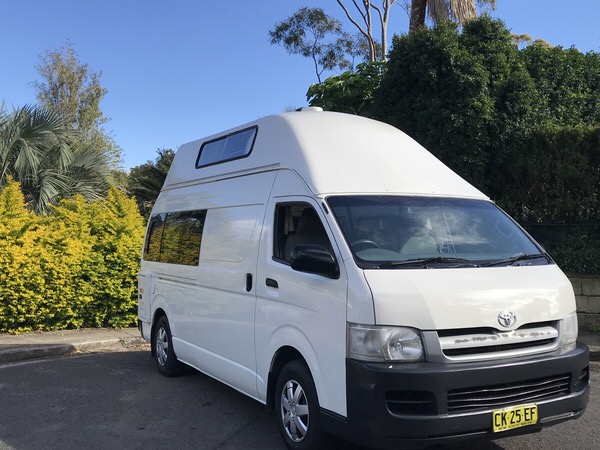 If for example, you are looking for Automatic transmission Toyota campervan, then we can help!  This is a photo of our five-person Toyota Automatic campervan for sale. Give Shaun a call on 0421101021 for more details as these sell fast!  We stock a limited supply of Toyota automatic campervans as they are so popular and we sell out all the time!
Similar used Toyota campervans to consider
Travelwheels used Toyota campervans in Sydney specialise in selling our ex-rental campervans! Therefore, if this campervan has been reserved by a customer, do not worry.  As a result of our winter campervan rebuilding program, we will soon have a new batch of a limited number of ex-rental Toyota-Hiace campervans to sell again.  Have a look below and click on some links for the kind of campervans we will be selling.
Contact us for Toyota Hiace Campervans
If you are looking for more information, we are here to help.  Send us your questions about buying a second hand Toyota Hiace campervan below.  Our team has over twenty years of experience in buying and selling campervans here in Sydney.