Ex rental campervan for sale
Ex rental campervan for sale in Sydney – 3 person camper
Ex rental campervan for sale at our Sydney depot.  Maximum value at minimum cost with this great 3 person camper!  For example most small campervans for sale only have two seats!  Therefore this three person campervan is great if you are after a smart buy.  As a result it is also easier to resell after your trip!  Call Shaun on 0421101021 for more info!
Ex rental campervan with big double bed and kitchen
The great thing about this ex rental campervan for sale is the large double bed!  Here in Australia for example accommodation is very expensive!  As a result it will take up a large part of the money you will need to explore Australia.  Therefore in the meantime buying a small campervan can save you a tremendous amount of money on accommodation in Australia!
ex rental campervan for sale + mini kitchen + free camping kit!
With all the ex rental campervans for sale at our Sydney depot come with everything you need.  Above all, we supply a brand new FRESH mattress (still sealed) for hygiene purposes.  This way you can get a good nights sleep on clean bedding!   Under the bed is the portable kitchen area.  Together with a esky (ice box) and a portable two burner gas stove you can be the next Gordon Ramsey in the kitchen!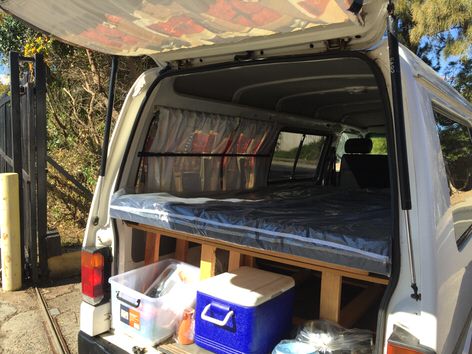 Upgrade your ex rental campervan for sale with 2 way fridge.
Australia is one hot country and you might want to consider adding a second battery and fridge.  Here at travelwheels campervan hire we build and make our own campervans.  Therefore we can add extra features such as second batteries, extra lighting, powerful sound systems and fridges!  Below for example is our popular automatic 2 person campervan for hire.  The campervan is extremely popular camper for hire due to the fridge in the back of the van.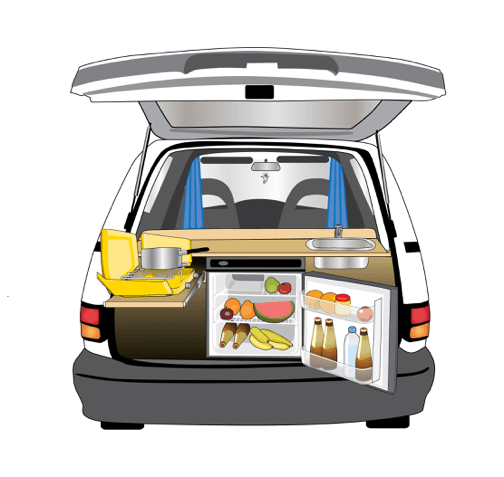 Plenty of storage in our ex rental campervans for sale
Not only can we especially add fridges and other cool stuff, we also thought about storage. The good thing about our used campers for sale is the big storage space underneath.  As you can see in this example below the bed had been raised up to create  storage for you.  We can change designs and make custom made stuff as well.  Call Shaun on 0421101021 or email [email protected] for more info.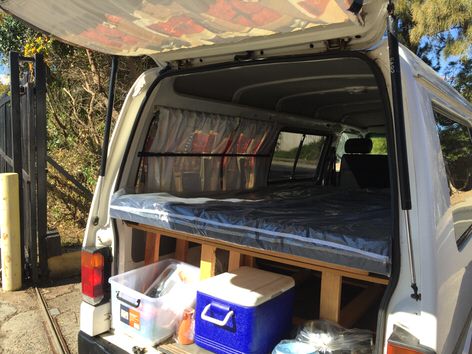 Why buy ex rental campervan for sale from Travelwheels?
Travelwheels used campervans for sale understands that choosing the right used campervan for sale is important. Here are our Sydney depot, our staff are able to recommend a quality used ex rental campervan for sale that has been fully serviced and checked ready for you. We make it as easy as possible for you to drive away with a great value used campervan for sale in your budget.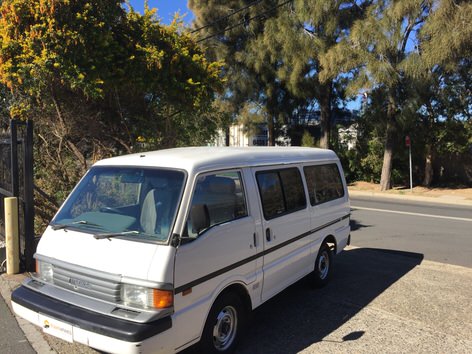 BENEFITS:
– One year Australia wide multi claim breakdown warranty included with every car sold
– Three day satisfaction guarantee
– 24 hour, 7 days a week, Australia wide roadside assistance
– Guaranteed buy back
Contact travelwheels for used ex rental campervan for sale
For more information about our ex rental campervans for sale feel free to email us at [email protected] .  Alternatively you can call us 0421 101 021 or come and visit our showroom in Sydney.  Here is our address at 11-15 Clevedon Street, Botany, 2019, Sydney.