Small Campervan for sale in Sydney – great for two people – Ref:1767
Small Campervan for sale in Sydney – view our 2 person campers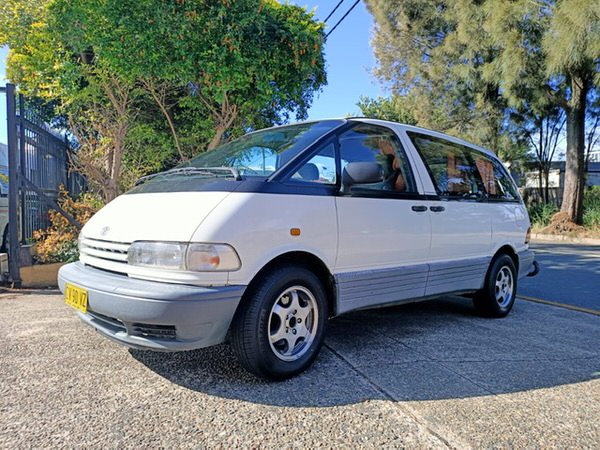 Anybody considering buying a small campervan for sale in Sydney?  Then you might, for example, want to consider one of our ex-hire campervans for sale. Travelwheels is a campervan hire company based in Sydney.  We sell campers that have a similar to what other companies hire across Australia.  Take for example Spaceships, Jucy and Awesome campervans.  They all use Toyota Tarago's as they are comfortable and reliable. As a result of buying new stock, we have some of these small campervans for sale.  Give Shaun a call on 0421101021 for more info.
Practical, easy to drive used Toyota small campervans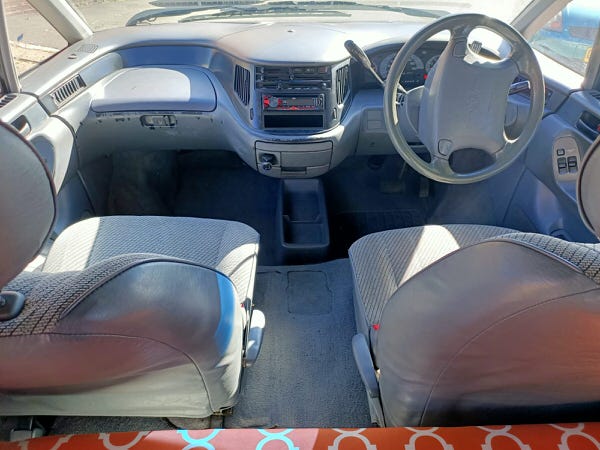 Firstly, these are really practical and easy to drive small campervans.  Secondly, they are especially good for couples on a budget.  You get a hotel on wheels and at the same time save loads of money on accommodation.  Therefore why not call our team on 0421101021 for more information.  We sell a range of small campervans for sale in Sydney at a good price with 12 months warranty.
Small campervan for sale – similar day and night configuration
This used Toyota Tarago is a great small campervan for sale.  As can be seen, it is roughly the same size as the campervan that Spaceships rentals hire in Australia.  These campervan hire companies use these vans as they are tough, practical and perfect to tour around Australia.  Therefore, for this reason, we recommend buying this style of small campervan for sale.  Furthermore, the bed is super simple to make every day.  Hence making it a practical choice when looking to buy a used campervan.
Actual view of the bed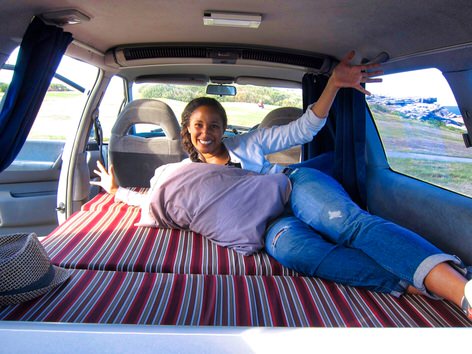 Ex-hire used small campervan for sale – day time configuration
During the day time, the bed folds away and converts to a table and comfy benches.  The good thing about this design is the storage under the benches.  Very handy when you go to a remote beach.  This way you can hide ipads, laptops, and expensive phones.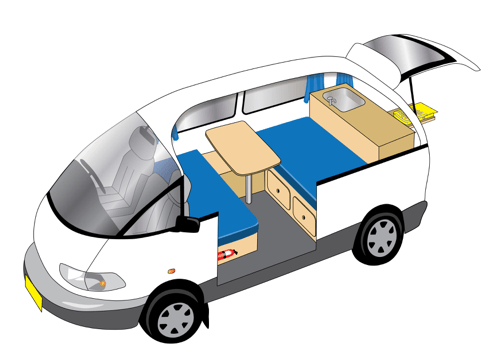 View of the day time set up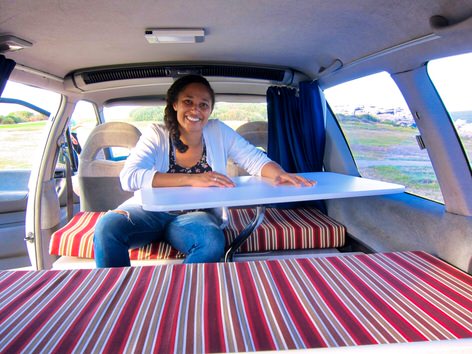 Used Small Campervan for sale – main features
Below are the details of our small campervan for sale.  It is especially easy to drive as it's an automatic transmission (or gearbox!).  Everything is ready to go!  Here at our depot we have deep cleaned the camper and removed all the stickers for you.  Therefore all you need to do is jump in, throw your bags in the back and off you go!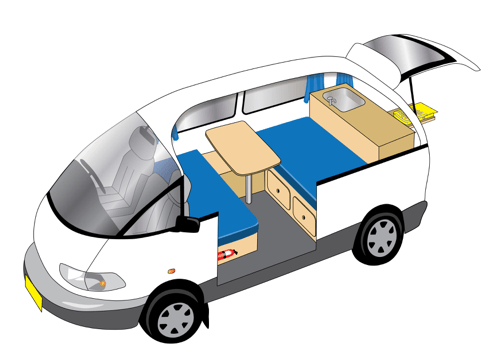 Toyota Tarago Series 10
Here are the details of this small campervan for sale in Sydney at our depot:
Stock no. #1767
Registration plate: CV90V2
Built: 1999 (2019 new interior re-fit)
Automatic transmission
Mileage: 218569
Price includes 6 months REGO, 12 months roadside protection, full camping kit worth $300 + 50% Buyback option (up to one year)
Remember if we have run out of similar campervans for sale, then check out our other vehicles.  Here is a link to our buyingcampervansydney site and we have other campers for sale.
Contact travelwheels for used campers in Sydney
For more information about our range of small campervans for sale in Sydney, call or email us.  You can email our team at [email protected] or call us on 0421101021.  We have a depot close to Sydney's domestic airport.  You are welcome to visit and test drive any of our used campers for sale.  Our address is  11-15 Clevedon Street, Botany, 2019, Sydney.