Small Campervan for sale in Sydney – Automatic Toyota Camper – Ref: CV90VZ
Small Campervan for sale in Sydney – Toyota 2 Person Automatic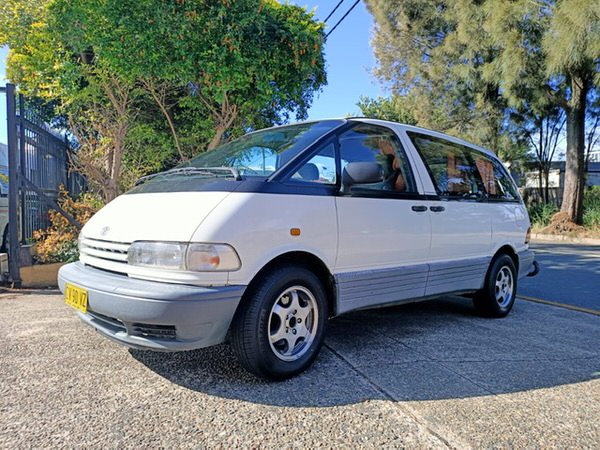 Are you considering buying a small campervan for sale in Sydney?  Then you might, for example, want to have a look at one of our ex-hire campervans for sale. Travelwheels is a campervan hire company based in Sydney.  We sell campers that have similar to what other companies hire across Australia.  Take for example Spaceships, Jucy and Awesome campervans.  They all use Toyota Tarago's as they are comfortable and reliable for thousands of campervan hire holidays every year.  As a result of buying new stock, we now have some of these small campervans for sale at our depot.  Give Shaun a call on 0421101021 for more info or to arrange a test drive today.
Practical, easy to drive Toyota campervans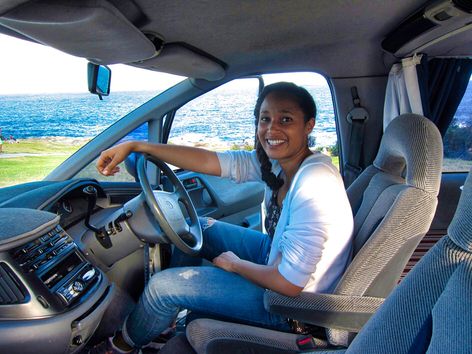 Firstly, these are really practical and easy to drive small Toyota campervans.  Secondly, they are great for couples on a budget.  You get a hotel on wheels and at the same time save loads of money on accommodation.  Therefore why not call our team on 0421101021 to arrange a test drive today.  Remember we sell a range of small campervans for sale in Sydney at a good price with 12 months warranty included.
Toyota mini camper with double bed and privacy curtains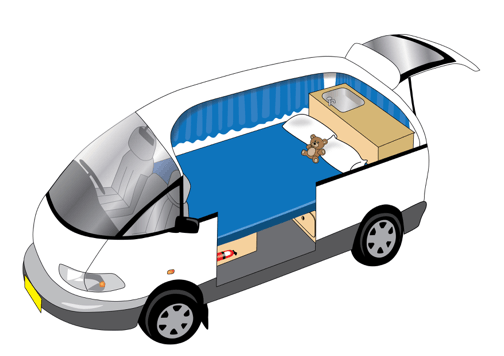 This used Toyota Tarago is a great example of a practical small campervan for sale.  As can be seen, it is roughly the same size as the campervan that Spaceships rentals hire in Australia.  These campervans hire companies use these vans year on year as they are tough, practical and perfect to tour around Australia.  Therefore, for this reason, we recommend buying this style of small campervan for sale.
One of the fantastic things about this small campervan for sale in Sydney is the design and the layout of the bedroom/lounge area. In the first place our team has designed a simple to use (and quick to make) doubled bed in this small campervan.  This Toyota Tarago is a very practical choice when looking to buy a used campervan.
Look how comfortable the bed is!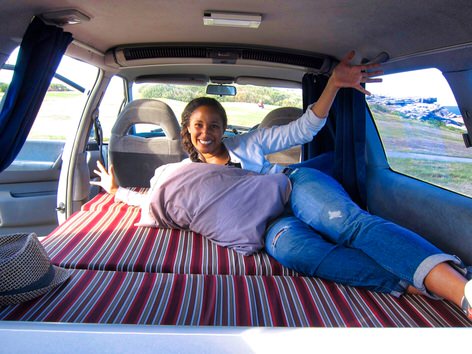 Here is an important question to consider,  "how easy is it to make the bed?".   This is another key point to consider, "how long does it take to make the bed?"  The great thing about this practical small campervan for sale in Sydney is that it best takes a minute to make.  The same applies when you convert it back to two benches and a table.  It literally takes a minute to make, and this is such a positive feature of this campervan.  Many of our customers who purchased these ex-rental campervans love them!  They often say how easy it is to make the bed in this camper!
What is the size of the double bed?
Here are the dimensions of the double bed in this small campervan for sale in Sydney = 1.70m x 1.35cm.  The bed is simple to make, and easy to convert to table and benches.  The comfy cushion covers can be taken off and cleaned in your washing machine at home.  One more thing for our taller customers.  If you for example are a lot taller than 1.7m, then we recommend our Toyota 3 person campervan.  This has more headroom and a larger bed! The size of the double bed (1.85m x 1.55m) in this vehicle.
Now is the time to come on down to our depot and have a go at making the bed!  If you can beat our fastest time we will give you a couple of beers to say cheers!  Give Shaun a call on 0421101021 to arrange a test drive and test out this bed!
Day time configuration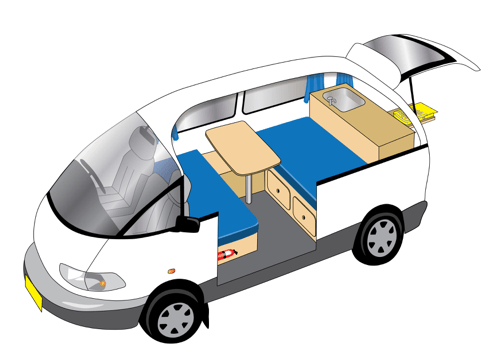 During the daytime is when this small campervan for sale in Sydney also punches above its weight for the size of the camper!  In the first place, the comfy double bed folds away and converts into a table and two comfy benches.  Another point often overlooked is storage.  The good thing about this design is we have built good storage under the benches.  Very handy when you go to a remote beach.  This way you can hide tablets, laptops, and expensive phones when swimming.   As can be seen in the illustration above the campervan looks great, however, let's see a real photo of what the inside is like!
View of the daytime set up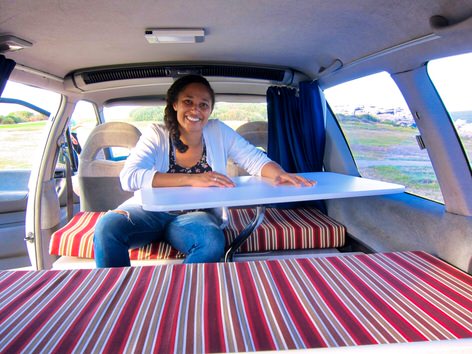 It is easy to see why this Toyota Tarago small campervan for sale in Sydney are so popular with our customers.  Firstly, it has everything you need in a nice small practical used Toyota campervan.  Secondly, you can use it as your daily drive and as a campervan on the weekend. The comfortable lounge area has two nicely sized benches with hidden storage underneath.  The moveable table is a great place to read a book or enjoy a bottle of wine.  It is lovely to have the side and the rear doors wide open and eat your food in this lounge.  There are windows all around you, so you will be dining at the chef's table with a view to enjoy.
Toyota Mini Camper Main Features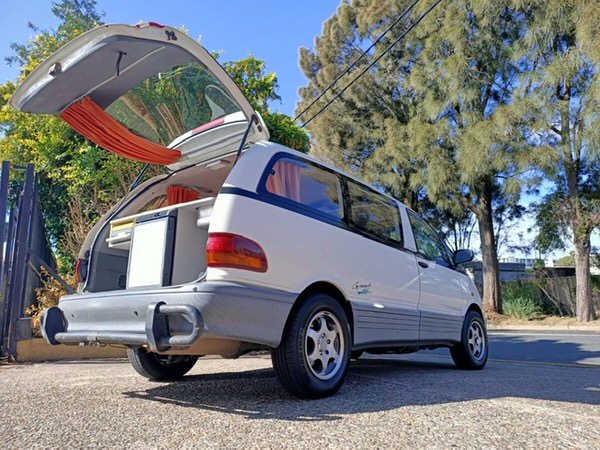 Below listed are the main features for this Toyota small campervan for sale in Sydney.  What's more, if you have any questions, please call Shaun on 0421101021.  We are here to help answer your questions and can organise a test drive over the phone at your convenience.  You are also more than welcome to email us at [email protected].  Finally, to demonstrate why we believe These automatic Toyota campervans they are such good value for money, check out the features listed here:
Drives like a car, but sleeps like a campervan!
We offer a trial "try before you buy" service on this campervan
You can hire this actual two-person campervan before you commit to buying
Proper 35L fridge and not an icebox!
Sleeps and seats two adult
Comfortable double bed (1.70m x 1.35m)
Automatic transmission
Air conditioning and power steering
2 x burner gas stove
Standard 2 kg gas bottle – easy to swap out at petrol stations across Australia
2 x bed linen, sleeping bags and folding chairs included
All cooking equipment included in price
Ten-litre water tank and a sink for washing/cooking
Dual battery system for the fridge and internal lights
Stock no. #1767
Registration plate: CV90V2
Built: 1999 (2019 new interior re-fit)
Want a 3 person campervan instead?  We sell Toyota 3 person campervans
Need a family-sized Toyota automatic campervans – we sell these as well!
The price for this small campervan for sale in Sydney includes 6 months REGO.  In addition, it comes with 12 months roadside protection.  Plus on top we will include a full camping kit worth $300 + 50% Buyback option (valid up to one year). Remember if we have run out of similar campervan for sale, then check out our other vehicles in stock.  Here is a link to our buyingcampervansydney site and we have other campers for sale.
Why buy campervan from travelwheels?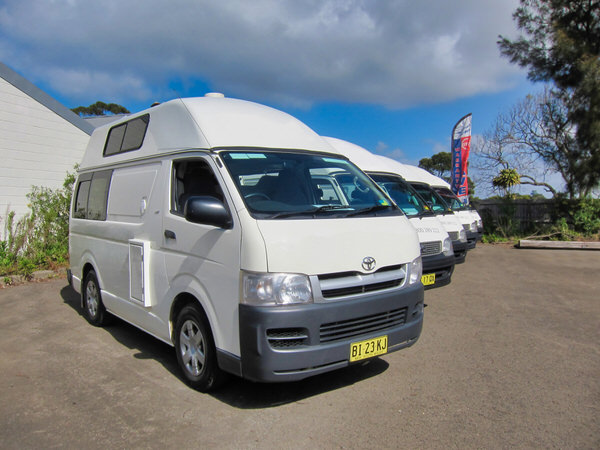 There are plenty of good reasons why buying from Travelwheels is a great idea.   Firstly, we are specialists in selling a range of Toyota small campervans for sale in Sydney.  Secondly, our team has many years of experience with Toyota Hiace campervans.  We have been hiring Toyota campervans for the last fifteen years to customers all over the world.  Therefore with our years of experience in running and maintaining a successful campervan hire business, we know how to look after these campervans.
All used campers are fully road-tested
Let's talk about road testing and making sure the campervan is in great shape before you arrive for your test drive.  To begin with, all our used campervans are road-tested by our staff for a week before they go to the servicing department.  Therefore when we get the campervan up on the ramp for a proper inspection we know what to look for.  This small campervan for sale in Sydney will get a full service and tested thoroughly.  After this process, it will go for another road test just to make sure it is all good before it moves to the next department.
All used campervans are deep cleaned and ready to go
Now it is time to look inside the campervan and make sure it looks and feels great!  The first thing to remember is that all our used ex-rental campervans for sale are professionally deep cleaned.  As a matter of fact, we take the time to remove all the campervan hire stickers and touch up the paintwork to make it look nice.  To illustrate the care and attention we put into each vehicle, they come with the following warranty included in the price:
We only sell Toyota campervans – best brand, quality and a fantastic reputation in Australia.
Full mechanically serviced with Roadworthy Certificate (Pinkslip)
With six-month Registration (REGO) & Insurance (Green Slip)
12 Months Warranty On Engine and Gearbox
24/7 days a week Australia wide Roadside Assistance
Guaranteed buy back up to 50%
Optional "try before you buy" scheme
If this camper is sold, then check out this small Toyota camper for sale as a good option
We sell a range of campervan, check out our 3 person Toyota campervan
Another popular option is our family-sized 5 person Toyota automatic campervans
Similar used campervans to consider
Another great reason for buying from our team is a good range of used Toyota campervans ready to go at our depot in Sydney.  As a result of constantly updating our hire fleet, we do often sell out.  Therefore if this one is sold, then we have a couple more Toyota campers for you to test drive:
Contact travelwheels for used campers in Sydney
For more information about our range of small campervans for sale in Sydney, call or email us.  You can email our team at [email protected] or call us on 0421101021.  We have a depot close to Sydney's domestic airport.  You are welcome to visit and test drive any of our used campers for sale.  Our address is  11-15 Clevedon Street, Botany, 2019, Sydney.