Toyota Hiace Campervans for sale Sydney
Toyota Hiace Campervans for sale Sydney | Travelwheels Campervans
Here at Travelwheels campervans we have a range of Toyota Hiace Campervans for sale Sydney.  If you are especially looking for good quality, well maintained 2nd hand campervan, then these are perfect for you!  Therefore call our team to arrange a test drive on 0421101021.  Email us at [email protected].
Planning a big trip around Australia – buy Toyota campervan!
Anyone here planning a big trip around Australia?  Then in this case, we especially recommend our range of Toyota Hiace Campervans for sale Sydney.  For example, our ex-rental used Toyota Hiace campervans are extremely comfortable.  They have been regularly serviced, and well maintained.  They are especially suited to big trip exploring Australia!
These great Toyota campervans for example have a large lounge area.  Therefore you have space to relax and entertain in the back.  These are important points which often get over looked by buyers.  Some times it easy to forget about practical details like.  Buying a Toyota Hiace campervan means in this case you will have the space and the comfort you need.
Night time view of our ex-rental campervans
These Toyota Hiace campervans are extremely practical.  Take for example the comfy lounge which easily converts into a large double bed.  With the campervan it also has an additional single bed in the roof space.  This is especially useful when you start to argue!  Another positive point in particular to mention is the storage space.  Therefore under the bed is lots of useful storage space.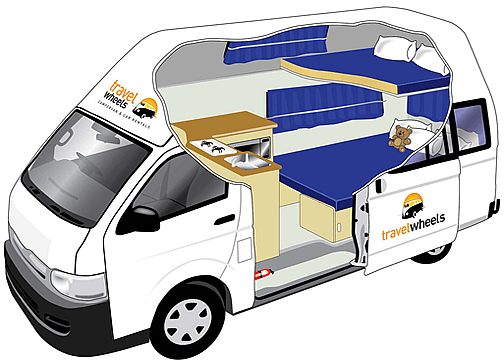 Toyota Hiace Campervans for sale Sydney: main features
These Toyota Hiace Campervans for sale Sydney come fully equipped!  In this case they have everything you need included.  When you buy an ex-rental campervan from Travelwheels we provide new bedding: pillows, sheets, sleeping bags, etc.  It will come with all the kitchen utensils you need to start cooking like Jamie Oliver on a budget!  We'll even throw in some camping chairs to enjoy eating alfresco in the sunshine!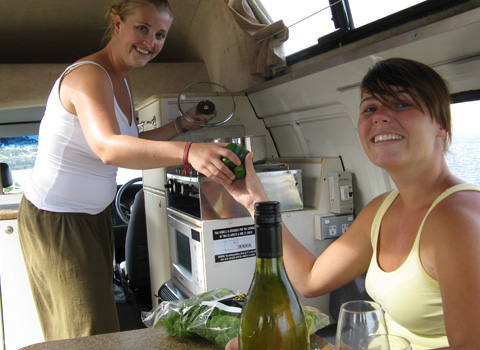 Benefits of buying Toyota Hiace Campervans
Lots of great benefits and features inside these great campervans for sale.  Here are a few more points to especially consider when thinking about buying a camper.
Flexible sleeping configuration – 1 x double bed + 1 x single bed.
High roof space, allowing you to stand up in the back of the campervan.
Great storage and practical design.
Kitchen area includes dual battery operated fridge (55 litres).
2 x gas hob stove, microwave, sink and useful worktop space.
All vehicles are well maintained with service history to view.
Ex-rental campers for sale come fully serviced.
Stickers removed, industrial deep cleaned & ready for that big adventure!
Why buy Toyota Hiace Campervan from us?
There are a lot of good reasons to buy used Toyota Hiace Campervan from Travelwheels. If you are from overseas, then don't worry.  We especially handle all the legal paperwork.  Therefore the vehicle will be legally registered in your name in Australia.   In the meantime, here is quick summary of the warranty and benefits:
Roadworthy Certificate (Pink Slip)
12 Months Warranty on Gearbox & Engine
24/7 Australia-Wide Roadside Assistance
Third Party Insurance
Guaranteed buyback up to 50%
Contact us
For more information about buying Toyota Hiace Campervans for sale Sydney,  please contact travelwheels.  You can call us on 0421 101 021.  Send us an email at [email protected]. Skype us at = Travelwheels.   Our address here in Sydney is at 11-15 Clevedon Street, Botany, 2019, Sydney.