Toyota Hiace Ex-hire Campervan for Sale Travelwheels Campervans
Toyota Hiace Ex-hire Campervans for Sale in Sydney
This Toyota Hiace ex-hire campervan for sale is ready to go with you on an adventure of a lifetime!  We are inviting you to view our range of ex-rental campervans out of our Sydney depot.  With our direct to customer wholesale prices and together with our great service you will be making a great choice! In the meantime, call our team on 0421 10 10 21 for more details about this great campervan.  You are welcome to pop by our office to arrange a test drive to give you the confidence to buy.
Rear lounge area converts to double bed!
Therefore with such a clever practical design, night times can be a lot of fun!  This Toyota Hiace Ex-hire Campervan for Sale easily converts to a nice sized double bed.  As a result of the intelligent design, there is a single bed in the roof which is a lot of fun to climb in to!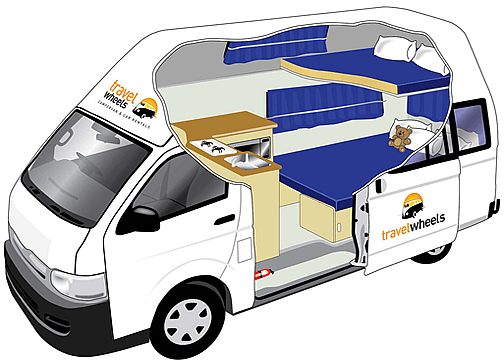 This Toyota Hiace Ex-hire Campervan for Sale is a hitop camper.  Therefore this means that you can stand up inside the back of the campervan.  As a result cooking or entertaining is fun and relaxing in this camper.  In the meanwhile, check out the storage space under the benches and in the roof space area.  For instance it has all the home comforts you need for a big trip around Australia.  Here are just some of the features inside this camper.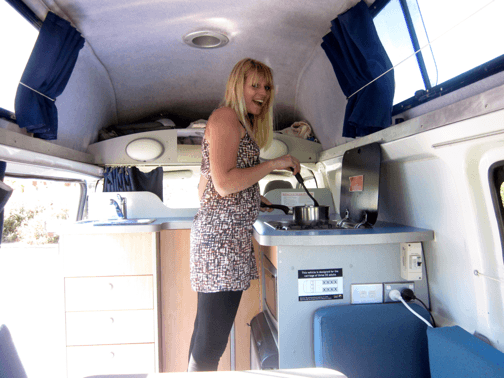 2 way 55 litre fridge works via second battery or mains electricity.
Microwave, two burner gas stove & standard gas bottle (cheap and easy to refill.
Plenty of kitchen workspace with sink & water tank to wash and prep food.
Security and especially privacy at night time with curtains on all windows
Australia is a hot country!  Furthermore it has fly screens in the roof and on sliding door.
Two comfortable benches and big table.  Therefore easily converts to double bed.
All the cooking and sleeping equipment included in the price.
Toyota Hiace Campervan details:
As a rule, most of these campers are manual gearbox versions.  However we can especially source automatic campervans for sale.  These are fantastic comfy campers!  Call Shaun on 0421101021 for more info on our limited stock of auto campers for sale.
• Model: Toyota
• Make: Hiace
• Built: 2007
• Air Conditioning: Yes
• Power Steering: Yes
• Transmission: Manual
Why buy used Toyota Ex-hire Campervan?
Comprehensive service history:
Travelwheels Campervan Hire is a registered campervan hire business here in Australia.  Therefore it's crucial to our business to keep each campervan running well. This means all used ex-rental campervans for sale have been especially looked after.  Together with being fully serviced and having a deep industrial clean, they are ready for you. As a result of all this love, we have made it easy for you to make a decision to buy a used campervan from us
great condition ex-rental campervans:
Being ex-rental campervans, our vehicles have covered a few extra kilometers in their lifetime.  Therefore it is heartening to know they have been especially well looked after. To summarize here, you will get a mechanically reliable used campervan that not only look good but are priced right.  Remember if you can't find anything on our site, we have other options for you.  Check out our sister company called buying campervans sydney.
Toyota Hiace Campervan + 12 months warranty:
• Full mechanically serviced with Roadworthy Certificate (Pink slip)
• 12 month engine and gearbox/transmission warranty Australia wide.
• Three day satisfaction guarantee
• 24 hour, 7 days a week, Australia wide roadside assistance
• Guaranteed buy back up to 50%
Contact Travelwheels
Feel free to contact Travelwheels campervans Sydney.  We have all the information you need about buying a used Toyota hiace ex-hire campervan for sale.  You can email us at [email protected] . Therefore give us a call on 0421101021 to discuss what we can do for you.  In the mean time if you are in the area, pop by our office in Sydney.  You can visit us at 11-15 Clevedon Street, Botany, 2019, Sydney.