Toyota Hiace Ex – rental Campervans for sale in Sydney
Toyota Hiace Ex-rental Campervans for sale in Sydney
Interested in buying one of our Toyota Hiace Ex-rental Campervans for sale in Sydney? Travelling in a campervan is great fun!  It, for example, gives you the freedom and flexibility to visit Australia without breaking the bank!  You will, therefore, save a fortune on expensive accommodation, and the views from the beach are great!  Call Shaun on 0421101021 for more info on this great used camper for sale!
 Kitchen Fit-Out:
> Large 55 litre fridge (12V /240V)
> 2 burner gas cooker and grill
> Microwave (operates only when connected to 240V mains power)
> 4kg gas bottle
> 50 litre water tank for washing/cooking
> Stainless steel sink
Buying Toyota Hiace Campervan = happy customer!
Travelwheels Toyota Hiace Ex-rental Campervans for sale in Sydney has been approved by our happy customers!   Firstly, if you for example plan to explore Australia in a campervan for more than three months, without reservation forget about renting!  Indeed it makes more sense to invest your money into purchasing a campervan.
Toyota Hiace Ex-rental Campervan with two beds
Our Toyota Hiace Ex-rental Campervans for sale in Sydney come fully loaded! Firstly, the double bed is very easy to make!  As a result of a clever design, the comfy double bed is a doddle to pack away.  Coupled with the single bed in the roof space means great use of space!  These Toyota campervans offer lots of storage places inside as well!
Toyota Hiace Ex-rental Campervans for sale in Sydney – Living & Sleeping Area:
> Rear dinette: 2 comfy benches and a big table
> Sleeping configuration: dinette converts to double bed, 1.85m x 1.55m. Single roof bed in Hi-Top roof, 1.6m x 1.4m.
> Plenty of storage area under seat benches and inside the roof
> Fly Screens: fitted on all sliding windows in the rear of the vehicle
The kitchen/lounge area – a room with a view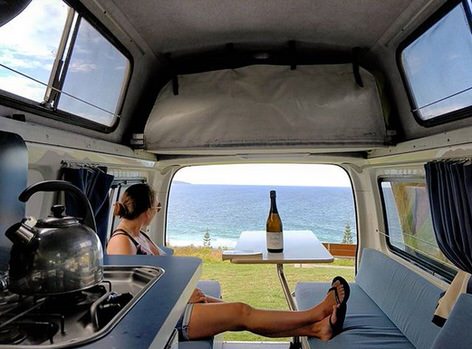 A point that is often overlooked is the value of a well designed kitchen in a campervan.  The first thing to remember is the combined kitchen lounge space.   First of all, it's a practical design.  Secondly, it's easy to cook and still chat with your friends in the lounge. Thirdly, you can open up the rear door and enjoy those views!  These Toyota Hiace campervans are without a doubt the best compact campervan for sale on the market!  As can be seen in the photo, the lounge/kitchen area space just works so well.
Toyota Ex-rental Campervans main features
Make: Toyota 
Model: Hiace Hitop
Built: 2007
Air Conditioning: Yes
Power Steering: Yes
Transmission: Manual
Campervan for Sale – Driver's Cabin Features:
Cigarette lighter suitable for recharging phones
Air conditioning in the front cabin
Seating configuration: Seats 3 adults in the front cabin
Fuel capacity: approx. 70 Litres
Fuel consumption: 13 Litres Per 100km (varies subject to air-con, temperature and terrain)
Engine: 4 cylinder petrol engine (2.4L) runs on unleaded petrol
Dual Battery System: one for the fridge & internal lights and the second one for the engine.
Why buy a Toyota Hiace Ex-rental Campervan?
There are lots of great reasons why you should consider buying a used campervan.  First of all these Toyota Hiace Campervans are known as most popular campervan for hire in Australia!  They are also the number one choice for anybody looking to buy a second hand campervan for sale online.  One strong selling point, for example, is they hold their value really well!  Toyota reliability is legendary and they are especially suited to Australia's tough climate.
Fully serviced with Roadworthy Certificate (Pink slip)
Comes with Registration (REGO) & Insurance (Green Slip)
12 Months Warranty On Engine & Gearbox week Aus
Roadside Assistance
Guaranteed buy-back option with a repurchase price of up to 50%
Contact us
In the meant time it is easy to contact us.  For more information on our Toyota Hiace Ex-rental Campervans for sale in Sydney email [email protected]   As a result of new stock arriving daily, why not call us on 0421 10 10 21 regularly to find the right camper.  You can also visit Travelwheels Campervans here in Sydney at 11-15 Clevedon Street, Botany, 2019, Sydney and view our campervans for sale.