Toyota mini campervan for sale in Sydney – Automatic – Ref:CV53YC
Toyota mini campervan for sale in Sydney – automatic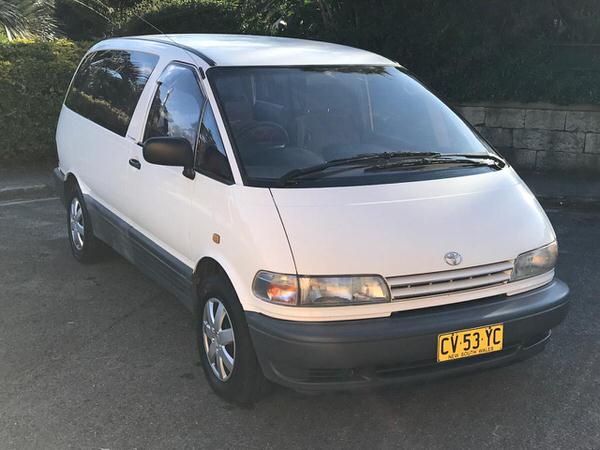 Travelwheels has this great Toyota mini campervan for sale at here our Sydney depot.  At the present time, we can say without a doubt that this is one of the most popular campervans we sell here in Sydney!  Firstly it's the perfect size for a couple, and has everything you need inside the camper!  Secondly, you get Toyota reliability and thirdly, it sleeps like a campervan, but drives like a car!   Therefore, call our team on 0421101021 for more details or to organise a test drive!   By the way, it comes with 12 months warranty on the engine and gearbox to give you peace of mind.
Details of this Toyota campervan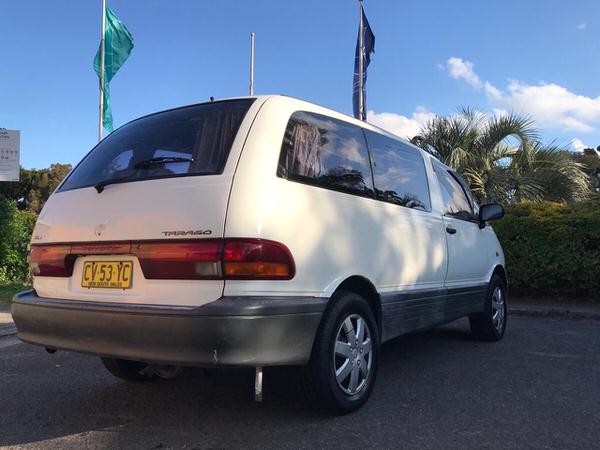 Here are the details of this fantastic Toyota campervan for sale.  A point often overlooked when searching for a used campervan is reliability and warranty.  Take this case of this camper and it comes with 12 months warranty and up to 50% buyback resell price guarantee included as well.  As can been seen, we have removed all the ex-hire stickers, and secondly, given the camper a deep industrial clean.  Before it goes on sale, to begin with, it goes through our workshop for a full service.  Firstly we do a 1oo point check, and test drive it for a few weeks to make sure it is all good.  Once we have done this we know it is ready to be sold to a happy customer.
Model: Toyota
Make: Tarago Campervan
Built:1999
Air Conditioning: Yes
Power Steering: Yes
Transmission: Automatic Toyota Campervan
Drives like a car sleep like a camper!
Second Battery System
Kitchen with fridge, cooker and water tank with sink
Fold-out double bed and storage underneath
Plus we sell a range of different Toyota Hiace Campervans as well
Drives like a car, but is a campervan!
The great thing about this
Toyota campervan
is that it drives just like a car!  Therefore it is easy to drive around the city or on the open road.  Significantly it uses a lot less fuel than a normal campervan.  For one thing, that makes a massive difference when you consider how big Australia is!  However, as can be seen from the image below, it's your hotel on wheels at the same time!  To sum up, it drives like a car, but sleeps like a campervan with a double bed!
Two comfortable benches and table in the lounge
This Toyota mini campervan for sale comes with two padded benches and a moveable table in the middle.  This is a great space to relax and chill out after a day out exploring Australia.  In this case, you can enjoy your food, read your maps or fire up the laptop in the back in comfort!  Also, take the case of the hidden storage in this
small campervan for sale
under the seats.  This is a great way to store valuables when visiting the beach and to keep the campervan clean and tidy.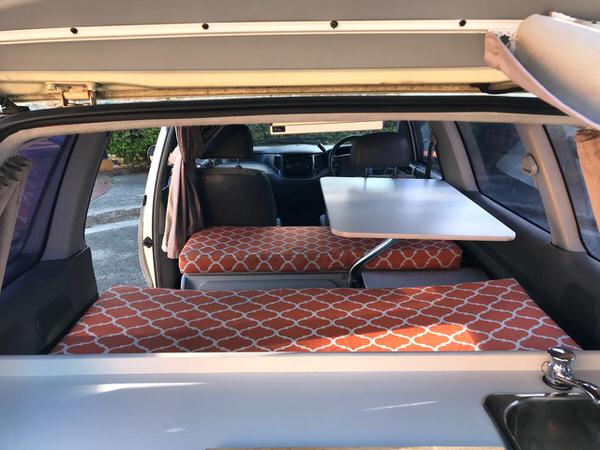 Toyota campervan with Fridge, Cooker and Sink!
This Toyota
mini campervan for sale
in Sydney has been designed for travel around Australia in style!  It has everything you need for a great adventure down under!  Check out the mini kitchen in the back of the camper for example.  It has a 35L fridge which runs off the second battery to keep your food cool.  It has a food preparation area and a two-burner gas cooker.  The great thing about the cooker is that it has a standard gas bottle.  It does not have those mini gas canisters which are bad for the environment!  They are also, in addition, to be very expensive to refill!  Those single burners are not very good to cook on!  With our twin burner, you can be making your
pasta sauce
and boiling the spaghetti at the same time!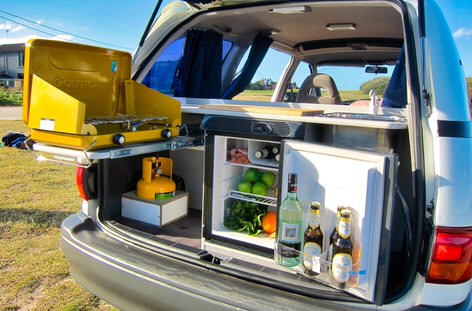 Night time configuration of the double bed
This small Toyota campervan for sale has been designed and build by travelwheels campervan sales here in Sydney.  A point often overlooked is how easy it is to make the bed!  Firstly, we have redesigned the bedroom so that is simple to use!  Secondly, it literally takes about a minute to convert the table/benches into a comfy bed!  This Toyota campervan has curtains on all the windows for privacy in the rear of the campervan. The sliding windows on this camper have a flyscreen to let in air and keep the flies out! This practical design is a winner for anybody looking to buy a two-person campervan here in Australia.
The view from the double bed
When you are thinking of buying a Toyota campervan, make sure you test how comfortable the bed is!  When you go for a test drive without delay make the bed and test how comfortable it is!  There is nothing worst than an uncomfortable bed that is difficult to make! Our team spent a lot of time working on the bed frame.  Firstly, we wanted to be sure that, it would take approximately 60 seconds to make the bed in this camper!  Therefore come on down and test out how easy it is to make the bed in our Toyota Tarago campervans!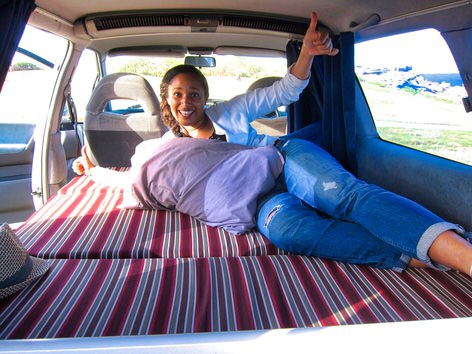 What is the size of the bed in 2 person campervan?
Here are the dimensions of the double bed in our 2 person campervan = 1.70m x 1.35cm.  If you are taller than 1.7m, then we have other options for you.  We, therefore recommend buying a Toyota Hiace Campervan. They have more headroom and a larger bed! The size of the double bed (1.85m x 1.55m) in this vehicle.  If you are taller than 1.85m, then the Toyota Hiace 3 Person camper gives you more options.  You can, therefore, sleep with your head at the rear of the vehicle, and your feet can dangle off the edge of the bed.
FREE Camping kit included in the price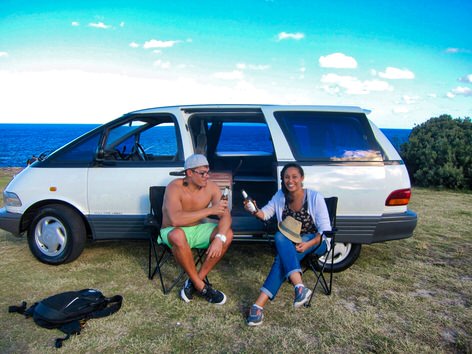 All our used Toyota mini campervan for sale in Sydney come with a free camping kit.  It has all the basics you need such as pots and pans, cups, bowls and essential items to get you on the road!  We supply the sleeping bags, cushions and every to your
campervan holiday in Australia
on the road.
Test drive this campervan!
Ask us a question!
Have a question about this great used Toyota campervan?  Send us a message below and our team will be back in touch asap!