Toyota Tarago Used Campervan for sale Sydney
Toyota Tarago used campervan for sale Sydney from Travelwheels
Travelwheels have this great Toyota Tarago Used Campervan for sale Sydney!  It is perfect for example for a couple or 2 friends.  In particular we like the strong practical design for instance.  Coupled with 12 months warranty on the engine and gearbox.  This is especially suited to those who want trouble free time in Australia! Call our team on 0421101021 to see what stock we have left!
Travelwheels builds Used Campervans for sale
This Toyota Tarago used campervan for example it is one of the most popular used campers we sell here in Sydney!  Generally at the end of each season we sell off a number of these campervans.  We hire the same model all over Australia.  Check here to view our 2 person campervans for hire to check the quality.  Another positive point in this case to mention is the hidden storage.  This mini van has great storage under the benches/bed in the back of the camper.
Toyota Campervan for sale with kitchen/fridge!
This campervan for sale has been especially designed with a great mini kitchen!   In this case it is located at the back of the camper.  Therefore in the summer you will not overheat cooking! Have a look at the great features here!
Clever and simply ideas such as Australian standard refillable gas bottles helps to keep cost down!  For example it has a twin burner gas cooker!  Thus making it easy to cook pasta and sauce at the same time!  Most of our competitors offer a tiny single hob!  This model has a standard 2kg proper gas bottle.  This is way cheaper than those silly and expensive mini camping gas cans that our competitors use! This therefore means it is cheap and easy to refill the gas bottle!  In this case, simply pull in to any petrol station or camping site.  They will exchange your gas bottle within one minute! This way you save lots of money by cooking your own meals!
Toyota Tarago campervan main features:
This Toyota Tarago Used Campervan for sale comes with super cold air conditioning!  It drives like a car with power steering, and decent stereo with mp3 adapter. Travelwheels used campervan Sales can custom make a campervan for you!  As an example we can install 2nd battery systems, and fridges.  How about extra internal lights, stereos, and USB ports to charge phones from the second battery?
– Model: Toyota Tarago Campervan for sale
– Make: Tarago Getaway II
– Built: 1994
– Fuel consumption: only about 12l per 100km
– Air Conditioning: Yes
– Power Steering: Yes
– Transmission: Manual (we sell automatics as well!)
Why buy from Travelwheels Campervans?
Travelwheels used campervan Sales Sydney Team will help you to find the right camper for you.  Take for example our highly popular Toyota Tarago Used Campervan for sale Sydney.  This is one of our most popular campervans we sell!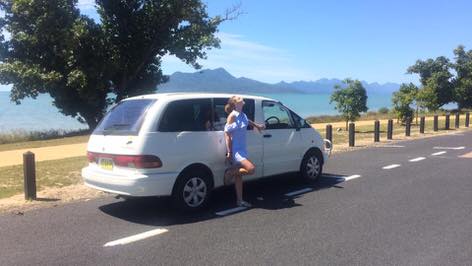 Travelwheels campervans will also help you with third party insurance.  Thus we will register the vehicle in your name.  We can do all the necessary paperwork to make sure you are covered under Australia law.  Our staff can sprechen deutsch and/or nous parlons français. Therefore we can often help in your own language.  However it does help to speak some English as you are in Australia!
Benefits of buying used campervan from Travelwheels
* Full mechanically serviced with Roadworthy Certificate (Pinkslip)
* With Registration (REGO) & Insurance (Green Slip)
* 12 Months Warranty On Engine and Gearbox.
* 24 hour, 7 days a week Australia wide Roadside Assistance
* Guaranteed buy back up to 50%
* Free and helpful advice 🙂
Contact us
For more information about buying a Toyota Tarago used campervan for sale Sydney contact us!  Email at [email protected]. Call our team especially with your questions on 0421 101 021.  If you here in Sydney, visit us at 11-15 Clevedon Street, Botany, 2019, Sydney.