Toyota campervans for sale – New Interior! Popular 2 person automatic – REF: DE53HM
Toyota campervans for sale in Sydney – 2 person automatic model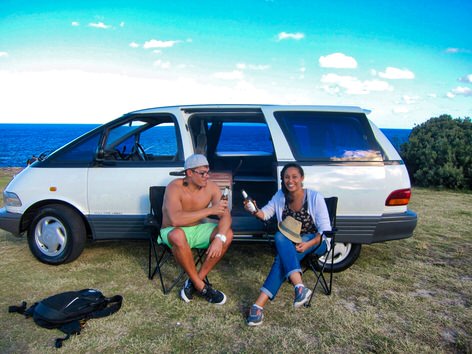 You will definitely be saying "Cheers" when you buy one of our super popular automatic Toyota Campervans for sale in Sydney with 12 months warranty. They are fantastic for couples as has everything you need to get away for the weekend or an extended trip up the east coast of Australia.  Give Shaun a call on 0421101021 to test drive any of our campers at our Sydney depot.
Another key point to note is these small Toyota campervans drive like a car, but sleep like a campervan!  Therefore you can still use it for daily transport and not feel like you are driving a big bulky campervan!   These fantastic Toyota 2 person campervans for sale are cheaper to run, use less fuel, and are easier to park.  They are the perfect compact Toyota campervan you have always wanted!
Why rent when you can buy a used campervan in Sydney?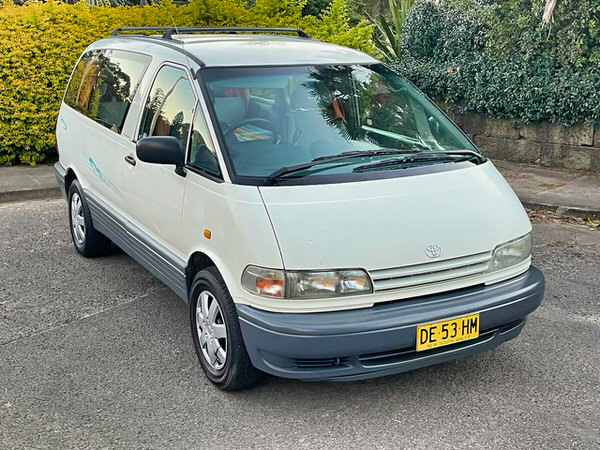 Why rent a campervan to Cairns, when it makes great financial sense to buy one instead? For one thing, these automatic Toyota campervans for sale are well priced and offer everything you need to explore Australia on a budget.  The first thing to remember is that they drive like a car and not like a bulky campervan!  Therefore you can save money and use it as a daily ride and as a campervan!  Another key point is that Toyota campervans hold their resell value.
Therefore if you decided to buy one of our used Toyota campervans and then want to sell it in the future you are in a great position. Without question, there is a very strong demand in the second-hand market for Toyota campers.  Just this fact alone will enable you a great opportunity to get your money back when it comes to reselling the campervan in the future years.
Daytime configuration – practical design
These automatic Toyota campervans for sale are great fun to drive!  To begin with, they are perfect for a couple or two friends wanting to explore Australia on a budget.  Another key point to note is by combining your accommodation and transport, you will save a massive amount of money!  Without reservation, this is the best way to save money.   Imagine going away for ten or more weekend adventures, and how much would you have paid for hotels over all these trips?
You literally can save a fortune by combining your transport and your accommodation!  This way you get to spend more money on fun stuff than blowing it all on accommodation!  Given all these facts, it's easy to see why this automatic 2 person Toyota campervan is so popular with our customers.
A real-life photo of the lounge in this camper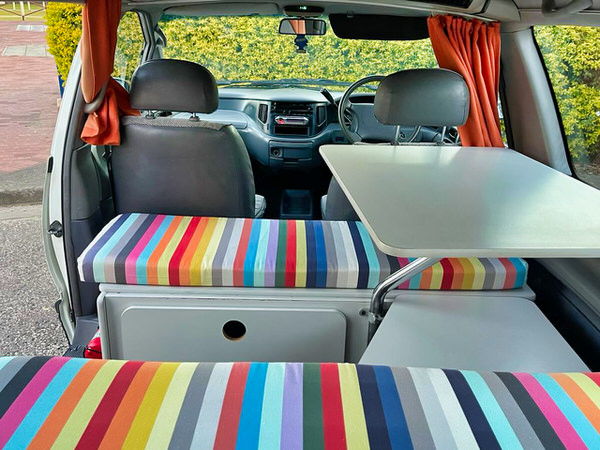 These small Toyota campervans for sale are very popular with our Australian customers and overseas visitors.  Remember this campervan is compact but it packs a lot of features in this small space!   Everyone loves these Toyota campers as you can cook, sleep and explore Australia without driving a big boxy campervan!  These small Toyota campers can accommodate two people comfortably and comes with a double bed for two!
In the daytime configuration, this camper has two comfortable benches and a moveable table.  Many of our customers love the inside space and they say it is a great place to relax and chill out after a day out exploring Australia.  You can enjoy your food, read your maps or fire up the laptop in the back of these Toyota campervans for sale in comfort!  A point often overlooked is the storage and security of expensive electronics.  We have incorporated hidden storage in this camper under the seats.  This is a great way to store valuables when visiting the beach and to keep the campervan clean and tidy.
Let's check out the kitchen area in this campervan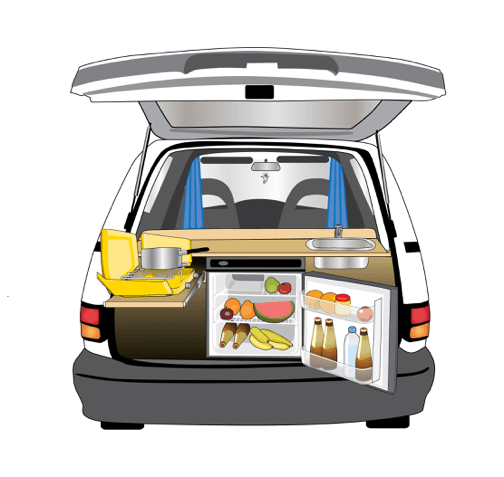 The kitchen area inside this camper looks very similar to the one in the drawing.  We do a couple of different designs, so this is for illustration purposes to give you an idea of how practiacl the kitchen is to use Firstly, we have spent a lot of time designing the mini kitchen inside this camper.  We removed all the unnecessary items, and to put it another way, we have only left the stuff you need! Therefore with less clutter, it means it's easier to clean!  As can be seen, it has everything you need to cook good meals on a budget.
It comes with a handy 35L fridge which is powered by a second battery.  Therefore, when you are driving during the daytime the fridge is also recharging to keep food cool! When you go to the supermarket and stock up on food you can store it in a decent-sized fridge. This way you can prepare and cook your meals in this kitchen quickly and cheaply.
Actual photo of the kitchen at the back of the campervan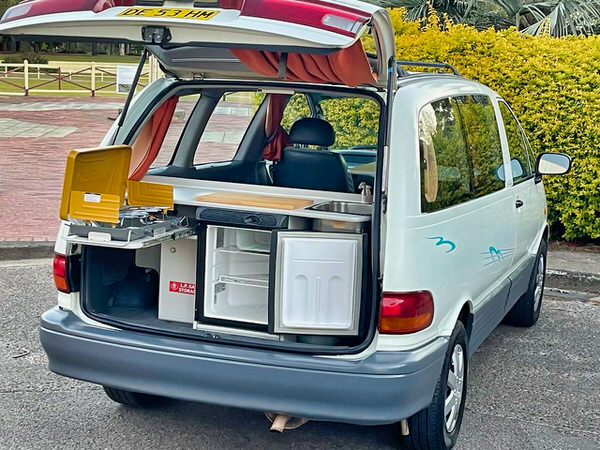 Let's check out the mini kitchen in the back of the camper.  It has been designed to have everything you need to cook great meals ready to go!  We have already mentioned the 35L fridge which runs off the second battery to keep your food cool.  The food preparation area is clean, easy to use and big enough to help you make great meals. The sink and mini water tank are easy to refill, so handy to prepare and wash food when cooking.  The two-burner gas cooker is a real winner here!  It can be removed and taken to the beach and you can cook some great food right on the beach!
Comes with a standard 2kg gas bottle
The great thing about the cooker is that it has a standard gas bottle.  It is housed in a specific gas safety container inside the vehicle.  It has a lock on the door and suitable for use in this campervan.  These standard 2kg gas bottles are super easy to refill (and cheap) at just about any petrol station in Australia.  It does not have those mini gas canisters which are bad for the environment!  They are also, in addition, to be very expensive to refill!  Those single burners are not very good to cook on!  With our twin burner, you can be making your pasta sauce and cook the spaghetti at the same time!
What is the size of the bed in this campervan?
Here are the dimensions of the double bed in this campervan = 1.70m x 1.35cm.  If you are taller than 1.7m, then we have other options for you.  We, therefore recommend buying a Toyota Hiace Campervan.  Here is another key point to consider when thinking of buying one of our Toyota campervans for sale.
Real photo of the bed inside this campervan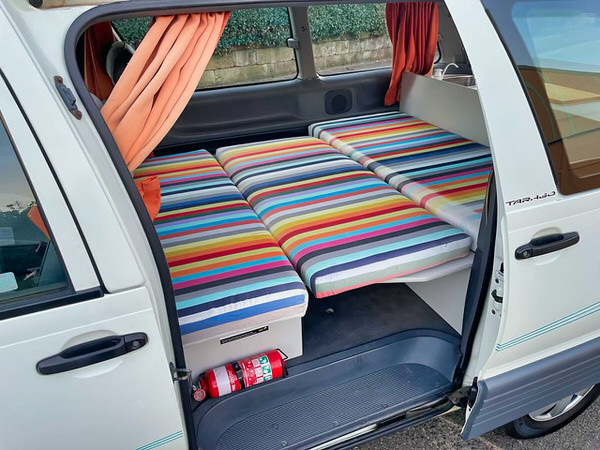 When you are thinking about buying a campervan, make sure you test how comfortable the bed is!  There is nothing worst than an uncomfortable bed!  On top of this, make sure the bed is easy to make every day as well!  Our team spent a lot of time working on the bed frame in these Toyota campervans for sale.  It was super important for us to make sure the bed would take less than a minute to make the bed in this camper! Therefore come on down and test our beds to see how comfortable they are!
Toyota Camper Main Features: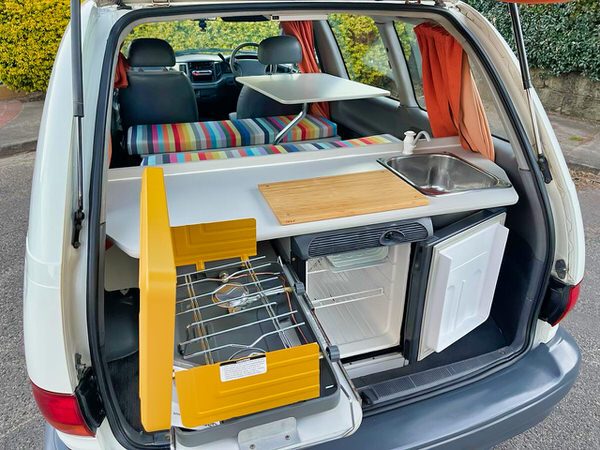 Below is a quick summary of the main features of this Toyota Campervan.  These are our most popular campervans we sell to couples looking for a comfy small campervan to explore Australia! If you have any questions, feel free to call us on 0421101021.  Our team is always here to help and you are welcome to pop down to our depot in Sydney to test drive any of our campervans:
Model: Toyota campervan
Make: Tarago campervan
Built: 1999
Drives like a car, and sleeps like a campervan!
Easy to make Double Bed
Daytime two benches and a table
The kitchen at the rear of the vehicle has a sink, cooker, worktop space and 35L fridge
Fuel consumption: approximately about 10l per 100km
Air Conditioning: Yes
Power Steering: Yes
Transmission: Automatic
Curtains on all windows for privacy
Looking for a larger camper, check out our 5-person Toyota automatic campervan for sale
We also sell 3 Person Toyota Hiace-Hitop Campervans available for test drives
Loads of hidden storage areas in this campervan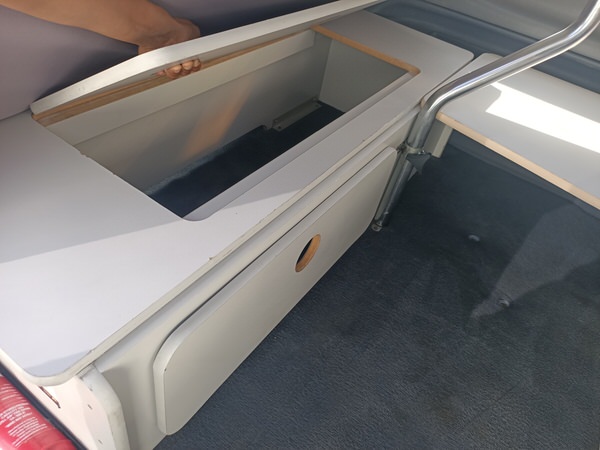 As you can see there are plenty of places to store all your gear hidden away from anybody looking into the campervan.  All this hidden storage is great for anybody travelling with a lot of electronic equipment.  When driving down to the beach we recommend pulling up by the side of the road 2kms from your final destination.  Then hide all your gear under the benches so that when you arrive at the beach it does not look like you are storing expensive gear under the seats in the beach car park!
Why buy a used campervan from Travelwheels?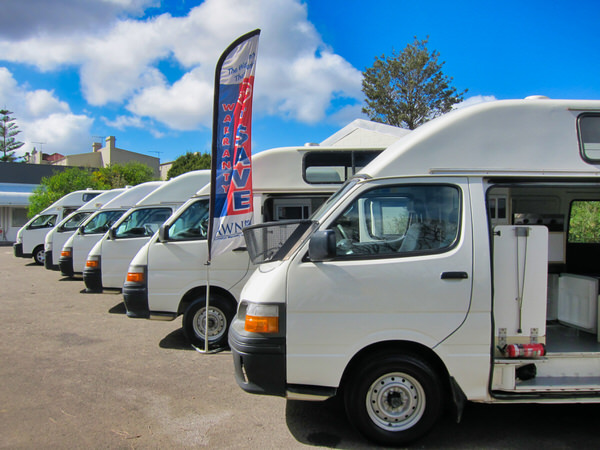 All our campervans for sale are put through a rigorous pre-sales process to make sure they are right for our customers.  To begin with, the team take it turns to test drive these Toyota campervans for sale for a week or more.  We use them to drive to and from work to give them a good test drive and to make sure they are running sweet. Once we are happy, then at this point, it will go into the workshop and have a full service and be road tested again.
We do this to make sure the camper is mechanically sound before we start to tidy up the inside of the campervan.  The first thing to remember is that all our used ex-rental campervans for sale are professionally deep cleaned both inside and out.  To illustrate the care and attention we put into each vehicle, they come with the following warranty included in the price:
One-year warranty on engine and transmission included.
Includes 24/7 roadside assistance.
Guaranteed buy-back option up to 50% valid for one year.
Twenty years of experience in selling and renting Toyota Campervans in Sydney.
Try before you buy!  Rent the camper for a week and then buy to make sure you are happy
We speak Deutsch!
Roadworthy Certificate (Pink Slip).
Similar used campervans to consider
These used Toyota campervans for sale are a popular choice with our customers.  For one thing, they are always a sought-after vehicles for those people looking for good value for money campervan.  If for instance, this one has sold out, then don't worry.  We get new stock in every week, so definitely worth giving Shaun a call on 0421101021 to get an update on new vehicles arriving soon.  Here are a couple of more options to consider:
Contact us for test drives
For more information or to arrange a test drive contact our team and we will be more than happy to help. Here is the address to our depot in Sydney at 11-15 Clevedon Street, Botany, 2019, Sydney.  You are welcome to pop down and jump inside some campervans and have a good at making the beds!  We want you to have a proper test drive and check out how great these used Toyota campervans for sale are!   Call Shaun to arrange a test drive on 0421101021, and we look forwards to hearing from you soon.
Ask us a question about buying a campervan
Have a question?  You can either email us at [email protected] or message us below.  We have over twenty years of experience in selling campervans in Sydney, so more than happy to help.