Used Toyota Prado for sale
Used Toyota Prado for sale in great condition!
Travelwheels has this great used Toyota Prado for sale here at our Sydney depot!  Practical, functional, and great for a family looking for good quality used Toyota Prado.  This fantastic 4×4 performs double duty as a family drive and a weekend warrior!  Therefore call Shaun on 0421101021 to arrange a test drive.  This is a very clean and well maintained 4WD.
Used Toyota Prado with bull or Roobars ready to go!
This multipurpose used Toyota Prado had these great bullbars!  It is full of functional features, and is a rugged performer off road and on!  Therefore if you are looking for a great used 4×4, here is the right vehicle for you.  As a result of buying this Prado, it will serve your family and still be a fun vehicle for the weekend!
Used Toyota Prado 4×4 is one of the most popular second hand 4x4s we sell here in Sydney. Therefore it is especially easy to see why Toyota is the number one brand for reliability here in Australia! Strong, reliable, perfect for everyday use, but still able to cut it on the weekend exploring!
We love selling these all purpose used Prados and our team has years of experience selling these great 4x4s!  As a result of buying in new stock we have some now available for you.  Give Shaun a call here in Sydney on 0421101021.  He can talk you through what we have left for sale.  Remember we can also convert these to affordable bushcampers 4x4s as well.  Email Shaun at [email protected] for more details.
Great for work and offroad adventures with automatic transmission!
Another positive thing about this used Toyota Prado is the automatic transmission!  Here especially in Sydney there is a lot of traffic!  Therefore you can relax knowing you can cruise with automatic transmission!  The great thing to remember is that you can still take this bad boy off road!  Therefore you get the best of both worlds when you buy a used Toyota Prado!
Used Toyota Prado 4×4 Landcrusier
This very clean used Toyota Prado is a good example of a nice used 4×4 for sale.  Here are some of the key facts to see if this is the right vehicle for you. You are always welcome to visit our depot here in Sydney any time.
Built: 2004
Automatic Transmission
Mileage: 220,000 kms
Price: $12,590*
*Price includes 6 months REGO.
12 months roadside warranty on engine and transmission
Why buy from used 4×4 from us in Sydney?
Why should you especially consider buying a used Toyota Prado Landcrusier for sale from us?  As a result of being in the industry for over twenty years, we know what works.  We love selling direct to the public and don't spend money on advertising.  Therefore we have to get it right to make money!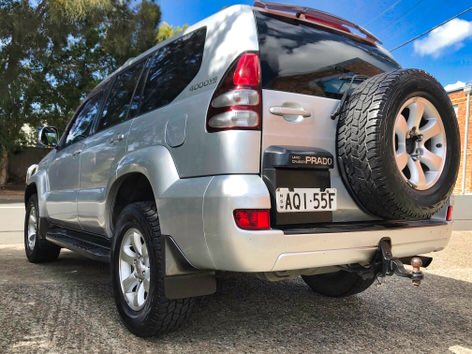 Here by the way are just some of the benefits listed below when you buy a used Toyota Prado from us.
* Fully serviced with Roadworthy Certificate (Pinkslip)
* 6 Months Registration (REGO) & Insurance (Green Slip) included in the price
* 12 Months Warranty On Engine & Gearbox
* 24 hour, 7 days a week Australia wide Roadside Assistance
* Guaranteed buy back up to 50%
* Free and helpful advice ?
Contact Travelwheels for used 4×4 sales in Sydney
For more information about this used Toyota Prado call Shaun on 0421101021.  Why not pop by our depot here in Sydney for example to view this used 4×4? This way you can therefore try before you even considering to buy!  Here is the address 11-15 Clevedon Street, Botany, 2019, Sydney. Travelwheels team have over twenty years experience in buying and selling used 4×4's in Sydney, so come on down!
Join our Toyota Prado for sale in Sydney Mailing list
Can't find the right used Toyota Prado?  Simply enter your email address below and we will add you to our mailing list.  We only send out emails when we have new stock, so we will not spam you!  Alternatively you can call us on 0421101021 for our latest updates on stock for sale.