Small Toyota campervan for sale in Sydney – automatic – great for couples
Small Toyota campervan for sale in Sydney + 12m warranty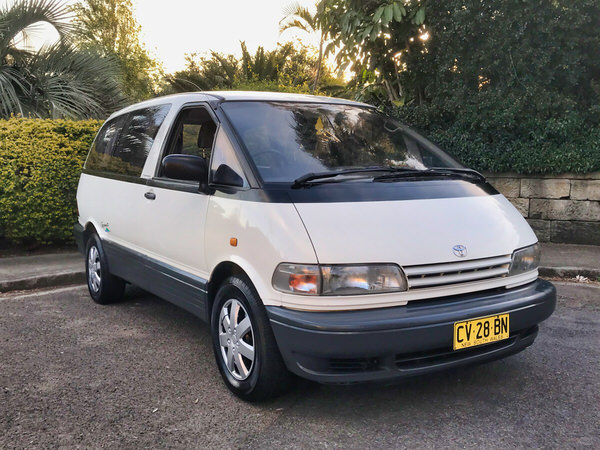 This great small Toyota campervan for sale in Sydney is the perfect vehicle for a trip around Australia!  This is, without a doubt, our most popular campervan for couples.  If you are here in Sydney, then visit our used campervans for sale shop close to Sydney airport.  You can test drive any camper and ask all the questions you need to be answered.  Therefore, give call Shaun on 0421101021 or email [email protected] for our latest vehicles for sale.
Daytime configuration
When you buy a Toyota used campervan for sale from us it comes fully furnished.  These ex-rental small campervans for hire are perfect for a couple or 2 friends.  For example, they are easy to drive, and a point often overlooked do not have any crazy colours!  For one thing, they do not have any massive marketing slogans or stickers all over these campervans!  These are suited to those that want to travel in style around Australia on a budget.
Let's celebrate buying our campervan!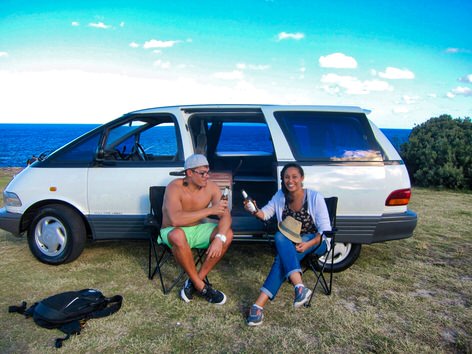 We also hire campervans in Sydney, Brisbane, Melbourne and Cairns
We also hire campervans.  It's a good idea to hire one for a week first before buying a used camper.  Here is a link to our page about our 2 person automatic campervan for hire.  As a result of buying newer vehicles, we then sell off some ex-rental campers.  Therefore making it a great opportunity to buy a used ex-rental small Toyota campervan for sale with warranty.  Here is a useful link to our page about cheap Sydney campervan hire.  Another useful page is our guide to the cheapest time of year to hire a campervan in Australia.
Toyota campervans built to order
This small Toyota campervan for sale has been designed and build by travelwheels campervan sales here in Sydney. It has under bench storage spaces and a nice sized double bed.
It comes with a great mini kitchen with a proper two-burner gas cooker and a 2kg gas bottle.  These are way cheaper and easier to use that those expensive throwaway gas canisters!
What is the size of the bed in 2 person campervan?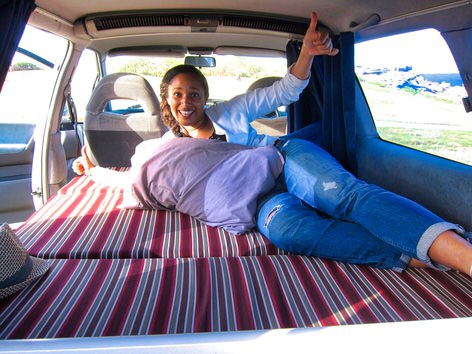 Here is one point often overlooked when you are considering buying a used campervan, how easy is it to make the bed!  To begin with, this is one of the most important things to consider!  For one thing, if the bed is hard to make it is a pain in the backside!  Sooner or later it will become a drag to make the bed daily if it is difficult!  Often you will see people with the bed down all the time for this reason!   Therefore, if you are planning on buying a campervan, then it's super important the bed is easy to use!
Our team spent a lot of time working on the bed frame design with our Toyota campervans.  Firstly, we wanted to be sure that, it would take approximately 60 seconds to make the bed in this camper!  Therefore our team designed the bed to be as easy as possible to make. Hence, after a good night's sleep, you will convert it back to a table and two benches without having to fight the bed daily!
The size of the double bed in this campervan
Here are the dimensions of the double bed in our small Toyota campervan for sale = 1.70m x 1.35cm.  The bed is great as it's easy to make and super comfortable.  If for example, you are taller than 1.7m, then we have other options for you.  We, therefore recommend going for our 3 person campervan.  This has more headroom and a larger bed! The size of the double bed (1.85m x 1.55m) in this vehicle.  If you are taller than 1.85m, then you sleep with your head at the rear of the vehicle, and your feet can dangle off the edge of the bed.  We do have a larger bed in our five-person automatic campervan.  The bottom double bed is 2.1m long x 1.7m wide!
Toyota campervans with 35L fridge
Let's talk about the fridge inside this small Toyota campervan for sale! With travelwheels, you get a 35L fridge in the kitchen and not an icebox!  A point often overlooked from potential buyers is having an additional second battery to power the fridge.  This "second battery" is an essential item and allows you to go off-grid and do wild camping!  Therefore, when you are driving during the daytime in the camper, it is charging up both batteries. Therefore allowing the fridge to recharge while you are driving during the day. When you go to the supermarket and stock up on food you can store it in the decent-sized fridge. This way you can prepare and cook your meals in this kitchen quickly and cheaply. Email Travelwheels campervan sales here for more details.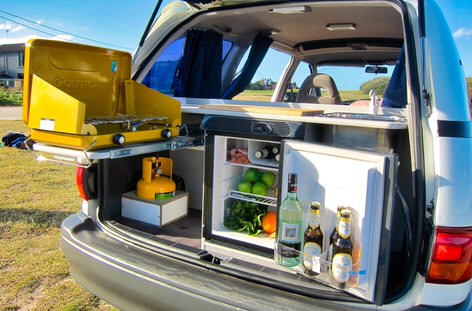 Toyota campervan main features
Model: Toyota
Make: Tarago
Built:1996
Air Conditioning: Yes
Power Steering: Yes
Transmission: Automatic
Drives like a car sleep like a camper!
Second Battery System
Kitchen with fridge, cooker and water tank with sink
Fold-out double bed and storage underneath
The guys from Travelwheels used campervan sales will help you to find the right used campervan for sale.  Here at our office in Sydney or via email or phone (0421101021), we are here to help.  For example, we can offer plenty of free advice about any topic relating to campervans in Australia. When you buy a used small Toyota campervan for sale from us our team will help with legal documents.  Our team, for example, will make sure you have third party insurance and all the registration documents.  Basically everything you especially need to have all the necessary legal paperwork required here in Australia.
Why buy campervan from travelwheels?
Full mechanically serviced with Roadworthy Certificate (Pinkslip)
With six-month Registration (REGO) & Insurance (Green Slip)
12 Months Warranty On Engine and Gearbox
24/7 days a week Australia wide Roadside Assistance
Guaranteed buy back up to 50%
Optional "try before you buy" scheme
If this camper is sold, then check out this small Toyota camper for sale as a good option
We sell a range of campervan, check out our 3 person Toyota campervan and also our 5 person Toyota automatic campervans as well.
Similar used campervans to consider
Another great reason for buying from Travelwheels used campervans is our range of vehicles.  If for example this Toyota automatic campervan has already been sold, we have other options for you!  As a result of building and constantly updating our hire fleet, we will new campervans for sale.  Here is a shortlist of some more campervans we have in stock ready for sale today:
Test drive our used campers in Sydney!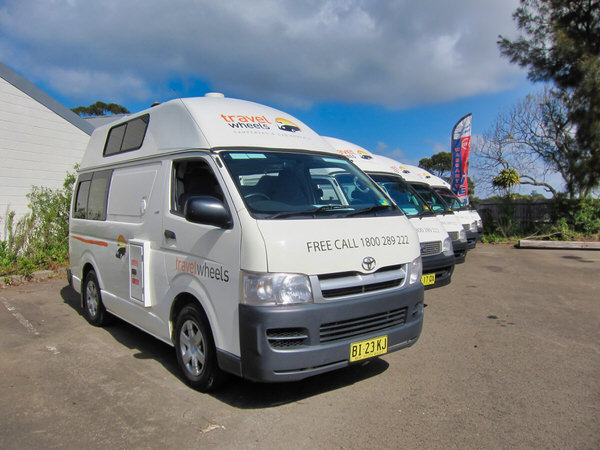 You are welcome to visit our used campervans branch here in Sydney at  11-15 Clevedon Street, Botany, 2019, Sydney.  The first thing to remember is there is no pressure to buy from us.  Just come on down and jump in and try out the beds and go for a test drive or two! Remember, on the positive side, we have new stock of used campervans for sale arriving weekly.  There is a great chance of a really nice small Toyota campervan for sale waiting for you here.
Contact travelwheels campervans
Contact travelwheels campervans office here in Sydney.  Our team is here to help answer any questions about this small Toyota campervan for sale. Feel free to email us at [email protected].  Why not call our friendly sales team (we speak Deutsch and English) on 0421101021 in Australia.   Alternatively, send us your questions below and our team will answer your questions 🙂