Ex-hire Toyota Campervan for Sale in Sydney – Fantastic Condition – Ref: CR96PE
Ex-hire Toyota campervan for sale in Sydney – test drives welcome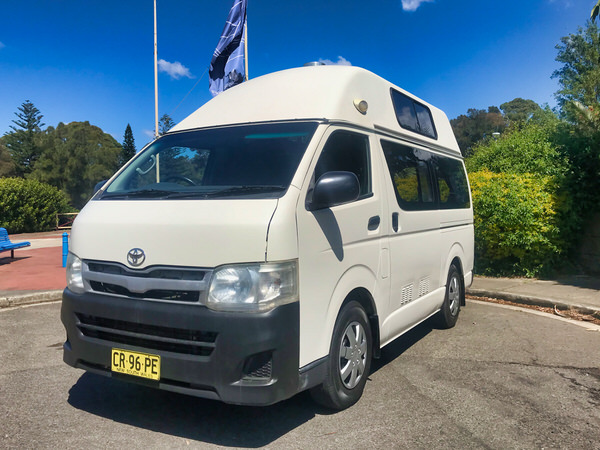 Travelwheels have this great ex-hire Toyota campervan for sale here at our Sydney depot. This camper is in fantastic condition, super clean and ready to go!  A point often overlooked when buying a campervan is resell value.  Firstly without reservation, Toyota is the number one trusted brand here in Australia.  Secondly, these Hiace campervans are in very high demand on the second-hand market.  For one thing, to find a camper in this kind of condition with 12 months warranty is rare! Therefore call Shaun on 0421101021 to view or arrange a "no worries" test drive.
Used campervans for sale – all have 12 months warranty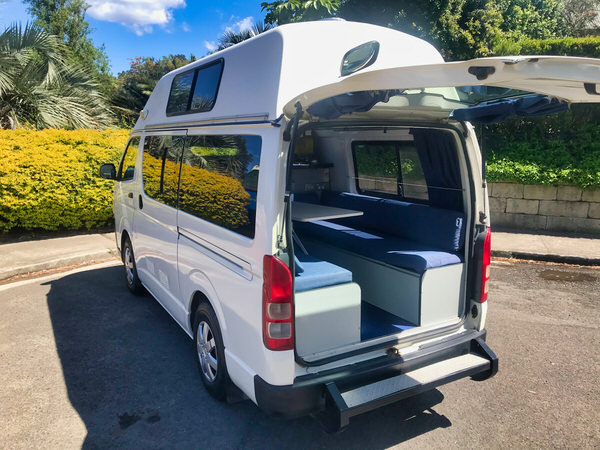 The great thing about buying an ex-hire Toyota campervan for sale from Travelwheels is our warranty.  As a result, all our campers have a 12-month unlimited kms warranty on the engine and transmission.  Therefore our "no worries" guarantee will be perfect for you!   When you factor in Toyota reliability and their reputation as being the most trusted brand in Australia, you are on to a winner.
The great thing about our Toyota Hiace campervans is that they sell themselves!  In the first place, the quality of the vehicle shines through.  Therefore no hard sales talk or nonsense needed here. The quality of the campervans in tip-top condition does the selling for us.  Therefore why not pop along to our depot here in Sydney to view our ex-hire Toyota campervan for sale.  This way you can sit in it, make the beds, and take it for a long test drive!
Travelwheels Ex-rental Campervans – clean and ready to go!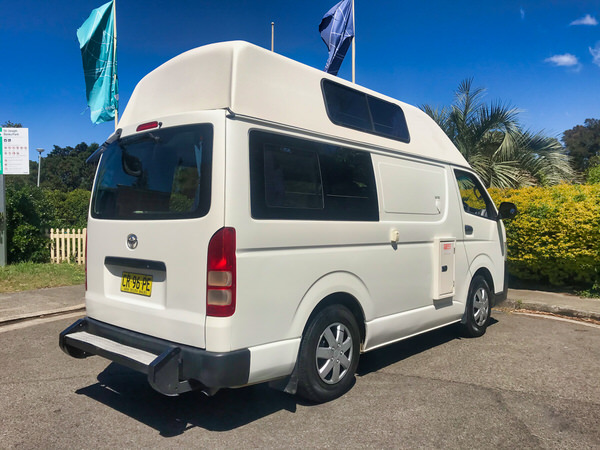 Travelwheels offers a wide range of used campervans for sale.  All our campers for sale are from our own ex-rental fleet.  Therefore you can be safe in the knowledge we know their service history and have been well maintained.  They come fully serviced and have all the stickers removed and look fantastic!  On top of this, we give them an industrial deep clean here at our Sydney depot to make it feel like new!
Main features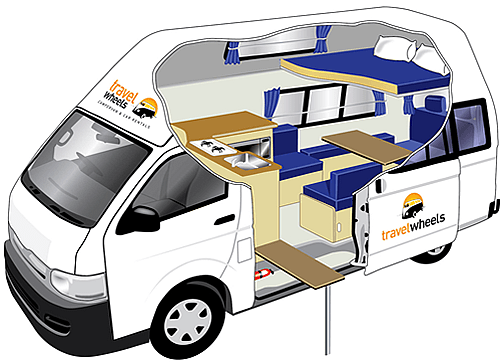 This great ex-hire Toyota campervan for sale has been voted as Australia's most popular medium-sized campervan.  In the first place, all the campervan hire companies in Australia use this model!   Secondly, you will see hundreds if not thousands of these Toyota Hiace campervans on the roads here in Australia.  To begin with, this camper has everything you need for a comfortable holiday across Australia in a neat package.  This Toyota is not a big bulky gas-guzzling campervan! It comes with a fantastic open plan kitchen and lounge area with comfy seats and two beds.  It has one single bed in the roof and a nice sized double bed at the rear of the vehicle.
Open plan kitchen – easy to use and keep clean!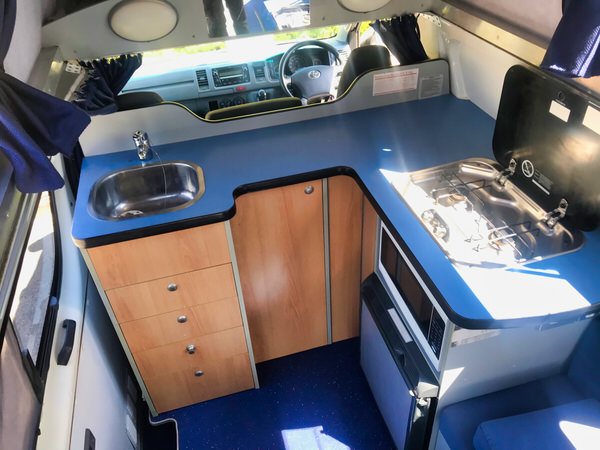 All our ex-rental Toyota campervans for sale have a fantastic open plan kitchen and lounge area. Another key point is that the kitchen has been completely redesigned in this model. As can be seen in the photos it is easy to use, fresh, clean and ready to prepare great meals in this practical kitchen. Therefore with the combined kitchen and lounge area, you will really enjoy using this campervan.  It will enable you to cook, chat and relax with friends all in the same communal space. Anybody wanting to explore Australia in comfort will love this quality campervan.
Cooking is fun and easy in this camper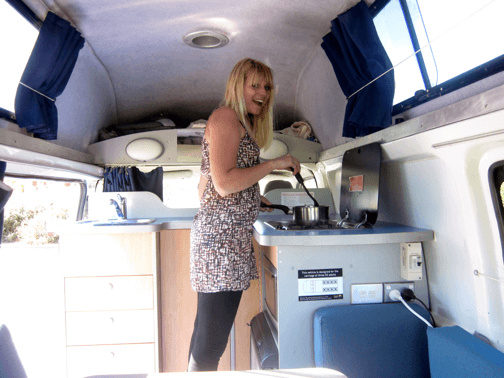 In this Toyota campervan for sale, there is a decent solid worktop space to help the preparation of great meals. A point often overlooked when searching for a used campervan is how practical is the kitchen layout?  Therefore as you can see the design of the kitchen in this camper is perfect for cooking inside the van.  Firstly the sink is on the left-hand side which makes washing your food easy.  Secondly, there is good worktop space directly next to the sink to chop and prepare your ingredients. Once you have finished your food prep, the practical two-burner stove makes cooking nice meals easy.  To summarize the benefits, here are the main features of the kitchen area:
Updated practical kitchen
Easy to use, and easy to clean!
Large 55-litre fridge (12V/240V)
2 burner gas cooker
Microwave (works via mains electric)
4kg gas bottle – cheap to refill anywhere
Internal water tank for washing/cooking
Large kitchen countertop to prepare food
Plenty of hidden storage spaces
Great open plan living in this Toyota Hiace Campervan
The combined comfortable lounge and kitchen area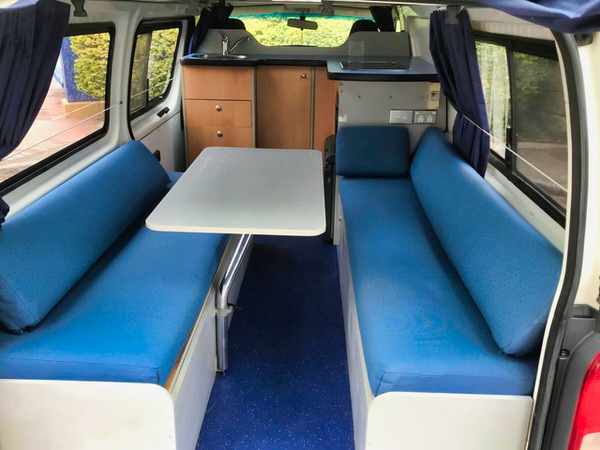 These Toyota Hiace Campervans are known for their practical design, clean lines, comfort and for their reliability.  With this in mind, let's check out the comfortable lounge area which has plenty of space to entertain friends in this camper.  A point often overlooked is the strong hardwearing materials used in the construction of the open plan kitchen and lounge area.  Firstly, let's look at the tough durable floor covering and laminated surfaces which make cleaning the campervan quick and easy. Secondly, under the comfy benches is some handy storage space to keep all your stuff hidden from view.  If you are searching for a quality used campervan with Toyota reliability then you will need this camper!
Loads of windows for ventilation and a great view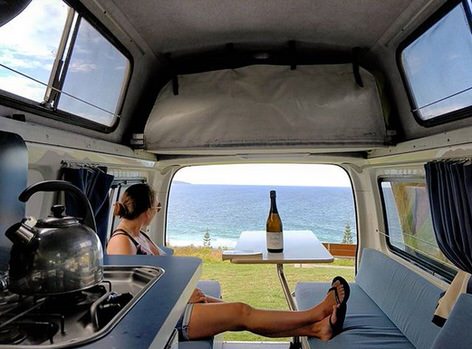 Another key point to focus on is the number of windows inside these Toyota Hiace Hitop campervans.  The lounge area has been designed to give you an amazing open space with great views from all those windows. The large rear tailgate opens up space to the great outdoors and lets the air or cool breeze flood in.  Another positive point to note is that the rear tailgate also acts as a mobile shade from the sun.  Relaxing in the lounge is a great place to sit and enjoy those magical views.
Night time configuration
Now you have seen the daytime, what is it like when you want to have a good sleep?   Here is a drawing of the nighttime view.  As a result of a very practical design, this Toyota-Hiace campervan is a great choice when you want a good night's sleep!
Plenty of room for two or even three in a bed!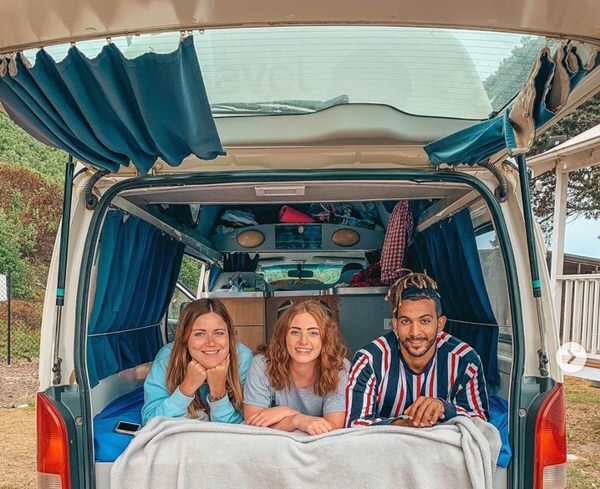 As can be seen from the photo above, there is plenty of room for two or possibly three in this double bed!  What's more, the flexibility to sleep up to three adults in comfort is a big bonus here! Another key point to stress is with the practical design, the double bed is very easy to convert at night time.  Firstly, all you have to do is remove the table and slot it between the two benches.  It then instantly convert to a comfy double bed which measures 1.85m x 1.55m).
Single bed in the root top space
This campervan includes a single bed in the HiTop roof.  The dimensions of the bed are 1.60m x 1.4m (max weight for roof bed is 200kg). All the beds in this campervan have windows on either side of the van to give you that all-important cross ventilation. All windows and doors have curtains for privacy in the rear of the campervan.
Similar used campers to consider
These used Toyota campervans are a very popular choice with our customers who love them!  As we only sell directly to the public our own stock of well-maintained campervans.  Our ex-rental Toyota campervans are perfect for those people looking for good value for money campervan.  If this one has sold out, then don't worry.  We get new stock on a regular basis so definitely worth giving Shaun a call on 0421101021 to get updates on new campers arriving soon.  Finally, here are a couple more options for you to consider:
Visit our depot for test drives
Come on down and visit our depot in Sydney to try out a few different Toyota campervans.  Here is the address of our used Toyota Hiace Campervan centre in Sydney at 11-15 Clevedon Street, Botany, 2019, Sydney.  We look forwards to welcoming you to our Toyota campervan depot soon for a test drive.
Contact the team via messenger or email
You can contact our team in various ways.  If you prefer email, then send us your questions to [email protected].  Alternatively, the easiest way is to fill in the contact us form below.  The team will get back to you asap.  We look forwards to answering your questions and meeting you at our depot soon.