Toyota Hiace Campervans for sale in Sydney + one year warranty – REF:CW44WI
Toyota Hiace Campervans for sale in Sydney – now back in stock!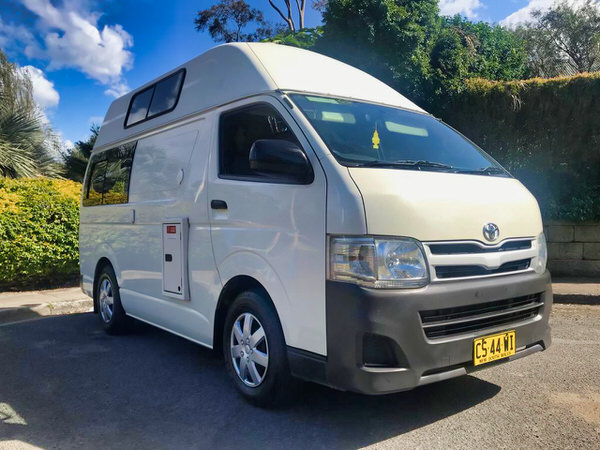 This is one of our fantastic Toyota Hiace Campervans for sale at our Sydney branch.  We are specialists in selling ex-rental campervans direct to the public at discounted prices!  Without a doubt, everyone knows Toyota quality, and furthermore, their reputation in Australia is first class.  With this in mind, we present this super clean and ready to go camper for sale for you.  Therefore it is best to give Shaun a call on 0421101021 to have a chat and arrange a test drive.
The best value used Toyota Campervans in Sydney!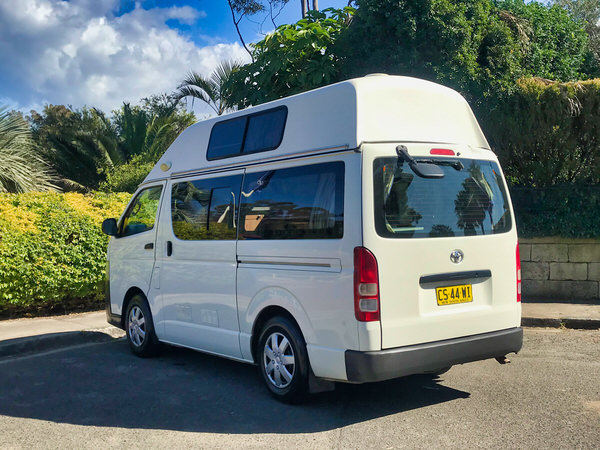 As can be seen from the photos, this campervan is in prime condition. Without reservation, we feel that these Toyota Hiace campervans for sale are the best value used Toyota campervans in Sydney!  For one thing, you are getting Toyota reliability straight out of the gate!  Let's also take the case of the resell value as well.  These Toyota campervans are a fantastic investment.   To begin with, you can use it for a couple of years and still get the majority of your money back!  This is one of the most compelling points that make this Toyota Hiace campervan so popular with people looking to be a used campervan.
Deep Clean, Fully Serviced and Ready to Go!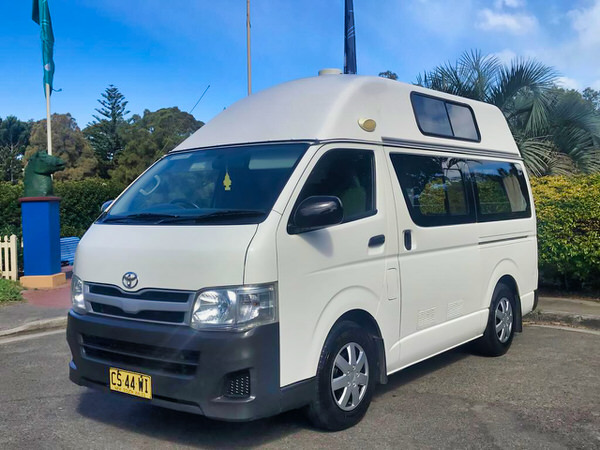 The great thing about buying one of our Toyota Hiace Campervans for sale is the amount of time we spend on each van.  To begin with, we know that buying a used campervan is a big investment.  It's easy to feel overwhelmed by all the various vans out there.  Many of our customers stated they were very apprehensive when they began searching for a used camper.  However, once they discovered us, they felt at ease.  It's important for us to make sure the Toyota campervan you are buying is right for you and your family. To emphasize our quality control process, we do the following to each vehicle for sale here in Sydney:
We give them a proper road test for a week before we start processing the van.
Go through a 100 point safety check to give us a baseline.
The camper then gets a full service and then road-tested by our technicians.
We paid attention to the detailing and finish inside the campervan.
All stickers removed and paintwork re-buffed up so looks nice and fresh.
Receives a deep industrial clean (inside and out) so looks great for you
Test drives welcomed anytime.
Pop down and jump in the camper to make up the beds.
Travelwheels offer a "try before you" one week rental (out of peak season) to give you the ultimate peace of mind.
We sell a range of campervans at our depot, check out our popular two-person automatic campervans for sale.
We want you to be happy with your campervan
As previously mentioned, we want to make sure you are happy with your purchase.  To put it another way, the happy we make you, the more likely you will recommend us!  Therefore we pay close attention to the details of what every customer wants and needs are.  When you buy a used Toyota campervan from us, you can be sure you are buying from the best.   For more information, email Travelwheels your questions = [email protected] or call the team on 0421101021.  We are here to help you find the perfect campervan.  Remember we also sell a good range of automatic Toyota Hiace Campervans at competitive prices as well.
Travelwheels Campervans Registered NSW Car/Campervan Dealer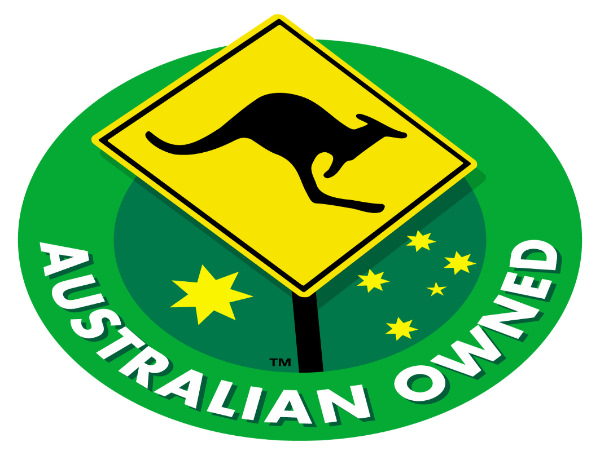 Another key point to note is the fact that Travelwheels is an Australian owned and operated company.  We are proud to serve our local Australian customers for the last twenty years in the greater Sydney area.  We are a registered NSW (New South Wales) car and campervan authorized official reseller. Our team has been selling used Toyota Hiace Campervans for many years in Sydney and interstate as well.
Another point that is often overlooked by customers, is that we are a proper bricks and mortar style Australian company!  We don't just sell online, and only contactable via email!  Yes, you can contact us online,  however, we prefer to meet you at our depot.  When you get here you can jump in the vans, and play around.  Have a go at making the beds and test out the spacious lounge and kitchen area.  We are more than happy for you to jump in a few different vans and give them a decent test drive.
Toyota Hiace Campervans Main Features
As can be seen in this illustration, these Toyota Hiace Campervans for sale come fully equipped and ready to go!  They are Australia's most popular 3 person campervan you see on the roads of Australia.  For one thing, it's easy to see why with Toyota reliability and an award-winning practical design making touring in this campervan a pleasure.  At this point, it is time to have a deeper look at all the features of this great Toyota campervan for sale.
Toyota Hiace campervan with a comfortable lounge area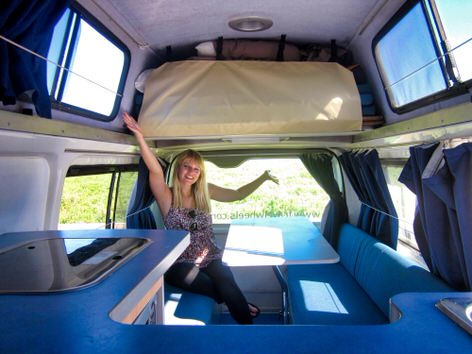 Without reservation, we always tell our potential customers to properly inspect and test the lounge area in any campervan they are thinking of buying.   The first thing to remember is you will be spending a lot of time here.  Questions like, how comfortable and practical is the lounge space become super important  You will be spending a lot of time here, and the design of this Toyota Hiace Campervan is not only super practical but very comfortable as well.
Plenty of windows for a great room with a view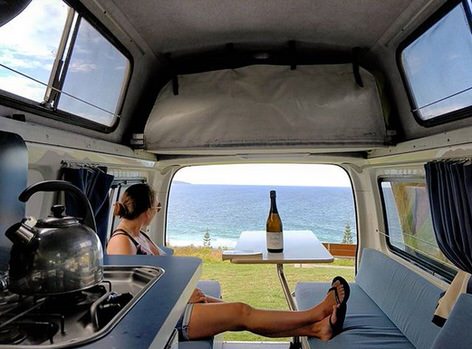 These campervans have plenty of windows in the back of the vehicle to let in light.  They have been designed to give you an amazing room with a view. With the windows opened you can get a nice breeze in the back of the campervan.  As can be seen in the photo above, the large rear tailgate opens up space to the great outdoors. This makes the connection between the great outdoors and the inside of the campervan seamless.  It's a really nice space to relax after a great day at the beach. It addition, the rear tailgate also act as a mobile shade from the sun, and its a great place to enjoy a bottle of wine enjoying the views.
Redesigned practical kitchen – comfortable, clean place to cook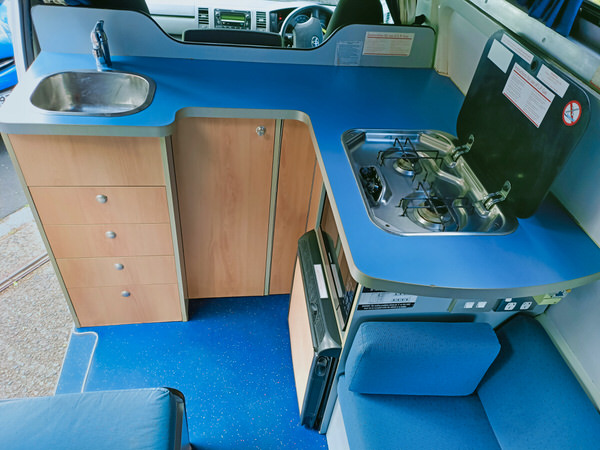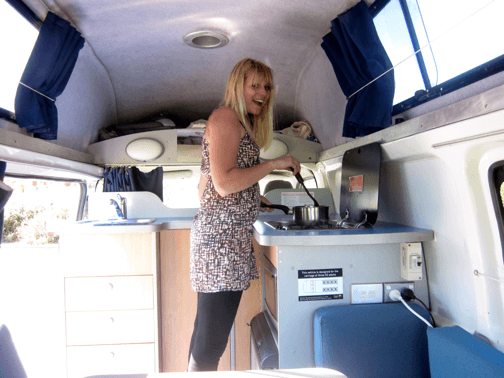 These Toyota Hiace campervans for sale have a well-designed kitchen space. Firstly, let start with the countertops.  There is plenty of space to prepare food before you start cooking your gourmet meal in the van. In addition, there is plenty of room to put your large glass of wine you will need when cooking!  A point often overlooked by people looking to buy a campervan is how social is the layout in the back of the campervan.  Firstly the kitchen is not cut off from the rest of the camper leaving the chef isolated from the rest of the party.
Often in many campervans, the kitchen is located at the back of the campervan.  We do not do this, as it puts up a barrier between the chef and the rest of the party.   This campervan has been designed to have a combined kitchen and lounge open plan layout.  This means you can cook, chat and relax with friends all at the same time.
Toyota Campervans come with 55L fridge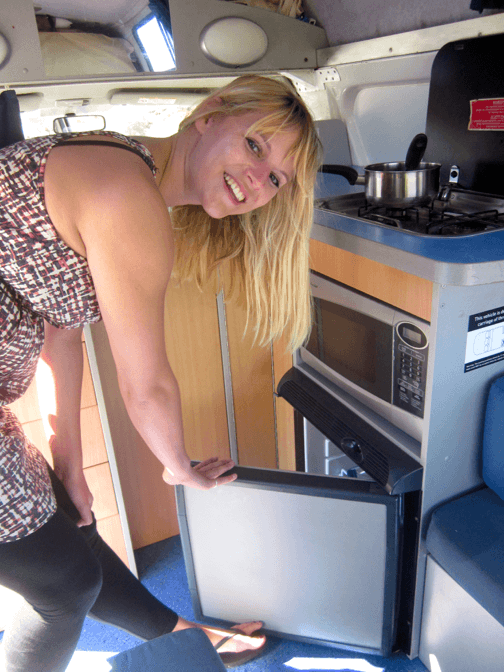 Many of our customers mention having a decent sized fridge is essential!  All our Toyota Hiace campervans for sale come with a 55L fridge fitted as standard.  The fridge is powered by a practical two-way battery system. It will recharge the second battery which powers the fridge when you are driving along in the campervan.  The fridge has got enough space to store your food, and also room for some beers and a bottle of wine or two! 
Here is a question customers ask us about the fridge.
If you are staying at a campsite for a few days, how do you recharge the fridge?  The easiest way to do this is to connect the campervan to the electricity supply at the campsite. There is a long power cable inside the van and you just plug it into the main supply.  Once you do this, the microwave and power sockets will work. You will also be able to charge your laptops, iPads, and phones as well.

3 Person Campervan Sleeping Configuration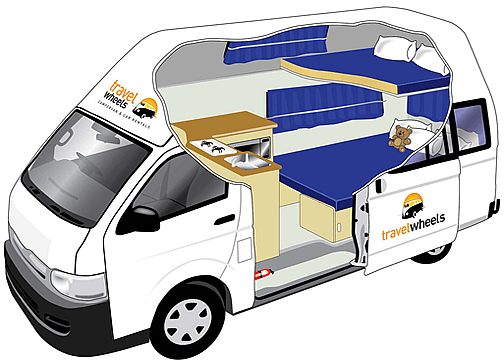 This has to be one of the most important things to consider when thinking of buying a campervan! The first question has to be, "how comfortable is the bed" and secondly, make sure you check "how easy it is to make the bed?"
There is nothing worst than having to make a super complicated bed every night! 
Remember when you buy one of our Toyota Hiace campervans for sale, you can rest assured the bed is super easy to make!
To begin with, it takes approximately 90 seconds to make the bed in this camper! We designed it to be as easy as possible to use. In the morning after a good night's sleep, you can easily convert it back to a table and two benches in less than 90s seconds.  With this in mind, you can make up or tear down the bed easily in less than two minutes. This is another reason why we highly recommend these Toyota Hiace Campervans for anybody looking to buy a quality used campervan.

Two beds inside camper (one double and one single bed)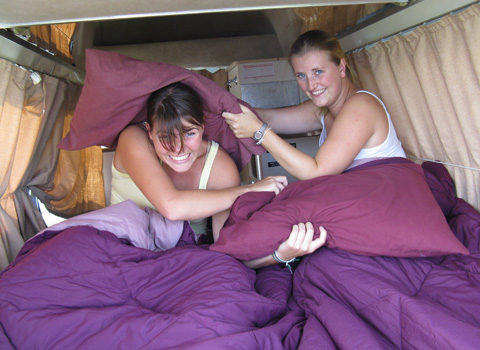 These Toyota Hiace Campervans for sale are so flexible when it comes to sleeping arrangements!  Firstly, you are able to sleep up to three adults in comfort inside the campervan!  Let's start off talking about the main double bed firstly.  The comfortable lounge benches and table convert to a nicely sized double bed (1.85m x 1.55m) in the back of the camper. This Hiace camper also has a single bed in HiTop roof 1.60m x 1.4m (max weight for roof bed is 200kg).
All our Toyota Hiace Campervans have curtains on all the windows for privacy in the rear of the campervan.  This makes relaxing in the campervan before bedtime a breeze.  A point often overlooked is ventilation, and the sliding windows have flyscreens to let air in and keep those flies out!  The high roof has two windows which can open and create cross ventilation. 
Why buy from used Toyota campervan from us?
We do not pay for expensive adverts in newspapers and magazine or even hit the trade shows.  Our goal is to offer great service, and a friendly non pressurised location where you can test-drive our campervans.  Our team have over twenty years of experience in buying and selling campervans in Australia.  We have all been on the "big trip around Australia in a camper" and know what works and what to look out for when buying a used campervan.
Therefore there are plenty of good reasons why you should buy a Toyota Hiace Campervan from our team. To conclude, it's worth remembering that all our used ex-rental campervans for sale will be professionally deep cleaned and all stickers removed from the vehicle.  This will mean the campervan will be fresh and ready for your adventure straight away. Each campervan comes with the following warranty included:
One year Australia warranty on engine and transmission included with every campervan sold.
24 hour, 7 days a week, Australia wide roadside assistance included
Guaranteed buy back up to 50%
Twenty years of experience in buying and renting Toyota Campervans in Sydney
Try before you buy!  Rent the camper for a week and then buy to make sure you are happy
We speak Deutsch!
Roadworthy Certificate (Pink Slip)
12 Months Warranty on Engine & Gearbox,
24 /7 Roadside Assistance
Help with purchasing Third Party Insurance
Guaranteed buyback up to 50%
We also sell larger automatic campervans for sale
Another popular seller is our automatic two person campervans,
Visit Travelwheels to test drive our campers
Here is our address in Sydney at 11-15 Clevedon Street, Botany, 2019, Sydney.   You are more than welcome to pop by and test drive any of our campervans.  Our team are here to answer any questions you have.  We are here to give you the right advice for your needs and not just to get the sale.  We want you as a customer for life!  You can contact travelwheels here in Sydney on 0421101021 or send us a message below and our friendly team will answer all your questions.