Used Toyota Tarago Campervans for Sale – fantastic value for money – REF: 1419
Used Toyota Tarago Campervans for Sale – automatic + double bed!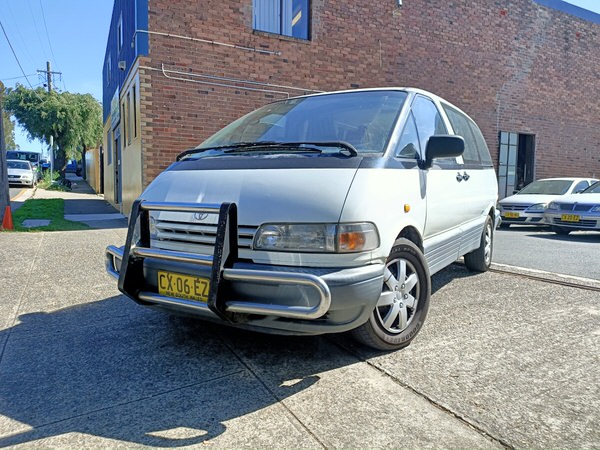 Travelwheels campervans in Sydney have a range of used Toyota Tarago campervans for sale with 12 months warranty included.  Every year we sell off a number of our ex-hire campervans which have been fully serviced and ready to go!  These campervans are fantastic as they have everything already included!  To emphasize what you get for your money, how about, double beds, storage, table and benches, kitchen with fridge, cooker and worktops! Give us a call on 0421 101 021 to test drive any of these campervans.
The view from the rear
These Used Toyota Tarago Campervans for sale has been built by Travelwheels and are all ex-hire campers.  They have everything you need for a great holiday in Australia!  They have been professionally cleaned and all stickers removed so it will look like a normal Toyota.  This means you will not stand out in one of those horrible graffiti vans you see across Australia.  
Drive like a car, sleep like a campervan
The great thing about these Toyota Campervans is that they drive like a car, but have all the benefits of a campervan! The first thing to remember is just how practical these campers are.  During the day time the double bed folds back into two comfy benches and an adjustable table.  As can be seen below, when it comes to privacy, they have curtains on every window.
The Campervan Kitchen area
For one thing, the practical kitchen in these used Toyota Tarago campervans for sale are fantastic!  Firstly, do not be misled by the compact size, as it has everything you need to cook on the road! We have spent a lot of time designing the kitchen in this vehicle. Take the case of decluttering the space and we have removed all the unnecessary items.  To put it another way, we have only left the stuff you need!  Therefore less clutter and easier to use and clean!   We have significantly improved the kitchen design it and at the same time making it cheaper to use/run. To begin with, it comes with a proper 35-litre fridge, two-burner cooker and water tank and sink.  Let's look into the main features of the kitchen.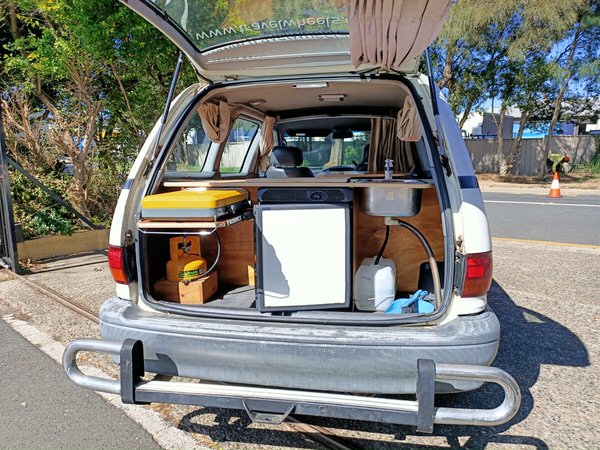 Cooker with 2kg standard gas bottle
This Toyota Campervan comes with a standard 2kg gas bottle.  They are cheap and easy to refill whilst on the road. Many of our competitors who sell campervans use a tiny portable stove with those expensive gas canisters.  This is a point often overlooked by people thinking of buying a campervan.  Those canisters run out quickly!  You can get through them super fast and are expensive to replace!  We do things differently here at Travelwheels.  First of all, you get a proper two gas burner stove.  This way you can for example cook pasta and a sauce at the same time!  However, with many of our competitors, you get a one-burner stove!  With our two-burner system, you get hot food quicker and secondly can easily refill the gas bottle.
35L Fridge and two-way battery system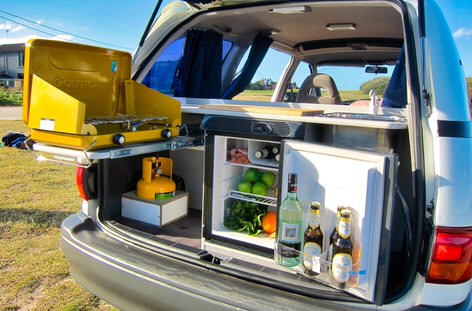 Now it's time to talk about the fridge!  For one thing, when you buy from travelwheels, you get a 35L fridge and a second battery as well.  When you are driving during the camper in the day time, it is charging up both batteries. It allows the fridge to recharge while you are driving during the daytime.  This allows you to go to the supermarket and stock up on food you can store it in the decent sized fridge.  This way you can prepare and cook your meals in this kitchen quickly and cheaply.
Nighttime configuration
These used Toyota Tarago campervans for sale feels like you are driving a car, but have a mini-hotel on wheels! The practical design allows the two benches and table to quickly make a double bed in the rear of the vehicle. It only takes about a minute to convert the table/benches into a comfy bed!  All our vehicles have curtains on all the windows for privacy in the rear of the campervan. The sliding windows on our campers have flyscreens to let in air and keep the flies out!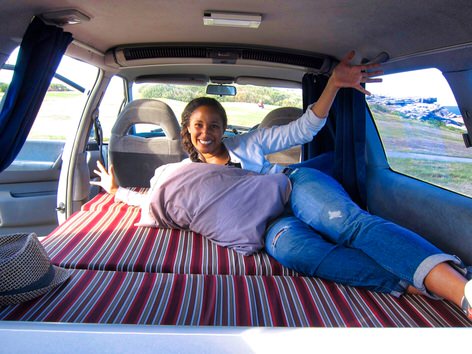 Toyota Campervans main features
Below is a list of the main features of these used Toyota campervans at our Sydney office.  They are for example our most popular seller to couples looking to travel around australia.  Remember if you need any more information about this camper, contact our friendly team by emailing us at [email protected] or call 0421101021
Model: Toyota
Make: Tarago
Built: 1996
Professionally built campervan conversion
Double bed
Kitchen with fridge, cooker and sink
Air Conditioning: Yes
Power Steering: Yes
Transmission: Automatic
Why buy from Travelwheels Campervans Sydney?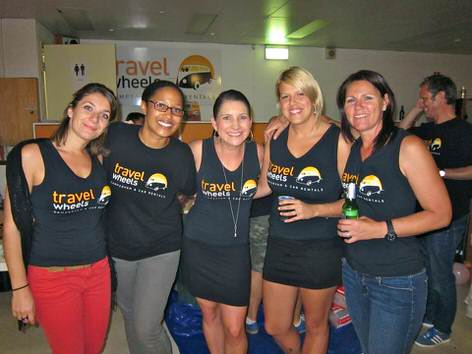 Without reservation, there are plenty of advantages when you buy one of our used Toyota Tarago campervans for sale from us. Travelwheels is a registered car dealer in NSW. For one thing, all used campervans come with 12-month warranty included in the price.  See the list below and then compare it to our competitors!
100 point safety check and test drives welcomed any time
Full mechanically serviced with Roadworthy Certificate (Pink slip)
With Registration (REGO) & Insurance (Green Slip)
12 Months Warranty On Engine & Gearbox
24 hour, 7 days a week Roadside Assistance included
Guaranteed buy-back option up to 50% included
View our used Campervans in Sydney
Come and visit Travelwheels at our Sydney depot.  We have plenty of used Toyota campervans for sale on display.  You are welcome to pop by and take one of these campervans our for a test drive to make sure you are happy with the camper first before paying any money.  Travelwheels campervans address in Sydney is 11-15 Clevedon Street, Botany, Sydney.  Our friendly staff can speak deutsch and english!
Contact our team
For more information about buying used Toyota Tarago Campervans for sale, then feel free to email us at [email protected] You can call travelwheels Sydney on 0421 101 021. The quickest way to contact us is to enter your question below and I team will get back you asap 🙂