The Atherton Tablelands are a wonderful place to explore with a Travelwheels Atherton campervan hire holiday!  For example you will find some of the best things that Queensland has to offer in the tablelands.  In this case, it has impressive lakes, tropical waterfalls, abundant wildlife and especially rugged bushland to explore.  This is an excellent place to stop for a few days and take the time out to relax on your Cairns to Sydney campervan hire roadtrip.
Book your Atherton Campervan Hire in Cairns as cheaper!
Atherton campervan hire tips and advice from Travelwheels Cairns campervan hire branch.  First of all there are not many options to hire a campervan locally in Atherton.  For example if you do find a place it can be especially expensive!   This is why our staff subsequently recommending going for a Cairns to Sydney campervan hire deal.  For the most part, this is one of the cheapest campervan hire trips in Australia because of how competitive this route is!  Therefore you save a lot of money by especially making a planned detour to the Atherton tablelands without breaking the bank on your way back to Sydney.

Atherton campervan hire visit Kuranda/Atherton Tablelands
Just an hour's drive with your campervan you can get to Kuranda or the Atherton Tablelands. Furthermore the gorgeous landscapes, magnificent waterfalls, rolling hills and especially the crater formed lakes will stir your emotions.  Travellers Tip and by the way if you are travelling in a motorhome or a good value Travelwheels Cairns campervan hire van, you will discover many RV and caravan friendly towns close by.  Many of them have camp sites and holiday parks especially for campervans with cheap overnight rates.  Alternatively why not read our guide to free camping on the East Coast of Australia.  This is a good way to save money on your accommodation costs on the road.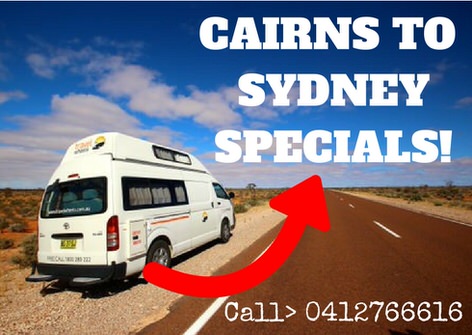 We recommend taking regular stops to especially experience the magic of the Tablelands.  For example why not take your camper van for a mini road trip to the amazing Hypipamee Crater and enjoy the view! It is 61 meters wide and 85 deep from the water surface! Together with it being a free thing to do, the walk up to the viewing platform is a must do activity and no charge!
Here are a couple of links to help you plan your trip.  The first one is things to do in Atherton and will especially help you plan your trip.  The next link describes all the waterfalls and lakes in the Atherton area.  For example, the tablelands is an amazing place to see wildlife and worth visiting the Mareeba Wetlands.  For instance check out Nyleta Wetlands and if looking for Platypus, then in this case check out the Peterson Creek Platypus Platform!  Here is a link to some background reading on wildlife in the Atherton area.
Atherton campervan hire recommends Millaa Millaa
Beautiful Millaa Millaa is the gateway to the Southern Tablelands, and is 873 metres above sea level.  By the way the town nestles in emerald hills surrounded by diary farms and a circuit of spectacular waterfalls. Its lookout is amazing and prepared to fasten your seatbelts for the view!
Herbal Essences Shampoo advert with girl flicking her hair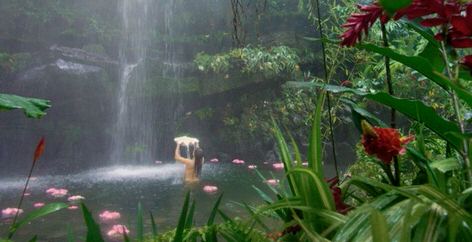 Lately the image of Millaa Millaa Falls has become especially known throughout the world due to a advert on TV.  In addition to it being a beautiful place, it is now known as the place with the beautiful model flicking her lush hair back behind the Millaa Millaa Falls.   Subsequently since the shampoo advertisement for the Herbal Essences with the bikini girl in front of the waterfall, there has been thousands of people flocking her to replicate that hair flick!  One more 'small claim to fame' and it has to do with 'Australia's favourite son', Peter Andre!  In this case, the falls were used in Peter Andre's "Mysterious Girl video"
Atherton campervan hire – Free Route Planner
Travelwheels staff at our Cairns Campervan Hire branch especially love giving tips and travel hints to our customers.  For example all our team members have travelled extensively around Australia.  As a result everyone has their own very special places to visit and we can help you save money on Cairns campervan hire deals! In the meantime why not check out one of the free guides one of our staff members wrote about free route planner from Cairns to Sydney.
Alternatively you can also browse through our Australian travel section on our website.  In particular it lists lots of beautiful places and tips on travelling around this amazing country.  Here is especially useful link for cheapest petrol prices in Australia.  Furthermore if you speak deutsch, then you can read our german version of this page here = die atheron tablelands reisetipps
Contact Travelwheels for Atherton camper hire
Send us a text or call us today on 0412 766 616 for our latest deals.  Our staff regularly check competitor prices and therefore we offer a campervan hire price match guarantee.  We will beat all competitor quotes for all Cairns to Sydney campervan hire bookings over 10 days.  Why not try us for cheap campervan quote for your Atherton campervan hire holiday in Australia!
For any further questions you can email our friendly staff at [email protected].

Atherton campervan hire – Price Checker:
Enter your dates below into our Atherton campervan hire price checker and we will do our best to get you a great deal!  We will beat all competitor quotes for Cairns Campervan Hire quotes out of peak season back to Sydney.  This way you can visit the Atherton tablelands on route back to sydney without breaking the bank!  Therefore call our team on 0412766616 for more details.