Ex-hire Toyota Hiace campervan for sale – great kitchen + Lounge area REF: DC73YT
Ex-hire Toyota Hiace campervan for sale in Sydney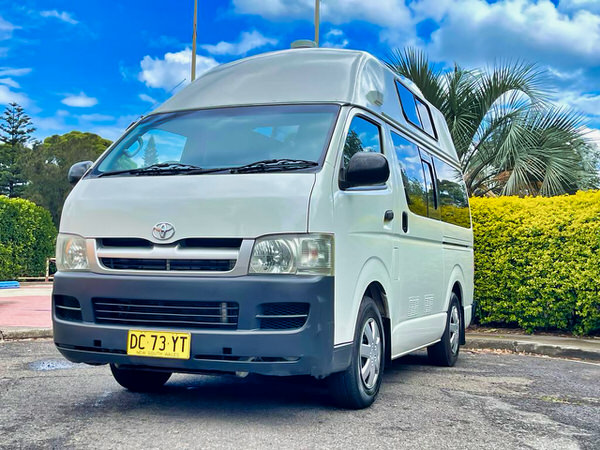 Travelwheels have this great ex-hire Toyota Hiace campervan for sale.  These campers come with a fantastic combined kitchen and lounge area to make this campervan feel special.  Without a doubt, they are Australia most popular medium-sized campervan and are always highly sought after.  To begin with they have everything you need to have a fantastic trip without having to drive a giant lorry style campervan.
Great on fuel, easy to park and perfect to explore Australia with style! Come on down to our Sydney used campervan depot and jump in a camper and go for a road test!  Call our team on 0421101021 to arrange a test drive or ask us your questions.
Fully Serviced Toyota campervans direct to the public!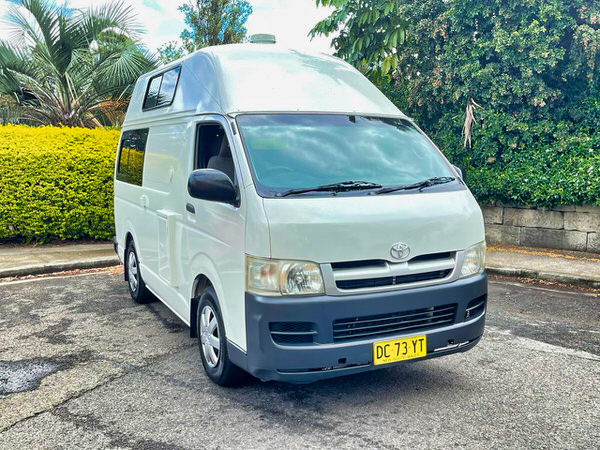 This ex-hire Toyota Hiace campervan for sale is now ready to go to a new home.   It's the perfect vehicle for anybody searching for a good quality used campervan.  The camper now looks nice and fresh, and for one thing, is waiting for you to take it on an adventure. We get a lot of positive comments from people looking to buy used Toyota campervans.  For instance, many people say we are the friendliest company and that our vehicles are in very good condition.  Come on down to our depot and see for yourself what everyone is talking about!
All stickers removed – deep cleaned and ready!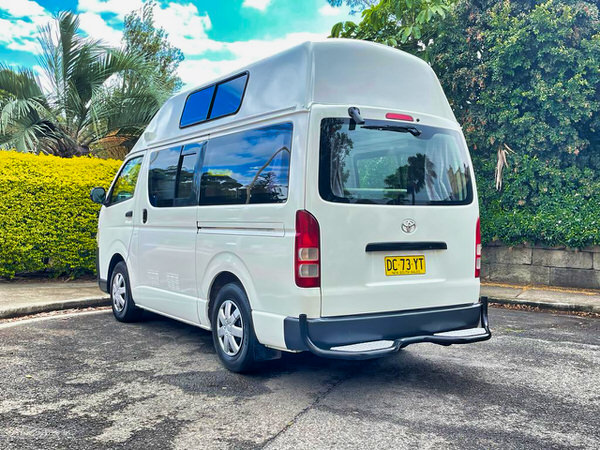 As can be seen in this photo this Toyota campervan looks a lot different from the one above with our graphics on it.  To begin with, they get a proper road test for a week and then together with our skilled team of mechanics we give it a full service.  We then, for example, remove all the stickers and touch up the paintwork to make it looks fresh for you. For one thing, you will not find another campervan in this condition without paying top dollar.
Discounted prices on top quality Toyota Campervans
Take the case of our discounted prices on top quality used campervans.  In the first place and this is an important point to note is that we actually own these vehicles.  We are not a reseller, but a campervan hire company based in Sydney.  Therefore we have the service schedules and know the history of these great campervans for sale.
Another point often overlooked is our "try before you buy" scheme.   Therefore it allows you to rent the vehicle for one week before you buy it.  If you don't have the time for this, then, of course, you can go for a long test drive and make sure it's right for you.  We are confident you will love this campervan, and call Shaun on 0421101021 to arrange a test drive or ask us a question.
Toyota Campervan Specifications
Here is a quick overview of the specifications of this ex-hire Toyota Hiace campervan.  As can be seen, they are packed full of features and have that world-famous Toyota reliability!   These 3 Person Campervans are known as being great value for money and have many positive customer reviews.  Everyone mentions how good the combined kitchen and lounge space is for cooking and entertaining.   A point often overlooked by potential buyers is how practical is the layout of the kitchen/lounge area?
Many people focus on the sleeping spaces, but the living area is essential if you are going to enjoy using the campervan on a regular basis.  This combined kitchen and lounge space allows you to cook and entertain at the same time.  These features alone make all the difference!  Another positive point is there are plenty of windows to open up space and create that important cross ventilation.  These are important little things that all add up and make this campervan the right choice for you.
Toyota Hiace Kitchen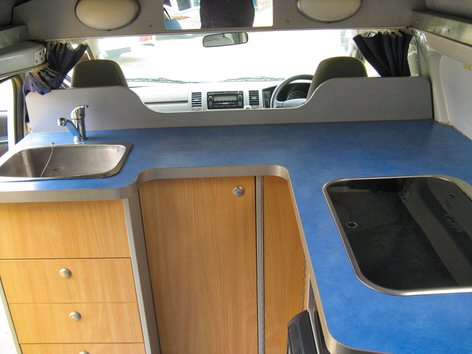 These ex-hire Toyota Hiace campervans for sale have a well-designed kitchen.  It has clean lines, and very easy to use.  For one thing, there is plenty of room to prepare and cook tasty meals inside the campervan.  Once again many of our customers comment on how usable space is.  One of our customers stated, "The kitchen and lounge is a combined area so that you can cook, chat and relax with friends all at the same time.  This makes living and entertaining inside the campervan great fun!"
The Kitchen space – easy to cook and keep clean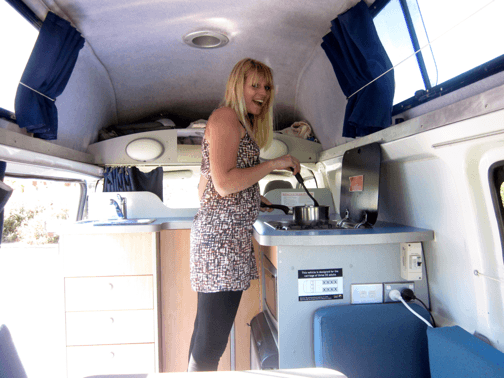 Firstly, there is plenty of worktop space to help you prepare your veggies before you start to cook.  Secondly with the large side door and windows open you can create a nice cross breeze ventilation.  Thirdly, there is plenty of room to cook on the two-burner stove which makes cooking nice meals easy.  Another key point to note is the refillable safety gas bottle is housed outside of the campervan.  It is a standard 4kg gas bottle and cheap to refill. 
When you stop for fuel at any service station you can either refill or swap the gas cylinder.  Once again this makes cooking in the campervan not only practical but safe.  The gas bottle which is housed on the outside of the campervan has an on/off switch.  Therefore when driving or sleeping at night you can switch off the gas for added security.

Toyota Campervans come with a 55L fridge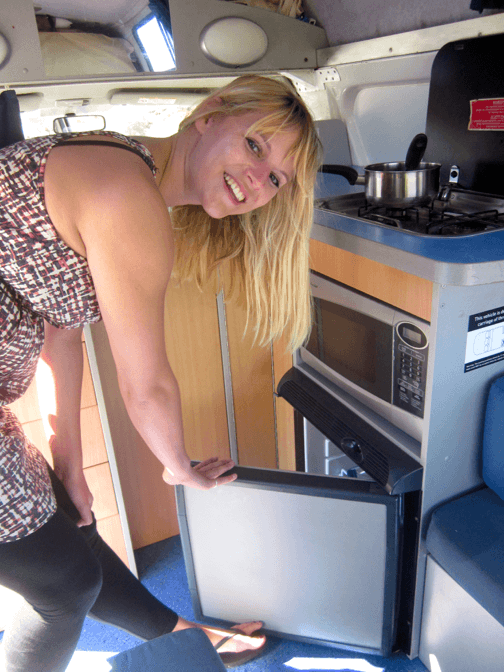 All our ex-hire Toyota Hiace campervans for sale come with a 55L fridge fitted as standard.  To begin with, Australia is a hot country and a fridge is an essential item!  Many of our customers are always sending us updates on our Facebook and Instagram pages from their travels around Australia.  They all mention just how good the fridge is on the road!  It has enough space to store your food, some beers and a bottle of wine or two! The practical fridge is powered by a two-way battery system which is simple to use.
Many people contact us to ask how the two-way fridge works, and this is very easy to explain.  When you are driving in the campervan the engine will send power via the alternator to recharge both batteries inside the campervan.  As you drive the camper it will recharge the second battery which powers the fridge and the internal lights.  If you are planning on staying for a few days in a campsite, then you can also use the power cord and then the fridge will work continuously.

The view from the lounge area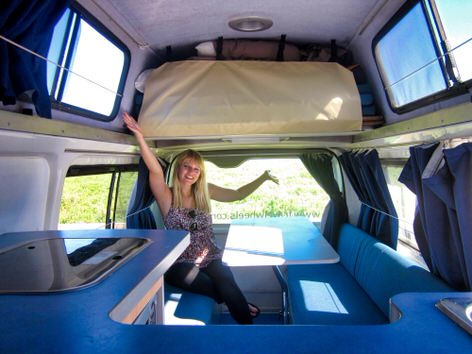 The rear lounge in this ex-hire Toyota Hiace campervan for sale is fantastic.  There is plenty of room to chill, relax and enjoy the campervan in the sunshine.  The amble number of windows flood the area with light.  Check out all the windows making it easy to create a cross breeze and enjoying relaxing in this space.   You can easily sit four friends around this table eating or enjoy a bottle of wine by the beach.
A room with an amazing view!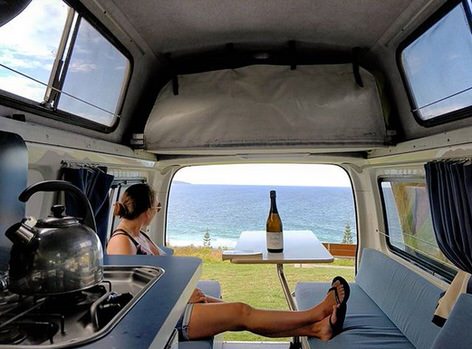 These ex-hire Toyota Hiace campervans for sale have plenty of windows to let light flood in. This practically designed campervan gives you an amazing lounge space to really soak in those views of this amazing country we all call home.  Check out for instance how the rear tailgate opens up the lounge to the great outdoors.  Another great feature of this practical design is when the tailgate is open it acts as a fantastic mobile mini awning and give you some shade from the hot sun.  It's the perfect place to enjoy a bottle of wine and soak in those magical views.
The rear lounge area converts to a double bed!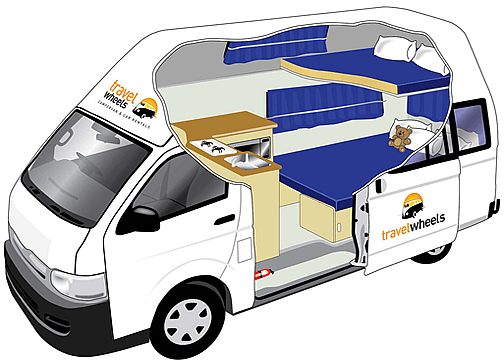 Now it is time to focus on the sleeping arrangements in this ex-hire Toyota Hiace campervan for sale. However, before we start, let begin with a very important question, how easy is it to make the beds in this campervan?  Firstly as a result of an intelligent design, the beds are super easy to convert from benches into beds.
Two beds inside camper (one double and one single bed)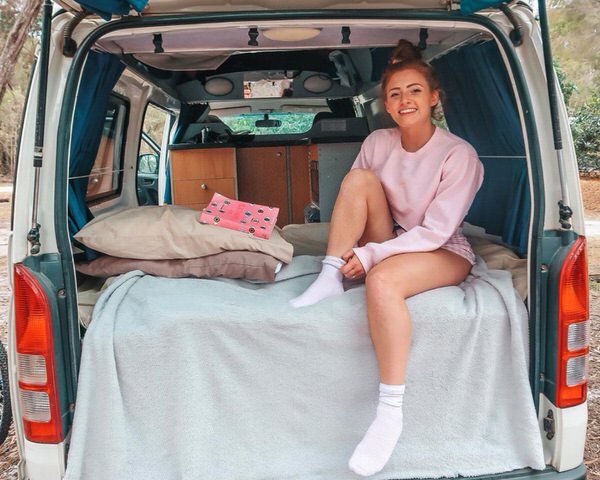 This ex-hire Toyota Hiace campervan is perfect for a couple or three adults.  The camper offers you the flexibility to sleep up to three adults in comfort inside the campervan! It's very easy to make beds.  All you have to do is remove the table and the two benches convert to a comfy double bed (1.85m x 1.55m). It also has a single bed in the HiTop roof 1.60m x 1.4m (max weight for roof bed is 200kg).  All the beds have wind0ws on either side of the van to give you that all-important cross ventilation. Another key point to note is that all windows and doors have curtains for privacy in the rear of the campervan.
Toyota Campervan Specifications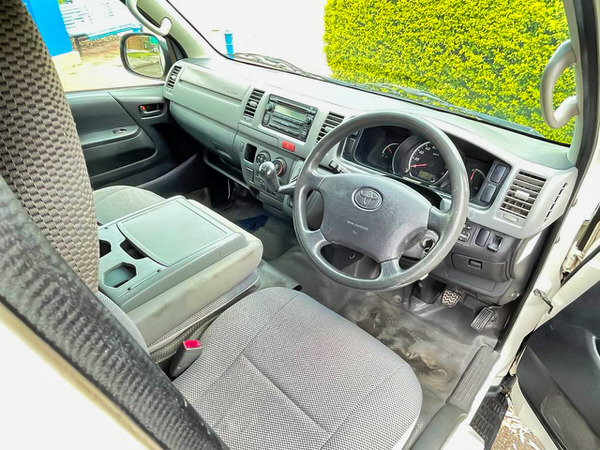 Time for a quick recap on this great ex-hire Toyota Hiace campervan for sale.  It's the perfect choice for a couple looking for a quality comfortable used Toyota campervan.  Has everything you need to get you started on exploring Australia with style.  Here is some more detailed information about this Hiace campervan we have for sale at our depot in Sydney:
Make: Toyota
Model: Hiace HiTop Campervan
The year: 2007
Air conditioning
Central Locking
Spacious kitchen with fridge, stove and microwave
Has onboard water tank and powered sink in the kitchen
Double Battery System for the fridge, interior lights and water pump
Security and privacy at night time with curtains on all windows
Australia is a hot country!  Flyscreens on the roof windows and on the sliding door.
Two comfortable benches and table that convert to double bed at night time
Comes with all the living, sleeping and camping equipment you need
Twelve Month Warranty on engine and transmission
One year Road Assistance included
Guaranteed Buyback up to 50% of purchase price valid for one year
Pink slip
Six-month Registration
Why buy from travelwheels campervans in Sydney?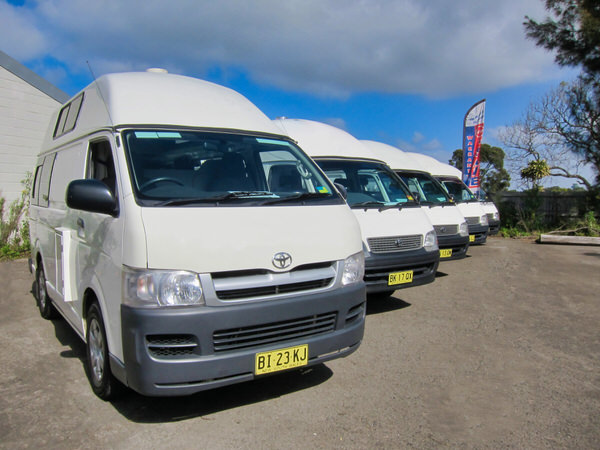 There are plenty of good reasons why you will want to seriously consider buying a campervan from Travelwheels.  Firstly all our ex-hire Toyota Hiace campervans for sale are fully checked, serviced and tested before sale.  Remember we have been hiring Toyota campervans in Australia for over fifteen years now.  We know what works, and how to maintain and fix them!  Our range of ex-rental Toyota Hiace campervans is clean, fully serviced and ready to go! To summarise you get the following benefits included in the price when you buy from us:
One year Australia warranty on engine and transmission included with every campervan sold.
24 hour, 7 days a week, Australia wide roadside assistance included
Guaranteed buy back up to 50%
Twenty years of experience in buying and renting Toyota Campervans in Sydney
Try before you buy!  Rent the camper for a week and then buy to make sure you are happy
We speak Deutsch!
Roadworthy Certificate (Pink Slip)
12 Months Warranty on Engine & Gearbox,
24 /7 Roadside Assistance
Help with purchasing Third Party Insurance
Guaranteed buyback up to 50%
Similar used campervans to consider
These used ex-hire Toyota campervans for sale are a very popular choice with our customers.  For one thing, they are always sought after vehicles for those people looking for good value for money campervan.  If for instance, this one has sold out, then don't worry.  We get new stock in every week, so definitely worth giving Shaun a call on 0421101021 to get an update on new vehicles arriving soon.  Here are a couple of more options to consider:
Have a question, contact Travelwheels today!
For more information about this ex-hire Toyota Hiace campervan for sale, feel free to email us at [email protected]. You are more than welcome for example to pop down to our depot in Sydney and go for a long test drive.  Call the team on 0421101021 or visit us at  11-15 Clevedon Street, Botany, 2019, Sydney.
We are always here to help you in any way we can.  Send us your questions about this camper and see how knowledgeable our staff are about these great ex-hire Toyota Hiace campervans for sale at our head office in Sydney.