Ex-Rental used campervans for sale
Ex-rental used campervans for sale in Sydney – Travelwheels
Travelwheels campervans have a wide range of ex-rental used campervans for sale in Sydney.  We are specialists in selling off ex-hire campervans at great prices!  This is a great opportunity to call our team on 0421101021 to have a chat about buying a campervan.  You are welcome to pop over to our office in Sydney and test drive any vehicle.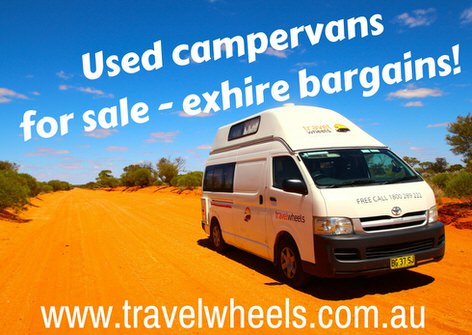 All our ex-rental used campervans for sale are professionally deep cleaned.  For example, we remove all the stickers from the side of this Toyota Hiace campervan. They all come fully serviced and ready to go!  You are welcome to come here to our depot in Sydney and test drive one anytime!  Below is a picture of one of the campervans we have for sale at our Sydney office.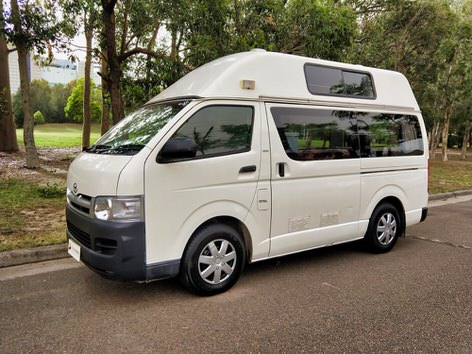 Ex-rental used Campervans for sale Sydney
If you are looking for ex-rental used campervans for sale in Sydney, then Travelwheels campervans is the place!  This used Toyota Hiace ex – rental used campervans for sale are great for 2-3 people to travel in style. It comes with a great fitted kitchen, two benches and a table which converts to a comfy big double bed at night time.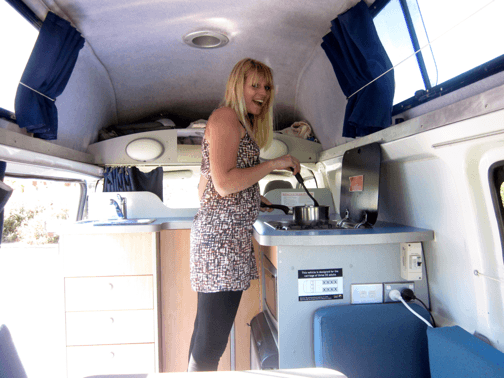 We only sell Toyota Hiace Hitop Campervans
These ex-rental Toyota campervans are the number one choice in Australia!  They are wildly popular on the second hand market and especially hold their resell value!  We have plenty of happy customer reviews from people like you who wanted to buy an ex-rental campervans for sale.  Travelwheels campervans for example only rents out Toyota Hiace Campervans.  We don't rent any other brand as Toyota is so respected here in Australia.  They are especially known as being reliable and durable.  They are the perfect used campervan for Australia.  If you are looking for ex-rental used campervans for sale, then Toyota is best option for you.
Main features ex-hire Toyota used campervans for sale
These Toyota ex-hire campervans have everything you need for a fantastic holiday here in Australia.  Here is useful graphic showing all the main features.  These campervans are especially great value for money!  This is our number one best seller here in Australia.  Take a look inside our Toyota 3 Person Campervan and see what everyone is talking about!
Contact Travelwheels Campervan Sales Sydney
You can call our office in Sydney on 0421 10 10 21 to see what stock we have left for sale.  Our friendly staff will be here to help you make the right decision, and answer your questions.  Feel free to contact us by emailing Travelwheels Campervans here.  You can also visit our used campervan sales yard in Sydney at  11-15 Clevedon Street, Botany, 2019, Sydney.
Why buy from Travelwheels campervan Hire Sydney?
There are lots of good reasons why you should consider buying a used ex-rental campervan from us.  First of all we don't spend money on expensive adverts in newspapers.  We prefer to deal direct with the customer and pass on the saving directly to you!  We give friendly advice, and offer good value for money campervans. Here are some reasons why buying a used campervan for sale from Travelwheels Campervans is a good idea.
All used campervans come with 12 Month Warranty on Engine and Transmission
12 Month Road Assistance included.
We offer a Buyback Guarantee up to 50% of the resell value within one year.  Call Shaun on 0421101021 for more information.
Every used campervan for sale comes fully serviced and ready for detailed test drive by you or your mechanic.
The vehicle will have 1 Year Registration included in the price
For more information about Toyota in Australia, check out their website Toyota Hiace.
Do you have a question about buying a used campervan?
The team here at Travelwheels loves receiving questions from you guys!  If you have a question about buying a used campervan in Australia, then message us below.  No question is too silly to ask!  Write as many questions as you want and our friendly team will answer all your questions.  If we don't have the right van for you, then we will recommend our competitors as well.  We hope to see you at our depot soon 🙂