Cheap Ex-Rental Toyota Campervan for Sale Sydney Call 0421 101 021
Cheap Ex-Rental Toyota Campervan for Sale Sydney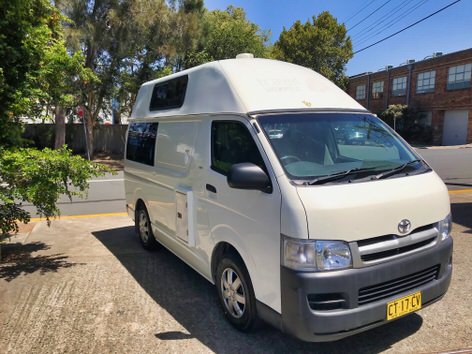 Buying a good value Cheap Ex-Rental Toyota Campervan for Sale is the way to go!  First of all, every year at Travelwheels Campervan Hire & Sales Sydney we sell off a number of our campervans we hire.  Secondly, to give you peace of mind all our used Toyota campervans for sale with 12 months warranty included in the price!  Therefore you are welcome to take any of our ex-rental campers for a test drive.  Call our team on 0421101021 to see what stock we have left for sale!
All stickers removed – deep cleaned and ready!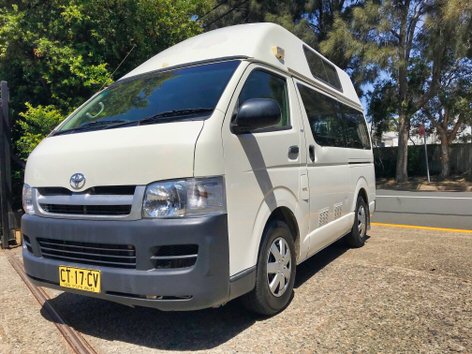 This camper is a great example of a really nice Toyota Hiace Campervan.   Firstly, all the stickers have been removed.  For one thing, you will not find another campervan in this condition at these great prices!  A point often overlooked if you can go for a solid one-hour test drive and make sure it's right for you.  Without a doubt, we are confident you will love this campervan.
Try before you buy!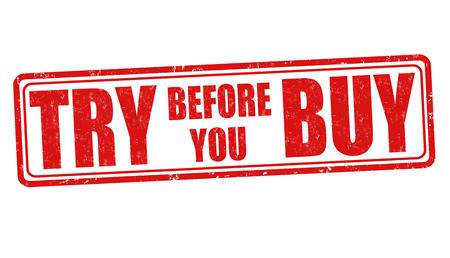 To begin with, you will find this used cheap Toyota campervan for sale in fantastic condition. Therefore our team can proudly offer you our "Try before you buy" scheme. To demonstrate how it works, pop down to our branch in Sydney. Then you can check out the Toyota campervans and jump in and take them for a test drive! What's more, make up the beds and jump in to see how comfortable they are!
Plenty of stock available to test drive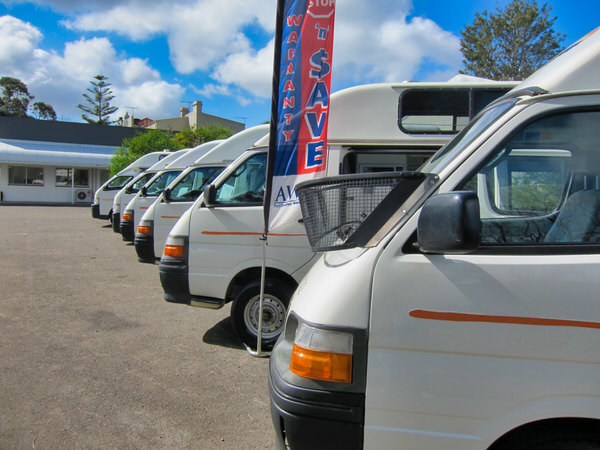 Once you have gone for a test drive, you will be able to rent the vehicle for a week and give it a good test run! This way, you can make sure this campervan is right for you and without a doubt in your mind put down a deposit to secure your purchase. If you decide the vehicle is not right for you, no worries! You just paid the campervan hire daily rate + insurance for the week's holiday. No stress, no commitments and a fantastic way to see if buying a used Toyota campervan is right for you.
To this end, many of our customers have bought a used campervan from us after going for a week's trail holiday. When you decide to put down a deposit to buy your campervan, we deduced your week's rental trail charge. This way, you get to test the vehicle for free if you end up purchasing the campervan. For more information, call Shaun on 0421101021, and he can talk you through our "try before buy" campervan purchase scheme.
Toyota Hiace Campervan saves you money on hotels!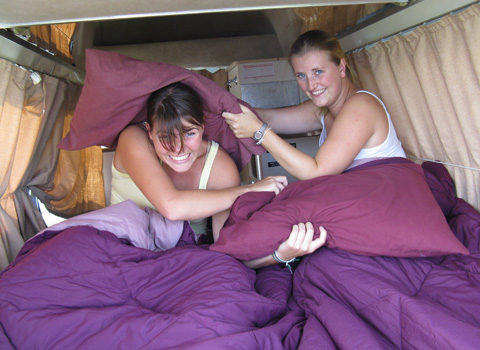 Buying a Cheap Ex-Rental Toyota Campervan for Sale without a doubt helps you to save money!  Therefore imagine how much money you would save on accommodation every evening!  The cheapest double room in Australia is about $80 to $140!  Don't even think about high season prices and with this in mind, you can see how much you will save on a big trip!  To conclude, if you are travelling for months, then we definitely recommend that you buy a used campervan for sale in Sydney rather then rent one.
All ex-rental campervans come fully equipped and ready to go!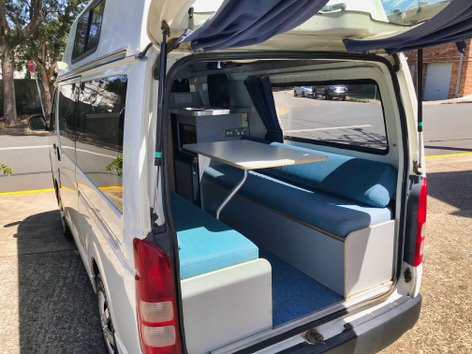 A point often overlooked is that all our ex-rental campervans for sale come fully equipped, serviced and ready to go!  With this in mind, let's see what you get for your money!  To begin with, these Toyota campervans come with a great combined kitchen and lounge area.  Secondly, they have everything you need to prepare and delicious meals.  Come on down and try this cheap ex-rental Toyota campervan for sale, and you will not be disappointed!
Perfect campervan for exploring Australia
These Toyota Campervans have everything to be the perfect campervan for exploring Austalia in style.  The comfy daytime lounge can quickly be converted to double bed downstairs.  Up in the penthouse suite, there is a great single bed for an adventurer!  Remember at night time you have plenty of privacy as all windows have curtains.  Windows can be opened to let in the fresh air and create cross ventilation which is important to cool down at night.  All the windows in the back of this cheap ex-rental Toyota campervan for Sale have fly nets on them which are essential in Australia!
Take a look inside this great Toyota Hiace Campervan
Toyota Campervan for Sale main features
Buying ex-rental campervan in Australia is the perfect choice for a couple or 2 to 3 friends looking for adventure and travelling in comfort. Here is some more detailed information about this cheap ex-rental campervan for sale with Travelwheels Used Campervan Sales:
Make: Toyota Hiace
Model: Toyota Hiace HiTop Campervan
Year 2007
Air conditioning
Central Locking
Spacious kitchen with fridge, stove and Microwave, Sink & water tank
Double Battery System for the fridge, interior lights and water pump
Comes with all the living, sleeping and camping equipment you need
Twelve Month Warranty on engine and transmission
One year Road Assistance included
Buyback Guarantee up to 50% of purchase price
Pink slip
Six-month Registration
Contact us for Toyota Hiace Campervan Sales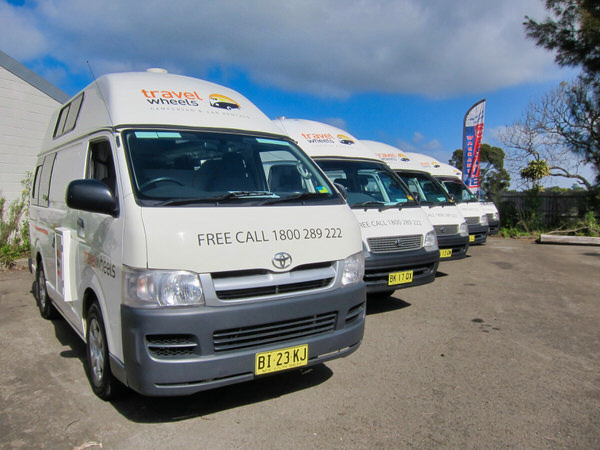 If you need more information about this cheap ex-rental Toyota campervan for sale, feel free to call us on 0421101021.  You can send us an email at [email protected].  Why not visit our Sydney campervan sales branch at = 11-15 Clevedon Street, Botany, 2019, Sydney  Our friendly Travelwheels team is always happy to help.  You will be welcomed anytime to visit us and have a chat about buying a used Toyota Hiace.
Have a question about buying a used Toyota Hiace Campervan?
If you are thinking about buying a cheap ex-rental Toyota campervan for sale and have a question, then here is your opportunity!  Please type us your questions below and message us today.  For one thing, our friendly team will do our best to answer all your questions.  If you are not an email type person, then simply call Shaun on 0421101021 to have a chat.  He has had over 20 years of experience in selling these campervans.  He knows just about everything there is to know, so call and ask him a question 🙂