Small Toyota Campervans for Sale Sydney – Automatic 2 Person – REF: DC41QE
Used Small Toyota Campervans for Sale in Sydney – Automatic!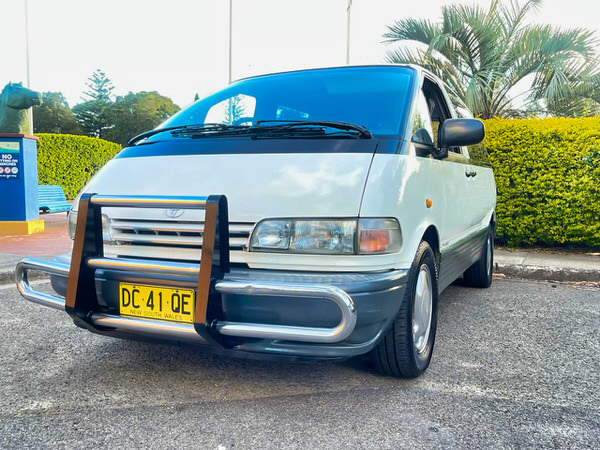 These great ex-rental small Toyota Campervans for sale at our depot in Sydney are fantastic practical campervans.  Firstly it is a Toyota, so you know it will be reliable!  It has been designed to have everything you need to be comfortable on the road exploring Australia!  Super easy to park and drives like a car and sleeps like a campervan! Comes with a double bed, fridge, sink, cooker, storage and loads more!  Give Shaun a call on 0421101021 to arrange a test drive today!
Looks like a normal car, but it's a campervan!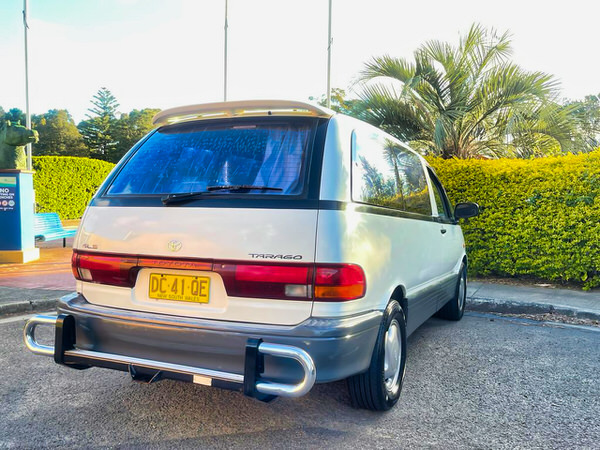 Another super positive point to note is the lack of graphics or silly colours. Some of the campervan hire companies selling ex-rental campervans come in very usual colours or have ugly stickers all over them.  We hate this here at Travelwheels Campervans.  We prefer to be more low-key and all our used campervans are normally white.  This colour scheme allows you to blend in with the crowd and not stand out when parking up at remote locations.
It might look like a normal car to most people, but instead, it is one of our fantastic small Toyota campervans for sale at our depot! It is such a practical option for anybody wanting to use it as an everyday driver as well.    Therefore if you need to use it to drive to work, it handles more like a car than a campervan.  It's practical and easy to park small campervan.  It has everything you need and is clean and ready to travel today!  Just call Shaun on 0421101021 to go for a spin today.
Everything you need in a small campervan!
Everything you ever wanted in a small used campervan is here!  This fantastic used small Toyota campervan for sale is well made, reliable and perfect to explore Australia. Many of our positive customer reviews for this campervan often talk about just how easy it is to drive.  Yes, it is a compact campervan, but it feels like you are driving a car rather than a big boxy campervan!
It comes with a professionally made kitchen in the back with a fridge, cooker, sink and worktop space to prepare food.  The lounge area has been well designed and has two comfortable benches and a movable table that quickly converts to a double bed.
If you are in the market for a small Toyota campervan for sale, then give Shaun a call on 042101021 and arrange a test drive today!  As soon as you try it out for yourself, then you will see just how practical and fun this compact Toyota campervan is.
Let's look at the daytime configuration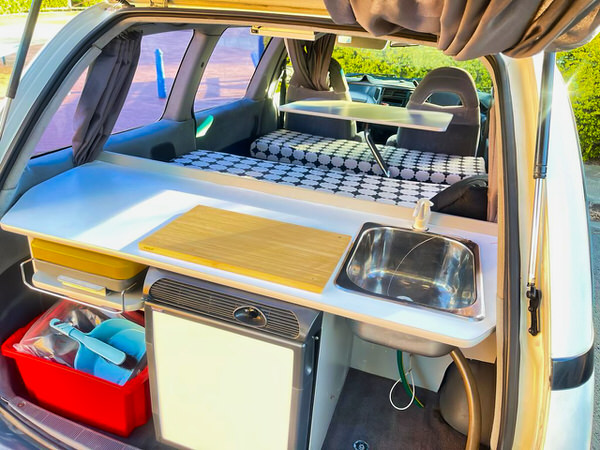 Now, let's look at the daytime configuration for these small Toyota campervans for sale.  Straight away you can see it is a practical and easy to keep clean design.  It has everything you need to hand, and nothing that adds clutter or complicates things.  We designed this campervan to be a joy to use and have built-in storage under the seats.
Practical hidden storage areas in this campervan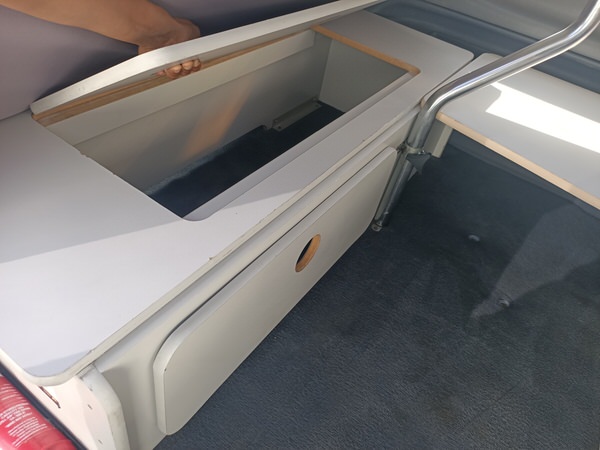 As this is one of our small Toyota campervans for sale, we know that storage is critical.  We have designed this model to have hidden storage inside this ex-hire Toyota campervan.  There is room to store your gear under the two comfortable bench seats.  This hidden storage comes in very handy when visiting the beach and you want to hide phones, laptops or cameras for example.
Comfortable easy to clean bench seats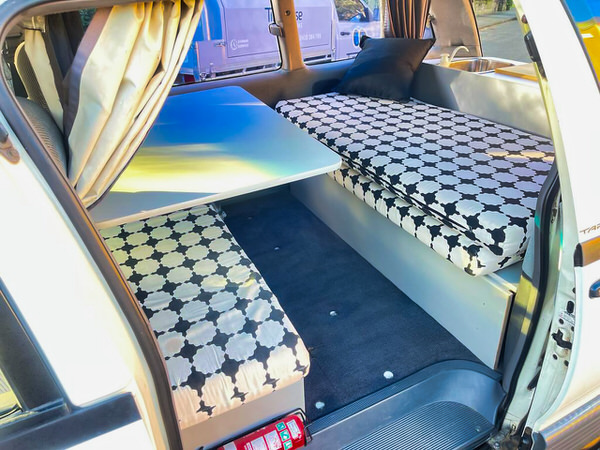 We have comfortable and easy to clean bench seats in these small Toyota campervans for sale. As you can see from the photo, the bench seat cushions look comfortable.  Another bonus is the cushions can be removed and can be cleaned in a standard washing machine.  There is no need to take them to a specialist cleaning service.  The cushions are comfy as they become the base for the double bed in the back of the campervan.
The best thing to do is to call Shaun on 0421101021 and pop down to our used campervans for sale depot in Sydney.  Once you get here, you can see how comfortable these seats are and have a go at making the beds.
Small campervans for sale with double bed in the back!
Now, let's talk about one of the most important things in a campervan, how comfortable is the bed!  Not having a good night sleep is not a great way to enjoy your holiday!  You are super lucky with this design as the bed in these small Toyota campervans for sale are really good.  The bed is super easy to make and you can make it in less than 90 seconds!  All you have to do is remove the table and move a couple of cushions and that is it!
What is the size of the bed in this Toyota Campervan?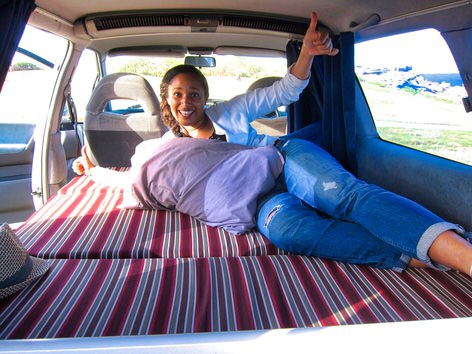 Here are the dimensions of the double bed in our Toyota 2 person campervan 1.70m x 1.35cm.  All our campervans for sale or hire have curtains on all the windows for privacy in the rear of the campervan.  The sliding windows on our campers have flyscreens to let in air and keep the flies out! This practical design is a winner for anybody looking to buy a used campervan in Sydney.
If you are taller than 1.7m, then you will find this bed a bit of a squeeze, to be honest.  Therefore, for our taller customers, we have two options and both are the Toyota high roof campervan models.
Main Features inside this Toyota Campervan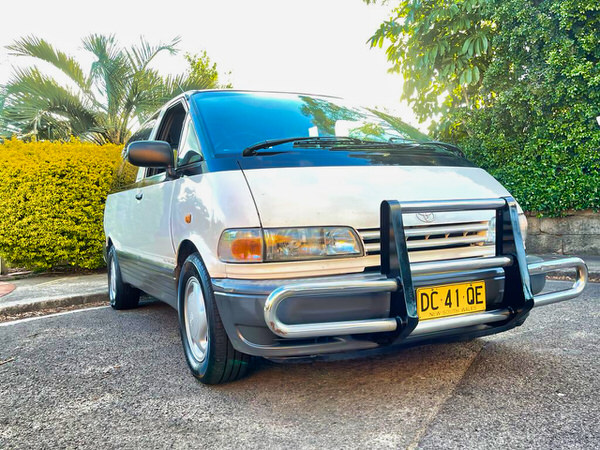 These small Toyota campervans for sale are the most popular small automatic campervans we sell in Sydney.  Our customers love them due to their compact size and having everything you need right at your fingertips.  Easy to drive, comfortable and great for road trips along the east coast of Australia.  Let's have a look at the main features inside these small Toyota campervans for sale:
Proper 35L  professional grade fridge – not an icebox!
Sleeps and seats two adult
Comfortable double bed (1.70m x 1.35m)
Automatic transmission
Air conditioning and power steering (easy to park up)
2 x burner gas stove & 2 kg gas bottle
2 x bed linen, sleeping bags and folding chairs included
All cooking equipment included
Ten-litre water tank and a sink for washing/cooking
Dual battery system for the fridge and internal lights

Here is an example of one of our ex-hire two-person campervans
We also sell a larger 5 Person Toyota Automatic Campervan for sale as well
If you need any more help or want further information about these small Toyota campervans for sale our friendly team can help you.  We are here to find you the right used campervan at a good price and back it up with good old fashioned Australian service. We will help with the registration, third party insurance, and all the necessary paperwork to get you on the road asap. You can call Shaun on 0421101021 for more info and we are happy to help.
Kitchen Configuration
The kitchen inside our small Toyota campervans for sale is easy to use and easy to keep clean!  We spent a lot of time designing the new kitchen layout and removed all the unnecessary items.  This new design means we only left the stuff you actually use on a daily basis!  What you do get is a decent sized fridge, a proper two-burner cooker, worktop space and a decent sized stainless steel sink and water tank.
Two burner cooker with standard 2kg gas bottle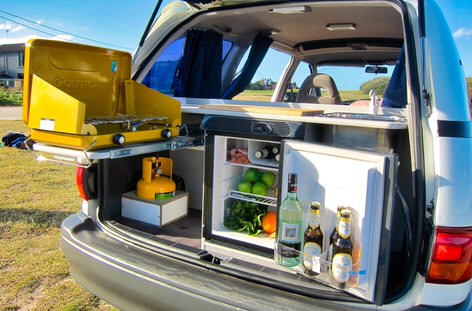 Our Toyota small campervans for sale come with a proper two-burner gas cooker.  Many of the used campervans for sale only have one of those cheap single burner portable stoves with those tiny gas canisters!  The first thing to remember with those single burner cookers is these canisters run out quickly!  You can get through them super fast and are expensive to re-purchase!  We do things differently here at Travelwheels.
First of all, you get a decent quality two gas burner stove.  This way you can for example cook pasta on one burner and a sauce on the second burner at the same time!  The gas bottle is a standard 2kg size and you can easily swap it out safely and securely. Just pop into any campsite or Petrol station and you will be able to swap over your standard 2kg gas bottle in minutes.
35L Fridge and two-way battery system and not a tiny icebox!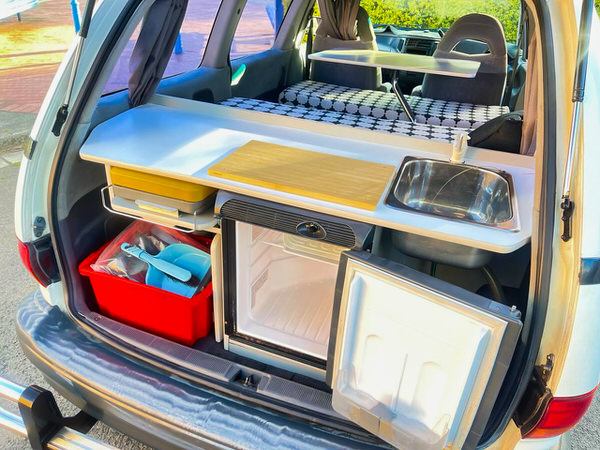 Firstly, when you are looking to buy a used campervan, make sure you find out about how the fridge is powered!  We seriously recommend spending some time reading up and finding out if the vehicle comes with a decent size fridge and a two-way battery system to power it! A lot of used campervans only have an icebox, esky or even a tiny fridge powered by the cigarette lighter!  With travelwheels used campervans, you get a professional-grade 35L fridge which has been made especially for the campervan market.
Includes a second battery to power the fridge
In addition, we also add a second battery whose sole job is to power the fridge at night time. When you are driving during the daytime, the campervan will charge up both batteries inside the vehicle. This two-way battery system allows the fridge to recharge while you are driving during the day.  This way you can prepare and cook your meals in this kitchen quickly and keep things cold.
Why buy a used Toyota Campervan from Travelwheels?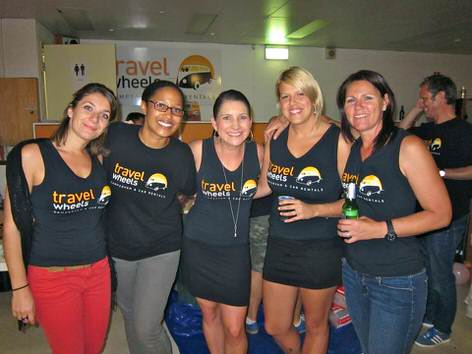 There are plenty of good reasons why you should consider buying a used Toyota campervan from Travelwheels.  Firstly, we have over fifteen years of experience in hiring Toyota campervans across Australia!  We know what works, and how to maintain and fix them!  Our range of Toyota ex-rental campervans are fantastic value for money, and you will get peace of mind knowing we are always here to help.
We want you as a customer for life and not for just one sale!  Advertising is expensive and super competitive.  Because of this fact, we do not spend loads of money on paid adverts and instead invest the time into a good product.  We back this up with friendly knowledgeable staff who are more than happy to help you.  We offer a try before you buy scheme and tests drives are always welcomed here. To summarise you get the following benefits included in the price when you buy from us
All used campervans for sale have 12 months warranty included
Will be professionally deep cleaned and all stickers removed
Guaranteed buy back up to 50% valid for one year
24-hour roadside assistance included
Try before you buy options available
Test drive as many campervans as you like for free
Welcome to test drive any Toyota Campervans for sale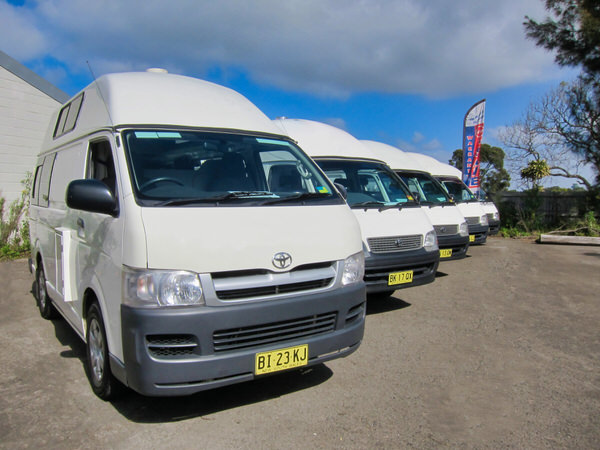 It is very important you can touch, feel and drive any of our used Toyota small campervans before even thinking of buying one!  You are more than welcome to pop by our Sydney campervan sales centre to test drive any of our used campervans.  We also know that buying a quality used Toyota campervan is an investment. Therefore under these circumstances, we understand it will take you time to make the right decision.
You are more than welcome to test drive as many of our used campervans at our depot here in Sydney.  The first step to take is to pick up the phone and call Shaun a call on 0421101021.  He can talk you through all your options over the phone and arrange a time to pop down to test drive some of our great used campervans.
All campervans available to hire before you buy
All our Toyota campervans for sale are available to hire before you buy the actual vehicle.  We offer our fantastic "try before you buy scheme" to give you the ultimate peace of mind.  Here is how it works, firstly, you paid a deposit and hire the campervan for say five days (not in peak season).  Then you can take it on a short road trip to make sure you like the campervan.  If you are happy to buy it, then we will refund the hire price against the value of the campervan sale price.  Give Shaun a call on 0412101021 for more information.
Similar used campervans to consider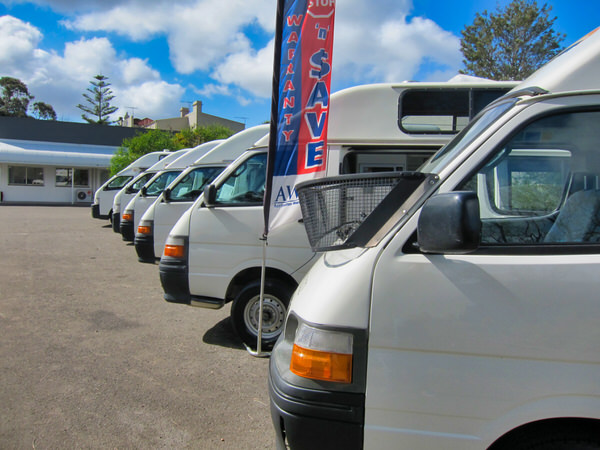 One of the best reasons to buy a used campervan from Travelwheels is our service and our range of vehicles.  If this small Toyota campervan for sale has been reserved by the time you see this advert, then do not worry.  We have other great value for money campervans available for you to buy. As a result of building and constantly updating our campervan hire fleet, we have a supply of used campervans for sale here in Sydney.  Here is a shortlist of some more used campervans we have in stock ready for sale today:
Contact Travelwheels Campervan Sales
You are more than welcome to contact our friendly team to ask us as many questions as you like.  We love selling these small Toyota campervans for sale as they are such great compact campervans.  They tick loads of boxes and hold their resell price due to them being a Toyota campervan. For more information feel free to email us at [email protected] . You can call us here in Sydney on 0421101021 or visit us in our shop at 11-15 Clevedon Street, Botany, 2019, Sydney.