Toyota Automatic Campervan for sale in Sydney – super clean – REF: CY25JK
Toyota Automatic Campervan for sale in Sydney – fantastic condition!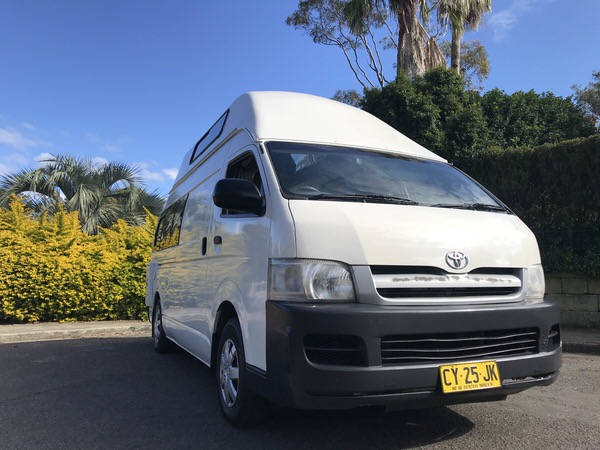 This fantastic Toyota automatic campervan for sale is now available in Sydney!  Firstly these are hard to find in this condition!  Secondly, Travelwheels has recently released a small batch of Toyota automatic campervans to sell directly to the public.  This is a surprisingly affordable campervan when you consider the reliability and the incredible reputation Toyota have here in Australia. Therefore give Shaun a call on 0421101021 to ask a question or arrange a test drive.
Here are the details of this Toyota automatic campervan for sale in Sydney:
Make Toyota Hiace Automatic Campervan
Model Hiace Super Long Wheelsbase Campervan
Model 2007
Stock no: CY25JK
Automatic transmission (super smooth)
12 Month Warranty on engine and transmission
12 Month Road Assistance
Buyback Guarantee up to 50%
Fully Serviced and Checked
All stickers removed and great looking camper!
Industrial deep clean, and ready to go
Comes with a pink slip
1 Year Registration
Air conditioning in the front cab
Central Locking
Two double beds
Fantastic spacious combined kitchen and lounge area
Child-friendly automatic campervan – has two child seat belt points
We also do a smaller version, the 3 person Toyota Hiace campervan for sale as well
If you have any more questions about this camper, just ask!  Remember these Toyota's are Australia's number one used automatic campervan. Without reservation, they are definitely the dominant market leader!  It's easy to see why they are out front, so give Shaun a call on 0421101021 to arrange a test drive.
Super clean, fully serviced and ready to go!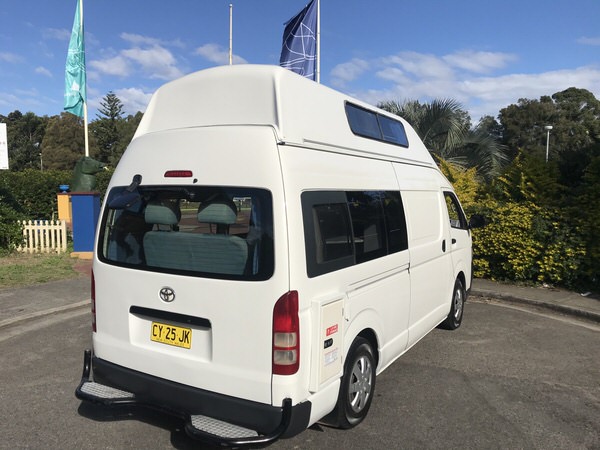 This Toyota campervan has gone through our after-sales program and as can be seen, is ready to go!  It has been fully serviced, been on various test drives and deep cleaned ready for you to buy this great camper.  We welcome you to test drive it, as we are super confident you will love it.  With an automatic transmission and a comfortable riding position, it will eat up the miles!  Anybody planning on doing a big trip around Australia, then this is the best campervan for you.
Used Automatic motorhomes for sale in Sydney details:
When looking to buy an automatic campervan, Toyota sets the standard.  As can be seen, nobody comes close to Toyota reliability and functionality!  In comparison to the competition, there is no substitute for Toyota Hiace quality!  The reliability and comfort are unparalleled in the Australian market!  Take a look inside out five-person Toyota automatic campervan for sale and see just how good it is:
Fantastic Kitchen, super practical
This Toyota automatic campervan has been engineered to have a combined kitchen and living area.  There is plenty of room to cook, entertain and enjoy this comfortable space. What's more, the kitchen/lounge area has been designed to have an extended high roof.  There is plenty of headroom to move around, and even a basketball player could cook inside the camper!   This is a point often overlooked and without a doubt a big selling point in this campervan!  Add on top the useability of the combined kitchen and lounge area makes it easier to entertain in one communal space.  This way you can cook, chat and relax with friends all at the same time.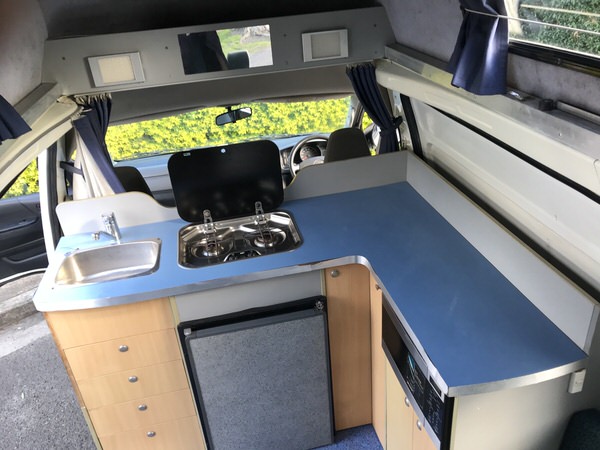 This vehicle is perfect for anybody looking to buy a spacious automatic campervan.  We have plenty of happy customer reviews stating how practical and usable the campervan is.  Take for example the design of the "L shaped" kitchen means there is plenty of worktop space to prepare food.  If you love to cook, then this is the Toyota campervan for you!   It comes with a two-burner gas stove which is easy to use and clean!  After you have finished cooking, you can close the lid and this gives you more worktop space and creates clean lines.  Another key point is the refillable gas bottle which is housed outside of the van for added security.   The fuel to power the cooker connects to a standard four kg gas bottle.  You can refill or swap out the gas bottle at any service station in Australia.

Great lounge area – super comfortable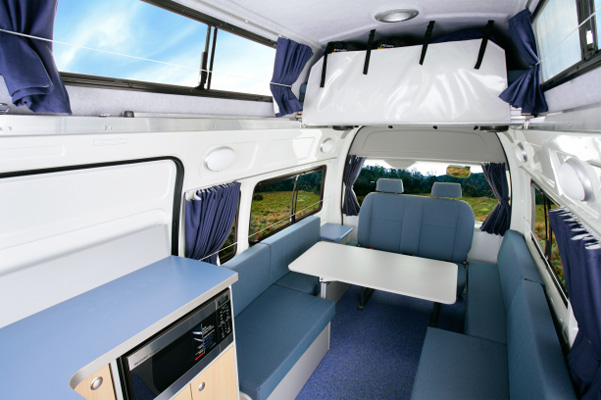 After you have been exploring all day, you can come back and relax in the comfortable lounge area. The long sofa benches inside the campervan are so inviting!  Sooner or later you will all be sitting down and chilling with friends and family telling stories over a few beers.  Five adults can sit comfortably in the lounge around the table playing cards, eating food or enjoying everyone's company. It's a great space for entertaining and enjoying the freedom of exploring Australia by campervan.
Kitchen and lounge area video
You are welcome to pop to our depot and ask questions and go for a test drive.  Give Shaun a call on 0421101021 and he is happy to answer questions and arrange a test drive.  Here is a video of the great features in the kitchen and lounge area to give you an idea of the space inside.  These Toyota automatic campervans are our best seller camper for families or people who want a more spacious and comfortable campervan to tour Australia.
[youtubevideo id="WDKGtFyBBV4″ height="450px" width="800px"]
A hotel on wheels with 2 double beds!
This comfortable hotel on wheels has two double beds!  After an enjoyable day out with friends, sooner or later you will be heading off to sleep.  Some campervans have a difficult or awkward fold-out bed system which is incredibly frustrating to make every evening!  This can really spoil your enjoyment of a campervan!  This is why you see many campervans parked on people's driveways! Not with this, well designed Toyota campervan!  For one thing, you will quickly realise just how easy it is to make the beds in this campervan!  Take the bottom bed for example which is enormous! It literally takes less than ninety seconds to make the large double bed.   A lot of campervans have small or cramped beds, but not this Toyota!
2 x double beds and flexible sleeping arrangements
To begin with, the size of the bottom bed in this camper is 2.1m long x 1.7m wide. Without reservation, there is plenty of space to relax and enjoy a good night's sleep!  In addition, the top bed is big enough for two adults in the penthouse suite and the size of the bed is 2m long x 1.37m wide. Kids, for example, love climbing the ladder and sleeping upstairs in the penthouse! These campervans are so popular with families here in Australia! It's our number one bestseller!  Give Shaun a call on 0421101021 to try out the beds and bring along the kids as they will love this campervan!
Sleeping area configuration video
Here is another video demonstrating the large sleeping spaces inside this camper.  We have many positive customer reviews, and they all love this camper!  They always mention the extra space inside, practical kitchen/lounge and comfy beds.  Have a look at the video to see how big the beds are! The top bed is fantastic for kids, a real adventure! 
[youtubevideo id="W5d8McdaD5o" height="450px" width="800px"]
Buying a used campervan suitable for small children
Can accommodation the following children in this campervan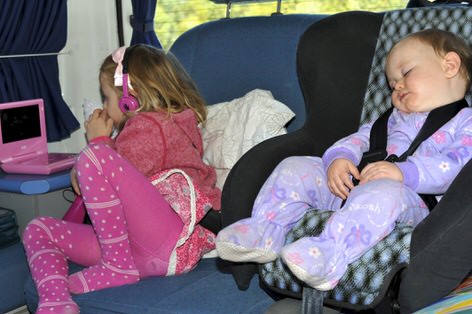 Similar used Toyota campervans for sale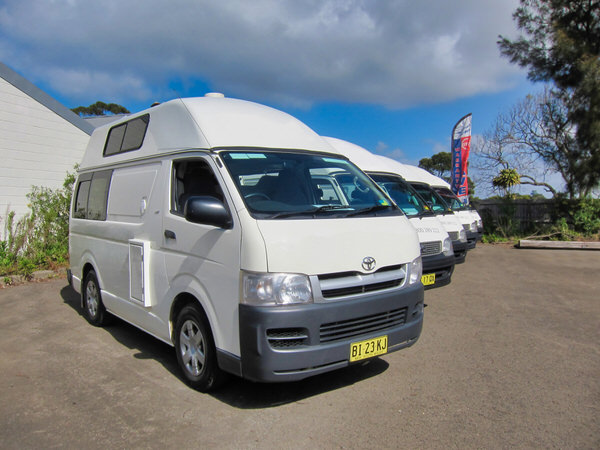 These Toyota automatic campervans are our number one vehicle we sell to families here in Sydney.  They are also the most popular automatic campervan we sell.  They are always heavily in demand and we only have a limited number of these for sale. If this one has sold out by the time you read this advert, then no need to worry. We are expecting some more of these great Toyota campervans and are now allowed to sell them directly to the public. Therefore, it is definitely worth giving Shaun a call on 0421101021 for the latest stock levels.  In the meantime, here are a couple more options to consider:
Why buy a Toyota camper from Travelwheels?
We go through a rigorous pre and post check plan when you buy a used Toyota automatic camper from Travelwheels.  We have been in the campervan hire business for over fifteen years.  With all this experience we know what works and how to keep vehicles well maintained. We suggest making a comparison with our competitors to see who is offering the best warranty and service.  Once you have done this, then you will see why everyone is talking about buying used automatic campervan from Travelwheels.
Registered used campervan dealer in NSW for over fifteen years!
Travelwheels has been a registered motor dealer in Australia since 2002. In the first place, we have years of experience selling campervans, cars and 4WDs across Australia.  Secondly, for example, we have many happy customers and our focus is on making you a customer for life.  Thirdly, our team does spend big money on advertising!  For instance, we cut out the big advertising budgets and without reservations put the focus on providing quality used Toyota campervans which our customers love!  Give Shaun a call on 0421101021 to ask any questions.
Roadworthy Certificate (Pink Slip)
This used Toyota campervan has gone through a full sales pre and post-sales process and is in top condition.
12 Months Warranty on Automatic campervans
Travelwheeels offers a 12-month warranty on our ex-rental Toyota campervans
24/7 Australia-Wide Roadside Assistance
Roadside assistance is already included in the price
Guaranteed buyback up to 50% when you buy a campervan from us
After you're finished travelling we can repurchase the vehicle. Remember, you can always sell the campervan yourself and get more money back, the choice is yours.
Contact us to buy a camper!
Why not give us a call on 0421101021 to arrange a chat or in order to go for a test drive?  You are welcome to email questions to [email protected]. Our staff will be more than willing to answer any questions you might have.  By the way, you can visit our depot in Botany to view and test drive any of our automatic campervans for sale.  We are located at 11-15 Clevedon Street, Botany, Sydney, New South Wales, 2019.
Have a question about buying a camper – ask us below!
If you have a burning question, then send us a message below.  Our team has over twenty years of experience in selling automatic campervans here in Sydney.  Just send us as many questions as you want and we will do our best to answer them for you.  We look forwards to your questions and welcoming you to our depot for a test drive.