5 Person Automatic Campervan Hire & Sales Sydney
Travelwheels campervan sales offer great deals on automatic campervan hire and sales.  We offer low prices on automatic camper rentals and are specialists in selling ex-rental Toyota Hiace automatic campervans direct to the public at great prices.  Call +61412766616 for more info.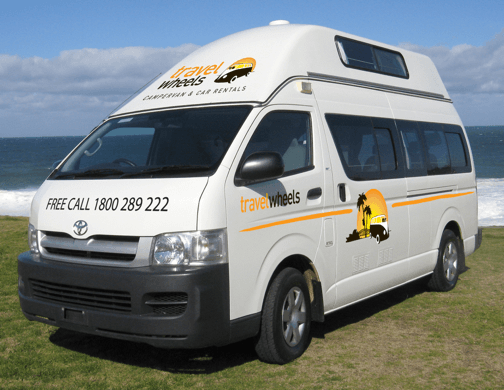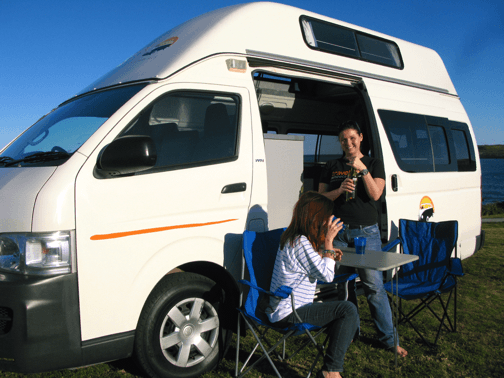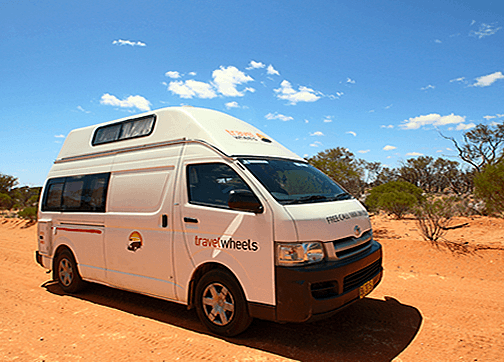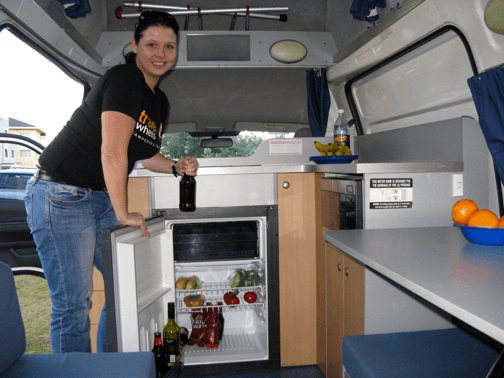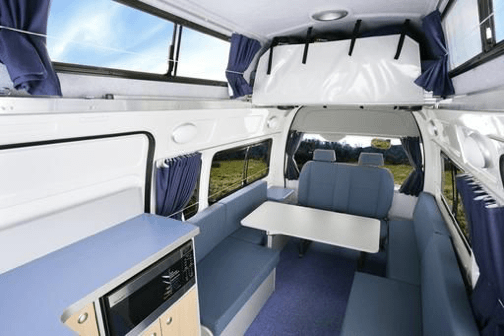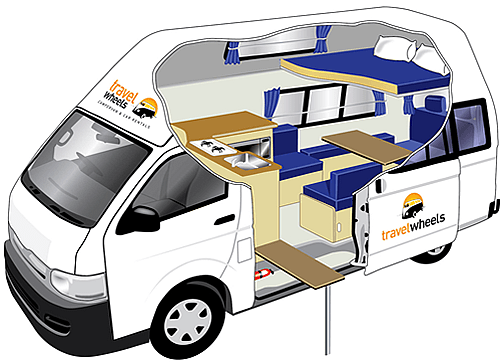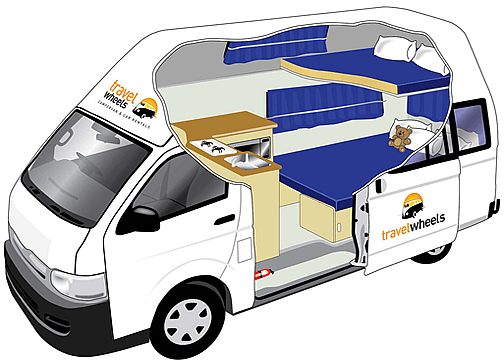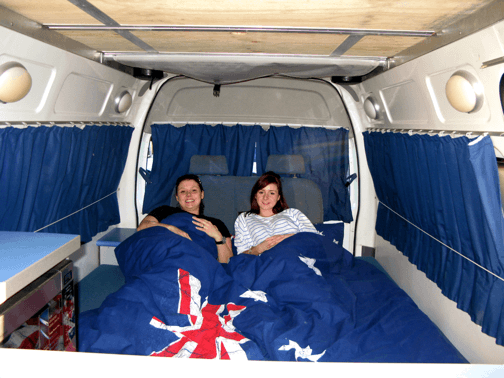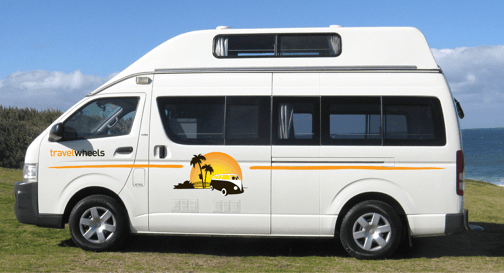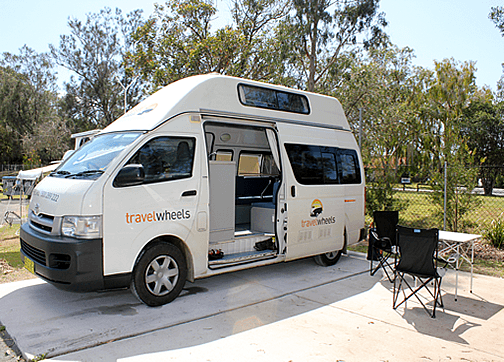 We hire a range of automatic campervans from Brisbane, Cairns, Melbourne, but our head office is in Sydney.  You are more than welcome to pop down to our Sydney depot and try any campervans before you buy or rent a camper. 
If you have a question then give us a call on +61412766616 for our latest specials!

Take a look inside our 5 Person Campervan
Without reservation, this is a great automatic campervan and with this in mind, let's check out the features inside the camper! First of all, the automatic transmission makes long road-trips along the east coast of Australia fun!  Secondly, it has a comfortable driving position, and thirdly three adults can sit upfront when driving.  Another key point to note it is wildly popular with our Australia customers.  Without a doubt, it's easy to see why this camper has such great customer reviews.  To illustrate this point, we always sell out over the busy summer season and school holidays.  These campervans are undoubtedly a winner with groups and families who always book this camper.
Great kitchen and comfy lounge
Here is another positive point to illustrate why these automatic campervans are so popular!  They have been specially engineered to have a fantastic kitchen and living area! Consequently, they have been designed to have more head and legroom inside the camper.  On this occasion, it's probably easier to watch the video below to point out all the great features:
2 x double beds and flexible sleeping arrangements
Here is another video below to demonstrate just how much time and effect has gone into the design of this camper.  As a result of a larger lounge area, these vehicles have bigger beds.  Up to this present day, we get many positive customer reviews said they enjoyed the extras space in the beds!  Have a look at the video to see how big the beds are! The top bed is fantastic for kids, a real adventure! 
Get a quote for a camper holiday in Sydney, Brisbane, Cairns and Melbourne
To sum up, we offer great value automatic campervan hire and sales across Australia. You can rent a camper from the following locations Sydney, Brisbane, Cairns and Melbourne. We always have specials for the East Coast of Australia rentals! Furthermore, we also offer heavily discounted rates to return campervans back to our head office in Sydney!
With a larger fridge, more space in the lounge and a bigger bed, this is a great campervan!  Enter your dates for the lowest prices on East Coast of Australia campervan hire!
Let's focus on the kitchen area in this camper
Another key point which makes this Toyota automatic campervan popular is the extended kitchen/lounge area.  The area has been designed to emphasize the space in the back of this camper.  Hence the kitchen and lounge area has plenty of room for cooking and entertaining.  To illustrate how well-designed kitchen space is, you will find there is plenty of room to prepare and cook your meals. The kitchen and lounge is a combined area so that you can cook, chat and relax with friends all at the same time.
This vehicle is perfect for anybody looking for spacious automatic campervan rental in Australia. As I have noted, the design of the kitchen means there is plenty of worktops space to prepare food if you love to cook.  Secondly, it comes with a two-burner gas stove which is easy to use. Another point to note is the refillable safety gas bottle is housed outside of the van.   The fuel to power the cooker connects to a standard four kg gas bottle.  Therefore when getting fuel for the van at the service station, you can easily swap or refill the gas bottle.
Larger fridge 80L and spacious kitchen
Here is another positive thing to point out, the larger 80L fridge inside the kitchen.  Most campervans for example only have a 55-litre fridge, with our five person automatic campervan hire and sales vehicles you get the bigger fridge! Therefore you have more space to store food and lastly stock up on beers and wine!
Many customers mention having a decent sized fridge is essential!
For the most part, Australia is a hot country, so having a large fridge is an essential item! The fridge operates on a specially designed two-way battery system. Therefore you can recharge the second battery and the refrigerator while you are driving during the day.

One more thing, and with all this talk of cold fridges and hot temperatures, we forgot to mention the
weather in Australia
! 
A point often overlooked here is that Australia does have a wet and a winter season as well!  Therefore it's important to plan your trip to get the most out of the weather.  Therefore contact us and we can help you with planning your campervan holiday.
Here is a question customers ask us about the fridge.
If you are staying at a campsite for a few days, how do you recharge the fridge?
There is a simple answer to illustrate this key question.  You can connect the campervan to the electricity supply at the campsite. There is a cable inside the camper which you can connect to the main supply.  Once you do this, the microwave and power sockets will work inside the camper. You will also be able to charge your laptops, iPads, and phones as well.  To sum up the main features inside, here is a quick recap of the kitchen area:
Large 80L fridge (12V/240V)
2 burner gas cooker
Spacious kitchen layout with worktop space
Microwave (works when a vehicle is connected to 240V mains power)
4 kg gas bottle included
All cooking & eating utensils included in the price for five people:
Pots and pans
Kettle
Knives, Forks, and Spoons
Dinner plates and bowls
Can Opener, Ladle, Cups, Glasses, and other  bits you need
Air-conditioned cabin
2 x 3-point seatbelt
Cigarette charger (suitable for charging phones)
AM/FM radio, CD Player
Bed 1: Dinette that converts to double bed: (1.9m x 1.55m)
Bed 2: In rooftop, suitable for one adult up to 90kg (1.85m x 1.38m)
Storage area under benches
Dual battery system
Fire extinguisher
12v/240v lighting
240v power sockets
If this camper is too big we have other options for two to five people
Looking for a larger campervan see our Toyota automatic campervans
Need a smaller camper, then view our automatic 2 person campervan for hire as well
Spacious comfortable lounge area for five people
After a busy day together with your friends, you can return to this great Toyota Hiace automatic campervan and relax! Take for example the long benches inside the campervan which are inviting.  Sooner or later you will all be sitting down and telling stories over a few beers!  What's more, the movable table can be adjusted to make space feel more comfortable.  A point often overlooked here is that five adults can comfortably sit in the lounge. Therefore, it's a great space to relax whilst preparing food. Plenty of room to sit around the table enjoying a bottle of wine. An excellent space for entertaining and enjoying the freedom of a travelwheels camper hire holiday in Australia!
A hotel on wheels with 2 double beds!
Australian Road Trip Planners – free guides for campers
Planning a holiday to Australia and not sure where to go? Travelwheels staff have lots of
free Australian route planners
with helpful tips. We have guides to Australian weather, maps and travel itineraries. These will help you to plan and book a campervan hire holiday in Australia with ease!
Our roadtrip planners are available in various languages. Check out our
Deutsch
,
Français
, and
Nederlands
website versions you can download. Another good site with travel tips for down under is www.australia.com. Here is a link from them about tips on
planning a holiday in Australia
.
Sydney to Cairns Holiday Route Planner
Here is a link to our popular free Sydney to Cairns route planner to help you plan your adventure.
We can email you a FREE PDF Sydney to Cairns trip planner to help you plan and book your holiday. Click on the button below for your free copy:
Free Sydney to CairnsPDF download - email us
Contact our friendly team for info and advice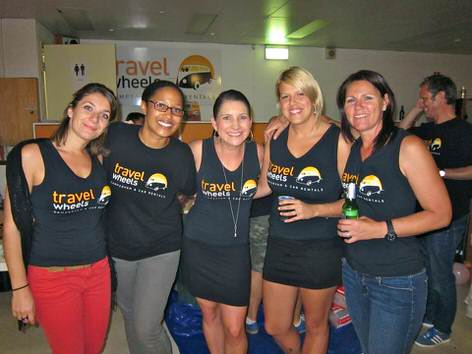 Travelwheels have some great specials on automatic camper rentals at the moment. Why not contact us to book your holiday in Australia. You can call our team on +61412766616 in Sydney to get a good value for money camperhire quote.
Buying automatic campervan suitable for small children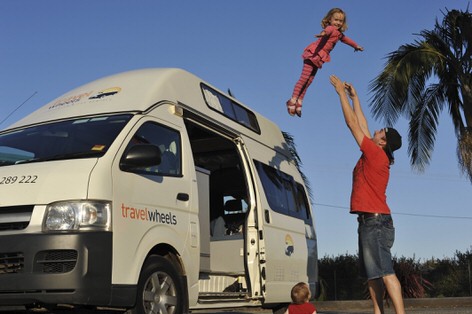 This vehicle can accommodate TWO BABY SEATS (three years and under). It can also take TWO BOOSTER SEATS (least four years or older). This vehicle can not take a baby capsule for the 0-1-year-old child. The anchor points are in the back of the vehicle. You can not fit a baby seat in the front cabin.  NOTE – Baby or Booster Seats must be pre-booked in advance.
Please, can you tell our reservations team the age and weight of your child when making a booking.
Book your camper rental holiday with Travelwheels
Enter your dates below to check out our low prices! We offer two types of vehicles with automatic transmission! A budget two-person camper and this fantastic fiver seater!