5 Person Automatic Campervan Hire Australia
Travelwheels Australia offers great deals on automatic campervan hire. Call us on +61412766616 for specials.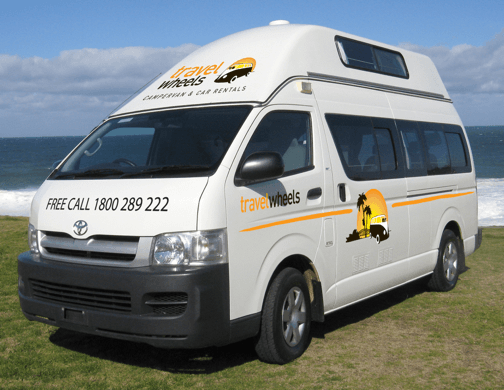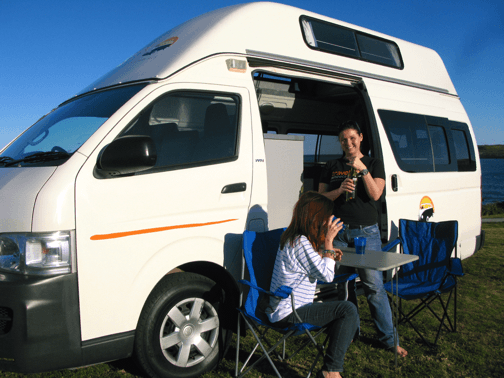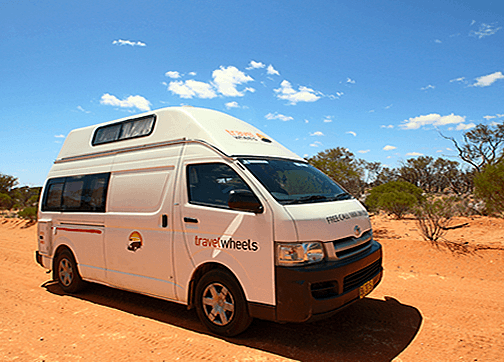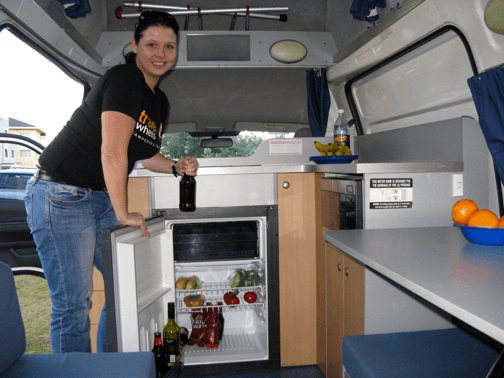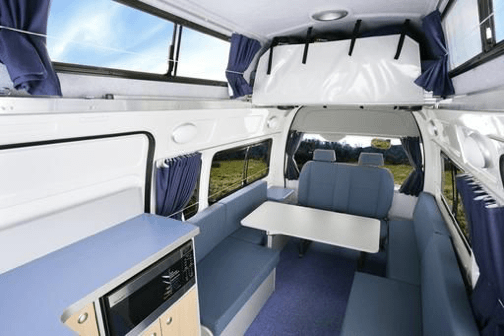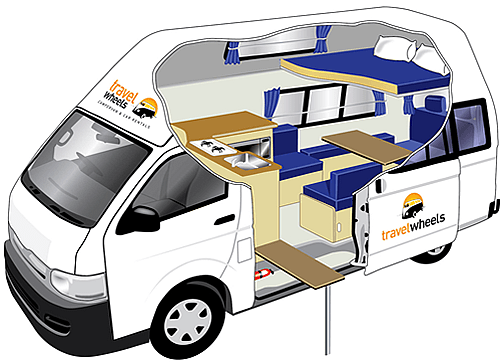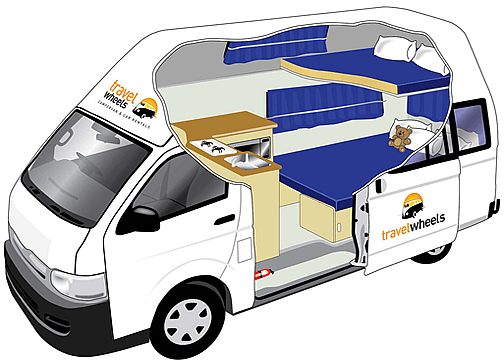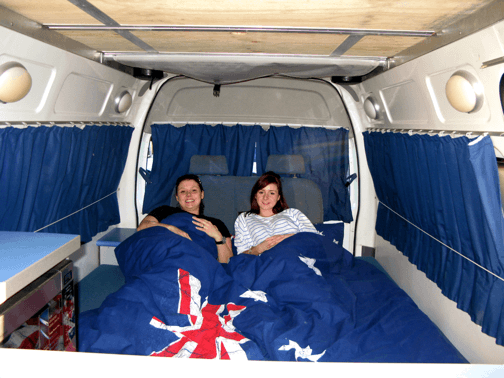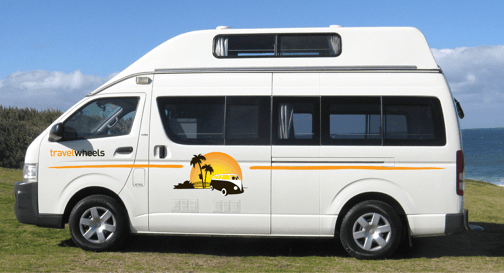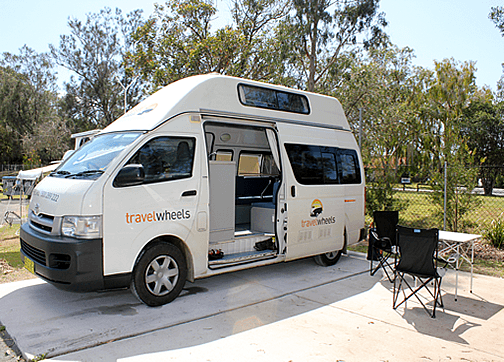 Take a look inside our 5 Person Campervan
Check out all the great features inside these vehicles!  The automatic transmission makes long road-trips along the east coast of Australia fun!  It has great customer reviews and groups and families always book this camper.
Great kitchen and comfy lounge
These vans have a great kitchen and living area! Designed to have more head and legroom, this means more space inside for you!
2 x double beds and flexible sleeping arrangements
As a result of a larger cabin area, these vehicles have bigger beds. Positive customer reviews said they enjoyed the extras space in the beds!
Have a look at the video to see how big the beds are! The top bed is fantastic for kids, a real adventure! 
Get a quote for a camper holiday in Sydney, Brisbane, Cairns and Melbourne
We offer automatic campervan hire across Australia. You can rent a camper from the following locations Sydney, Brisbane, Cairns and Melbourne. We always have specials for the East Coast of Australia rentals!
With a larger fridge, more space in the lounge and a bigger bed, this is a great campervan!  Enter your dates for the lowest prices on East Coast of Australia campervan hire!
Let's focus on the kitchen area in this camper
The kitchen or lounge area has plenty of space for cooking and entertaining.
Larger fridge 80L and spacious kitchen area
With an 80L fridge, you have more space to store food and drinks! The kitchen design makes preparing food a joy and comfortable space for friends. This vehicle is perfect for anybody looking for spacious campervan rental in Australia.
Here is a quick recap of the main features of the kitchen area:
Large 80L fridge (12V/240V)
2 burner gas cooker
Spacious kitchen layout with worktop space
Microwave (works when a vehicle is connected to 240V mains power)
4 kg gas bottle included
All cooking & eating utensils included in the price for five people:
Knives, Forks, Spoons, Tea Spoons, Dinner plates/bowls, Can Opener, Ladle, Cups, Glasses, Saucepans, Frying Pan, and Kettle.
Spacious comfortable lounge area for five people
Plenty of room to sit around the table enjoying a bottle of wine. An excellent space for entertaining and enjoying the freedom of a travelwheels camper hire holiday in Australia!
A hotel on wheels with 2 double beds!
The bottom bed is enormous and more than enough space to get three in a bed if you are lucky! Here is the size of the large bottom bed which is 2.1m long x 1.7m wide!
The top bed is big enough for two adults! Kids love climbing the ladder and sleeping upstairs! These campervans are so popular with families! The roof bed is big enough for two adults, and the size of the bed is 2m long x 1.37m wide.
Does travel insurance cover Campervan Hire in Australia?
The thing about campervan hire insurance is this; you don't need it until you need it!
Many people believe their travel insurance policy will cover them!
Travel Insurance Policies do not cover hiring campervans!
In the event of an accident, your policy will not cover you for damages involving camper hire.
Please read the small print of your travel insurance policy. Unfortunately, we have many sad examples to back this up! We had customers in the past not taken out vehicle rental insurance and then had an accident! They have been liable for thousands of dollars of damages!
Advice about campervan hire insurance in Australia – read our guide
If confused by it all and need more help, then contact us! We have written a guide to campervan hire insurance in Australia. It's well worth reading, and we have tried hard to make it easy to understand!
International driving licenses valid?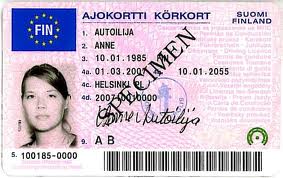 Can I drive in Cairns with an International or European driving license? Yes, you can hire a campervan with your European or International driving licence. Note – we only accept full driving licenses (not provisional or 'p' plate licence holders sorry). When driving in Australia, you must carry your original permit at all times. If in a foreign language, then you will also need the following documents.
Automatic rentals for Australian, NZ or USA customers
The 5 Person camper is the most requested or booked vehicle we hire for our overseas customers. Our Australian, New Zealand and American customers love to book this van!
It's easy to drive with smooth automatic transmission. We have plenty of positive customer reviews for these camper vans.  They all mention how comfortable these vehicles are on the road.
If you are looking to book a family campervan holiday, then this is the vehicle for you. Brilliant for families as they have two child seatbelt points. Here are some tips from a fellow traveller explaining how to survive living in a camper in Australia!

Australian Road Trip Planners – free guides for campers
Planning a holiday to Australia and not sure where to go?
We have guides to Australian weather, maps and travel itineraries. These will help you to plan and book a campervan hire holiday in Australia with ease!
Our roadtrip planners are available in various languages. Check out our
Deutsch
,
Français
, and
Nederlands
website versions you can download.
Sydney to Cairns Holiday Route Planner
Here is a link to our popular free Sydney to Cairns route planner to help you plan your adventure.
We can email you a FREE PDF Sydney to Cairns trip planner to help you plan and book your holiday. Click on the button below for your free copy:
Free Sydney to CairnsPDF download - email us
Contact our friendly team for info and advice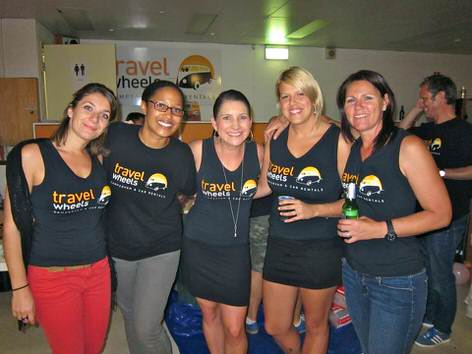 Travelwheels have some great specials on automatic camper rentals at the moment. Why not contact us to book your holiday in Australia. 
You can call our team on +61412766616 in Sydney to get a good value for money camperhire quote.
Renting a vehicle suitable for small children
This vehicle can accommodate TWO BABY SEATS (three years and under). It can also take TWO BOOSTER SEATS (least four years or older).
This vehicle can not take a baby capsule for 0-1 year old child. The anchor points are in the back of the vehicle. You can not fit a baby seat in the front cabin. 
NOTE – Baby or Booster Seats must be pre-booked in advance.
Please, can you tell our reservations team the age and weight of your child when making a booking.
Book your camper rental holiday with Travelwheels
Enter your dates below to check out our low prices! We offer two types of vehicles with automatic transmission! A budget two-person camper and this fantastic fiver seater!