Toyota Hi-ace Campervans for sale in Sydney – REF: DC42QE
Toyota Hi-ace Campervans for sale in Sydney | Travelwheels Campervans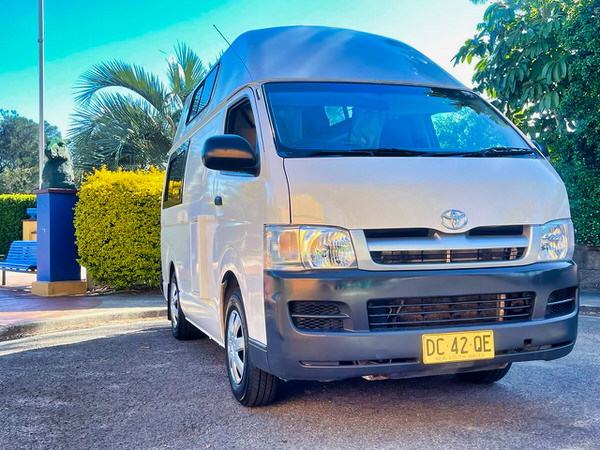 If you are looking to buy a used campervan, then there is only one serious choice here in Australia!  The number one choice is the fantastic Toyota Hi-ace Campervans for sale!   They are used by all the campervan hire companies here in Australia.  Super tough, durable, and practical and therefore highly sought-after in Australia!  Give Shaun a call on stock levels and arrange a test drive one of these fantastic Toyota Hi-ace campervans for sale call Shaun on 0421101021.
We sell Australia most popular used campervan!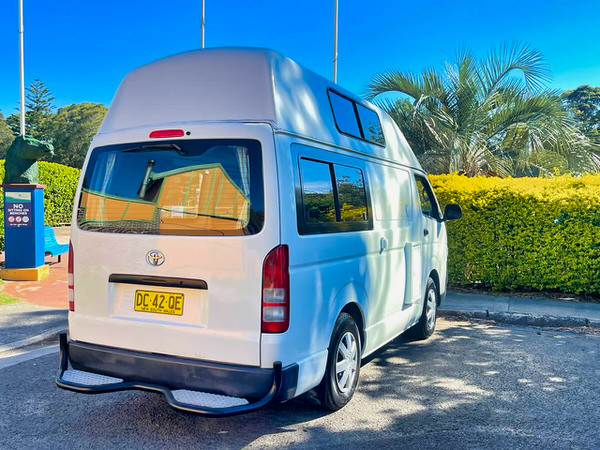 Our Toyota Hi-ace campervans for sale are the best-used campervan on the market.  When it comes to the king of the second hand used campervans, then look no further than Toyota.   They are rated as Australia most popular used campervan for hire and for sale!  If you are serious about buying a quality practice used campervan, then you have to seriously consider buying a used Toyota Hiace campervan.
Used by all major campervan hire companies in Australia
All the major campervan hire companies in Australia and New Zealand use Toyota Hiace!  Some companies have over four hundred of these vehicles in their fleet driving up and down the country!  Fleet campervan managers love them as they are so reliable! They are super popular with campervan hire operators and the general public.  This popularity means they hold their resell value!  Factor all these points in with the practical design, and this makes the Toyota Hiace a winner!   It's worth giving Shaun a call on 0421101021 to arrange a test drive soon.
Toyota Hiace campervans for sale – ex-rental, fully serviced!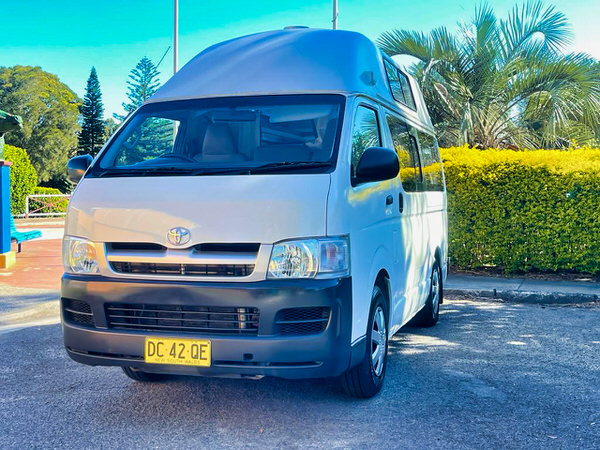 These Toyota Hi-ace campervans for sale is fully cleaned and ready to travel around Australia!  This particular model is one of our popular ex-rental vehicles, and it is now available for sale direct to the public.  There is no middleman or reseller involved here.  You can test drive this actual vehicle from us here at Travelwheels Campervans.  They have been regularly serviced, and are well maintained.
Test drives are available at a time that is suitable for you. Remember we remove all the stickers and give the campervan a deep industrial clean.  It is nice and fresh and just waiting for you to jump in and hit the road in our Toyota Hi-ace campervans for sale!  Call Shaun on 0421101021 to arrange that test drive today!
Main features – take a look inside our camper
This ex-hire Toyota Hiace campervan is in great condition, and available to test drive today.  Now is the time to take a look inside our Toyota campervan for sale main features and you will clearly see why it's the most popular campervan in Australia!   It has everything you need in a nice compact size, without feeling like you are driving a monster-sized whale of a campervan!  Good on fuel, rock-solid reliably makes it Australia's best value for money used campervan on the market!
As you can see from the list of features it has everything you need to go for an adventure!  These Toyota campervans for sale are fun to drive, great to sleep in and unquestionably classed as the most practical campervan you can buy right now.  Another key point to note is the redesigned open plan kitchen and comfortable living space in the lounge. Let's dive into the main features inside this campervan and you will quickly see why they are so popular.
Daytime campervan configuration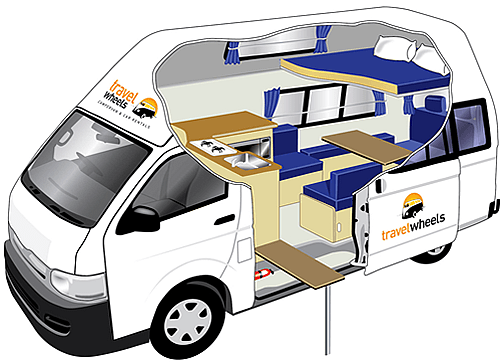 These Toyota Hiace campervans are a practical good quality used campervan.  They have been well designed and made to be durable and will last you years.  The internal layout of the open plan combined lounge and kitchen has everything you need at your fingertips.  Let's first look at the lounge area and it is a great space to relax in.
The lounge area inside the campervan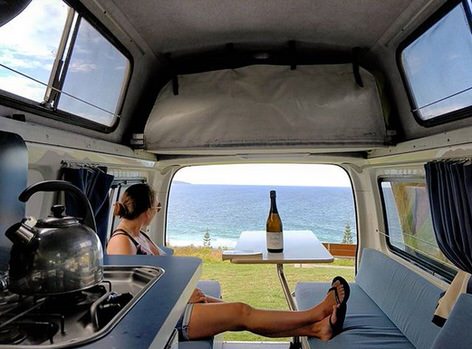 These Toyota Hiace Campervans have a simple, clean and practical layout that is perfect for travelling around Australia.  Just imagine pulling up by the sea and opening up the large rear door and watching the sunset!  There is plenty of space for friends to sit around the table and enjoy some food, drink and good conversation.  You are welcome to pop down to our depot and put your feet up and start dreaming about your next adventure!
Toyota Hiace Kitchen practical layout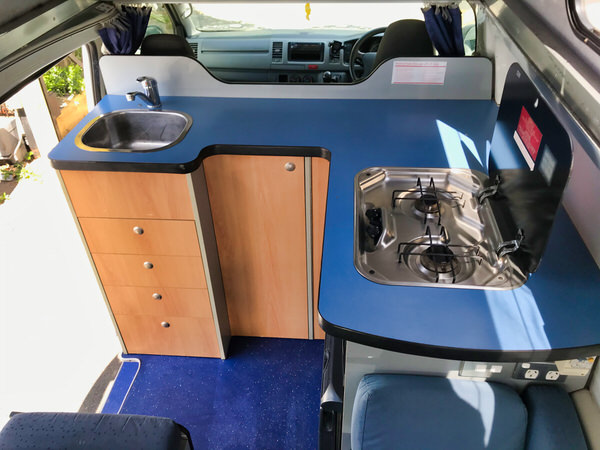 These Toyota Hi-ace campervans for sale all come with a well-designed open plan kitchen space.  They have clean lines and very easy to use (and keep clean) surfaces.  There is plenty of room to cook tasty meals inside the campervan. We have many positive reviews about this campervan.  One of our customers stated, "The kitchen and lounge is a combined area so that you can cook, chat and relax with friends all at the same time.  This makes the campervan so usable and practical we use it all the time."
The Kitchen space – easy to cook and keep clean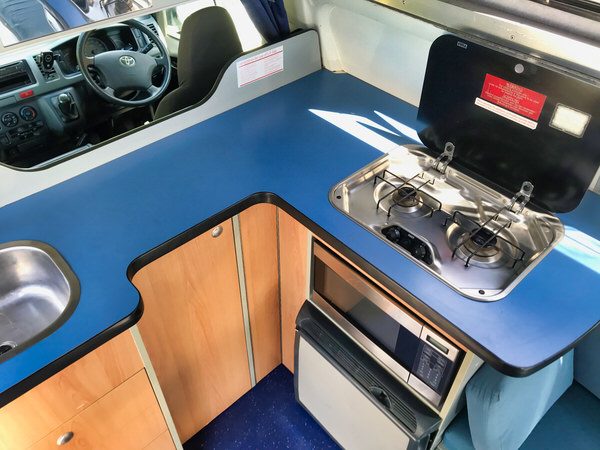 Another key point to note is the super practical and easy to keep clean layout is perfect for cooking a fine meal.  The open plan kitchen has been designed to be easy to use and everything is in the right place! Let's start off by talking about the position of the sink which is on the left-hand side as you enter the campervan.  From here you can wash your food easily and then place it on the worktop right next to the sink.  Then all you have to do is turn to the right and start cooking!
Another customer review stated, "Super practical kitchen layout which is easy to keep clean, and a joy to use.  Love the fact it is an open plan lounge and kitchen area inside the campervan.  This way whoever is cooking is not isolated from everyone else drinking in the camper!  The design makes it easy to socialise with the family whilst cooking food."

Large double bed + single bed in the roof space!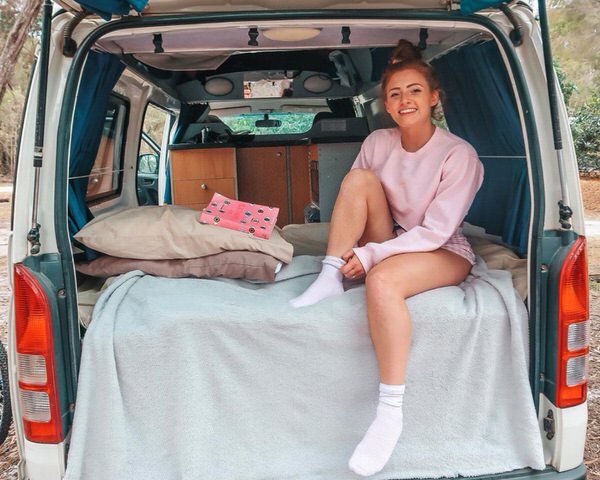 The great thing about buying one of our used Toyota Hi-ace Campervans for sale is the size of the double bed!  Toyota has managed to fit a large comfortable double bed downstairs and a single bed up in the roof space in this Toyota-Hiace campervan!  Let's have a look at the drawing to highlight a couple of key points.
Practical and easy to make beds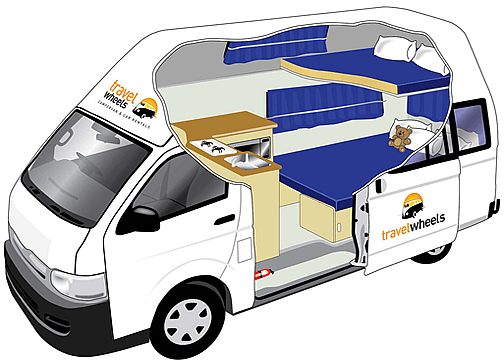 This campervan is a well designed and practical campervan that is easy to use.  The beds and the lounge area has been made to make life comfortable on the road.  The best suggestion we can make is to come on down to our depot and jump in the back of the campervan.  This way it enables you to tell how comfortable the lounge space is.  You can have a go at making up the beds and really see if they are easy to use (they are!).  All you have to do is call Shaun on 0421101021 and he can organise everything for you.
Large fold-out double bed which is easy to use!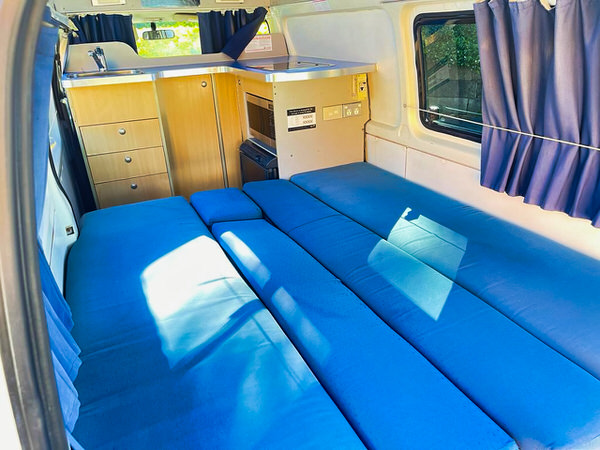 These Toyota Hi-ace campervans for sale are brilliant for up to three adults! It gives you the flexibility to sleep up to three people in comfort, and still have privacy.  Firstly, let's talk about how easily and how quickly it takes to make the bed! It will take you approximately 90 seconds to make the bed in this campervan!  Another key point to note is it takes the same time to turn it back into two benches and a large table. We designed it to be as easy as possible to use, and another positive reason why you need to buy this fantastic Toyota campervan.

Size of the double bed + single bed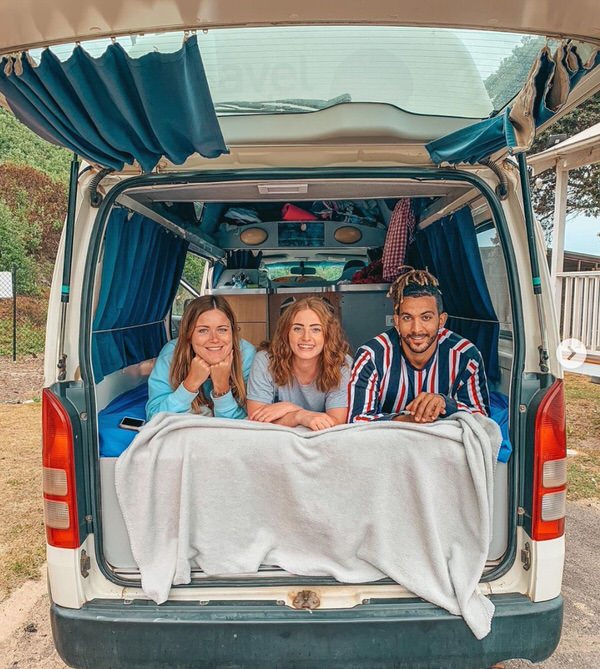 The size of the comfortable double bed in this Toyota Campervan is 1.85m long by 1.55m wide.  That is a very nice sized bed when you consider this is a compact campervan.  The reason the bed is so big is due to the intelligent design, and make sleeping in the campervan a real joy. There is also a single bed in the HiTop roof space and the dimensions of the single bed are 1.60m x 1.4m.  Note, there is a maximum weight for the roof bed at 200kg.
All windows have privacy curtains
All our Toyota Hiace Campervans for sale have privacy curtains on all windows in the rear of the campervan.  This makes relaxing in the campervan before bedtime a breeze.  Another critical point is flyscreens and ventilation!  All sliding windows have flyscreens on them to let air in and keep those flies out!  The high roof also has two windows that can open nice and wide and can create cross-ventilation on those hot summer nights. 
Travelwheels Campervan Sales – why buy from us?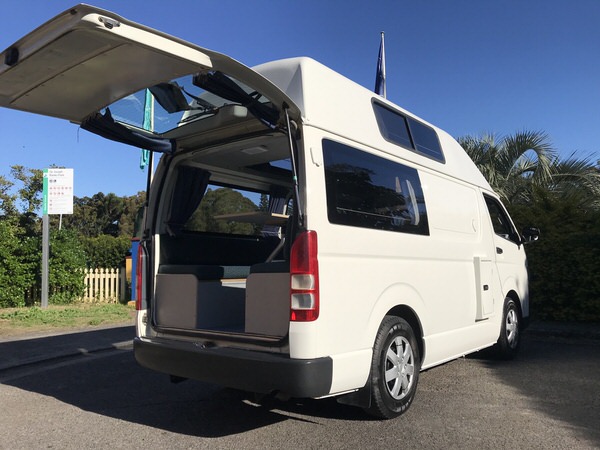 There are plenty of good reasons why you need to buy a used Toyota Hiace Campervan from Travelwheels campervans.  To begin with, all our ex-hire Toyota Hiace Campervans will be fully road tested before going into the workshop for a full service. The next thing to note is that all our used ex-rental campervans for sale are professionally deep cleaned both inside and out.  To illustrate the care and attention we put into each vehicle, they come with the following warranty included in the price:
One year warranty on engine and transmission included with every campervan sold.
24/7 Australia wide roadside assistance included.
Guaranteed buy-back option up to 50% valid for one year.
Twenty years of experience in selling and renting Toyota Campervans in Sydney.
Try before you buy!  Rent the camper for a week and then buy to make sure you are happy
Roadworthy Certificate (Pink Slip).
Help with purchasing Third Party Insurance.
We also sell larger automatic campervans for sale
Another popular seller is our automatic two-person campervans,
WE CAN DELIVER THIS CAMPERVAN TO ANY STATE IN AUSTRALIA!
Travelwheels campervan sales can now offer out of state delivery across Australia!  Our head office is here in Sydney.  However, we can now deliver this fantastic campervan anywhere in Australia for a fixed fee.  The best thing to do is to call Shaun on 0421101021 and he can talk you through all of your options.
Similar used Toyota campervans to consider
Travelwheels used Toyota campervans specialise in selling ex-rental campervans! Therefore, if this campervan has been reserved by a customer, then we do have some more vehicles that will be perfect for your adventure. Have a look below and click on some links, and remember all vehicles are available for test drives in Sydney.
Contact us for second-hand campervans for sale
For more information about buying a Toyota Hiace Campervan for sale simply email Travelwheels campervan sales at [email protected],
You can call Travelwheels on 0421101021 or visit us in our shop at  11-15 Clevedon Street, Botany, 2019, Sydney.