Toyota Hi-ace Campervans for sale in Sydney
Toyota Hi-ace Campervan for sale – Travelwheels Campervan Sales
If you are for example planning a trip around Australia, then you should consider a Toyota Hi-ace Campervan for sale!   They have been especially proven as durable, tough and practical and therefore highly in demand in Australia.  This is the most popular and sought after 2nd hand campervan for sale here in Australia!  In the meant time call Shaun on 0421 10 10 21 to talk you through what is the best campervan for your needs.
Toyota Hi-ace Campervan for sale – 3 person sleeper
Travelwheels often for example sells off some of our ex-hire used campervans in Sydney.  Remember accommodation is especially expensive here in Australia.  Therefore in this case by buying one of our used Toyota Hi-ace campervans for sale makes a lot of sense.  If you are here on a big trip, say six months or more, then you will save a massive amount!  The average cost of a double room in a hostel ranges from $70 to $140 a night!  Six months is approximately 180 days.  Therefore 180 days x $100 per day = $18000!  That is an incredible amount to save within six months of touring Australia!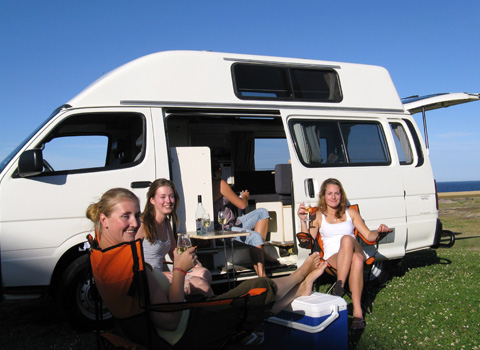 Toyota Hi-ace campervan for sale – ex-rental, fully serviced!
Toyota Hi-ace Campervan for sale is ready to go!  This is for example one of our ex-rental vehicle from Travelwheels Campervans.  They have been regularly serviced, and are well maintained. Therefore you can be sure that it is in a good condition.  They are very clean, as we given them a special deep industrial clean.  In the meantime we remove all the stickers, and tidy up the paintwork.
Toyota Hi-ace Campervan for sale – FEATURES:
The campervan has been especially prepared for you.  It is fully fitted out and newly restyled.  Another super positive point to mention is the storage.  This Toyota Hiace campervan for sale therefore has lots of storage room inside the kitchen, and under the bed
>Model: Toyota-Hiace campervan
>Sleeps 3 people
> Comfortable double bed (1.85m x 1.55m)
> Comfortable single roof bed (1.60m x 1.38m)
> Folding outdoor table
> 2x burner gas stove and 4kg gas bottle
> All cooking, sleeping and living equipment included in the price
> Dual Battery System for fridge and internal lights
> Manual Gearbox with 2.4L Economical Engine
> Air Conditioning and Power Steering (easy to drive)
Travelwheels Campervan Sales – why buy from us?
There are lots of good reasons for example to buy from Travelwheels.  First of all we have been renting campervans in Australia for the last ten years.   Here is a quick snapshot of the benefits below.
* Full mechanically serviced with Roadworthy Certificate (Pinkslip)
* With Registration (REGO) & Insurance (Green Slip)
* 12 Months Warranty On Engine & Gearbox
* 24 hour, 7 days a week Australia wide Roadside Assistance
* Guaranteed buy back up to 50%
* Free and helpful advice 🙂
WE CAN DELIVERY THIS CAMPERVAN TO ANY STATE IN AUSTRALIA!
Travelwheels campervan sales can now in this case deliver out of state in Australia!  Our head office is here in Sydney.  However we can deliver to across Australia for a fixed fee. Buy you camper in Sydney and we deliver to your door!  We also have more campervans for sale on our sister site at Buying Campervan Sydney
Contact us for second hand campervans for sale
For more information about buying a Toyota Hiace Campervan for sale simply email Travelwheels campervan sales at [email protected],
You can call Travelwheels on 0421 10 10 21 or visit us in our shop at  11-15 Clevedon Street, Botany, 2019, Sydney.