Toyota prado for sale in Sydney + Roof Top Tent – Automatic – REF: CL38PJ
Toyota Prado for sale in Sydney + Rooftop tent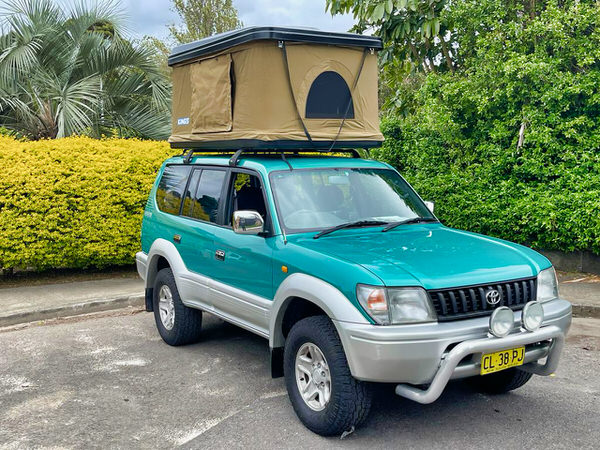 Travelwheels has just received this automatic Toyota Prado for sale with the bonus of a fantastic roof top tent!   Do you want to discover REAL Australia?  Therefore forget about buying a car or renting a camper and think about buying a used 4×4 for sale in Sydney instead! A used 4×4 with a rooftop tent is the cheapest and most cost-effective way to explore Australia in style and on a budget! Pick up the phone and call Shaun on 0421101021 to go for a test drive.
Buying a Toyota Prado for sale is a great option to see Australia!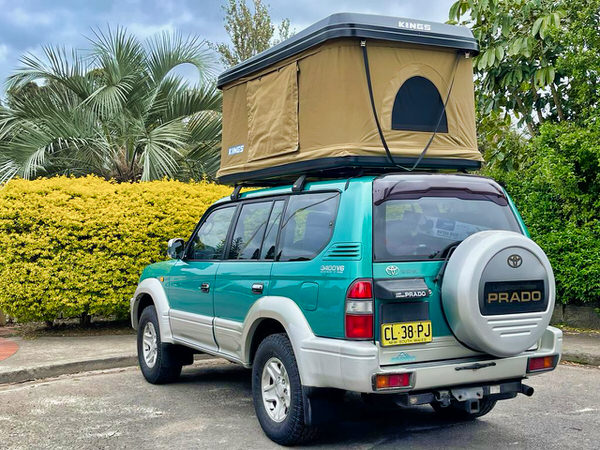 A Toyota Prado for sale used 4×4 is the best way to see the REAL Australia!  This is especially the case as they are STRONG, BIG, RELIABLE and SECURE!  As approximately 90% of the national parks in Australia are four-wheel drive tracks, a used Toyota Prado for sale makes a lot of sense!  Then you factor in the Roof Tent on top, and you have a way to sleep for low cost and off the floor!
The main features of this used Toyota Prado for sale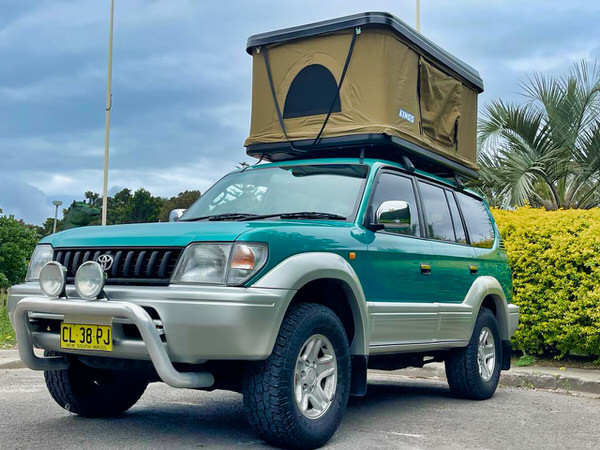 This fantastic used Toyota Prado for sale is the in-demand automatic version. Many manual versions are harder to resell, so getting an automatic in this condition is rare.! These Prados are super popular with families looking to go for adventure camping at weekends and holidays. Toyota designed the cabin and the ride so it can still be used as a city runaround during the week and, at the weekend, hit the off-road tracks! Here are the specifications for this used Toyota Prado for sale at our depot in Sydney
Make Toyota
Model Toyota Prado
The year 1999
Three months rego
Tow bar
Recently serviced
299,787 kms
Automatic transmission
Ice cold air conditioning
Electric windows
Power steering
Kings Roof Top Tent
Test drive this Toyota Prado today call 0421101021
Known for being over-engineered and well made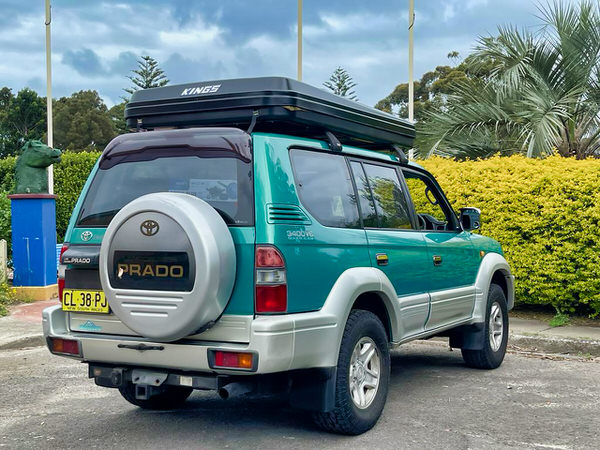 These vehicles are known for being over-engineered, well made and ready to tackle anything! They focus on getting the basics right and therefore are straightforward to maintain. Toyota does not overcomplicate things, and that impressive reliability is why more people in Australia trust them on outback road trips.
What is the difference in size between a Landcruiser and a Prado?
When it comes to the differences between the Landcruiser and a Prado, the first thing to note is the size. The Landcruiser can be classed as Prado's older brother. It is just that bit bigger in every department. However, they often share the same engines, transmissions and parts. Both are supremely reliable and always sought after on the second-hand market.
If you are looking for a dedicated off-road vehicle, we suggest going for a Landcruiser. However, buying a used Toyota Prado for sale makes sense if you want to mix it up and use the vehicle for a range of activities. The Prado has a better fuel economy and is not as wide, making travelling on normal roads or even commuting easier.
Customer reviews for Toyota Prado in Australia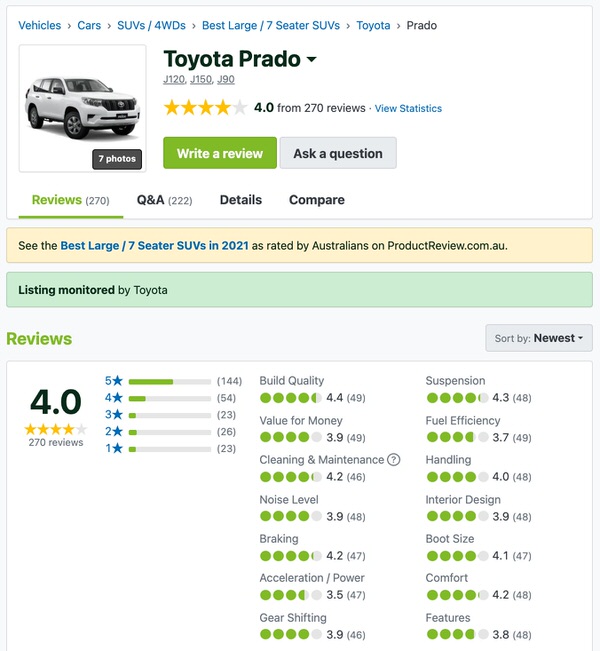 If you are considering buying a used Toyota Prado for sale, then checking the online customer reviews is a good idea. Have a look at the review for the Toyota Prado on productreview, and it has over two hundred and seventy reviews with an average star rating of four stars. That is a serious amount of reviews!
Driven around Australia in this Prado!
"We love our Prado! Our crew arrived in Australia and bought our beloved Parado from Travelwheels campervans. We have driven right around Australia and then up and down the middle for good measure! It is one reliable 4×4, and with the roof tent on the top, it is the bomb!  Saved us a fortune on hotels and hostels across Australia."
Turned our Parado into a mini campervan
"Bought a used Parado with roof tent from Travelwheels as there was four of us travelling and we could not afford a four-seater campervan.  With some advice from the staff at travelwheels they showed us how to make a double bed and camp kitchen in the back. It has enabled us to see all the magical sights that Australia has to offer. Never let us down, and we have managed to put 50,000 kms exploring this country. Worth buying as so reliable!"
A super reliable and fun way to see Australia
"Our Prado has been the best-used 4×4 and the perfect vehicle for our four dutchies to tour Australia!  We have used it for two years and it helped us get the second visa for the remote farm work.  Loads of space inside for all  our camping gear and the roof tent saved us loads of money on accommodation."
Why buy a used Toyota Prado for sale from Travelwheels?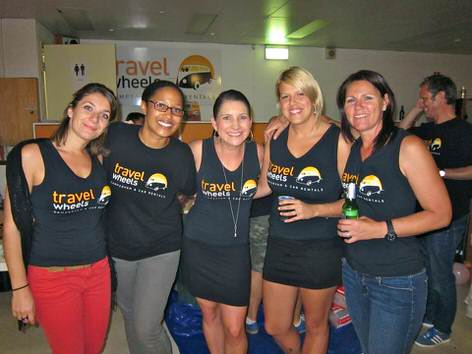 Travelwheels is an Australian-owned and operated company, and we are proud to serve our local Australian customers and all our overseas visitors.  We are a registered NSW (New South Wales) car and campervan-authorized official reseller.  Look at all the benefits you get when you buy a used campervan or 4×4 from us:
Contact Travelwheels used 4×4 sales in sydney
Travelwheels used 4×4 sales Sydney office is located close to the domestic airport in Sydney.  We are at 11-15 Clevedon Street, Botany, Sydney, New South Wales, 2019.  In the meantime if you need more information about our used 4x4s, call our team on 0421101021. Alternatively, you can also email us at [email protected]. And you could soon be the happy owner of a great Toyota Prado!