Used Toyota-Hiace Campervan for sale – Automatic transmission
Used Toyota-Hiace Campervan for sale in Sydney
Every year here at travelwheels campervans will sell off our older models to replace them with newer ones. This, therefore, means there is a great opportunity for you to buy direct from a wholesaler!  For example, we have this great Automatic used Toyota-Hiace Campervan for sale here in Sydney! Call Shaun on 0421101021 to arrange a test drive as it runs so smooth!
Used Toyota Hiace Campervans – deep cleaned and ready to go!
For example, all our used campervans have been professionally deep cleaned.  In this case, all the stickers have been removed, and they look great! For instance, they are fully serviced, checked and ready to go!  Therefore these popular used Toyota Hiace Campervans for sale in Sydney are a great choice!  These ex-hire and well-maintained campervans are perfect for your campervan adventure around Australia!  Remember you can test drive any camper here in Sydney.  Call Shaun on 0421101021 or email [email protected].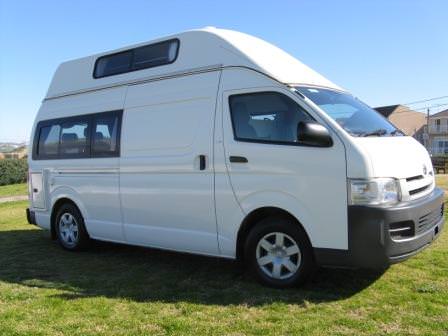 5 person used campervan
This five Person used Toyota HiTop Campervan for sale is the perfect vehicle for you! First of all, it's an automatic, so super easy and comfortable to drive! Secondly, as a result of a practical design, it can seat and sleeps five people comfortably inside the campervan.  There is a big double bed in the back of the Toyota campervan.  Together with a clever double bed which folds out, there is plenty of space in this camper!
Used Toyota-Hiace Campervan with storage!
This Toyota-Hiace Campervan has lots of storage room inside the camper.  For example, in the kitchen and benches there is hidden storage.  Furthermore if the roof space there is a storage area in front roof space.  In addition to this, you can also store gear in the back of the roof area as well. Therefore you can see this is an especially practical design that works!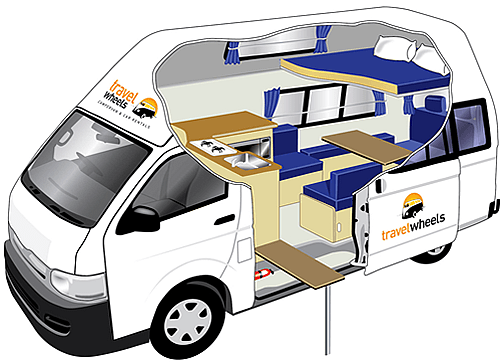 Remember when you buy a used Toyota-Hiace Campervan for sale it comes fully loaded with gear!  In this case, travelwheels campervans supply all the cooking and living equipment is already included in the price! This, therefore, means all you have to do is turn up, throw your bags in the back and drive off!
Are you searching for an Automatic Toyota Campervan?
If you are searching for an automatic campervan then we can help as well.  Here at travelwheels we also sell a range of ex-hire used automatic campervans.  The best thing to do is call Shaun on 0421 101021.  In this case, he can talk you through what stock we have left for sale.  These automatic campervans are especially popular with our Australian and New Zealand customers.
Used Toyota-Hiace Campervan for sale Features:
All travelwheels ex-hire Used Toyota-Hiace Campervan for sale come with everything you need to have a great holiday! Check out this list of the main features inside the Toyota Hiace Campervan for sale from travelwheels:
Model: Toyota Hiace Campervan
Make: Hiace
Built: 2007
Ref: 5PA-666
Air Conditioning: Yes
Power Steering: Yes
Transmission: Automatic
Fully equipped kitchen:

80L fridge, stove and microwave, sink & water tank

Double Battery System: for the fridge and interior lights
Equipment: comes with all the living, sleeping and camping equipment you need
Why buy Used Toyota-Hiace Campervan from travelwheels?
All our used campervans for sale come with the following warranties below:
Full mechanically serviced with Roadworthy Certificate (Pinkslip)
With Registration (REGO) & Insurance (Green Slip)
12 Months Warranty On Engine & Gearbox
24 hour, 7 days a week Australia wide Roadside Assistance
Guaranteed buy back up to 50%
Free and helpful advice 🙂
Buying a Used Toyota-Hiace Campervan for sale is great value for money.  For example, it gives you total freedom to travel Australia without having to stop at campsites.  This will save you a lot of money on long trips.  Therefore if you have any more questions, our contact us details are below:
Contact Travelwheels
For more information feel free to email us at [email protected] You can call us on 0421 10 10 21 and more than happy to answer any questions.  Furthermore, if you are here in Sydney, pay us a visit at our depot at 11-15 Clevedon Street, Botany, 2019, Sydney.