Used Toyota Tarago campervans for sale in sydney
Used Toyota Tarago campervans for sale in sydney + warranty
Travelwheels Campervans here in Sydney sells campervans!  For example we have a wide range of ex-hire Used Toyota Tarago campervans for sale in Sydney. These small campervans are especially suited for a couple or two good friends.  As a result of a great simple design it comes with a mini kitchen and a fold out double bed.  Call Shaun on 0421 101 021 for more details.
Toyota campervans for sale with double bed
Travelwheels have especially designed this campervan for sale to not only have a mini kitchen, but also a big double bed! Two people can easily travel together.  It's therefore brilliant for couples who want a nice cosy night in!  Therefore if you are looking to buy used Toyota Tarago campervans for sale, then check us out online.  Visit our used campervan sales Sydney website for more details.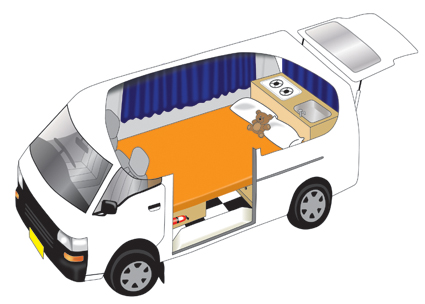 Travelwheels campervans sales especially builds good value for money campervans here in Sydney.  Take for example our used Toyota Tarago campervans for sale in sydney.  In this case we have made a practical, comfortable and usable campervan to tour Australia.  As a result of our skilled Travelwheels staff, they can alter designs.  Furthermore if you have a special request, give us a call on 0421101021!  Alternatively you can email us at [email protected] for more info.   Travelwheels used campervans can add in extras such as a fridges & second battery.  Other customer reviews or feedback have suggested the following items.   We have installed for example, extra power sockets, mini kitchens, double beds, roof racks and many other things!
Toyota Tarago campervans main features:
Travelwheels used campervan sales Sydney are here to help.  We will take all the stress out of the campervan buying process in Australia. Travelwheels will help with all the legal paperwork.  This is especially useful for our overseas customers.  We will for instance organise third party insurance and registration.  Therefore we make it easy and safe to buy a used Toyota Tarago campervan for sale here in Sydney!
– Model: Toyota
– Make: Tarago
– Built: 1999
– Air Conditioning: Yes
– Power Steering: Yes
– Transmission: Automatic
Why buy Toyota campervans from Travelwheels?
When you buy a used campervans from us, we for instance make sure you get the following benefits:
Full mechanically serviced with Roadworthy Certificate (Pinkslip)
With Registration (REGO) & Insurance (Green Slip)
12 Months Warranty On Engine & Gearbox
24 hour, 7 days a week Australia wide Roadside Assistance
Guaranteed buy back up to 50%
Free and helpful advice for all the paperwork 🙂
Contact Travelwheels used campervans Sydney
Contact us about these used Toyota Tarago campervans for sale. Email us at [email protected]. Give us a call on 0421 101 021. Visit us in here in Sydney at 11-15 Clevedon Street, Botany, 2019, Sydney.
Du hast weitere Fragen?
Für weitere Informationen kannst du Travelwheels Vans zum Verkauf in Sydney gerne auch auf Deutsch kontaktieren!
Sende Travelwheels Autoverkauf Sydney eine E-Mail auf Deutsch an [email protected].