Toyota Hiace Campervan Hire Australia Vehicle Specifications
Travelwheels Campervans only sells and rents Toyota Hiace Campervan. There is a good reason to why Travelwheels campervan hire Australia only sells and hires Toyota campervans.  They are very strong, reliable and the best value for money campervans for sale in Australia!  Call Shaun on 0421101021 for more details about our ex-hire campervans for sale.
Toyota Hiace Campervan Hire Australia Specifications
Travelwheels campervan hire Australia have a great ex-hire Toyota Hiace campervan for sale.  Visit our Sydney campervan hire depot to see our range of used campervans for sale.
Travelwheels also has a fleet of Toyota Hiace campervans for hire across Australia. You can hire a campervan with travelwheels from the following cities.  We offer camper hire from Sydney, Brisbane, Cairns, and Melbourne! For more information about campervan hire click here to view Travelwheels Campervan Hire Specials
TOYOTA HIACE CAMPERVAN – 2003 to 2005 MODELS
Travelwheels campervan hire Australia can guarantee the age of all of our vehicles for sale.  The oldest vehicle on fleet is the 2003 model version of the Toyota Hiace Campervan.
Used ex-hire Toyota hiace campervan for sale Australia travelwheels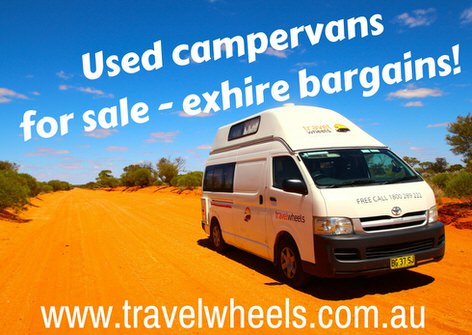 Used campervans for sale
Travelwheels Campervan Hire Australia sells used ex-hire Toyota Hiace campervan for sale across Australia. We also sells 4×4 bushcampers, cars and campervan conversions for you at a great price! Click here to view used campervans for sale in Australia. When you buy a Toyota Hiace Campervan it comes with a guaranteed buy back contract.  It also has a 12 months unlimited kms warranty included in the price.
TECHNICAL INFORMATION FOR TRAVELWHEELS TOYOTA HIACE CAMPERVAN
It's easy to see why a Toyota Hiace Campervan is so popular in Australia.  All the campervan hire companies in Australia uses these Toyota Hiaces for their rental fleet.  A Toyota Hiace Campervan is the number one choice for campervan hire companies.  They are also the first choice for the public looking to buy used campervan in Australia.
It's easy to buy parts for a Toyota Hiace Campervan in Australia.  They are incredibly reliable vehicles and you can see why a Toyota Hiace Campervan is such a popular choice for the 2nd hand market in Australia. This is why travelwheels campervan hire australia only hires and sells Toyota hiace campervans!
SUITABLE FOR 2-3 ADULTS.  The Travelwheels Toyota Hiace Campervan will seat three people comfortably in the front cab.
TOYOTA HIACE CAMPERVANS HAVE GOOD STORAGE SPACE. The great thing about a Travelwheels Toyota Hiace Campervan is they have plenty of storage space. Check under the back seats and in the big overhead compartment above the cab.
TRAVELWHEELS TOYOTA HIACE CAMPERVAN ENGINE SPECIFICATION. Very economical! Four cylinders, 2.4 litre unleaded petrol engine with five speed manual transmission.
FUEL (UNLEADED FUEL ONLY!).  The size of the fuel tank on a Travelwheels Toyota Hiace Campervan is 60 litres. Average fuel consumption is approximately 10 litres per 100kms. If you ever needed to top up the engine oil, then we would suggest Multigrade 20W50. With the big distances you travel in Australia buying or hiring a campervan with good fuel enconomy is important!
INSIDE OUR TOYOTA HIACE CAMPERVAN HIRE VEHICLE
THE WATER TANK ON TOYOTA HIACE CAMPERVAN. This holds 45 litres of fresh water. The filler cap is located on the outside of the vehicle next to the gas bottle compartment. To fill the water tank, use the water hose located under the dinner seats inside the vehicle.
WATER PUMP: TravelWheels Toyota Hiace Campervans are fitted with either a manual hand pump or a pressurized pump.  Simply either flick the switch on the side of the sink or pump the handle. If you do have a pressurized water pump, please ensure that the pump is turned off when not in use.  Why is this important?  It prevents the second battery from discharging.
AIR CONDITIONING INSIDE THE CAB. The A/C for the driver and his/her passenger's works from the campervans' engine.  Therefore it will only work when the engine is running. Please can you consider the environment and not leave the engine running in idle to power the A/C unit.
TOYOTA HIACE CAMPERVAN HIRE SLEEPING CONFIGURATION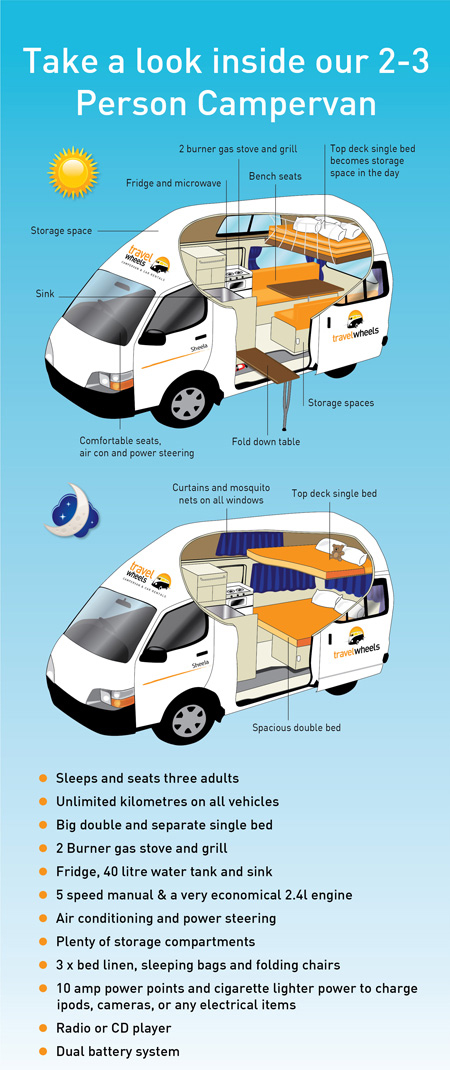 CONVERTS TO A COMFY DOUBLE BED.  The flexible dining area converts into a BIG BED.  The size of the bed is approximately 1.9m long by 1.7 wide, so there is plenty of room to relax in.
SINGLE ROOF BED. This great space saving feature gives you a second bed in the roof of the campervan. This is suitable for a single person who weighs less than 90kgs.  Small kids over the age of seven love this top bed!
TOYOTA HICACE CAMPERVAN HIRE AUSTRALIA KITCHEN AREA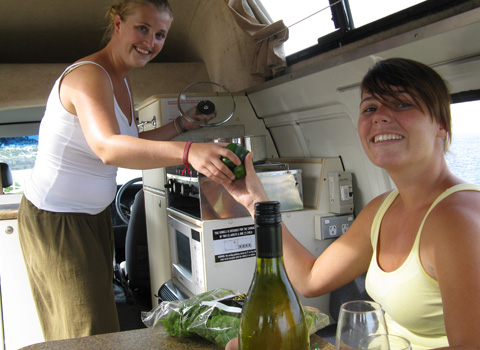 Used campervans for sale
THE GAS COOKER.  Has two gas burners on the top and a grill underneath. For safety reason, do not use the gas when travelling!  Make sure that the gas is turned off after cooking and not just turned to the low setting!
THE GAS BOTTLE. Located outside the campervan on the driver's side. Please ensure that the gas is switched off when you are travelling.  We recommend for added safety turn the gas off at the bottle.
THE 55 LITRE FRIDGE: operates on dual power.  It runs on 12 volt and 240 volts. The fridge will automatically turn from 12 volt to 240 volt when the van is plugged into external 240 volt power (extension lead supplied).
DUAL BATTERY SYSTEM. This means one battery is just for the engine.  The second battery located in the back of the campervan powers the fridge and the lightning in the camper.
ADDITIONAL INFO FOR A TOYOTA HIACE CAMPERVAN HIRE
THE TYPE PRESSURE: This is part of the essential maintenance the user must do daily. The recommended tyre pressure for these vehicles are, front: 45psi (310kPa), rear: 45psi (310kPa).
THE SPARE WHEEL: This is located under the rear of the vehicle, near the rear bumper.
ADDITIONAL TOOLS: There are a limited number of hand tools in case of an emergency. Remember there is a 24 hour emergency help in the unlikely event of a breakdown. If you need to change the spare wheel there is a jack.  It is located in the compartment below the step just inside the sliding door on the passenger's side of the campervan.
LIGHTS: There are three lights in the campervan, one is a 240 volt light, and 2 x 12 volt lights as well.
FIRE EXTINGUISHER: Each vehicle is equipped with a fire extinguisher.  Remember this is strictly for the use in cases of emergency!  If it has been discharged for any reason you will be held accountable. Please tell us if the fire extinguisher has been used so it can be refilled.
Why buy Toyota Hiace Campervan from Travelwheels?
Why buy a used Toyota Hiace Campervan from Travelwheels campervan hire Australia? That is an easy question to answer! First of all a Toyota Hiace Campervan is very strong and well made vehicle. It would not be the number one choice for all Australian campervan hire companies if they caused us too many problems on the road!
Parts for a Toyota Hiace Campervan are cheap to buy in Australia.  They hold their value well on the second hand market! Very popular choice for private buyers, so easier to sell after your trip.
Travelwheels Toyota Hiace Campervan Sales – contact us
Contact Travelwheels Campervan Hire Australia Sales for FREE friendly advice on campervan hire or campervan sales.
You can call Travelwheels Campervans Australia 0412766616 or from overseas call +61 412766616. You can email Travelwheels Campervans in English, Français or Deutsch and our friendly staff can speak a number of European languages
Klicke hier um eine E-Mail an Travelwheels Wohnmobile zu senden.
Cliquez ici pour envoyer un Email travelwheels en français.
Check out our Cheap Campervan Hire Australia Deals Below
Enter your dates below for our best deals on Campervan Hire Australia Specials.  You can always call our team on 0412766616 for more details on our offers available.  Our online price checker will give you our lowest rates on camper hire in Australia.