Best zoos in Australia – which is the best zoo down under?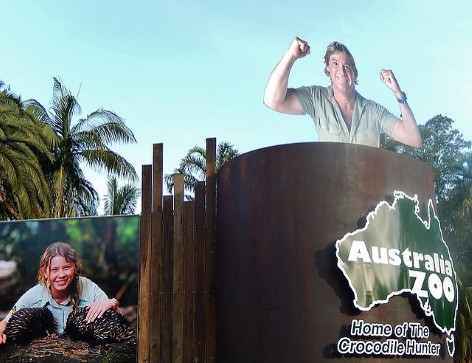 The wildlife of Australia is one of the main attractions for many international holidaymakers arriving down under. Therefore we have written this short guide to the best zoos in Australia. Travelwheels suggest going on a campervan hire holiday in Australia and most of all exploring some of these amazing zoos to see the wonderful wildlife down under.
Australia is world renowned for changing the face of zoo culture. It is no longer about serving as a solely entertainment business, but furthermore to counteract the extinction of threatened animal species worldwide. Consequently now many zoos in Australia offer education and information to the public about these amazing animals.
Hundreds of Australian animal and plant species have been extinct since Captain Cook and Joseph Banks explored the east coast of Australia in 1770. The reasons are usually the loss of habitat, as well as the introduction of foreign species. They compete for food and habitat with native animals and in addition make original inhabitants to possible prey. Many of the public and private zoos in Australia are focusing on finding a balance for our animal friends. They support and finance animal welfare projects and important research.
Here are our recommendations for good zoos in Australia
Travelwheels Campervan Hire Staff have compiled this list of best zoos in Australia for our customers.   As a result, we thought we would share it with everyone thinking of a holiday in Australia.  Here is our list of the best zoos and animal parks in Australia.  By the way, we also have the best national parks in Australia guide to read as well!
Best zoos in Australia: Melbourne Zoo – The oldest animal park
The Melbourne Zoo opened its doors in 1832 as the first official zoo in Australia. Not only do you find big cats and elephants, you also get acquainted with the Tasmanian Devil and can learn a lot about his history. Another interesting animal is the Orange Tree Kangaroo, which could not be more cuddly. Be inspired by the variety and history of this zoo and well worth a stop whilst on your campervan hire Melbourne to Sydney road trip.
Visit Taronga Zoo in Sydney + has best views of Sydney skyline
Taronga Zoo in Sydney is probably the zoo with the most beautiful view of the city skyline! You can take the ferry from Circular Quay the centre of Sydney to Taronga Zoo and as a result the incredible skyline of Sydney for free!  Once you are in the zoo, it is especially worth taking the cable car over the monkey trail to the entrance of this wonderful protected animal park.
Among many other beautiful things at Taronga Zoo, a spectacular photo opportunity is offered when the long necks of giraffes merge with the skyline of the Sydney Harbor.  The zoo is just as famous for this view than the animals itself!  Our tip: A free bird show takes place everyday at certain times – Be sure to secure a spot on time and don't miss out on this astonishing demonstration!
Tip –  here is a handy guide on where to park your campervan for free in Sydney and save money visiting the zoo.
Lone Pine Sanctuary near Brisbane
Lone Pine Sanctuary can be the perfect place to go if you have not seen any koalas yet in Australia. It is probably the oldest and largest koala shelter in Australia and houses about 130 sweet koalas.  For example they move very slowly from tree to tree, eating everything that is not nailed onto something. At the Lone Pine Sanctuary you can hold and pet one of these cuddly and fluffy wool balls and get a picture.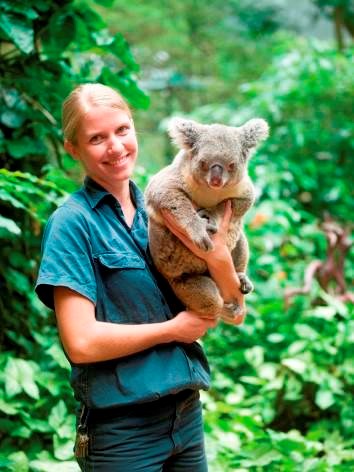 Against NSW Law to cuddle a Koala, in Queensland you can do so!
This can be a controversial subject and in the case of NSW for example they do not allow anybody to cuddle a Koala.  In the meanwhile in Queensland it is not against Queensland law to hold or cuddle a koala.  This maybe one of the reasons why The Lone Pine Sanctuary in Queensland is so popular.  This topic split people's opinions regarding the welfare of Koalas.
To summarize, travelwheels understanding is that no where in New South Wales allows people to actually hold a Koala. By the way it is illegal due to the fact that humans can pass diseases on to the animals!  Coupled with the fact that it is stressful for them being passed from person to person and some wildlife parks were known to sedate the animals and cut their claws so short that they then had difficulties climbing trees.  Here is some more information about cuddling a Koala on Trip Advisor.  Here is another link to best places to cuddle a Koala in Australia.
Best zoos in Australia: Check out Australia Zoo!
The world-famous crocodile hunter Steve Irwin founded the Australia Zoo. Despite his death due to a tragic accident during the shooting a documentary, and ironically it was all about the deadliest animals in the world!  In the meantime, the legend of Steve Irwin lives on through one of the best zoos in Australia.
His children Robert and Bindi have now become the face of the huge animal park in Australia, which is located just one hour north of Brisbane. The main attraction is, of course, the feeding of the crocodiles!
Adelaide Zoo – One of the best animal parks in Australia
Adelaide Zoo, one of Adelaide's most famous attractions, is home to 2,500 animals and 250 species of exotic and native mammals, birds, reptiles and fish. This is Australia's second-largest zoo, and like other leading zoos in Australia, including Melbourne Zoo, Taronga Zoo and Perth Zoo, it operates on a non-profit basis.
This zoo and animal park in Australia is probably best known for its two cuddly panda bears, the only ones in the Southern Hemisphere. Wang Wang and Fu Ni are part of the international Giant Panda research, as well as the conservation and breeding program, which strive to preserve this endangered species.
Best zoos in Australia: Western Plains Zoo
Taronga Western Plains Zoo is among the best zoos and animal parks in Australia and is located in Dubbo, which is in the central west of New South Wales. Dubbo's Western Plains Zoo is home to hundreds of animals from around the world and like a trip to Africa.
A six kilometer long pathway leads through dense, natural bushland and open exhibition platforms. Bicycles or golf buggies are a great option to explore the park. If you didn't bring your own bike why not hire one locally?
Take your time as this animal park can be best explored on a two day trip. A night at the Billabong campsite or in a "Zoofari Lodge" becomes an unforgettable experience!
Phillip Island Nature Park
Phillip Island is a 90-minute drive from Melbourne and is perfect for a weekend getaway! The wild penguins of Australia are among the smallest in the world!  By the way they come home from their hunt every evening at sunset. We highly recommend watching the fascinating Penguin Parade at Phillip Island Nature Park!
Tip: We recommend planning a visit during breeding time. With a bit of luck, you can catch a great view of their babies during the feeding ceremony. Here is a calendar that tells you the best time to visit Phillip Island to see the penguins.
The best zoos and animal parks in Australia
There are many more great zoos and animal parks in Australia for you to explore.  In summary, most zoos support a good cause in addition to the entertainment they offer.  One of the best things about a campervan hire holiday with travelwheels is the flexibility to visit all these zoos on your travels.  Often they are either out of town or in remote places, so having your own campervan can really make a difference.
For example, if you have any questions about the best zoos in Australia, please feel free to email [email protected].  In addition to emailing us, when not give us a call +61412766616 and we will answer any questions.
Campervan Hire in Australia and visit Australia's best zoos!
Our multilingual team has traveled extensively around Australia.  Hence they can give you some fabulous tips about which are the best zoos in Australia!  We have loads of trip planners and also able to give you a good value quote for campervan hire in Australia.  All you have to do is enter your dates below to get our lowest prices on campervan hire in Australia guaranteed.