3 Person Toyota Hiace Used Campervan for sale in Sydney
Toyota Hiace Used Campervan for sale in Sydney
Travelwheels has just received this great Toyota Hiace Used Campervan for sale in Sydney!   We have, for example, recently received a number of ex-rental campervans for sale with 12 months warranty. First of all, you are welcome to pop by our Sydney depot.  Come along and have a chat and test drive any of our used campers without any commitment to buy.  We suggest giving Shaun a call on 0421101021 to see what stock we have available.   At this time we are selling a lot of campervans, so better to call first to check our stock levels.
Australia's most popular used campervan = Toyota Hiace!
Without a doubt, buying a used Toyota Hiace Campervan is simply the best choice hands down!  First of all,  it is classed as Australia's most popular used campervan for sale!
Secondly, when you buy a Toyota Hiace Camper you are getting reliability and a fantastic reputation.  For one thing, simply ask anybody who owns a Toyota what they think?  Toyota customers have one of the highest satisfaction or happiness scores in the motor trade.
To sum it, it does not matter if they bought a car, 4×4, van or campervan!  They all say the same thing!  First of all, Toyota campervans are super reliable, secondly, they have cheap replacement parts, and thirdly, they are easy to service.  As a matter of fact, another important point to emphasize is depreciation!  One great thing to mention is they especially hold their resell value!  We have many customer reviews or testimonials about this topic.  Many people, for example, have been able to resell after a couple of years.  They all without a doubt mention they sold it for approximately the same price they originally paid for the campervan!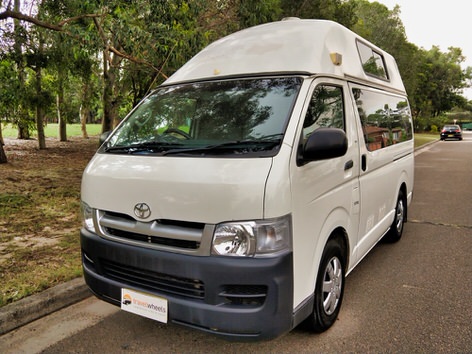 Contact us to arrange a test drive our Toyota Hiace Used Campervans
Feel free to give us a call on 0421101021.  Our team is here to have a chat, and give you advice about buying a used campervan.  Here is our address at 11-15 Clevedon Street, Botany, 2019, Sydney.   Furthermore, you can email us [email protected]. You can contact us via Skype and our username = travelwheels.
Check out all the great features
Without a doubt, these Toyota Hiace campers are the most popular second hand campervan we sell!  First of all, they offer the best balance between practicality and comfort!  Secondly, the drive really smooth and have great fuel economy for a camper.  Thirdly, they have a super practice and easy to keep clean kitchen/lounge.  Here are the details of this Toyota Hiace Used Campervan for sale in Sydney. Any more information or questions, then feel free to call Shaun on 0421 101 021. Remember you are welcome to pop by our depot in Sydney and test drive any vehicle you want to try.
Toyota Hiace used campervan day time view
These Toyota Hiace Campervans are ready to go on a big adventure!  They have everything you need for a fantastic holiday!  Therefore a Toyota Campervan will give you the freedom to travel around Australia!  You will not have to stop at campsites or pay for hotels on route!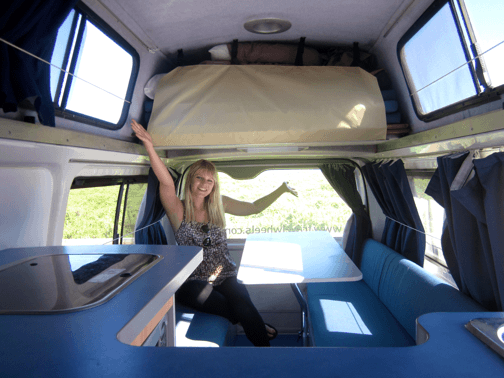 Super practice design and comfy living space
Just look at how practical this design is!   It is really easy to see much fun it will be to explore Australia in this campervan!  It has everything you need to explore Australia in comfort.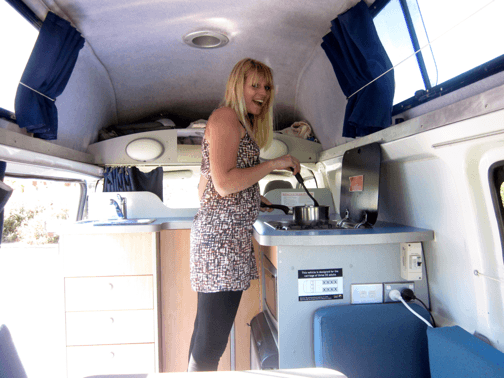 Why buy Toyota Hiace Used Campervan for Travelwheels?
There are many good reasons why buying a used campervan for sale with Travelwheels is a great idea.  We have over 20 years of experience in selling campervans in Australia.  All our Toyota Hiace Used Campervan for sale come with 12 months unlimited kms warranty. Here is a quick overview of the benefits of buying from Travelwheels:
One year engine/transmission unlimited kms warranty included.
Australia-wide roadside assistance for one year.
All vehicles come with all the official documents naming you as the owner of the vehicle.
Travelwheels can arrange vehicle insurance.
All our vehicles are fully serviced, with roadworthy certificate and ready to go.
Guaranteed buyback up to 50% – valid for up to one year.
We also sell five-person automatic campervans.
Do you have a question about buying a used campervan?
Here at Travelwheels Campervans, we love answering your questions.  We know that buying a used Toyota Campervan costs a fair amount of money.  Therefore it is important you feel comfortable.  Please send us any questions you have about buying a used campervan.  Our friendly team will read through all the questions and email or call you back with the info you need.