Toyota automatic campervan for sale in Sydney Super Clean + Ready to go! REF: CZ40UX
Used Toyota Automatic Campervan for sale with 12 months warranty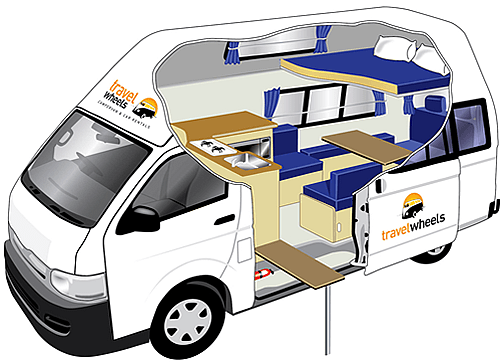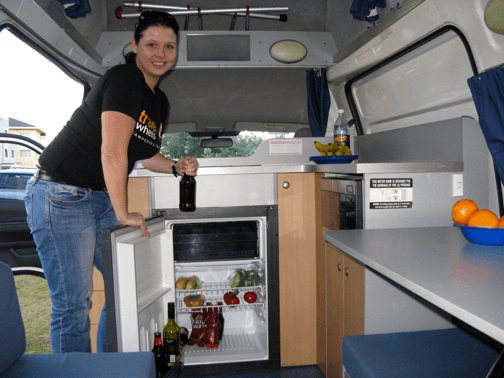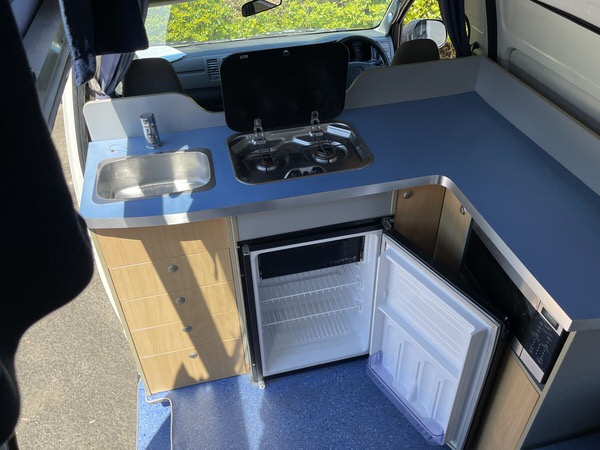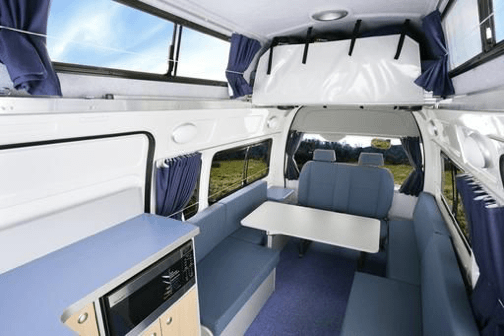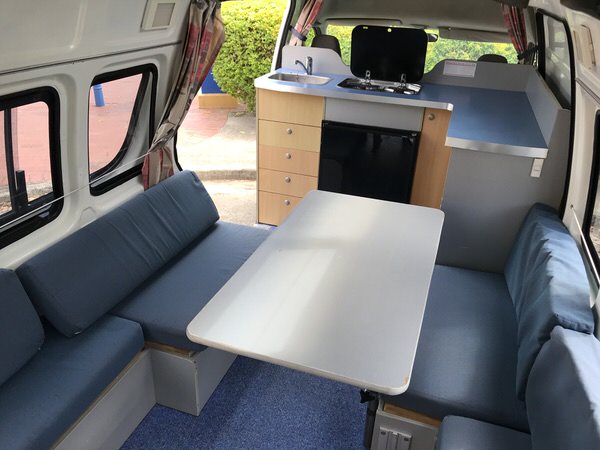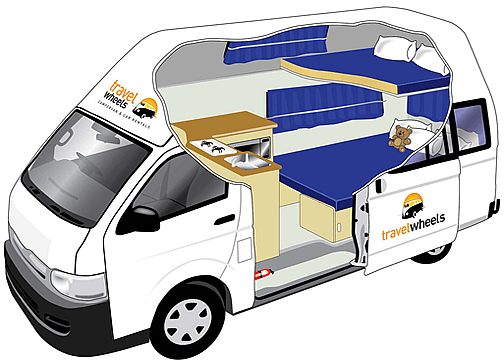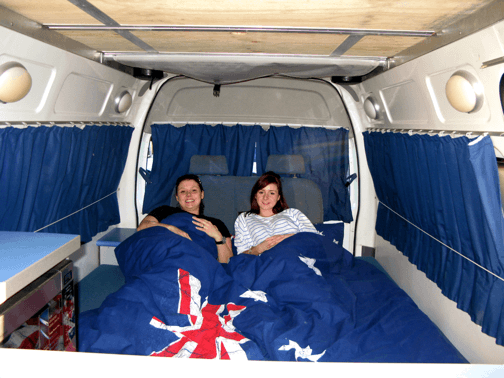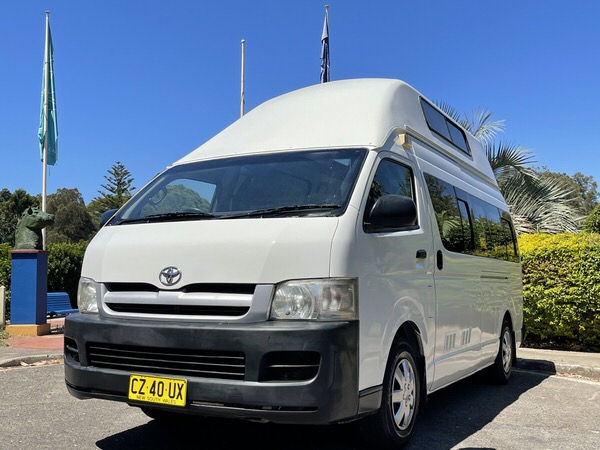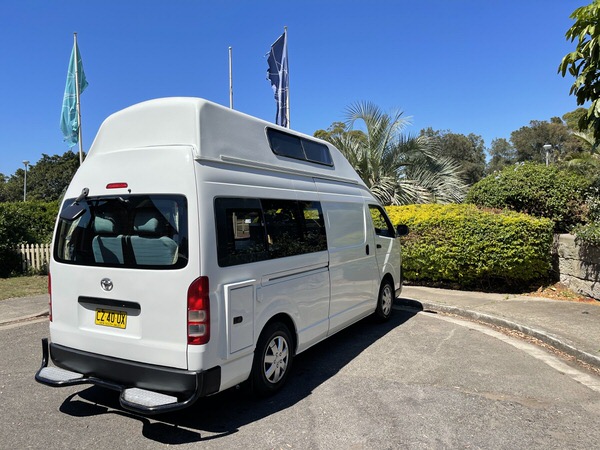 As a result of buying some new Toyota campervans for our hire business, travelwheels is having a sale on this used Toyota Automatic Campervan for sale here in Sydney.  Firstly, this type of camper is always heavily in demand.  Secondly, a long wheelbase Toyota automatic campervan is rare to find in this condition!  For one thing, we only release a few of these during the year, so they are hard to find in good shape.
These used Toyota automatic campervans for sale are highly sought-after in the second-hand market here in Australia.  Therefore, we suggest you call Shaun on 0421101021 for more details on our range of automatic campervans for sale.  You are welcome to pop by our depot and arrange a test drive.
Automatic Campervan for sale – professionally deep cleaned and stickers removed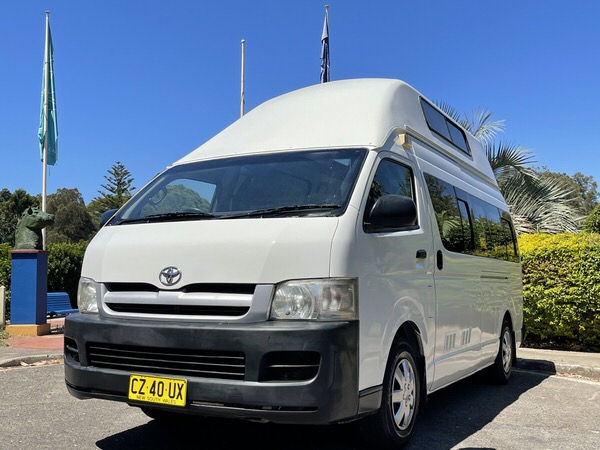 The first thing to remember is once Travelwheels removes these Toyota Hiace Campervans from our rental fleet, we give them a full service.  Secondly, they go through a 100 point service and safety check program to make sure they are right.  To begin with, our team will perform industrial deep steam inside and out.  Right after this, we remove all the stickers and touch up the paintwork to make it lovely for you.  For example, many of our happy customer reviews have remarked on how clean these used automatic campervans for sale are inside and out!  Lastly, we make sure they have a full service and test drive to iron out any issues over a couple of weeks.  For these reasons, this is why we recommend buying a used Toyota automatic campervan for sale from travelwheels campervans.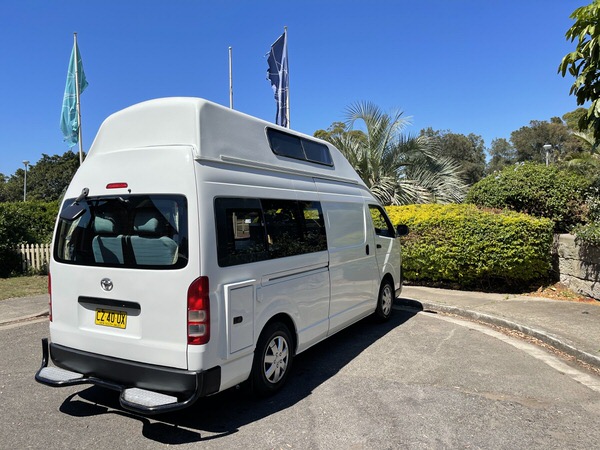 Easy to drive Automatic campervan for sale in Sydney
A point often overlooked when buying a used automatic campervan is the driver position.  Many people, for example, focus just on the kitchen, lounge and beds.  One of the great things about this Toyota used automatic campervan for sale is that it is very easy to drive!  On the positive side, it is very smooth rolling and comfortable.  Couple this with Toyota reliability, and of course great design, it is easy to see why they are always in demand!  For instance, according to the gumtree website,  this is the most popular automatic campervan for sale in Australia for larger groups or families.  Therefore, take a look inside our 5 Person Automatic campervan and see how much fun it is to drive!
Automatic Campervan Hire – kitchen, lounge + daytime area
This five-person automatic campervan for sale has a great kitchen and living area combined.  This model, for example, has the extra head and legroom space inside.  Check out the video below to see just how spacious the inside of this popular campervan is.
[youtubevideo id="WDKGtFyBBV4″ height="450px" width="800px"]
Toyota campervan with a large double bed for good night sleep!
Summing up, as a result of a larger cabin area in this automatic campervan for sale, the beds are generous for this size of a campervan.  For one thing, they designed even more headroom, so therefore it has an internal headroom height of 2.1m inside.  Everyone for example remarks about how roomy they feel inside the campervan.
[youtubevideo id="W5d8McdaD5o" height="450px" width="800px"]
Open plan living and kitchen area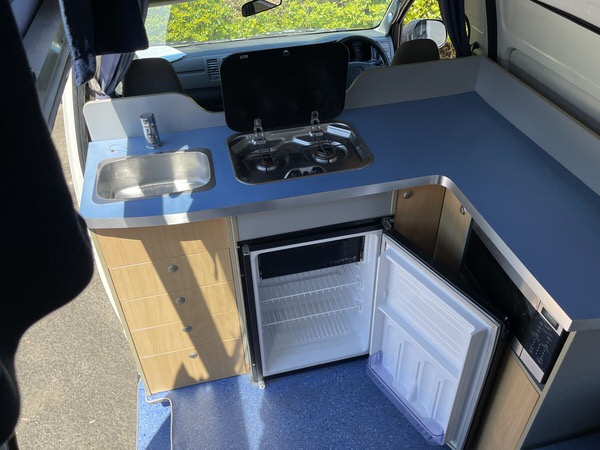 5 Person Automatic Campervan features
Below are the main features of this 5 Person used Toyota automatic campervan for sale.  All our vehicles for sale, to begin with, have been fully serviced and checked regularly whilst on the roads of Australia.  Remember we also offer a hire before you buy service.  What's more, if you buy the camper, then the campervan hire charge will be refunded against the price of purchasing the campervan.  Here are some more details of our 5 person automatic campervan hire vehicle.
Model: Toyota Hiace Campervan
Make: Hiace
Built: 2007
Ref: MAX2020
Air Conditioning: Yes
Power Steering: Yes
Transmission: Automatic
Fully equipped kitchen:

80L fridge, stove and microwave, sink & water tank

Double Battery System: for the fridge and interior lights
Equipment: comes with all the living, sleeping and camping equipment you need
Try before you buy hire rental scheme available – call Shaun on 0421101021 for more info
Looking for a smaller Toyota automatic campervan?
If you are looking to buy a smaller automatic campervan then we have a couple of great options for you.  Our popular 2 person automatic campervans are great for couples or two friends on a budget.  They still have a double bed, kitchen, fridge and cookers!  Give Shaun a call on 0421101021 to ask us what stock we have left.
Another key point to note here is that we only sell Toyota automatic campervans for our smaller models.  In the first place, they are super reliable, and back by the fantastic build quality that represents the Toyota brand!  Secondly, they are cheap to run and drive like a car, but sleeps like a hotel!  We also sell a really nice 3 Person Toyota Hiace campervan that is worth investigating.
Why buy a used campervan from Travelwheels?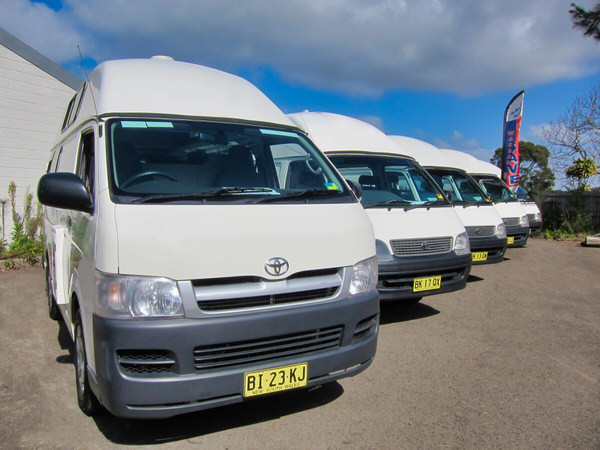 When you buy a used Toyota automatic campervan for sale from us you can relax as Travelwheels.  The campervan has gone through a solid preparation and testing phase before it is ready for sale to the public.  Therefore we suggest making a comparison with our competitors to see who is offering the best warranty and service.  Once you have done this, then you will see why everyone is talking about buying a used automatic campervan for sale from Travelwheels.  We also offer campervan hire and this allows you the chance to hire a campervan for a couple of weeks before you buy it.  Many people do this and go for a Cairns to Sydney campervan hire road trip to test the campervan before buying it.
All used campers are road-tested before going on sale
All our used campervans are fully road-tested before going on sale.  In the first place, they go straight to our workshop for a review and one hundred point safety check.  Secondly, we get the automatic campervan for sale upon the ramp for a proper inspection and give the camper full service.  It will go for a final road test before it moves to the next phase.  The team here at Tavelwheels do this just to make sure the base vehicle is in good shape before we start working on the inside.
All used campervans are deep cleaned and ready to go
Another key point to remember is that all our used ex-rental campervans for sale are professionally deep cleaned both inside and out.  As a matter of fact, we take the time to remove all the stickers and touch up the paintwork to make it look fresh.  To illustrate the care and attention we put into each vehicle, they come with the following warranty included in the price:
One year warranty on engine and transmission included with every campervan sold.
24/7 Australia wide roadside assistance included.
Guaranteed buy-back option up to 50% valid for one year.
Twenty years of experience in selling and renting Toyota Campervans in Sydney.
Try before you buy!  Rent the camper for a week and then buy to make sure you are happy
We speak Deutsch!
Roadworthy Certificate (Pink Slip).
Help with purchasing Third Party Insurance.
We also sell larger automatic Toyota campervans for sale
Another popular seller is our automatic two-person campervans
Registered used campervans dealer in NSW for over fifteen years!
Travelwheels has been a registered motor dealer in Australia since 2002. For the most part, we have been selling campervans, cars and 4WDs for years.  However, after growing our campervan hire fleet we now focus on camper rentals and ex-hire Toyota Hiace campervan sales.  Every Toyota campervan for sale goes through the sale process before we get people to start test driving them.
Roadworthy Certificate (Pink Slip)
This used campervan has gone through a full sales process and is in top condition.
12 Months Warranty on Automatic campervans
Travelwheeels offers a 12-month warranty on our ex-rental vehicles
24/7 Australia-Wide Roadside Assistance
Roadside assistance is already included in the price
Guaranteed buyback up to 50% when you buy a campervan from us
Get up to 50% of the value back when you're finished travelling. You can always sell the campervan yourself and get more money back, the choice is yours.
Similar used campervans to consider
This Toyota automatic campervan for sale is our number one seller in our automatic range.  They are always heavily in demand and it is rare to see one in this kind of condition.  They are unquestionably the perfect vehicle for anybody looking for good value for money used Toyota campervan.  If this one has sold out, then don't worry.  We will be getting in a new range of Toyota campervans to sell directly to the public soon. Therefore, it is definitely worth giving Shaun a call to find out when some more new vehicles will be ready for sale on 0421101021.  In the meantime, here are a couple more options to consider:
Buying an automatic campervan contact us
Why not give us a call on 0421101021 to arrange a chat or to go for a test drive?  You are welcome to send us an email at [email protected]. Our staff will be more than willing to answer any questions you might have.  By the way, you can visit our depot in Botany to view and test drive any of our automatic campervans for sale.  We are located at 11-15 Clevedon Street, Botany, Sydney, New South Wales, 2019.
Have a question about buying an automatic campervan – ask us!
If you have a burning question, then send us a message below.  Our team has had close to twenty years of experience in selling automatic campervans here in Sydney.  Just send us as many questions as you want and we will do our best to answer them for you.  We look forwards to your questions and welcoming you to our depot.