Automatic Camper van Hire – 2 Person Camper
Travelwheels has introduced a new style of campervan for hire across our branches in Australia.  We can now offer great deals on 2 person automatic camper van hire.  These are fantastic for anybody looking for budget campervan hire with automatic transmission. Call our team on 0412766616 for our lowest prices on automatic campervan hire!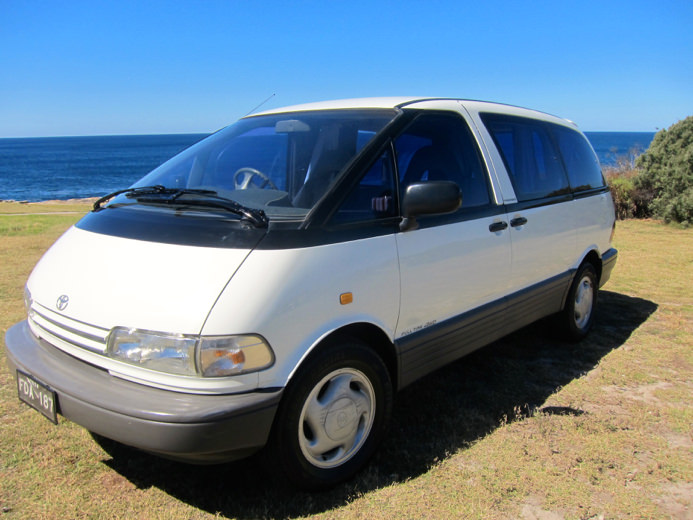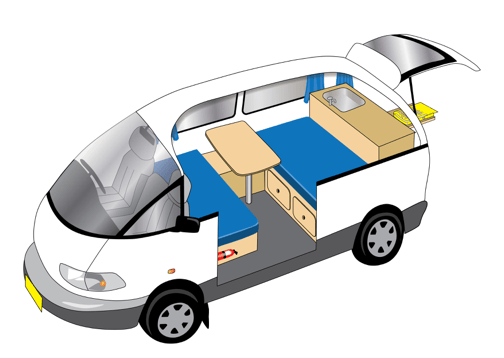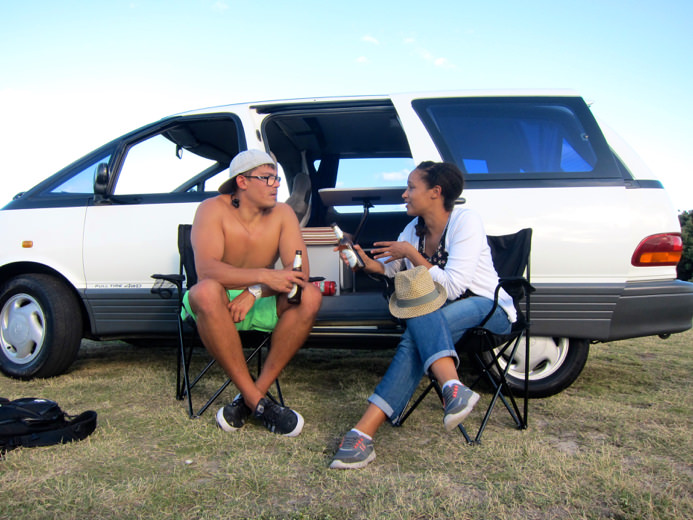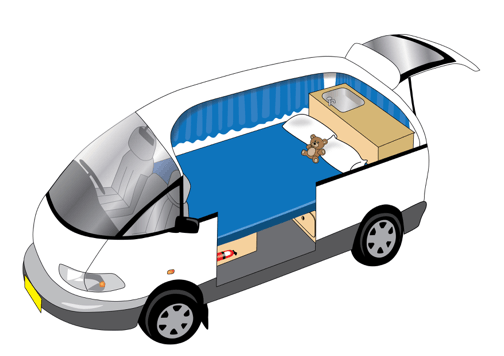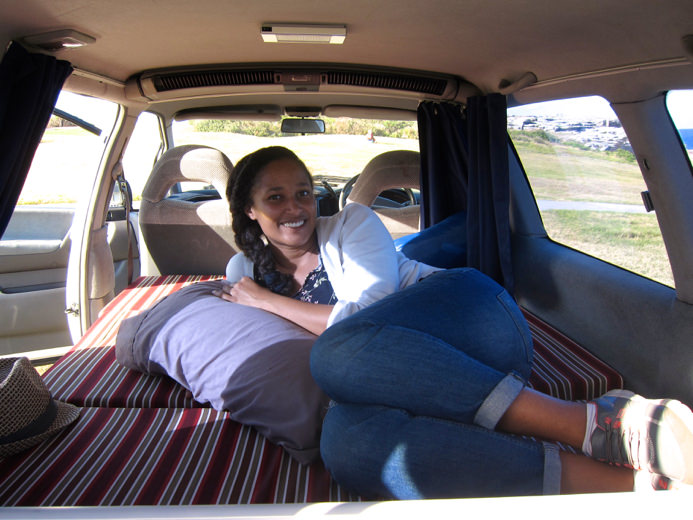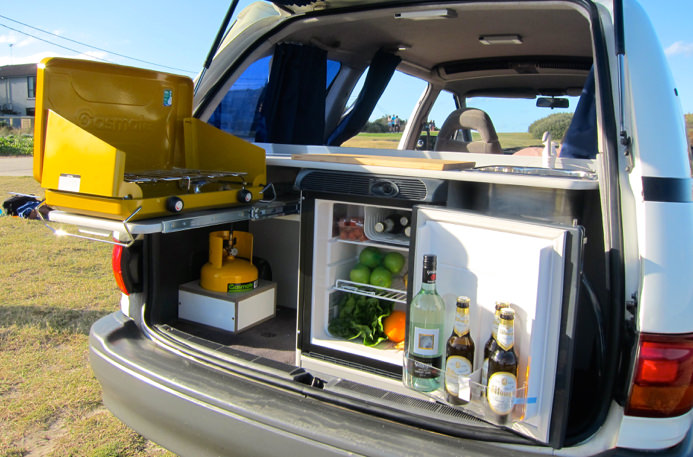 Check out Travelwheels Campervan Hire Australia Specials Here
Automatic camper van hire with extras included in the price
With travelwheels all our automatic camper van hire deals come with unlimited kms.  A lot of our competitors also charge you for sleeping bags, chairs, cooking and living equipment.  Compare this with travelwheels where you get all the cooking, living and sleeping equipment included in the price!    To summarize, look at this list below and all these features and equipment is already included in our price for automatic campervan hire in Australia.
Unlimited kilometers on all automatic campervans for hire
Sleeps and seats two adults
Comfortable double bed (1.70m x 1.35m)
Proper 35L fridge and not a tiny mini fridge or icebox!
Automatic transmission or gearbox on all auto campers
Air conditioning and power steering included
2 x burner gas stove & 2 kg gas bottle (not cheap gas canisters which are expensive to cook on!)
2 x bed linen, sleeping bags and folding chairs included in the price
All cooking equipment included in the rental
10L water tank and sink for cooking/washing
Check out Travelwheels Campervan Hire Australia Specials Here
Travelwheels Automatic camper van hire – no bold graphics or colours
Travelwheels automatic campervans do not have big bold graphics plastered all over the side of our campers!  Coupled with the fact that we don't have brightly coloured campervans as well and this means it is easier to do free camping in Australia! If you have a Wicked, Jucy, Travellers Autobarn or Spaceships small campervan they are loaded with big graphics!  This means everyone will know you are a tourist on holiday in Australia!  You will really stand out on the side of the road.  With our clean campervans, it's easier to remain anonymous.  As a result of this we don't have any big graphics on the sides of these automatic campervans. This way you don't feel like you are a mobile billboard adverting a campervan hire company in Australia!
Travelwheels Automatic Camper van hire with fridge and no icebox!
Most of our competitors including Wicked, Jucy, Travellers Autobarn or Spaceships have either iceboxes or tiny fridges!  With travelwheels all our small 2 person automatic campervans come with a 35L fridge fitted as standard.  This means you will have plenty of space for your food, and some beers as well!
Cooking in our automatic campervan – 2 burner cooker!
Another positive thing about this great automatic campervan is the kitchen area.  Some of our competitors only have a tiny one hob gas cooker with a small gas canister!  Imagine trying to cook a simple meal with only one hob!  How are you going to cook spaghetti and sauce with a single hob! With travelwheels we supply you with a twin burner cooker and fold out wind guards.  You get a 2kg gas bottle which is cheap and easy to refill at most service stations on the side of the road.  They are better for the environment and way cheaper than those tiny gas canisters from some of our competitors!
In the meanwhile, here are some handy hints and tips about how to cook in a campervan from the BBC website which will help you save money on your trip.  Here is a Deutsch and Français links as well, Tip auf Deutsch – Gut kochen im wohnmobil    Tip en Français – cuisine en camping car
Automatic Camper van Hire contact us English, Deutsch or Français
You can contact our friendly team for 2 person automatic camper van hire in English in deutsch or Français.  We have staff from Germany and France who have travelled all over Australia so we can help you plan your trip and speak your language!  Remember we are not a faceless on online campervan reseller with low prices, but no stock!  We have a depot in Sydney, and you can pop by and view all our campervans for hire.  Why not pop by and test drive an automatic campervan before you put down a deposit?  Our address for our Sydney Branch is 11-15 Clevedon Street, Botany, 2019, Sydney.  Click here to view a map of Sydney depot.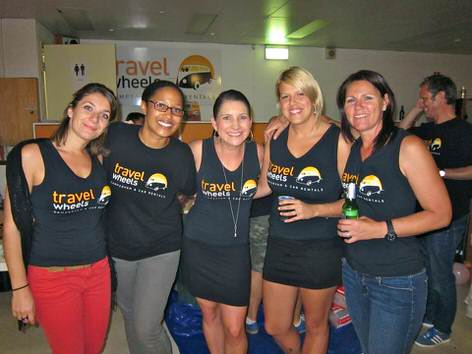 Travelwheels Automatic Camper van Hire price promise guarantee
No only do we price match and will beat our competitor's prices for most of the popular campervan trips in Australia.  To summarize, when you hire our automatic campervans the price already includes two camping chairs, sleeping bags, pillows, cups, bowls and cutlery!  Most of our competitors charge for these extras! Basically everything you need for automatic campervan hire in Australia is included in the price.
If you can find a cheaper price for Sydney to Sydney campervan hire deal (not over Christmas, New Year or Easter as we are always sold out) we will beat all quotes with our automatic campervans.  All you have to do is email travelwheels and send us the competitors quote.  We will beat it by 10% on all short term Sydney to Sydney camper quotes, out of peak season!  For more information about our price promise, check out this page on our website about our campervan hire price promise guarantee.
5 Person Automatic Campervan Hire Deals
If you are after an automatic campervan rental, but there are more than two of you in your party, then travelwheels has an option for you.  We have our popular 5 Person automatic campervan for hire in Sydney, Brisbane, Cairns and Melbourne.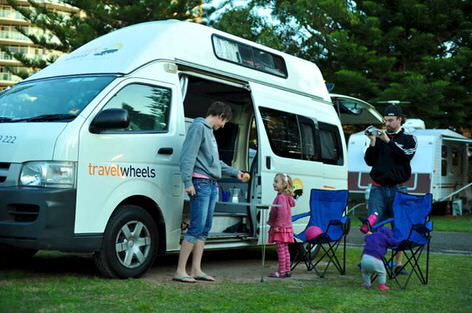 These are great for groups of up to five people!  It's an automatic campervan, so easy to drive and plenty of space for your crew.  We offer fantastic deals on both one way campervan hire and long term campervan hire specials for anybody looking for automatic camper hire.
Travelwheels Automatic Camper van Hire Special offers
If you are looking for that automatic camper van hire deal, then Travelwheels is the place to be!  We specialise in budget auto campers in Sydney, Brisbane, Cairns and Melbourne!  Remember we are not an online reseller, consequently you can view our campervans or do a deal with us directly.  Enter your dates below and our online campervan hire price checker will give you our lowest price automatically!
Check out Travelwheels Campervan Hire Australia Specials Here